FDA Requires Stronger Black Box Warning for Antibiotics Levaquin, Cipro
Fact-Checked
Editors carefully fact-check all Drugwatch content for accuracy and quality.
Drugwatch has a stringent fact-checking process. It starts with our strict sourcing guidelines.
We only gather information from credible sources. This includes peer-reviewed medical journals, reputable media outlets, government reports, court records and interviews with qualified experts.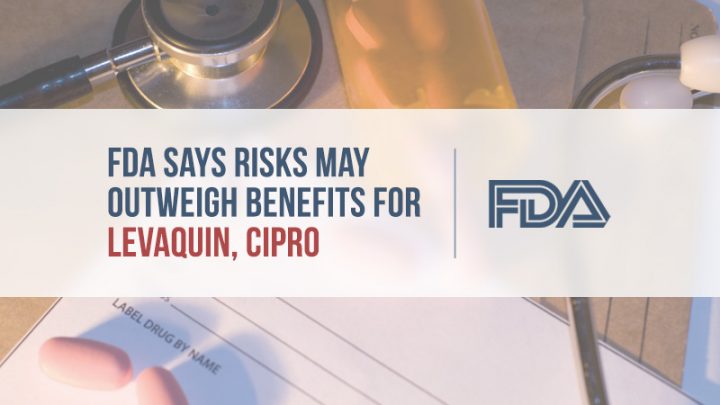 On May 12, 2016, the U.S. Food and Drug Administration announced it is requiring a stronger black box warning for common, popular antibiotics called fluoroquinolones that include Levaquin (levofloxacin), Cipro (ciprofloxacin) and Avelox (moxifloxacin) — medications taken by more than 26 million Americans each year.
"The U.S. Food and Drug Administration is advising that the serious side effects associated with fluoroquinolone antibacterial drugs generally outweigh the benefits for patients with sinusitis, bronchitis, and uncomplicated urinary tract infections who have other treatment options," the FDA said in a Drug Safety Communication. "For patients with these conditions, fluoroquinolones should be reserved for those who do not have alternative treatment options."
The agency's action comes after its FDA Advisory Committee meeting in November 2015. This is not the first warning for these drugs released by the FDA. It previously added boxed warnings in 2008 for tendon rupture and tendinitis and again in 2013 for permanent nerve damage called peripheral neuropathy.
The new boxed warning advises patients and doctors that these antibiotics may cause potentially permanent damage to muscles, tendons, joints, nerves and the central nervous system. In patients with minor infections such as sinusitis and bronchitis, the risk outweighs the benefits, the FDA panel found. In these cases, other treatments are often available and the agency strongly discourages doctors from prescribing them.
For some patients, the warnings came too late and a number of people filed lawsuits against J&J, the maker of Levaquin, and Bayer, the maker of Cipro and Avelox.
Studies Link Drugs to Aortic Bulges and Tears
While the FDA warns about tendon and nerve damage, new studies surfaced linking these drugs to more harmful and potentially fatal medical conditions, aortic dissection (tear) and aneurysm (bulge).
Two studies published in 2015 analyzed how fluoroquinolones may cause tendon damage. They theorized that these drugs break down collagen in the body. The lining of the aorta — the largest artery in the body — is made of collagen.
One 2015 study by Lee and fellow researchers published in JAMA medical journal linked fluoroquinolones to a two-fold increase in risk of dissection and aneurysm within two months of use. The second study published in BMJ by Daneman and colleagues found a three-fold increase in risk or aneurysm.
"Reducing unnecessary fluoroquinolone treatments or prolonged treatment courses might have possibly prevented more than 200 aortic aneurysms in this population," BMJ study authors said.
J&J and Bayer Stand by their Drugs
Antibiotic drug makers J&J and Bayer reaffirmed the benefits of fluoroquinolones in their response to the FDA's call for new warnings.
"At Janssen, our first priority is the well-being of the people who use our medicines. We are reviewing the Drug Safety Communication and will continue our ongoing collaboration with the FDA to support the safe and appropriate use of fluoroquinolone antibiotics…Levaquin is part of the important fluoroquinolone class of anti-infective prescription medications, and its safety profile remains well-known and established," Janssen said in a statement.
Bayer, the maker of Cipro and Avelox, likewise responded that it would comply with the agency's request, WRIC News in Richmond reported.
The FDA urges patients to contact their health professional immediately if symptoms of nerve or tendon damage surface. Some of these symptoms include: muscle, joint or tendon pain, confusion, hallucinations and tingling or pricking sensations in the hands or feet.
Share This Page:
How can we improve this page?
Thank You for Your Feedback
We appreciate your feedback. One of our content team members will be in touch with you soon.
We appreciate your feedback. One of our content team members will be in touch with you soon.