FDA Strengthens Warning for Antibiotics and Disabling Side Effects
Fact-Checked
Editors carefully fact-check all Drugwatch content for accuracy and quality.
Drugwatch has a stringent fact-checking process. It starts with our strict sourcing guidelines.
We only gather information from credible sources. This includes peer-reviewed medical journals, reputable media outlets, government reports, court records and interviews with qualified experts.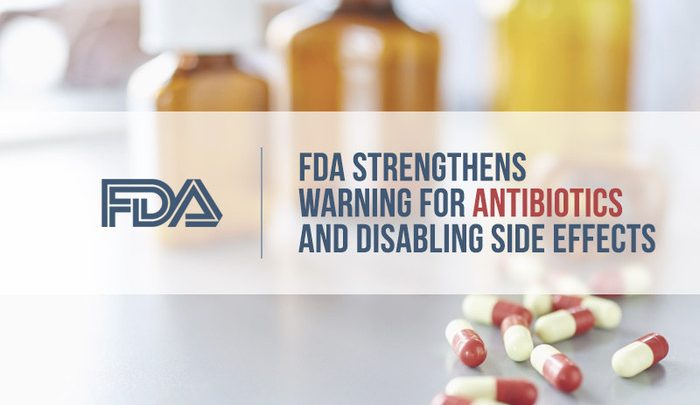 On July 26, the U.S. Food and Drug Administration approved changes to the labels of fluoroquinolone antibiotics including, Levaquin (levofloxacin), Cipro (ciprofloxacin), Avelox (moxifloxacin) and Factive (gemifloxacin). According to the FDA, these drugs are associated with disabling and side effects that may be permanent.
"Fluoroquinolones have risks and benefits that should be considered very carefully," Edward Cox, M.D., director of the Office of Antimicrobial Products in the FDA's Center for Drug Evaluation and Research, said in a statement. "It's important that both health care providers and patients are aware of both the risks and benefits of fluoroquinolones and make an informed decision about their use."
The FDA label change added a blacked box warning — the agency's most serious warning — for wide effects involving tendons, joints, muscles, the central nervous system and nerves. The agency warned that these adverse events may occur hours to weeks after using a fluoroquinolone.
This latest label change comes after the FDA released a safety communication in May 2016 advising that health professionals should only use fluoroquinolones when no other options are available for patients with acute sinusitis, acute bronchitis and urinary tract infections. The risks generally outweigh the benefits, the agency said. Instead, they should be reserved for use in cases of plague, anthrax and bacterial pneumonia.
Fluoroquinolones are popular because they fight a wide variety of bacterial infections, and more than 26 million Americans receive these drugs each year. But, since 2008, the FDA has cautioned the public about their use. Patients who say the drugs injured them filed lawsuits against drug makers, claiming they hid side effects.
FDA Issued Several Warnings
While highly effective at treating severe infections, fluoroquinolones are associated with a long list of side effects.
In 2008, the FDA issued its first black box warning for increased risk of tendinitis and tendon rupture. Then in 2011, the agency added myasthenia gravis — an autoimmune disease that affects skeletal muscles — to the boxed warning. In August 2013, the agency required drug makers to add warnings about the potential for peripheral neuropathy, nerve damage that may be permanent.
In November 2015, the agency's advisory committee ruled that the risks of these drugs outweigh the benefits for some uncomplicated infections. The committee studied new data showing "two or more side effects occurring at the same time and causing the potential for irreversible impairment."
Potential Link to Aortic Aneurysm and Dissection
But, the list of side effects doesn't stop there. According to two studies published in 2015, fluoroquinolones may also be linked to collagen damage in the aorta — the biggest artery in the body. This damage may lead to aneurysms (bulges) and dissections (tears) in the wall of the aorta.
The JAMA study found a two-fold increase in the risk of dissection and aneurysm within 60 days of using fluoroquinolones. Authors of the BMJ study found a nearly three-fold increase in the risk aneurysm. The BMJ study followed 1.7 million patients, and nearly a third of them received a fluoroquinolone.
In January 2016, five former Levaquin users sued Johnson & Johnson for $800 million, saying the drug maker hid side effects. Attorneys are now filing lawsuits on behalf of patients who took a one of these antibiotics and suffered an aortic aneurysm or dissection.
Share This Page:
How can we improve this page?
Thank You for Your Feedback
We appreciate your feedback. One of our content team members will be in touch with you soon.
We appreciate your feedback. One of our content team members will be in touch with you soon.