Stem Cell Cartilage Could Replace Hip Implants
Fact-Checked
Editors carefully fact-check all Drugwatch content for accuracy and quality.
Drugwatch has a stringent fact-checking process. It starts with our strict sourcing guidelines.
We only gather information from credible sources. This includes peer-reviewed medical journals, reputable media outlets, government reports, court records and interviews with qualified experts.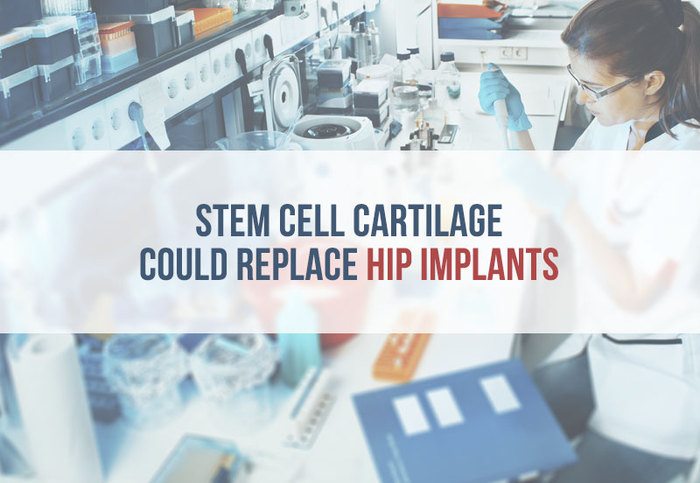 Researchers at Washington University School of Medicine in St. Louis and Cytex Therapeutics Inc. in Durham, N.C. found a way to grow cartilage from stem cells and mold it into a hip joint.
The new technology could impact 30 million Americans currently living with osteoarthritis and considering joint replacements, and, according to Washington University, that number is on the rise. It may also help people who are not candidates for full joint replacements.
Osteoarthritis is the most common chronic condition of the joints and occurs when cartilage wears down. The new stem cell cartilage may help replace worn-out tissue in joints and fight arthritis by releasing anti-inflammatory molecules.
Dr. Farshid Guilak, a professor of orthopedic surgery at Washington University, and his team create the cartilage by covering a precise mold of the patient's joint with their own stem cells taken from fat beneath the skin. Doctors can then place the cartilage on an arthritic joint, resurfacing it with living cells instead of an artificial metal or plastic implant.
Using gene therapy, researchers programmed the stem cells to release anti-inflammatory molecules activated by a drug administered to patients.
"When there is inflammation, we can give a patient a simple drug, which activates the gene we've implanted, to lower inflammation in the joint," Guilak said in a university news release. "We can stop giving the drug at any time, which turns off the gene."
New Cartilage May Help Avoid Surgical Complications
The new technology is not just for seniors, either. Younger patients under 50 are typically not candidates for total hip replacement surgery because implants only last about 20 years. Replacing cartilage could prevent or delay hip replacement.
Injured by complications related to hip replacements?
Performing a second surgery to replace a failed implant — called revision surgery — is risky because it can damage bone and tissue. There are also risks of infection and other surgical complications.
Also, while many medical device companies advertise the long life of their hip implants, studies and data from national implant registries found some fail prematurely — some, in less than five years. Patients who receive these faulty implants find themselves with disabling pain, fracture and other complications that often require a second surgery to fix.
Studies: Metal-on-Metal Implants May Fail Early
In recent years, metal-on-metal implants have been under scrutiny for premature failure. Billed as more durable than plastic and ceramic implants, these devices flooded the market. But patients and doctors began reporting problems such as loosening, severe pain, nerve damage and fractures.
In addition, the friction of the metal joints rubbing against each other led to microscopic metal ions flaking off the implants and seeping into blood and tissue, creating pseudo tumors, inflammation and leading to bone and tissue death — a condition known as metallosis.
Companies such as Stryker, Zimmer and Johnson & Johnson's DePuy all faced recalls of metal-on-metal components in recent years because of above-average failure rates. These recalls led to lawsuits. Documents that surfaced during one DePuy ASR hip trial revealed DePuy knew that the implant had a 40 percent failure rate within five years.
Researchers hope the new stem-cell technology could someday prevent the need for synthetic hips and risky revision surgeries altogether.
"Replacing a failed prosthetic joint is a difficult surgery," Guilak said. "We've developed a way to resurface an arthritic joint using a patient's own stem cells to grow new cartilage, combined with gene therapy to release anti-inflammatory molecules to keep arthritis at bay. Our hope is to prevent, or at least delay, a standard metal and plastic prosthetic joint replacement."
Share This Page:
How can we improve this page?
Thank You for Your Feedback
We appreciate your feedback. One of our content team members will be in touch with you soon.
We appreciate your feedback. One of our content team members will be in touch with you soon.