PPI-Antibiotic Mix Linked to Irregular Heartbeat
Fact-Checked
Editors carefully fact-check all Drugwatch content for accuracy and quality.
Drugwatch has a stringent fact-checking process. It starts with our strict sourcing guidelines.
We only gather information from credible sources. This includes peer-reviewed medical journals, reputable media outlets, government reports, court records and interviews with qualified experts.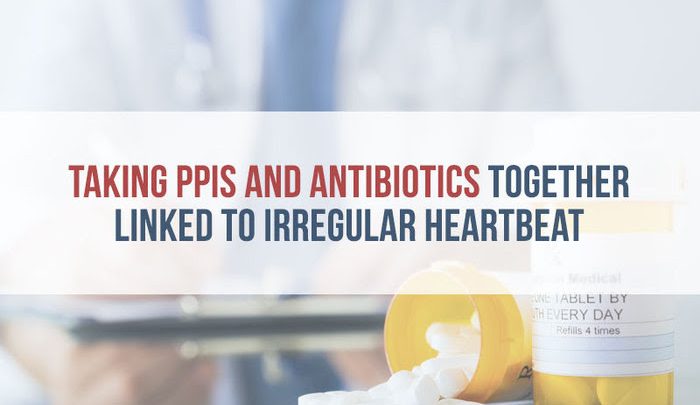 Taking acid-reducing drugs called proton pump inhibitors and an antibiotic together may increase the risk for life-threatening irregular heartbeat, according to a study.
Researchers from Columbia University Medical Center and the Data Science Institute at Columbia University found the popular PPI heartburn drug lansoprazole — known by the brand name Prevacid — and an antibiotic ceftriaxone could increase the risk for a dangerous condition known as long QT syndrome when taken together.
The syndrome can cause abnormal heart rhythms, which can lead to death.
Study authors found people taking these two drugs together were 1.4 times more likely to suffer from long QT interval. In contrast, people who took the drugs alone did not have an increased risk.
"Three independent lines of evidence show us that this is a signal worth paying attention to"
Scientists searched a government database of reported side effects and discovered eight pairs of drugs that contributed to a higher risk of the condition. Then, they tested the most widely used pair — lansoprazole and ceftriaxone — on individual heart cells in a lab and found the combination could alter the heart's normal electrical activity in some patients.
Database May Help Discover Drug Interactions
The main goal of the study was to use data to improve the search for drug interactions, and authors published their findings in the Journal of the American College of Cardiology.

The study's senior author, Dr. Nicholas Tatonetti, assistant professor of biomedical informatics at Columbia University Medical Center and a member of Columbia's Data Science Institute, discussed the findings in a Columbia University Medical Center news release.
"What's most surprising is that you can go from a database of billions of data points to making a prediction that two molecules together can change the functions of a protein in a single heart cell," Tatonetti said. "It means these algorithms are really useful in medical research."
But, other doctors urged caution in interpreting the findings.
Dr. Dan Roden of Vanderbilt University Medical Center said the data was not conclusive enough for doctors to advise patients on whether to take or not take the drugs together. The study's lead author, Tal Lorberbaum, a graduate student at Columbia, expressed interest in a clinical trial.
"Three independent lines of evidence show us that this is a signal worth paying attention to," he said in a news release. "We hope that a clinical trial will confirm that this is an actionable discovery."
Side Effects Lead to PPI Lawsuits
The QT syndrome side effect is another issue linked to PPIs. Recent studies linked the acid-lowering drugs to a number of serious side effects.
The FDA warned the drugs can cause low magnesium levels, bone fractures and bacteria-induced diarrhea in 2011 and 2012.
In 2015, a study in the Canadian Medical Association Journal linked PPIs to a "more than twofold increase" in acute kidney injury that required hospitalization. And in 2016, a study in JAMA Internal Medicine linked the drugs to 20 to 50 percent higher risk of developing chronic kidney disease.
These side effects led to a number of patients filing lawsuits against the makers of drugs such as Nexium, Prilosec and Prevacid. For example, a number of Nexium lawsuits are pending before U.S. District Judge Dale S. Fisher in California, and attorneys across the country are investigating PPI claims.
Share This Page:
How can we improve this page?
Thank You for Your Feedback
We appreciate your feedback. One of our content team members will be in touch with you soon.
We appreciate your feedback. One of our content team members will be in touch with you soon.