These powerful acid-reduction drugs target gastric acid, which is generated by the stomach as a digestive agent. When a person's body overproduces gastric acid or when the acid flows backward in the esophagus (the tube that connects the stomach to the mouth), the person experiences tremendous discomfort.
Gastric-acid issues either cause or exacerbate a number of medical problems. For example, gastric acid is necessary for the formation of most ulcers. If there is too much acid in the stomach, ulcers aren't able to heal.
Because PPIs lessen the amount of gastric acid in the stomach, they are often prescribed to ulcer patients as well as to people suffering from a number of acid-related health conditions. Over-the-counter PPIs are approved only to treat frequent heartburn.
Proton Pump Inhibitors: Prescription, OTC, Generic & Pediatric Versions
| Brand Name | Generic Name | Over The Counter Versions Available | Generic Version Available | Pediatric Version Available |
| --- | --- | --- | --- | --- |
| Prilosec | Omeprazole | Prilosec OTC | Yes | Yes |
| Nexium | Esomeprazole | Nexium 24HR | Yes | Yes |
| Prevacid | Lansoprazole | Prevacid 24HR | Yes | Yes |
| Dexilant | Dexlansoprazole | No | No | No |
| Zegerid | Omeprazole | Zegerid OTC | Yes | No |
| Protonix | Pantoprazole | No | Yes | Yes |
| AcipHex | Rabeprazole | No | Yes | Yes |
| Vimovo | Esomeprazole/Naproxen | No | No | No |
Prescription PPIs are approved to:
Treat symptoms of gastroesophageal reflux disease (GERD), a chronic digestive disorder that occurs when stomach acid flows back into the esophagus
Get rid of Helicobacter pylori (H. pylori), a type of bacteria usually found in the stomach
Treat Zollinger-Ellison syndrome, a rare condition in which tumors secrete large amounts of the hormone gastrin, causing the stomach to produce too much acid
Treat and maintain healing of erosive esophagitis (EE), a condition characterized by inflammation of the lining of the esophagus
Treat gastric and duodenal ulcers, a raw place or sore in the lining of the stomach or intestine
Doctors prescribe PPIs to people of all ages, though some populations must be more careful with these drugs than others. For example, users over 50 are more likely to experience certain side effects, such as bone fractures and an infection that causes severe diarrhea.  Short-term use of PPIs is supposed to be safe for children and even infants, so long as a doctor supervises the dosages. However, experts say not enough studies exist on safety for these age groups.
Patients usually take these drugs orally as pills or liquids and sometimes intravenously in hospitals. Most PPIs are taken once daily, but some patients are prescribed twice- or thrice-daily dosing. These medications vary widely in their administration instructions. Often, patients must take PPIs between 30 minutes to one hour prior to eating, but others do not have such stipulations. Some must be taken with a full glass of water, while others must be taken without water. Each PPI comes with its own set of instructions, and users must follow them carefully.
Off-Label Uses of PPIs
Off-label uses are any use of proton pump inhibitors not approved by the FDA. One of the most common off-label uses of PPIs is when patients take the drugs for longer than the agency recommends – whether it is a prescription or OTC version of a PPI.
"OTC PPIs are marketed for the treatment of frequent heartburn under the brand names Prilosec OTC, Zegerid OTC, and Prevacid 24 HR. OTC PPIs are labeled for 14 days of use, and this treatment course may be repeated every 4 months, up to 3 times per year. FDA acknowledges that consumers, either on their own, or based on a healthcare professional's recommendation, may take these products for periods of time that exceed the directions on the OTC label. This is considered an off-label (unapproved) use, based on the directions of use for OTC PPIs," the FDA says on its website.
Long-term Use Warning
Taking PPIs for longer than recommended can have serious consequences. Studies have found long-term use can be associated with kidney damage or life-threatening conditions and premature death.
Other off-label use includes prescribing PPIs to infants, which studies have shown to be ineffective and have associated with an increased risk of complications including asthma, allergies and childhood bone fractures. PPIs are not approved and should not be used to treat babies younger than 1 month of age.
PPIs sold in the U.S.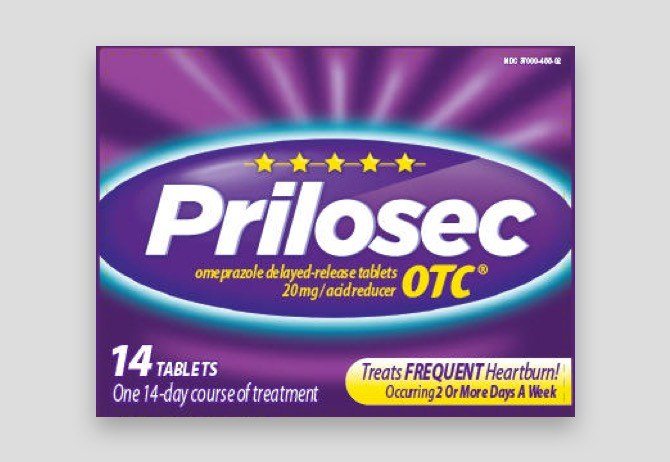 Prilosec, approved in 1989, was the first FDA approved PPI
The U.S. Food and Drug Administration (FDA) approved Prilosec, the first PPI, in 1989. Nearly three decades later, PPIs are among the most commonly used drugs in the world, with more than a dozen variations of the drug on the U.S. market alone. About 20 million people in the U.S. use these drugs, spending almost $14 billion on them each year.
In nine months, AstraZeneca raked in $419 million in U.S. Nexium sales and $7 million in Prilosec sales, according to the company's November 2016 financial report.  The company reported $16 billion in total product sales worldwide for that same time period.
Prevacid's maker, Takeda Pharmaceuticals, generated $15.13 billion in sales as of May 2016, according to Forbes. In 2015, Pfizer Inc. reported $48.9 billion in revenues. The company markets Protonix.
PPIs sold in the U.S. include:
Prilosec (omeprazole) and Prilosec OTC
AstraZeneca manufactures Prilosec, and Proctor & Gamble makes Prilosec OTC, the version available without prescription. The FDA approved Prilosec in 1989 and in 2003 the drug became the first of its kind available over the counter as Prilosec OTC.
Prilosec is available with a prescription in 10 mg, 20 mg and 40 mg delayed-release tablets or in 2.5 or 10 mg delayed-release oral suspension packets. The duration of treatment and how often the drug is taken varies depending on the condition it is meant to treat. Prilosec OTC comes in 20 mg delayed-release tablets. The drug's label instructs users to swallow one tablet with a glass of water before eating each morning for 14 days.
Nexium (esomeprazole magnesium) and Nexium 24HR
AstraZeneca manufactures Nexium, and Pfizer manufactures the over-the-counter version called Nexium 24HR. The FDA first approved Nexium in 2001. Nexium 24HR hit the market in 2014.
As one of the top-selling prescription medications in the U.S, this PPI alone pulls in billions of dollars in annual sales. According to the drug label, Nexium is recommended for no longer than eight weeks for acid reflux issues and six months for ulcer healing purposes. The most common Nexium side effects include headache, nausea, stomach pain, dry mouth, diarrhea, gas, constipation and drowsiness.
Prevacid (lansoprazole)
Takeda Pharmaceuticals manufactures Prevacid. The FDA approved Prevacid in 1995. The drug is available in capsules and tablets with 15 mg and 30 mg doses. The active ingredient in Prevacid is lansoprazole.
Some lansoprazole medicines are available over the counter and others are by prescription only. Most prescription forms of lansoprazole are intended for once-daily dosing; others may be prescribed for twice-daily or thrice-daily dosing, sometimes for up to 12 weeks. Like other PPIs, Prevacid is a delayed-release medication, which means it is broken down in the intestine rather than the stomach. This type of medication is not an immediate fix for heartburn; it can take several days for users to experience relief.
Dexilant (dexlansoprazole)
Takeda Pharmaceuticals manufactures Dexilant, which gained FDA approval in 1995. Doctors prescribe Dexilant (formerly called Kapidex) to relieve symptoms of GERD and to heal erosive esophagitis( EE).
The drug comes in 30 mg and 60 mg delayed-releases capsules and 30 mg delayed release orally disintegrating tablets (SoluTab). Dexilant can be taken once daily for four weeks, eight weeks or for up to six months, depending on the condition it is being used to treat. Users should avoid use of alcohol when taking Dexilant SoluTab.
Protonix (pantoprazole)
Wyeth Pharmaceuticals, a subsidiary of Pfizer, manufactures Protonix. The FDA approved the drug in 2000. Doctors prescribe it for short-term treatment associated with GERD and to treat diseases that cause the body to produce excess stomach acid, known as pathological hypersecretory conditions, including Zollinger-Ellison syndrome.
Protonix is intended to be taken either once or twice per day for up to eight weeks. It is available in 20 mg and 40 mg delayed-release tablets and also in delayed-release oral suspension, which can be mixed into apple juice or applesauce and taken 30 minutes before a meal.
AcipHex (rabeprazole)
Eisai manufactures AcipHex, which gained FDA approval in 1999. Doctors prescribe the drug to alleviate symptoms of GERD, to treat duodenal ulcers and to eliminate the bacteria H. pylori.
The drug is available in 20 mg delayed-release tablets that are intended to be swallowed whole — in some cases with food or after meals. It is also available in 5 and 10 mg delayed-release capsules. The label recommends taking AcipHex once daily unless it is being used to treat H. pylori in which case the drug should be taken twice daily with morning and evening meals for seven days.
Vimovo (esomeprazole magnesium and naproxen)
The FDA approved Vimovo in 2010. Horizon Pharma manufactures the drug. Vimovo is a combination of naproxen, a nonsteroidal anti-inflammatory drug (NSAID), and esomeprazole, a PPI.
The drug is indicated for the relief of signs and symptoms of osteoarthritis, rheumatoid arthritis and ankylosing spondylitis, and to decrease the risk of developing gastric ulcers in patients at risk of developing NSAID-associated gastric ulcers.
Zegerid (omeprazole and sodium bicarbonate) and Zegerid OTC
Santarus Inc. manufactures Zegerid, and Bayer makes Zegerid OTC, the over-the-counter version. The FDA initially approved the drug in 2004.
Prescription Zegerid is available as a capsule and as a powder for oral suspension in 20 mg and 40 mg strengths. It is indicated for treatment of GERD, EE, stomach and small intestine ulcers and reduction of risk of upper gastrointestinal bleeding in critically ill patients. Zegerid OTC is available in 20 mg strength and is indicated for frequent heartburn.
How do Proton Pump Inhibitors Compare to Each Other?
Though active ingredients vary, all proton pump inhibitors are chemically similar to one another.
In 2009, researchers at Oregon Health & Science University's Drug Effectiveness Review Project (DERP) published an extensive review of scientific literature on PPIs. The researchers reviewed 277 research articles, trials and studies comparing various PPIs. They found that for the most part, all were similar in effectiveness and adverse events. However, in some cases a particular PPI showed an advantage over others.
Drug Effectiveness Review Project: PPI Comparison
Condition
Treatment
PPI Comparison Results
GERD (gastroesophageal reflux disease

Treating symptoms

Time to relief of heartburn with GERD

Healing in moderate to severe esophagitis

Preventing relapse

All similarly effective

All similarly effective

Nexium 40 mg more effective at 4 & 8 weeks than Prilosec 20 mg and Prevacid 30 mg

Prilosec, Prevacid & Aciphex are similarly effective*

Peptic Ulcer

Treating duodenal or gastric ulcer (healing rates)

Eradication of Helicobacter pylori (a bacterium associated with development of ulcers)

All similarly effective

All similarly effective

Effectiveness of higher doses
Time in remission from GERD increased
Prilosec and AcipHex higher doses more effective than other PPIs
Adverse events
Reports and severity of side effects
All similar
Different effects based on age, race or gender of patient

Adverse events

Erosive esophagitis

All similar

Prilosec and AcipHex higher doses more effective than lower doses
*Two studies found lower relapse rates for Nexium 20 mg than for Prevacid 15 mg or Protonix 20 mg.
Unless a patient has been diagnosed with GERD, alternatives to PPIs may be better suited for a patient with heartburn. For patients with occasional heartburn, antacids and H2 blockers can provide faster relief and be taken for longer periods of time than over the counter PPIs — which are only to be taken for two weeks at a time, no more than three times a year.
For patients diagnosed with GERD, research has shown that over-the-counter versions of PPIs are as effective as prescription versions.
Comparing Costs of Proton Pump Inhibitors
Prices of PPIs vary widely and can be affected by several factors including where they are purchased, size of the dosage and whether they are a brand name, generic or over-the-counter (OTC) version.
A review of prices from major pharmacies' prescription prices and online sources for OTC medications showed the price in mid-2017 for a 28-day supply of PPIs ranging from $12 for an OTC version up to $3,400 for a brand name prescription medication.
Fact
Some prescription PPIs may not be covered by all insurance plans, including Medicare. Manufacturer coupons may reduce the price in some cases.
Vimovo, one of the more expensive medications on this list, is not indicated for GERD, but as a pain reliever that "may help reduce the risks of NSAID stomach ulcers." However, it is a combination of the active ingredients in Nexium and the pain reliever Aleve. Each pill contains the same 20 mg of Nexium as in the minimum prescription dose and standard over-the-counter dose of Nexium.
Its label says Vimovo is indicated for, "Relief of signs and symptoms of osteoarthritis, rheumatoid arthritis, and ankylosing spondylitis and to decrease the risk of developing gastric ulcers in patients at risk of developing NSAID associated gastric ulcers."
How Proton Pump Inhibitors Work
Proton pumps contained in cells in the lining of the stomach produce acid for the body to use during digestion. When excess acid reaches the esophagus, it can damage the tissue and cause burning in the chest known as heartburn.
When PPIs enter the bloodstream, they signal acid-forming cells in the stomach lining to stop producing so much gastric acid thereby lessening the likelihood acid will flow up into the esophagus. In other words, PPIs are designed to turn the acid pumps from on to off to reduce the amount of acid in the stomach. This often results in lessened discomfort for the PPI user.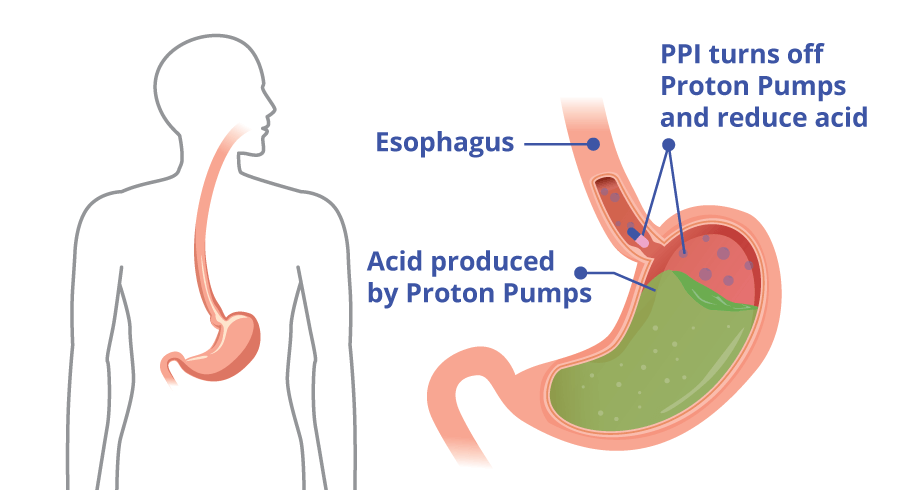 How PPI's work to reduce stomach acid
PPI Side Effects: Most Common and Most Serious
Like most medications, PPIs may be accompanied by uncomfortable yet minor side effects.
Some of the most common PPI side effects include:
Abdominal pain
Anxiety
Constipation
Diarrhea
Dizziness
Drowsiness

Dry mouth
Gas
Headaches
Inability to properly absorb nutrients
Joint pain
Rash or other skin issues

These stomach-acid drugs can also carry serious side-effects , and manufacturers have been accused of not always alerting consumers of all the possible dangerous side effects. As a result, patients who have experienced adverse side effects with PPI use have filed lawsuits against manufacturers, seeking compensation for their pain, emotional distress and medical expenses.

The most serious PPI side effects and risks revealed in studies include:

Bacterial infections
Bone fractures
Dementia

Heart attack or heart failure
Kidney disease or injuries
Premature death
Stroke

A 2017 study found that long-term PPI use increased the risk of stomach cancer. Researchers said risks increased the longer patients took PPIs. The overall risk remained low. Only about eight people in every 10,000 who took PPIs would develop stomach cancer. But the researchers urged doctors to "use caution" when prescribing long-term PPIs. The researchers published their findings in the journal Gut.

The FDA has stated on multiple occasions that longer durations of PPI use increase the risk of serious health risks and advised careful use of PPIs.
Other Complications of Long-Term Proton Pump Inhibitor Use
Prescription PPIs are most often prescribed in larger doses for longer periods of time than over-the-counter versions. However, the FDA realizes people may take over-the-counter versions outside the agency's recommendations.
Did you suffer from serious complications after long term-use of a PPI? We can help.
"In contrast to prescription PPIs, OTC PPIs are marketed at low doses and are only intended for a 14 day course of treatment up to 3 times per year," the FDA says on its website. "FDA acknowledges that consumers, either on their own, or based on a healthcare professional's recommendation, may take these products for periods of time that exceed the directions on the OTC label."
The agency cautions patients and health professionals to be aware of the potential risks of higher doses and longer durations.
Research has shown that long-term use of PPIs may increase the risk of infections, including pneumonia, and cause malabsorption, disrupting the body's ability to absorb nutrients it needs from food.
Conditions resulting from long-term use of PPIs can include:
Acute Interstitial Nephritis (AIN) and other kidney injuries or damage –

AIN can be caused by the body's reaction to different medications. It can cause mild to severe kidney conditions including kidney failure. AIN may occur early in the PPI 14-day course. A 2017 study found that patients taking PPIs may increase their risk for "chronic, silent kidney damage," suffering damage to the organs while not displaying symptoms.

Hypocalcemia (low calcium levels in the blood) –

Long-term PPI use has been associated with a 35 percent higher risk of bone fractures. PPIs taken for long periods of time interfere with the body's ability to absorb calcium. This can lead to osteoporosis and lessened bone density.

Hypomagnesemia (low magnesium levels in the blood) –

The FDA issued a 2011 warning about this potentially fatal condition associated with long-term PPI use. Every organ in the body needs magnesium to function properly. This is especially true of the heart, muscles and kidneys. Long-term PPI use can drop the levels to dangerously low levels.

Clostridium difficile (C. difficile) –

The FDA issued a 2012 warning about the association between PPIs and C. difficile, a bacteria that induces diarrhea and other serious intestinal conditions. The condition can sometimes be fatal.

Community-Acquired Pneumonia (CAP) –

Research is mixed but the risk may be worth considering. Some research has shown long-term PPI use may increase the risk of patients developing pneumonia compared to people who do not take the drugs. Other studies show an increased risk of pneumonia among people taking PPIs for the recommended 14-day course. The American College of Gastroenterology issued guidelines in 2013 warning of the short-term risk but citing no increased risk in the long-term.
FDA PPI Warnings: A Timeline
Since 2010, the FDA has issued multiple safety communications about serious side effects associated with long-term PPI use and added warnings to the drugs' labels as new research revealed new risks.
The FDA released the following safety communications:
2010

FDA approves warning labels to warn of hip, wrist and spine fracture risk

2011

FDA safety communication warns long-term PPI use can result in low magnesium levels that may cause irregular heartbeat and seizures

2012

FDA safety communication warns of PPI use and increased risk of clostridium difficile-associated diarrhea

2014

PPI warning labels required to add risk of acute interstitial nephritis (AIN), which can progress to kidney damage and failure

2014

Warning labels add risk of vitamin B12 deficiency resulting from long-term PPI use, leading to memory loss or other cognitive issues

2016

Labels changed to include a warning of risk of lupus erythematosus events, an autoimmune disorder
PPI Use in Children and Pregnant Women
A 2014 study found that while most PPIs are approved for children older than a year old, PPIs were commonly prescribed for infants and newborns in both hospital outpatient settings. Research presented in 2017 found children given PPIs before their first birthday suffered a significantly higher likelihood of childhood bone fractures.
Not all PPIs are approved in the U.S. for pediatric use and those that are have only been approved for narrow indications.
FDA Approved Age Ranges for PPI Use and Indications
PPI
Age Range
Indication
Nexium (esomeprazole)

1-17 years

1 month, less than 1 year

Symptoms of GERD

Healing erosive esophagitis (EE)

Prevacid (lansoprazole)

1-17 years

1-17 years

Symptoms of GERD

Healing EE

Prilosec (omeprazole)

1-16 years

1-16 years

Symptoms of GERD

Healing EE

Protonix (pantoprazole)
5-16 years
Healing EE
AcipHex (rabeprazole)

1-12 years

13-17 years

Treatment of GERD

Symptoms of GERD
Dexilant, Zegerid and Vimovo have not been approved by the FDA for use in pediatric patients.
The most common side effects seen in children given PPIs include:
Headache
Diarrhea

Constipation
Nausea
Long-term use of PPIs in children may result in many of the same risks as for adults. The FDA tells parents to seek immediate care if their child experiences "an abnormal heart rate or rhythm, or symptoms such as a racing heartbeat, palpitations, muscle spasm, tremor or convulsions while taking a PPI drug."
Studies have found that women taking PPIs during pregnancy may increase their children's later risk of developing complications.
These complications include:
Asthma

Allergies

Heart defects
A 2017 study concluded that PPI use during pregnancy increased the risk of childhood asthma. The study's authors reviewed previous research into PPIs and childhood asthma. They examined hundreds of articles and eight different studies. The researchers published their work in the journal Pediatrics.
They said their findings could help doctors and parents make decisions about PPI use. The researchers said people should weigh the asthma risk to offspring.
University of Pennsylvania researchers published a study in 2010 that found babies of mothers who took PPIs within the first trimester of pregnancy were more than twice as likely to have cardiac defects as those who did not.
Drug labels accompanying PPIs recommend women who are pregnant, thinking about becoming pregnant or breastfeeding talk to their doctor before taking PPIs.
Most Likely Drug Interactions with Proton Pump Inhibitors
Proton pump inhibitors can have serious interactions with a wide variety of other drugs including antibiotics, blood thinners, HIV drugs and anti-anxiety medications. PPIs can increase the effects of some drugs while decreasing the effectiveness of others.
Potential PPI Reactions with Other Medications:
Coumadin and Jantoven (warfarin) – blood thinner
May increase the warfarin's effects, danger of excessive bleeding, patients may need a PT test to determine how long it takes blood to clot.
Digox and Lanoxin (digoxin) – blood pressure and antiarrhythmic drugs
May increase the effects of digoxin. Patients should be monitored if taking with PPIs and should seek medical attention if they experience nausea, vomiting, diarrhea, blurred vision or other vision problems, and an abnormal heartbeat – either slow or fast.
Invirase (saquinavir) – HIV antiviral
Increases saquinavir effects. Can lead to saquinavir toxicity, nausea, vomiting, and deep vein thrombosis which may result in a pulmonary embolism.
Plavix (clopidogrel) – blood thinner
Reduces the blood thinning effect of clopidogrel. FDA recommends people taking Plavix not take PPIs.
Prograf, Protopic, and Hecoria (tacrolimus) – antirejection drugs
May raise serum levels of tacrolimus, threatening kidney damage.
Psychoactive drugs in the benzodiazepines family (more than 50 drugs)
May increase the drug's effects.
Restasis, Neoral, Sandimmune, Gengraf (cyclosporine) – immunosuppressive
May increase the cyclosporine's effects. When used for a long period, the combination can lead to hypomagnesemia, a condition that can result in irregular heartbeat palpitations, tremors and seizures. Closer monitoring and dosage adjustments are needed to use the drugs together.
Reyataz (atazanavir) and Viracept (nelfinavir) – HIV antiviral combination therapy
PPIs should never be taken with Atazanavir and nelfinavir. The combination may decrease the amount of the antiviral drugs in the body, weakening their effectiveness against HIV.
Trexall and Rasuvo (methotrexate) – chemotherapy drugs
May increase serum levels of methotrexate, threatening liver damage.
Valium and Diastat (diazepam) – anti-anxiety and sedative drug
May increase diazepam's effects. Patients should seek medical attention if they experience heightened effects. Doctors may be able to adjust the dosage if drugs are used in combination.
Vfend (voriconazole) – antifungal
May increase PPI levels in the blood.
Overprescribing PPIs
In 2013, Prilosec OTC's direct-to-consumer ad campaign featured the tag line: "One pill each morning. 24 Hours. Zero heartburn." Disclaimers warned in small print or fleeting fonts not to take Prilosec OTC for more than 14 days and no more than three times a year as indicated by FDA guidelines. But at the same time, comedian-spokesman Larry the Cable Guy proclaimed in television ads, "I take Prilosec OTC each morning for my frequent heartburn."
Studies have shown that long-term use of PPIs increase risks for multiple complications, some of them life-threatening. At the same time, other studies have shown PPIs are among the most overprescribed drugs on the market.
In addition, PPIs are often prescribed to people who do not need them or could benefit from other treatments.
---
"There are studies showing about 40 per cent of patients don't have an evidence-based reason to be taking a proton pump inhibitor and that a lot of patients haven't tried other alternative therapies such as lifestyle modifications or medications that aren't as strong, or ones that have fewer side-effects."

- Dr. Emily McDonald, an internal medicine specialist at McGill University Health Centre in Montreal, told CBC News in 2016
---
Label Change Reduces PPI Overuse
In 2018, researchers found that a change in PPI labels reduced long-term use. The FDA ordered the label change in 2010. The label change warned of increased risk of bone fractures from long-term PPI use.
The researchers used the FDA's Sentinel database for their research. They identified 1.5 million people who took PPIs in the years before the change. They found another 2.25 million patients who took the drugs in the five years after the change.
They found the number of people taking PPIs for more than a year dropped almost 11 percent. They also found doctors recommended taking PPIs for shorter periods. They concluded label changes could influence how doctors prescribe PPIs.
The researchers published their results in the journal Pharmacoepidemiology and Drug Safety.
What Happens when PPIs Do Not Work?
PPIs are not intended for immediate relief of heartburn. It can take several days before they begin to relieve symptoms of GERD. At the same time, multiple studies have found that more than half of patients, who take PPIs long-term, still suffer from persistent reflux.
In some cases, patients may not have GERD but some other condition which PPIs may not treat.
Nonerosive reflux disease (NERD) is a subcategory of GERD without erosion of the esophagus. Symptoms are similar to GERD, but the reflux in NERD is not always acidic (can be either acidic, weakly or non-acidic) which explains why acid-reducing medicines such as PPIs may be less effective in NERD compared to GERD.
Surgery
Surgery for GERD patients is an option, but not always a permanent solution when PPIs are ineffective. A procedure called Nissen fundoplication surgery is considered the standard surgical treatment for severe GERD. The technique wraps the upper part of the stomach around the lower end of the esophagus.
When the stomach contracts, the arrangement forces the esophagus closed instead of forcing acid or other stomach contents into the esophagus. The procedure can make vomiting impossible or painful.
About half the people who have Nissen fundoplication experience a return of their symptoms, still require medication or have to undergo another surgery after a few years.
Lifestyle Changes
Lifestyle changes can reduce the intensity and frequency of reflux. Eating smaller meals and waiting three hours after a meal before lying down or going to sleep can reduce symptoms. It is also important to avoid "trigger foods" that can cause heartburn.
Heartburn triggers include:
Alcohol
Spicy foods
Chocolate
Citrus fruits and juices

Coffee, tea and other drinks containing caffeine
Peppermint
Tomatoes

Excess weight increases pressure on the abdomen, increasing the likelihood of reflux. Weight loss has been clinically shown to improve reflux.

Sleep position can also reduce symptoms of GERD and NERD. Sleeping on the left side allows gravity to help in preventing reflux. Because of the way the esophagus enters the stomach, and the way the digestive tract continues beyond the stomach, this position allows stomach contents to pool farther away from the esophagus.

Also, elevating the head of your bed can help. Place wood or cement blocks under the feet of your bed so that the head end is raised by 6 to 9 inches. If it's not possible to elevate your bed, you can insert a wedge between your mattress and box spring to elevate your body from the waist up. Wedges are available at drug stores and medical supply stores.
Alternatives to PPIs
PPIs are often the go-to drugs for doctors who see patients suffering from acid-related illnesses such as GERD and EE. However, when users stop taking PPIs, symptoms tend to return quickly and viciously. PPIs do not cure acid-related conditions — they simply manage the symptoms. Thus, experts say these medications should not be viewed as a long-term solution.
Did You Know
PPIs do not cure acid-related conditions — they simply manage the symptoms.
Many medical experts agree that doctors prescribe PPIs too generally when they should only be used as a last resort. Frequently, the patient's issue can be resolved with the use of an over-the-counter antacid or lifestyle changes. In fact, one Michigan doctor studied 1,000 PPI users and found that only one-third of them had a diagnosis that merited a PPI prescription. Due to the negligence of overprescribing doctors, patients suffered the consequences of unnecessary PPI use.
The market offers many drugs that aid in acid-related issues, and PPIs are just one option. PPIs are very effective in treating such conditions, but there are alternatives that may be considered. Choosing which treatment regime is best for a patient is a decision that should be made with the help of a doctor and is one that requires an understanding of different options, including: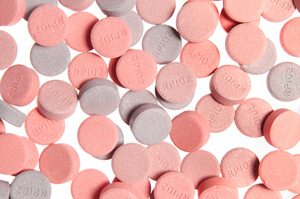 Antacids
Antacids are available over the counter as liquids or tablets, and often spell a fast, easy fix for occasional heartburn, acid reflux or indigestion. They contain ingredients such as aluminum, calcium or magnesium and they neutralize acid in the stomach. All antacids work the same, but they can lead to different side effects. Brands with magnesium may cause diarrhea, and brands with calcium or aluminum may cause constipation. Though rare, brands with calcium can cause kidney stones or other problems. Antacids that contain aluminum may cause calcium loss if taken in large mounts. This can lead to weak bones. If a patient experiences heartburn more than twice per week, then it is best to seek a doctor's advice rather than rely upon antacids for symptom management..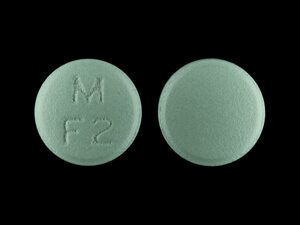 Histamine Blockers (H2 Blockers)
Another alternative for acid-related problems is a histamine blocker, or H2 blocker. This medication works to reduce stomach acid by preventing histamine found naturally in the body from binding to histamine receptors. When histamine combines with a histamine receptor, acid-producing cells in the stomach start to release hydrochloric acid. H2 blockers are available over the counter and in prescription form. They can be used as a short-term and long-term solution for management of acid-related problems and can be used in conjunction with antacids for maximum effectiveness. Ranitidine, famotidine, cimetidine and nizatidine are examples of H2 blockers. Side effects include nausea, vomiting and upset stomach.
Certified health practitioner Rebecca Montrone discusses the problems with PPIs
Please seek the advice of a medical professional before making health care decisions.
Author
Terry Turner is an Emmy-winning, former television journalist. He is an associate member of the American Bar Association, the ABA's Health Law group and a member of the Alliance of Professional Health Advocates. He holds six certificates in Health Literacy for Healthcare Professionals from the Centers for Disease Control and Prevention. As a Washington-based investigative reporter, he routinely reported on health and medical policy issues before Congress, the FDA and other federal agencies. Terry received his B.A. in Media Arts from Lyon College.
---
Did you suffer kidney problems after taking a proton pump inhibitor?