$417 Million Awarded to Plaintiff in L.A. Talc Trial
Fact-Checked
Editors carefully fact-check all Drugwatch content for accuracy and quality.
Drugwatch has a stringent fact-checking process. It starts with our strict sourcing guidelines.
We only gather information from credible sources. This includes peer-reviewed medical journals, reputable media outlets, government reports, court records and interviews with qualified experts.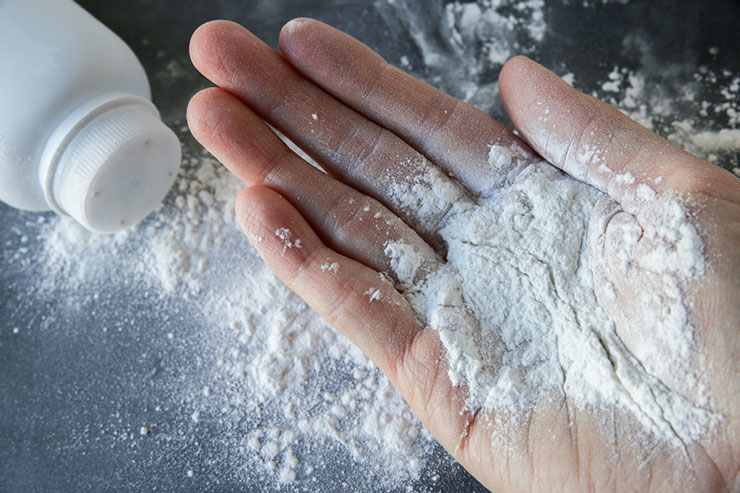 A jury in Los Angeles has ordered Johnson & Johnson to pay $417 million to a woman who is terminally ill with ovarian cancer after using baby powder on her genitals for more than 40 years.
This marks the largest single award in a case involving claims that talcum powder gave a woman ovarian cancer.
Jurors voted 9-3 in favor of the verdicts, which included a total of $70 million in non-economic damages and $347 million in punitive damages against Johnson & Johnson and its consumer products subsidiary.
Eva Echeverria has been sick for more than a decade, and now her doctor says she doesn't have much longer to live, having outlasted the prognosis she received when she was diagnosed in 2007 with ovarian cancer.
"I thought I was going to die for Christmas because I was so sick," Echeverria testified via video during the trial in a Los Angeles courtroom over whether the baby powder caused her cancer. "I have a grandson. He is five years old and he loves me so much. I love him so much. And I don't know what I would do without him. And I know he loves me so much. He tells me he loves me every day, and he hugs and kisses me. It makes me so sad because I don't know long I'm going to be able to tell him that I love him."
Echeverria is a sympathetic person, conceded attorney Bart Williams, attorney for the New Jersey-based corporation. But, he told jurors, "Doing justice is not dispensing sympathy. It's more than that."
The trial was streamed live over the Internet by Courtroom View Network, CVN.com.
Echeverria was 52 when she was diagnosed after using baby powder for about 40 years in her private area. She sued J&J in Los Angeles and hers was selected as a bellwether case, which could help determine the outcomes of other similar lawsuits.
Did talcum powder give you ovarian cancer?
Previous trials in other jurisdictions have resulted in a cumulative total of more than $300 million in damage awards ordered plaintiffs in four different cases in St. Louis. J&J won another St. Louis trial, and yet another case in that city ended in a mistrial. A New Jersey judge dismissed the first of two cases to go to trial there.
Echeverria's doctor, Annie Yessaian, testified during the Los Angeles trial that talc use was the cause of Echeverria's cancer. Williams said Yessaian has lost her objectivity caring for her patient for ten years.
The plaintiffs maintain that the pharmaceutical and cosmetics giant knew that talc could cause ovarian cancer when used by women on their genitals, but that it failed to warn consumers, putting profits before safety.
Johnson & Johnson says the powder is safe and that scientific evidence cited by the plaintiffs is flawed.
"Talc doesn't cause ovarian cancer," Williams told jurors during his summations on Aug. 16. "The plaintiff's experts didn't say talc caused ovarian cancer until they were hired for litigation, and the FDA has stated that a warning for talc is not supported by the scientific evidence."
Echeverria's lawyer, Allen Smith, maintained that Johnson & Johnson was aware of safety concerns relating to talc and the vagina as far back as 1964. "They did nothing," he said, in spite of peer-reviewed literature that later emerged that demonstrated talc is dangerous.
Smith showed jurors a newspaper article from 1996 about condom manufacturers ending use of talc because of concerns of the danger for women. He also showed studies he said established a link, and internal J&J documents he said demonstrated that the corporation was aware of the risk and hid it from unsuspecting customers.
He said 10 percent of all ovarian cancer diagnoses can be attributed to use of talc, or about 2,400 cases a year.
"There can be multiple causes of Ms. Echeverria's cancer," Smith said. "We don't have to prove that talc was the sole cause," only that it was a substantial factor, even if there were multiple substantial factors.
Williams said more than half of the studies done have found no significant association between talc use in the genital area and ovarian cancer. The studies that found a link, he said, were flawed.
But researchers have found other risks, some of which Echeverria had.
"Medicine knows no definitive answer to what causes ovarian cancer," he said. "We do know there are several risk factors just about all the doctors and researchers agree on, and talc isn't one of them…from a long family history of cancer, to morbid obesity to having a child a little later in life at age 36, to starting one's period a little earlier than normal. All of these are accepted risk factors for ovarian cancer that Ms. Echeverria has. And there is the number one cause of ovarian cancer that accounts for the vast majority of them, which is unknown etiology or unknown cause."
Echeverria testified that if she had known the risk, she wouldn't have used the baby powder on her genitals.
Williams told jurors Echeverria ignored warnings on other products, including cigarettes and prescription drugs.
Williams showed jurors a letter from the FDA in 2014 responding to an advocacy group that sought a warning on talc. In the letter, the FDA said it "did not find that the data submitted presented conclusive evidence of a causal association between talc use in the perineal area and ovarian cancer."
Another of Echeverria's attorneys responded by showing jurors another portion of the letter in which the FDA acknowledges a possible link: "The best evidence for an association or causal relationship between genital talc exposure and ovarian cancer comes from epidemiologic data which show a statistically significant but modest increased risk of epithelial ovarian cancer, especially with serious histology among women with a history of genital dusting with talcum powder. While the growing body of evidence to support a possible association between genital talc exposure and serous ovarian cancer is difficult to dismiss, the evidence is insufficient for FDA to require as definitive a warning as you are asking."
Smith reminded jurors that Echeverria told them in her videotaped testimony that she is afraid to die. She's had surgery and 114 rounds of chemotherapy.
"The pain is so bad," Echeverria said. "I can't sleep at night because I can't move on my right side because of the liver and the kidneys. The kidney – I have the kidney pain, I have the leg pain, pelvic pain, abdominal pain. And when the tumor feels like moving, it will move and cause, like, my leg to have pain. That's the pelvic mass. That's the big, big mass…
"I'm extremely fatigued. I have nausea; I have vomiting. I have headaches. I have – I'm not balanced well and I can't taste. I can't smell. My hearing is going too. And then, you know, the pain. Oh, I have neuropathy. It's so bad that my feet feel like I'm walking on broken glass. And I've fallen several times because I can't feel – I can't feel myself walking."
Share This Page:
How can we improve this page?
Thank You for Your Feedback
We appreciate your feedback. One of our content team members will be in touch with you soon.
We appreciate your feedback. One of our content team members will be in touch with you soon.