Does Talc Cause Cancer?
Studies have linked regular talcum powder use to ovarian cancer, mesothelioma and other cancers — and juries are finding companies like Johnson & Johnson responsible. While further studies are needed, some medical experts are warning consumers to avoid products that contain talcum powder because of the potential cancer risk.
Juries are awarding millions to people who say talcum powder products like Johnson & Johnson's baby powder caused their cancers. Is baby powder bad for you?
Study results are mixed, and the medical community has yet to reach a definitive answer. But it is important for consumers to be aware of the potential cancer risks.
What Is Talcum Powder?
Talcum powder is made from talc, a naturally occurring mineral mined from rock deposits. Talc is the softest known mineral. Hydrated magnesium silicate is its chemical name.
When it's finely ground, talc creates a smooth and silky powder that absorbs moisture, reduces odors and cuts down on friction. Those properties make it an ideal ingredient in baby powder, deodorant, makeup and hundreds of other consumer products.
Johnson & Johnson's baby powder is one of the best-known talcum powder products. A household staple for more than 125 years, it's commonly used on infants to prevent diaper rash. Millions of women also use baby powder as part of their daily feminine hygiene routine.
Is Talc Toxic?
Despite its wholesome image and widespread use, talc is not completely benign.
Small babies are particularly vulnerable to the toxic effects of talc dust. Talc dust can cause significant harm if it's swallowed or inhaled.
Talc inhalation can cause wheezing, coughing, chest pain and difficulty breathing. Although rare, talcum poisoning can prove fatal.
Because of these risks, Johnson & Johnson includes a warning on its baby powder product. It says to keep the powder away from your child's face to "avoid inhalation."
But some consumers are calling on the company to put an extra warning label on the powder. They allege that long-term use of baby powder caused them to develop cancer.
Talc Warning
In May 2018, jurors in California asked a judge if they could force Johnson & Johnson to add a cancer warning to its baby powder products. The judge said no. The jury said the company should pay $4 million as punishment.
In talcum powder lawsuits, consumers accused the company of covering up these dangers and failing to protect them. Johnson & Johnson vigorously rejects the claims.
Is Talc a Carcinogen?
Talcum powder's potential links to cancer are hotly debated.
Over the past several decades, a number of studies have linked the use of talcum powder to an increased risk of ovarian cancer and other cancers.
Did You Know?
Perineal use of talc-based body powder is possibly carcinogenic to humans.
Thousands of women have filed suit against Johnson & Johnson and other baby powder manufacturers. Talcum powder lawsuits allege that routine use of talc led them to develop ovarian cancer.
Other studies have not demonstrated these links. Johnson & Johnson has consistently denied its products can cause cancer. Consumer watchdogs and regulators have largely downplayed potential risks and say more research is needed.
How Does Talcum Powder Cause Ovarian Cancer?
There are two schools of thought about how talc might cause ovarian cancer.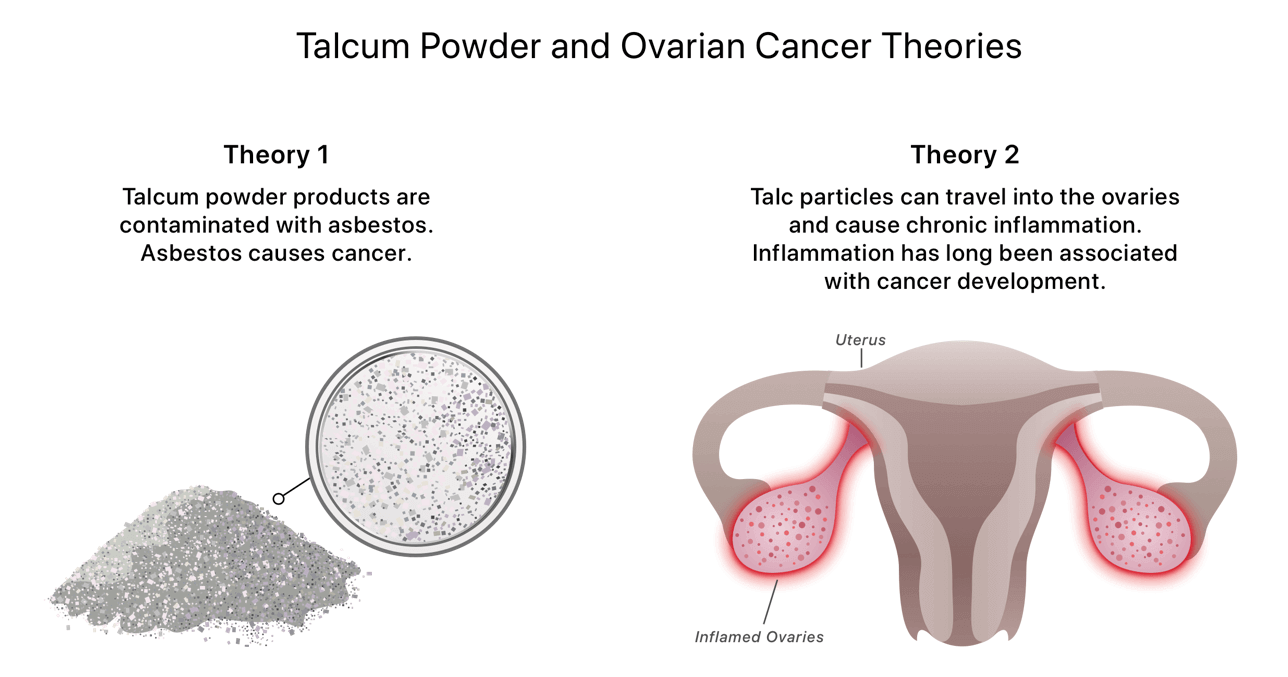 One theory is that talcum powder products are contaminated with asbestos, a known carcinogen. In nature, talc mines are often located near asbestos deposits. As a result, raw talc is often laced with asbestos.
Talc products sold in the U.S. have supposedly been asbestos-free since the 1970s. But it's possible that some asbestos-contaminated products remained on the market even longer — or that baby powder still contains asbestos today.
Although cosmetic grade talc is refined to remove impurities, there is no direct government oversight to ensure that happens. The cosmetic industry essentially polices itself.
Dr. Daniel Cramer, a Harvard University researcher who has been studying the issue for nearly four decades, supports a different explanation.
In an interview, he told Drugwatch that research "convincingly" shows that when a woman applies talcum powder to her genital area, small particles migrate up the vaginal canal and travel to the ovaries. The particles can remain there for years, causing chronic inflammation that leads to cancer, he said.
What Talcum Powder Studies Say About Ovarian Cancer
The scientific community first recognized a possible link between talcum powder and ovarian cancer in the early 1970s. Researchers discovered particles of talc in ovarian and cervical tumors. The plate-like particles have also been found in the lymph nodes of women with ovarian cancer.
A 2007 case report in the journal of Obstetrics & Gynecology noted the presence of talc in the pelvic lymph nodes of a 68-year-old woman with stage III ovarian cancer. The patient had sprinkled talcum powder on her genital area every day for 30 years.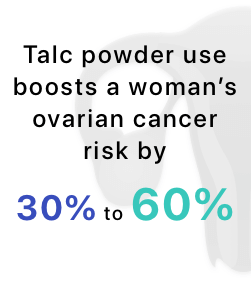 A number of epidemiological studies have shown a link between the use of talcum powder and ovarian cancer.
A 2016 study led by Cramer suggests that women who regularly dust their genital region with talc have a 33 percent higher risk of developing ovarian cancer than women who don't use baby powder.
A 2015 study by Dr. Roberta Ness had similar findings. It concluded that talc use boosts a woman's ovarian cancer risk by 30 percent to 60 percent and eliminating the use of talcum powder could protect more than a quarter of women who develop the devastating disease.
What Expert Agencies Say About Talcum Powder and Ovarian Cancer
The International Agency for Research on Cancer, a division of the World Health Organization (WHO), considers genital talc use as "possibly carcinogenic" to humans.

But U.S. regulatory and research agencies aren't convinced. The National Cancer Institute says the "weight of evidence" does not support a link between talc exposure and ovarian cancer.
The American Cancer Society says the effects of talcum powder on ovarian cancer risk are "unclear" — but given talc's widespread use more research is needed to "determine if the increased risk is real."
The U.S. Food and Drug Administration also says evidence of a causal effect is lacking. But it continues to research and monitor the issue amid a "continuing influx" of adverse event reports related to talcum powder use.
What Juries Say About Talcum Powder, Ovarian Cancer Link
While the scientific debate rages on, many juries have sided with consumers in talcum powder lawsuits. Since 2016, six of 10 juries have ruled against Johnson & Johnson. Some of the cases have resulted in massive monetary awards.
In July 2018, a Missouri jury ordered Johnson & Johnson to pay a record $4.69 billion to 22 women who developed ovarian cancer after decades of daily use of the company's baby powder. Johnson & Johnson is appealing the decision.
A $72 million verdict in another Missouri talcum powder case was overturned in late 2017. The appeals court did not dispute the facts in the case but said Missouri was not the proper jurisdiction for the lawsuit.
In 2017, a California jury awarded $417 million to a 62-year-old woman who blamed her terminal ovarian cancer diagnosis on 50 years of use of Johnson's baby powder. A superior court judge tossed out the verdict in 2018, citing inadequate evidence on both sides and jury misconduct. A new trial has been ordered.
More than 9,000 similar talcum powder lawsuits are weaving their way through the court system.
What Johnson & Johnson Says About Talcum Powder Safety
Despite is legal setbacks, Johnson & Johnson stands behind the safety of its iconic product. The company says its baby powder has been asbestos-free since the 1970s and does not cause cancer.
It touts the fact that no government health authority has concluded that talc can cause ovarian cancer — and counters with studies that don't show a connection between ovarian cancer and talc.
Johnson & Johnson acknowledges on its website that "some case-control studies have shown a statistical association between powder use and ovarian cancer." But the company says such studies, which rely on memory, have potential pitfalls, including "recall bias." Memories aren't always accurate, and women might overestimate their talcum powder usage, Johnson & Johnson says.
The Bottom Line
While Johnson & Johnson blames the jury awards on plaintiffs' cherry-picked data, the company's arguments also omit certain facts.
On its website, for instance, Johnson & Johnson trumpets findings from The Nurses' Health Study (NHS), the largest women's health study ever conducted. It states that the 24-year study of 78,630 women and 31,789 talc users showed "no increase in the overall rate of ovarian cancer among the talc users, regardless of how often they used talc."
But Johnson & Johnson fails to point out that the study did find a modest elevation in risk of serous ovarian cancer — the most common form of the disease.
The connection between talcum powder is inconclusive, and most experts agree that more research is needed.
Cramer believes that animal studies will eventually confirm the link.
"There will be new studies related to in vivo and in vitro data — studies in test tubes and studies in animals — that I think will show that talc is capable of causing neoplasms of the ovary,"
In the interim, some companies have added warnings to their talc-based products. The label on Angel of Mine Baby Powder, which is sold at Dollar Tree stores, cautions that "frequent application of talcum powder in the female genital area may increase the risk of ovarian cancer."
Another brand of talcum powder sold at Walmart carries a similar warning. Johnson & Johnson's baby powder does not.
Talcum Powder Mesothelioma Connection
Some studies and lawsuits have also linked long-term use of talcum powder and mesothelioma. Mesothelioma is a rare and deadly form of cancer that attacks the lining of the chest wall, lungs and other organs.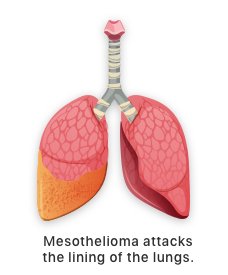 A 2014 study in the International Journal of Occupational and Environmental Health concluded that historic talcum powder exposure was a "causative factor" in mesothelioma in women.
The study found asbestos fibers in the lungs of a woman who used one specific brand of talcum powder and eventually died of mesothelioma. Laboratory testing of 50 samples of that brand of powder produced over five decades showed it contained asbestos.
The researchers even traced the asbestos back to the mines where the talc originated. They did not name the specific brand.
Talcum Powder and Mesothelioma Verdicts and Settlements
In 2018, a New Jersey jury ordered Johnson & Johnson and its talc supplier, Imerys SA, to pay $117 million to an investment banker who developed mesothelioma after decades of using Shower to Shower and Johnson & Johnson's Baby Powder.
The jury concluded that Johnson & Johnson knew its product contained trace amounts of asbestos for years but failed to warn consumers.
It's not just a Johnson & Johnson problem. In 2015, a California jury ordered Colgate-Palmolive Co. to pay $13 million to a woman diagnosed with mesothelioma after using an asbestos-contaminated talcum powder called Cashmere Bouquet. Colgate-Palmolive has settled other similar cases.
Both Johnson & Johnson and Colgate-Palmolive deny their products contain asbestos or cause mesothelioma. Imerys also rejects allegations that its talc is tainted or causes cancer.
Talcum Powder and Lung Cancer
Talc inhalation can cause serious breathing problems and lung inflammation. Some studies, including the 2014 study in the International Journal of Occupational and Environmental Health, suggest it may contribute to lung cancer.
Talcosis
A 2015 study by researchers in the Netherlands found that a worker in a chocolate factory developed severe lung inflammation, known as talcosis, from inhaling talc. Talcosis is also common in the mining industry.
A 1993 study by the National Toxicology Program, a division of the National Institute of Environmental Health Sciences, concluded that asbestos-free talc caused tumors in the lungs and adrenal glands of rats.
The rats in the study were exposed to high concentrations of talcum powder aerosols six hours a day, five days a week for two years or longer.
The FDA, however, has denounced that study as having "serious flaws" in design and conduct. As a result, it says the study has "no relevance to human risk."
Some studies of talc miners and millers have demonstrated an increased risk of additional diseases such as lung cancer, while others have not.
The American Cancer Society notes that these studies are complicated by the fact that naturally occurring talc is often contaminated with asbestos. Also, miners can be exposed to other carcinogens, such as radon, that can also increase the risk of lung cancer.
Products That Contain Talcum Powder
Baby powder isn't the only product that contains talc. It's a common ingredient in a variety of household and personal care products.
Many types of makeup include talc to prevent caking, absorb moisture and soften products for easy application.
Talcum powder is a common food additive in products from olive oil to rice. It's used an as anti-sticking agent in some types of chewing gum and candy.
Companies have used talcum powder in the following products:
Foundations
Concealers
Blushes
Eye shadow
Face powder
Mascara
Rouge
Eyebrow pencils
Deodorants
Pharmaceuticals
Soaps
Chalk
Crayons
Paints
Condoms
Contraceptive diaphragms
Reducing Exposure to Talcum Powder
To reduce exposure to talcum powder, consumers should read all ingredient labels on baby powder products, Ness, who is an epidemiologist, said in a press release.
Ness is also a women's health researcher and former Dean of The University of Texas School or Public Health. She urges women who use talc as part of their daily feminine hygiene routine to "stop using it immediately." If talc is listed as ingredient, she advises them to find a cornstarch-based alternative.
Cramer says he doesn't think use of talcum powder in non-genital areas, such as the underarms or feet, is "particularly problematic," but says women should never use talc products in their vaginal area.
If you're unsure of whether a product contains talcum powder, you can search the list of household items from the U.S. National Library of Medicine.
Talcum Powder Alternatives
Medical experts like Ness say cornstarch-based powders are safe alternatives to talc. Johnson & Johnson now sells a cornstarch-based baby powder.
Burt's Bees Dusting Powder is another popular cornstarch-based baby powder. No studies have linked cornstarch-based powders to ovarian cancer risk.
Arrowroot powder is another popular talc substitute. It comes from a South American plant that's similar to the potato.
Alternatives to talcum powder that don't cause cancer include:
Cornstarch
Arrowroot powder
Baking soda
Tapioca starch
Kaolin clay
Rice starch
Oat flour
You can find these in commercial products or even make your own.
What to Do If You're Diagnosed with Cancer After Talcum Powder Exposure
If you've ever used talc for feminine hygiene, it's important to consult with your gynecologist for monitoring and testing. A special blood test and ultrasound imaging can be used to detect ovarian cancer.
If tests reveal cancer, the next step involves determining the size of the cancer and seeing whether it has spread. This process is called staging, and it will determine your best treatment options.
Asking the Right Questions
Facing a diagnosis of ovarian cancer can be overwhelming. You'll have many decisions to make and likely have many questions about treatment options.
Some important questions to ask your doctor include:
What treatments he or she recommends and why?
What side effects and risks are associated with various treatments?
How effective are the different treatments?
How should you prepare for your treatment?
Whether you'll be able to have children after treatment?
If you're able to, you may want to seek a second opinion. Another specialist may suggest treatment options you didn't know about. Or her or she might echo your first doctor's approach, providing you with peace of mind about your medical decisions.
Connecting With Others
As you go through your cancer journey, it's important to ask for help from others. Treatment often involves surgery, chemotherapy and radiation and is often physically grueling.
Most people depend on friends and family for support but connecting with trusted resources and support groups can also help. The National Ovarian Cancer Coalition provides vital information to those affected by ovarian cancer. The group has chapters across the nation.
Filing a Lawsuit
If you believe your cancer may be related to talc use, you should speak with an attorney. Juries have awarded billions to people who've been harmed by talc products. You may also be entitled to compensation.
Drugwatch's legal partners are accepting talcum powder mesothelioma cases, as well as talcum powder ovarian cancer cases — but your options may be time limited. The clock begins ticking after your cancer diagnosis and many states impose a two- or three-year statute of limitation on claims.
Talcum powder lawsuits can also be filed by family members of women who died of ovarian cancer that was related to their talc use. Most states allow an individual to make a wrongful death claim for a wife, mother or daughter.
Please seek the advice of a medical professional before making health care decisions.
How helpful was this page?
How can we improve this page?
How can we improve this page?