Is Talc in Makeup Safe?
Talc has been used in makeup for centuries, but talcum powder lawsuits and asbestos-tainted products have raised safety concerns among consumers. As researchers continue to study the link between talc and cancer, consumers can protect themselves by reading cosmetic labels and using products only as directed.
Talc isn't found only in baby powder. Look at the label of your blush, face powder or eye shadow and you'll likely see talc listed as an ingredient.
But is makeup containing talc bad for you? According to the U.S. Food and Drug Administration, talc is "generally recognized as safe" for use in cosmetics and other products.
Nonetheless, the ongoing debate over talcum powder's potential links to cancer has some women second-guessing their beauty routines. And reports of asbestos contamination of makeup products marketed to kids have added to their worries.
While there are still many unanswered questions about talcum powder, some data-supported facts exist about the controversial mineral and its use in makeup.
Cosmetic Use of Talc
The cosmetic use of talc dates back centuries. Five thousand years ago, the people of Egypt and northwest India used the naturally occurring mineral to lighten their skin. The Chinese made similar face powders from rice powder mixed with ground talc and a type of clay called kaolin.
Today, talc is a common ingredient in blush, eyeshadow, foundation and numerous other beauty products. The soft mineral gives makeup a silky texture that makes it easier to apply. Talc also absorbs oil, prevents caking and makes facial makeup more translucent.
The following makeup products often contain talc:
Foundation
Concealer
Blush
Eye shadow
Face powder
Mascara
Rouge
Eyeliner
Eyebrow pencil
Lipstick
Moisturizing Cream
Lotion
Face masks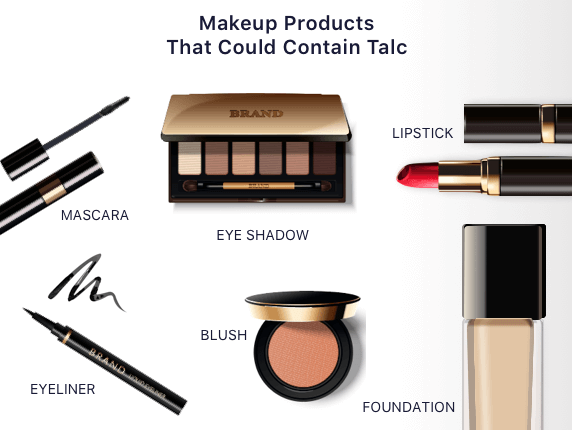 The amount of talc in makeup products differs from item to item. Face powders often contain up to 100 percent talc, according to a safety report from the Cosmetic Ingredient Review Expert Panel. Other products, such as aerosol makeup bases, can be up to 35 percent talc. You can find the percentage of talc in many Cover Girl makeup products in the National Library of Medicine's Household Products Database.
Side Effects
Most people tolerate talc well, but the mineral can have unintended side effects. Talc may cause problems if it's swallowed or inhaled. Additionally, if makeup containing talc gets into your eye, it can cause redness and the sensation that something is stuck in your eye.
Is Talc Safe for Skin?
Talc is rarely bothersome to the skin. In fact, people often use talc to soothe dry or irritated skin. But the powdery mineral can cause problems if it gets under the skin through an open wound.
Warning
Talc should not be applied to the skin when the epidermal barrier is missing or significantly disrupted.
Applying talc to wounds can cause infections and inflammation. A 2006 case report in the Journal of the European Academy of Dermatology and Venereology described a six-year-old who developed hard pockets of inflammation on his face, known as granulomas, after applying talcum powder to chicken pox lesions.
If you have any cuts or abrasions on your face, it's probably best not to apply talc or makeup with talc to the skin. If you develop any signs of irritation or infection on regions of skin where you've used a talc product, stop using it and promptly see your doctor or a dermatologist.
Inhaling Talc
Inhaling cosmetic talc can cause serious respiratory problems. Most reports involve a child or baby who accidentally inhaled or swallowed baby powder — but face powder poisoning can also occur.
Symptoms of face powder poisoning include: coughing, breathing trouble, eye irritation and a burning sensation in the throat. It can also cause abdominal pain, nausea, vomiting and diarrhea. Unlike talcum powder poisoning, face powder poisoning is rarely serious or fatal, but it may require emergency medical treatment if symptoms are severe.
If you or someone you know has face powder poisoning, call 911 for help and call the Poison Control Center at 1-800-222-1222.
Repeated inhalation of talc can also cause serious lung problems in adults, including asthma, bronchitis and talcosis. Talcosis is an inflammation of the lungs that can lead to stiffening or scarring of the lungs and lung failure. Common symptoms include shortness of breath and a dry cough.
Lung X-rays can usually identify pure talcosis, which presents as small nodules in the lower lobes of the lung. Pulmonary function tests will usually show signs of restrictive lung disease, which cause reduced lung volume and breathlessness.
Talc Reactions
While occupational exposure and IV drug use are the most common causes of pulmonary talcosis, "inhalation of pure talc in cosmetics" can also cause the lung disease, according to researchers at Moffitt Cancer Center.
Because of the potential risks, it's best not to blow on your face powder, eye shadow, blush or makeup brushes. You want to minimize the amount of talc that ends up in the air so you don't breathe it in.
Does Talc in Makeup Cause Cancer?
While there's no evidence that talc in makeup increases a person's cancer risk, talc's potential connection to cancer is a hot topic of debate. Recent recalls of makeup tainted with asbestos, a known carcinogen, have also raised concerns about cancer.
Potential Links to Cancer
A number of studies and lawsuits have suggested a link between talcum powder and ovarian cancer.
Researchers have found talc particles deeply embedded in the tissue of ovarian and cervical tumors of women who'd used talcum powder near their genital regions for decades. Various studies have concluded that genital talc use may boost a woman's risk of developing ovarian cancer by 30 to 60 percent.
Other studies, however, have not found a connection. And talcum powder manufacturers, such as Johnson & Johnson, vigorously reject the notion that their product causes ovarian cancer.
Studies and lawsuits have also linked talcum powder and mesothelioma. Mesothelioma is a deadly cancer caused by asbestos exposure. Johnson & Johnson, which is at the center of several talcum powder lawsuits, insists that its products are asbestos-free and do not cause cancer.
Additional diseases linked to talcum powder include lung cancer, uterine cancer, cervical cancer and asbestos-related diseases.
Were you diagnosed with ovarian cancer or mesothelioma after using talcum powder?
Is Talc in Makeup Carcinogenic?
While the debate over the potential link between cancer and talc-containing products such as feminine hygiene products and baby powder continues, makeup products containing talc have not come under the same legal scrutiny.
That may stem, in part, from the way makeup is used. While talcum powder may be applied liberally all over the body, most people apply only small amounts of makeup to the face.
Although the World Health Organization's International Agency for Research on Cancer has deemed genital use of talcum powder as "possibly carcinogenic to humans," makeup isn't typically applied near a person's genital area. Makeup products are also less prone to becoming airborne.
What About Asbestos-Tainted Makeup?
Asbestos and talc are both silicate minerals that form in the Earth's crust, often in close proximity to each other. This sometimes results in asbestos-contaminated talc. Since the 1970s, all cosmetic-grade talc has been required to be asbestos-free — but reports of asbestos-contaminated makeup have been cropping up.
A 2018 study by the U.S. Public Interest Research Group (PIRG) reported high levels of asbestos in three types of makeup sold by Claire's. The retailer has since declared bankruptcy. That same year, Justice, a retail clothing store owned by Ascena Retail Group, Inc., recalled eight "Just Shine" makeup products that contained the toxic fibrous mineral.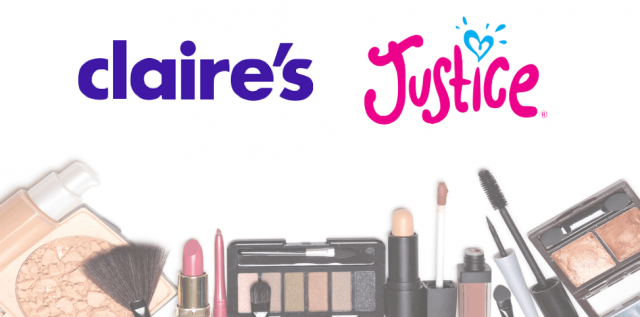 Asbestos fibers can be deadly when inhaled, causing mesothelioma to develop decades after the initial exposure. But according to Henry Spiller, director of the Central Ohio Poison Center, the risk to children is small.
"While it should never be in any consumer product and certainly not in children's makeup, unless your child was making large dust clouds from the makeup every day for weeks or months, the amount of asbestos exposure is nearly zero," Spiller wrote in a blog post for Nationwide Children's Hospital.
The FDA Takes a Look
In 2009, the FDA decided to take a closer look at the purity of cosmetic talc and asked nine talc suppliers for samples of their talc. Only four complied. The agency also analyzed 34 cosmetic products, including blush, foundation, face powder, body powder and eye shadow.
Although no asbestos was found in any of the tested talc or cosmetics, the FDA cautioned against gleaning too much from the study. It said the results were limited by the number of talc suppliers who participated, and it noted that only a tiny fraction of all cosmetics on the market were tested.
The FDA called the results informative but stated that "they do not prove that most or all talc or talc-containing cosmetic products currently marketed in the United States are likely to be free of asbestos contamination." In fact, in 2019, Johnson & Johnson recalled 33,000 bottles of its talc-based baby powder after the FDA found trace amounts of asbestos in a sample.
J&J announced in August 2022 that it would stop making talc-based baby powder in 2023. The company insists that this decision has nothing to do with the product's safety and its baby powder doesn't contain asbestos.
Talc-Free Makeup
As talcum powder verdicts and settlements continue to make headlines, some consumers are steering clear of talc all together.
If you want to avoid talc, you should make a habit of reading labels. Look on the packaging of makeup before you buy it, and if you're not sure what it contains, move on to another brand.
The Environmental Working Group, a nonprofit advocacy group on environmental health issues, has a searchable database with ingredient information on more than 73,000 cosmetic products. It can tell you whether talc is present and also lists other ingredients of concern.
While many cosmetic companies still use talc in their makeup products, an increasing number of companies are phasing it out. Brands in all price ranges, from Cover FX to Physicians Formula, offer talc-free makeup products, and Sephora.com even has "Highlighted Ingredients" and "Ingredient Callouts" sections that list the included and excluded ingredients in the products it sells.
Please seek the advice of a medical professional before making health care decisions.
Share This Page:
How can we improve this page?
Thank You for Your Feedback
We appreciate your feedback. One of our content team members will be in touch with you soon.
We appreciate your feedback. One of our content team members will be in touch with you soon.
Who Am I Calling?
Calling this number connects you with a Drugwatch representative. We will direct you to one of our trusted legal partners for a free case review.
Drugwatch's trusted legal partners support the organization's mission to keep people safe from dangerous drugs and medical devices. For more information, visit our partners page.