People with mesothelioma and their families filed lawsuits against manufacturers of asbestos products. Asbestos causes most mesothelioma cases. Lawsuits say companies failed to warn workers exposed to asbestos.
In 1973, a shipyard worker won the first mesothelioma asbestos jury verdict. By the early 1980s there were more than 20,000 claims.
Lawsuits continue today.
People who filed claims include factory workers, military veterans, construction workers and others exposed to asbestos.
The average settlement for mesothelioma is between $1 million and $1.4 million. Awards for trial verdicts average $7.4 million.
In May 2018, a California jury awarded a freelance construction worker $6.8 million after he developed mesothelioma.
Manufacturers have also placed billions of dollars in asbestos trusts to pay out compensation.
Drugwatch's legal partners are currently accepting mesothelioma cases.
Fact
Clarence Borel filed the first successful mesothelioma asbestos lawsuit and won a verdict in 1973.
How Long Do I have to File a Mesothelioma Lawsuit?
Fact
The time limit to file a mesothelioma lawsuit is two to three years in most states.
Each state has a statute of limitations. A statute of limitations is the time limit for filing a lawsuit. Once the time runs out, plaintiffs and their families may no longer be able to file a lawsuit.
People diagnosed with mesothelioma typically have 12 to 24 months after diagnosis to file a lawsuit in most states.
Families who want to sue on behalf of a loved one who died of mesothelioma usually have 12 to 24 after the date of death to file a lawsuit.
How Do I File a Mesothelioma Lawsuit?
A mesothelioma lawyer can help an individual with mesothelioma file a lawsuit. If a person died from mesothelioma, his or her family can file a lawsuit on their behalf.
Most lawyers do not charge any fees until they win a recovery for their clients. Then, they take a percentage of the compensation amount.
Before a lawyer files a lawsuit, there are some criteria to meet.
Conditions allowing you to sue include:
A biopsy confirming diagnosis of malignant mesothelioma.
Exposure to asbestos before 1985.
Exposure to asbestos occurred in the United States.
Primary and Secondary Asbestos Exposure Lawsuits
Fact
Family members may be exposed to asbestos from the clothes, skin or hair of people who work with asbestos.
Traditionally, most plaintiffs in mesothelioma lawsuits are men exposed to asbestos on the job. This is primary exposure to asbestos.
But lawsuits for secondary exposure to asbestos are increasing. Secondary exposure occurs when family members breathe in asbestos on the clothes, hair or skin of someone who worked with asbestos.
In 2016, about 22 percent of asbestos cases claimed secondary exposure. In these cases, 90 percent of plaintiffs were women.
Injuries Claimed in Asbestos Lawsuits
The main disease claimed in asbestos lawsuits is mesothelioma. But people may also be able to sue for asbestos lung cancer and asbestosis.
Studies showed a connection between asbestos exposure and lung cancer. Asbestos and other carcinogens cause about 15 percent of lung cancer tumors.
Asbestosis occurs after asbestos fibers scar the lungs. This makes it difficult to breathe. The disease gets worse over time. About 15 percent of people with asbestosis die of respiratory failure.
Mesothelioma Talcum Powder Lawsuits
Workers exposed to asbestos on the job make up the majority of mesothelioma claims. But, people exposed to asbestos-contaminated talcum powder can also file mesothelioma claims.
Exposure to contaminated talcum powder can be industrial or cosmetic.
People who work with ceramics, paints or in talcum powder factories may be exposed to asbestos in industrial talc.
Before the 1970s, cosmetic consumer products such as baby powder and makeup contained talcum powder. This powder may have contained asbestos.
For example, in April 2018, a banker with mesothelioma received a $117 million jury award. He used Johnson & Johnson's baby powder.
Accusations Against Asbestos Manufacturers
Between the 1920s and 1970s, companies exposed millions of employees to toxic asbestos. Lawsuits accuse companies of failing to warn workers about the risks of asbestos.
Claims in asbestos lawsuits include:
Manufacturers knew about the risk of mesothelioma but concealed it from workers for the sake of profits.
Negligence and breach of warranty.
Manufacturers didn't add warning labels to asbestos products.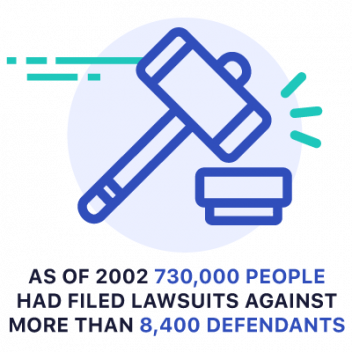 Manufacturers in Lawsuits
As of 2002, 730,000 people had filed lawsuits against more than 8,400 defendants. A mesothelioma lawsuit may name several defendants.
For example, a union steamfitter may have worked in many buildings for many companies. The steamfitter may also have used asbestos products from many corporations.
Top companies involved in asbestos mesothelioma lawsuits include:
Celotex Corp.
National Gypsum Corporation
Owens Corning/Fireboard Corp.
Raybestos-Manhattan Co.
W.R. Grace & Co.
Cases, Verdicts & Settlements
Clarence Borel was the first person to win an asbestos mesothelioma case in 1973. He worked as an insulator in refineries and shipyards.
Borel sued 11 companies that made the asbestos. A jury awarded Borel's widow total damages of $79,436.
Examples of Asbestos Mesothelioma Verdicts and Settlements:
May 2018

Freelance construction worker Kenneth Kramer received a verdict of $6.8 million in California.

April 2018

The family of boiler factory worker Pietro Macaluso received a verdict of $60 million in New York.

January 2017

Former courthouse employees exposed to asbestos during renovation settled for $80 million in Missouri.
Asbestos Trust Claims
Many lawyers file asbestos trust fund claims for mesothelioma patients against asbestos manufacturers that filed bankruptcy. These claims do not go through courts.
The Johns-Manville Corporation established the first trust in 1982. Since then, virtually every asbestos manufacturer has filed for bankruptcy and created a trust.
Companies deposited about $37 billion into the trusts. More than $18 billion has been paid to claimants.
Veterans and Asbestos Lawsuits
About one-third of mesothelioma victims are military veterans who were exposed to asbestos. Ships, tanks, aircraft and trucks all contained asbestos. The military also used asbestos in buildings on military bases.
The Department of Veterans Affairs (VA) provides some health-care services and disability benefits to veterans with mesothelioma. But many veterans file mesothelioma lawsuits against asbestos manufacturers.