Topamax is prescribed for epileptic seizures and migraines because it works to decrease abnormal nerve cell activity. It is also frequently prescribed with other medications to treat Lennox-Gastaut syndrome, a form of childhood-onset epilepsy that causes seizures and developmental delays.
Although the medication does not carry a black box warning (the FDA's most stringent warning), the list of warnings and precautions in the Topamax Medication Guide is extensive and has been updated continually since the drug became available in the U.S. These updates have been mandated by the FDA over the years, as post-market studies continued to confirm Topamax's adverse health effects.
Can Topamax Cause Birth Defects?
Perhaps the most damaging side effect of Topamax is the potential harm it poses for fetuses. Infants exposed to topiramate in utero have an increased risk for cleft lip and cleft palate, especially if the drug is taken during the first trimester of pregnancy, a time when women may not realize they are pregnant.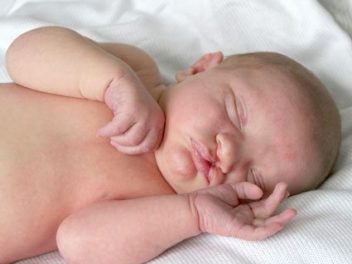 Topamax may make birth control less effective, so it is crucial that women of childbearing age and their doctors know the risks and discuss other treatment options.
Infants born to mothers who took Topamax during pregnancy are 21 times more likely to develop oral cleft and/or cleft lip than those born to women who did not take the drug.
A cleft palate is a type of orofacial disorder that results in an opening in the roof of the mouth when the two plates of the skull do not fuse together properly. A cleft lip may also occur in combination with a cleft palate. A cleft lip is an opening in the upper lip that can extend to the nose. It happens if the tissue that forms the lip does not attach entirely before birth.
"Cleft lip and cleft palate range from a small notch in the lip to a groove that runs into the roof of the mouth and nose, possibly leading to problems with eating, talking and ear infections," according to the FDA. "Surgery is often used to close the lip and palate."
Oral clefts occur early in pregnancy, before many women are aware they're pregnant. Most infants born with this birth defect undergo surgery before their first birthday, according to the Centers for Disease Control and Prevention (CDC).
Babies born to mothers who took Topamax during pregnancy may also suffer from other birth defects, including:
Persistent pulmonary hypertension of the newborn (PPHN)
Limb malformations
Heart defects
Lung defects
Neural tube defects, including spina bifida
Birth Defect Studies and FDA Warnings
In July 2008, a study in Neurology revealed that babies born to mothers who took Topamax during pregnancy suffered birth defects at 16 times the average rate. And data from the North American Antiepileptic Drug (NAAED) Pregnancy Registry show that the prevalence of oral clefts was 1.4 percent when mothers took Topamax during pregnancy, compared with a rate of 0.38 – 0.55 percent in infants exposed to other antiepileptic drugs (AEDs), and 0.07 percent in infants of mothers without epilepsy.
Topamax FDA Warning
In March 2011, the FDA issued a warning that Topamax may increase the risk of oral cleft birth defects as much as 21.3 percent, pointing to the Neurology study and NAAED data. The FDA also reclassified Topamax as a Class D drug, meaning it has been shown to harm the human fetus.
Topamax users began filing lawsuits, claiming the manufacturer should have fully informed women of the risk of birth defects but failed to do so despite evidence of increased birth defects available as early as 2008 — a year when Topamax sales exceeded $10 billion.
The American Journal of Obstetrics and Gynecology published a study in 2012 titled "Use of topiramate in pregnancy and risk of oral clefts." The study found that use of topiramate during the first trimester of pregnancy was associated with a five-fold increased risk of oral cleft in babies.
Each year in the U.S., about one in 1,000 infants is born with cleft lip with or without cleft palate. Based on the study results, the risk with topiramate-exposed pregnancy would increase to about five in 1,000 infants, according to the CDC.
Birth Control, Pregnancy and Breastfeeding
The FDA advises women of childbearing age who decide to take Topamax and who do not plan to become pregnant to use effective birth control. Women should talk with their doctors about the best kind of birth control to use while taking Topamax.
Women who become pregnant or who plan to become pregnant should talk to their doctors immediately about whether it's appropriate to continue taking Topamax. Even if they become pregnant, women should not stop taking the drug, unless a doctor instructs them to do so. Discontinuing Topamax suddenly can cause serious problems.
It's important to know that Topamax passes into breast milk, and the effects of exposing infants to the drug remain unknown. Women who are currently breastfeeding while taking Topamax should talk to their doctor about the best method for feeding an infant while using this medication.
Can Topamax Cause Serious Eye Problems?
Topamax can lead to serious eye disorders called acute myopia and secondary angle closure glaucoma. Both conditions can cause permanent blindness if left untreated.
Fact
Serious eye disorders associated with Topamax have affected both adults and children.
Acute myopia is the medical term for very nearsightedness, a vision condition in which people can see nearby objects clearly, but objects at a distance appear blurred.
Secondary angle closure glaucoma happens when the angle between the iris and cornea begins closing — usually because of blocked drainage canals caused by a sudden rise in fluid pressure inside the eye. Secondary angle closure glaucoma develops very quickly. Symptoms and damage caused by the disorder are usually very noticeable and demand immediate medical attention. This condition associated with Topamax has been reported in children and adults.
Symptoms of Eye Problems
Symptoms of these eye disorders typically occur within one month of starting Topamax. People taking Topamax should seek immediate medical attention if they experience blurred vision, visual disturbances or pain around the eyes.
Signs of acute myopia and secondary angle closure glaucoma include:
Vision that is less sharp, meaning patients can no longer discern letters or numbers at a distance
Fluid buildup around the eyebrow caused by displacement of the lens and iris
Increased fluid pressure inside the eye
Eye pain
Eye redness
Treatment for Eye Problems
The main treatment to reverse symptoms of myopia and secondary angle closure glaucoma is to stop taking Topamax as soon as possible. However, do not stop taking Topamax without consulting your doctor.
Fact
If treated, Topamax-induced eye problems can take anywhere from one to 14 days to return to normal.
In addition to discontinuation of the medication, a doctor may prescribe aqueous suppressants that either lower fluid production or increase its outflow. Other treatments include the diuretic acetazolamide (Diamox) — given orally or intravenously — and aggressive cycloplegia, paralysis of the ciliary muscle of the eye.
Secondary angle closure glaucoma usually goes away within 24 to 48 hours with medical treatment. It can take one to two weeks after stopping Topamax for the myopia to resolve.
Visual Loss
Topamax use can also cause a visual defect, which is a loss of part of the usual field of vision.
Visual field defects that are not associated with increased pressure in the eye have been reported in clinical trials and in postmarketing experience in people taking Topamax. In clinical trials, most visual field defects were reversible after the patient stopped taking Topamax.
The drug's label advises doctors and their patients to consider discontinuing Topamax if visual problems occur at any time during treatment.
Can Topamax Cause Suicidal Thoughts?
Topamax can increase the risk of suicidal thoughts or behavior. Users should be monitored for signs of new or worsening of depression, increased anxiety or panic, and/or any unusual changes in mood or behavior.
In 2008, the FDA completed a review of nearly 200 medical studies that show antiepileptic drugs, such as Topamax, cause an increase in suicidal thoughts and behaviors. Based on the outcome of this review, the FDA required all manufacturers of drugs in this class to include a warning in their labeling and develop a medication guide for patients to inform them of the risks of suicidal thoughts and behaviors.
Fact
FDA: Taking antiepileptic drugs like Topamax doubles a person's risk of suicidal thoughts and behaviors.
The FDA's pooled analyses involved 199 placebo-controlled clinical trials of 11 different antiepileptic drugs (AEDs). It showed that patients taking AEDs had about twice the risk of suicidal thinking or behavior compared to patients taking a placebo.
Patients in these trials took the drugs for an average of 12 weeks. In that time, the estimated incidence rate of suicidal thoughts or behavior among 27,863 AED-treated patients was 0.43 percent, compared to 0.24 percent among 16,029 placebo-treated patients. The analysis found an increase of about one case of suicidal thinking or behavior for every 530 patients treated.
Four people taking AEDs as part of the trial committed suicide; no patients taking the placebo took their own lives.
"The increased risk of suicidal thoughts or behavior with AEDs was observed as early as one week after starting drug treatment with AEDs and persisted for the duration of treatment assessed," according to the Topamax prescribing information. "Because most trials included in the analysis did not extend beyond 24 weeks, the risk of suicidal thoughts or behavior beyond 24 weeks could not be assessed."
Can Topamax Cause Mental Side Effects?
Topamax can cause cognitive/neuropsychiatric adverse reactions.
The most frequent of these can be classified into three general categories:
Somnolence or Fatigue

Sleepiness, Extreme tiredness

Psychiatric/Behavioral Disturbances:

Depression, Mood problems

Cognitive-related Dysfunction:

Confusion, Difficulty with memory, and speech or language problems (difficulty finding words), Psychomotor slowing, Difficulty with concentration/attention
Prescribing information for Topamax advises doctors to warn patients about the potential for somnolence, dizziness, confusion, difficulty concentrating or visual effects. Patients should not drive or operate machinery until they can determine whether the drug adversely affects their mental performance, motor performance and/or vision.
Are There Other Serious Side Effects of Topamax?
Other serious side effects associated with Topamax can lead to hospitalization, coma and even death.
Other Serious Side Effects of Topaxmax include:
Oligohidrosis and hyperthermia

Decreased sweating and dangerously elevated body temperature, which can lead to hospitalization

Hyperammonemia

Excess of ammonia in the blood, which can affect mental activities, slow alertness and cause fatigue or vomiting

Encephalopathy

A brain disease that alters brain function or structure

Hypothermia

A medical emergency categorized by dangerously low body temperature that occurs when the body loses heat faster than it can produce it

Metabolic acidosis

The body produces too much acid, or the kidneys do not remove enough acid from the body, causing brittle or soft bones, kidney stones, slower rate of growth in children, coma and death
Please seek the advice of a medical professional before making health care decisions.
How helpful was this page?
How can we improve this page?
How can we improve this page?