Valsartan Side Effects
Valsartan side effects range from headaches to low blood pressure. The drug includes a black box warning from the FDA for fetal toxicity. Although cancer is not a typical side effect of valsartan, manufacturers in 2018 recalled some batches of the medication because of contamination with a cancer-causing chemical called NDMA.
What Are Common Side Effects of Valsartan?
Valsartan is a high blood pressure drug that is considered generally safe and tolerated better by patients than alternative treatments. Like any drug, however, it comes with side effects.
The most common side effects of valsartan include:
Nausea
Cough
Dizziness
Tiredness
Diarrhea
Headache
Pain in the abdomen
High blood potassium
Flu-like symptoms
Joint pain
Back pain
Common side effects of valsartan are generally mild and brief. They don't necessarily require patients to stop taking valsartan, which is sold under the Diovan brand name. In addition to side effects listed on the label, people also reported weight gain and hair loss after taking the drug.
Weight Gain Reports
Weight gain is not listed on the valsartan label as a side effect. But a study of FDA reports found incidents of weight gain among patients who took the drug. Weight gain was more pronounced for women 60 and older who took the drug for less than one month or between two and five years and also took the drug Lyrica and had high cholesterol or asthma. eHealthMe published the study online.
No Proven Link to Hair Loss
Hair loss is not among the side effects listed on valsartan's label. A review of FDA reports found that out of more than 29,000 people reporting side effects while taking the drug, 297 people reported hair loss. It's not clear whether those people might have experienced hair loss without taking the medication.
Some side effects of the blood pressure medication are more serious than others and require medical attention. Possible serious side effects include allergic reactions and rare instances of liver damage.
Less serious, but more common, side effects include headache and dizziness. The medication poses a serious risk to the unborn if taken during pregnancy.
Suffering from liver damage, tumors or cancer after taking Valsartan?
Serious Valsartan Side Effects
The drug carries warnings about the potential for low blood pressure. If you also take water pills and are on a low-salt diet while taking the drug, you are most likely to develop low blood pressure.
The drug's label warns health care providers to monitor kidney function and potassium in vulnerable patients. The medication has also been linked to rare instances of acute liver injury.
Cancer is not a known side effect of valsartan, but in July 2018 manufacturers issued a valsartan recall for some batches of medication contaminated with N-nitrosodimethylamine (NDMA) — a toxic chemical known to cause cancer and death in animals. NDMA may also cause liver damage in humans.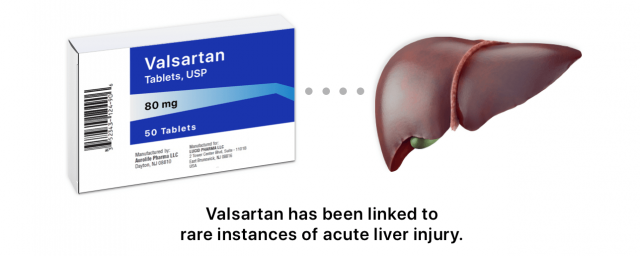 Valsartan is considered extremely dangerous to the unborn. Patients should not take the medication when they may be pregnant. The drug carries a black box warning against use during pregnancy.
Potentially serious side effects include:
Allergic reactions
Impotence
Acute liver injury
Low blood pressure
Fetal toxicity
Reduced renal (kidney) function
Hyperkalemia (higher than normal potassium in the blood)
Kidney Problems
Patients taking the drug have reported renal (kidney) impairment to the FDA. For patients with kidney disease, this medication can make it worse. Symptoms of kidney impairment include unexplained weight gain and swelling in hands, feet or ankles.
The drug may increase the level of potassium in your blood. This risk is increased in people with heart failure and kidney problems.
Allergic Reactions
The drug may cause serious allergic reactions. If you have trouble breathing, develop hives or if your tongue or throat swells, seek immediate medical help. In rare cases, some people suffered angioedema, or severe swelling beneath the skin's surface.
Some patients who took valsartan and experienced angioedema had previously suffered the problem with other drugs, including ACE inhibitors. The drug's label advises patients not to take it again if they had angioedema.
Pregnancy Side Effects
Women should not take valsartan if they are pregnant. It can cause injury or even death to a developing fetus when taken during the second and third trimesters of pregnancy, according to a black box warning on the drug's label. You should stop taking the drug as soon as possible after you know you are pregnant.
Fact
Women who may be pregnant should not take valsartan.
It's not known if valsartan passes through breast milk and harms infants. Because of this, you should talk to your doctor before breastfeeding.
Liver Damage
The FDA has received reports of elevated liver enzymes and very rare reports of hepatitis in patients taking the drug. In clinical trials, patients treated with Diovan experienced occasional elevations of liver chemistries, according to the drug label. Three patients treated with valsartan stopped taking the drug because of elevated liver chemistries.
Sexual Function May Be Impacted
The FDA has received reports of impotence among patients taking valsartan. The drug label does not specify whether that impotence refers to erectile dysfunction. However, some studies have suggested that drugs in the same category may actually have a beneficial effect on the sexual function of patients with high blood pressure.
Erectile Dysfunction Study
Valsartan did not increase the risk of ED, and it improved sexual function in men with ED and hypertension.
Two studies found that the drug improved all aspects of sexual function, particularly erectile function. The Journal of Clinical Hypertension included the research in a January 2007 study.
The findings are significant because many patients won't stay on their blood pressure drugs, fearing erectile dysfunction, researchers said.
One study of 2,202 patients with high blood pressure reported an increase of sexual activity for those taking valsartan compared to people using other drugs or no medications. Each patient filled out a questionnaire about their health and sex life during three visits to their doctor over a four-month period.
"Valsartan increases the rate of sexual intercourse per week, whereas conventional therapy affects sexual activity adversely," researchers said in the 2003 study.
Another study of more than 3,500 patients found "valsartan therapy markedly reduced" erectile dysfunction. That study, originally published in Blood Pressure Supplement journal in 2003, found that the drug reduced ED by as much as 53 percent. Additionally, it improved "orgasmic function, intercourse and overall satisfaction."
Please seek the advice of a medical professional before making health care decisions.
Share This Page:
How can we improve this page?
Thank You for Your Feedback
We appreciate your feedback. One of our content team members will be in touch with you soon.
We appreciate your feedback. One of our content team members will be in touch with you soon.
Who Am I Calling?
Calling this number connects you with a Drugwatch representative. We will direct you to one of our trusted legal partners for a free case review.
Drugwatch's trusted legal partners support the organization's mission to keep people safe from dangerous drugs and medical devices. For more information, visit our partners page.