Yaz Birth Control
Bayer AG's Yaz birth control pills combine two hormones, drospirenone and ethinyl estradiol, to prevent pregnancy. The U.S. Food and Drug Administration has also approved it to treat moderate acne and the symptoms of premenstrual dysphoric disorder in patients who desire oral birth control. The FDA has warned that drospirenone-containing pills may be associated with a higher risk of blood clots compared to other birth control pills containing different progestin hormones.
Yaz (drospirenone and ethinyl estradiol) is an oral contraceptive that was approved for sale in the United States by the Food and Drug Administration in 2006 for the prevention of pregnancy. In addition to approving Yaz for use as a birth control pill, the FDA also approved the drug to treat premenstrual dysphoric disorder (PMDD) in women who choose to use an oral contraceptive. PMDD is a condition characterized by symptoms that are more severe than those associated with premenstrual syndrome, commonly known as PMS.
In 2007, the FDA expanded the approved uses of Yaz — not to be confused with Yasmin or Yasminelle, both manufactured by Bayer AG — to include treatment of moderate acne in women and girls at least 14 years of age who have no known contraindications to oral contraceptive therapy and who have experienced at least one period.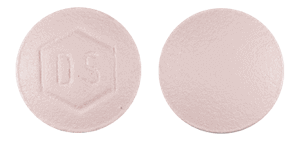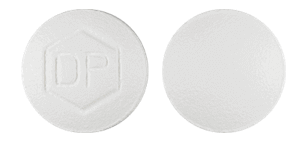 Soon after its release in 2006, Yaz became America's number one birth control pill. Though drug sales have since slowed because of generic competition, Bayer still makes millions from sales of Yaz, Yasmin and Yasminelle. In 2018, the three drugs brought in a combined 639 million euros worldwide, of which 74 million euros — the equivalent of $85.2 million — came from sales in the United States, according to Bayer's 2018 annual report.
Despite its early success, Yaz has also had its share of controversy.
In 2009, the FDA and the attorneys general of 27 states demanded that Bayer spend $20 million to correct misleading ads for the birth control drug as part of a Department of Justice settlement for deceptive advertising, the New York Times reported. According to the settlement, advertisements for Yaz overstated the benefits of the drug — that it improved women's moods and cleared up acne — while understating potential side effects.
Then in 2012, the FDA announced it would require Bayer to update the labels for all drugs containing drospirenone to warn about an increased risk of blood clots. According to the agency, some studies found that the risk of blood clots for drospirenone-containing birth control pills was as high as three times the risk for birth control pills made with other forms of progestins, while other studies have found no increased risk with drospirenone-containing birth control pills.
Thousands of women sued Bayer after developing blood clots that they say were caused by Yaz.
How Does Yaz Work?
Yaz prevents pregnancy in two ways. First, synthetic hormones in the pills prevent the ovaries from releasing eggs. Second, the hormones cause changes in the lining of the cervix and uterus that also help prevent pregnancy. Thicker cervical mucus makes it more difficult for sperm to reach the egg, and a thinner uterine lining makes it more difficult for a fertilized egg to attach.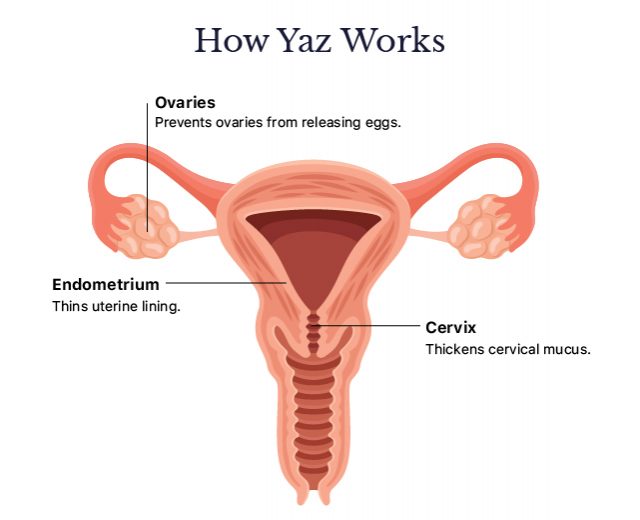 The inactive (white) pills included in the Yaz pack allow a period to occur and expel the uterine lining (menstruation). If the active (pink) pills in Yaz, or in any other form of combination oral contraceptive, are taken every day, a period will never occur.
Note that most birth control pills include seven inactive pills, though Yaz has only four.
The most common side effects of Yaz are spotting or bleeding between menstrual periods, nausea, breast tenderness and headache. These side effects are usually mild and tend to disappear over time. Yaz product labeling includes a black box warning stating that cigarette smoking can increase the risk of serious cardiovascular events in patients taking combination oral contraceptives, especially in women over 35 years of age. Women who smoke should not use Yaz or any other combination oral contraceptives that contain estrogen.
According to the drug's label, you should not take Yaz if you:
Have preexisting kidney, liver or adrenal disease
Are at high risk for arterial or venous thrombotic diseases (eg, clots)
Have rhythm diseases of the heart such as atrial fibrillation
Have ever had a stroke or heart attack
Have ever had blood clots in the legs, lungs or eyes
Have or have had breast cancer or other estrogen- or progestin-sensitive cancer
Are pregnant
Have uncontrolled high blood pressure
Have diabetes with vascular disease
Have migraine headaches with aura (focal neurological symptoms) or migraine headaches with or without aura if over 35 years of age
Take certain combinations of hepatitis C drugs
How to Take This Drug
Each of Yaz's 24 active pills is light pink and contains 3 mg drospirenone and 0.02 mg ethinyl estradiol. The four inactive pills are white.
When taken as directed, Yaz and other birth control pills are very effective. But according to Dr. Jill Jin writing in JAMA, missed doses can lower their effectiveness.
"If birth control pills are taken perfectly (100 percent of the time), the chance of pregnancy is 0.1 percent," Jin wrote. "However, in the real world, accounting for missed days of use, the chance of pregnancy is about 8 percent per year."
The medication's label instructs Yaz users to take one pill by mouth at the same time every day, following the order of the pills in the blister pack.
"If birth control pills are taken perfectly (100 percent of the time), the chance of pregnancy is 0.1 percent."
If a dose is missed, Yaz users should take the single missed pill as soon as they remember, according to the label. Those experiencing severe vomiting or diarrhea should use other methods of birth control until their condition improves, as vomiting and diarrhea may affect absorption of the medication. If vomiting occurs within three to four hours after taking Yaz, that should be considered a missed dose.
Yaz can be taken with or without food, but it's preferable to take it after an evening meal or at bedtime with some liquid.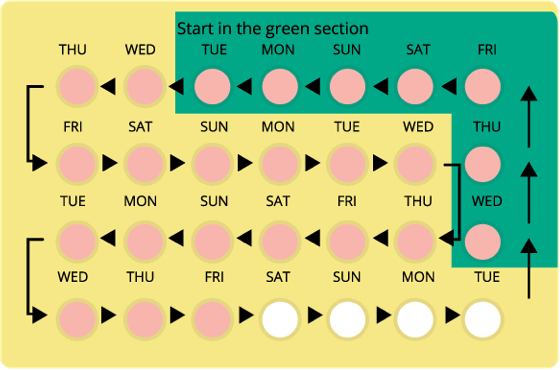 Instructions on how to start taking the pills vary depending on when the pack is started and whether users are switching from a different form of birth control. Women taking the drug for the first time should take their first pink pill on the first day of their period (Day 1) or on the first Sunday after the onset of their period.
Day 1

If starting on the first day of the period, take one pink pill daily for 24 consecutive days, followed by one inactive white pill daily on days 25 through 28.

Sunday Start

If starting on the first Sunday after the beginning of a period, take one pink pill daily for 24 consecutive days, followed by one inactive white pill daily on days 25 through 28.

Switching from a Different Pill

If switching from another brand of birth control pill, take Yaz on the same day that a new pack of the previous oral contraceptive would have been started.

Switching from a Different Method

If switching from a transdermal patch, vaginal ring or injection, start Yaz when the next application or next dose would have been due. If switching from an intrauterine contraceptive or an implant, start Yaz on the day of removal.

After Pregnancy

Postpartum women who do not breastfeed should start Yaz no sooner than four weeks after delivering a baby because of an increased risk of blood clots. Do not take the pill if you are pregnant.
Remember:
Yaz should not be considered effective until after the first seven consecutive days of taking it.
Drug Interactions
Taking some medications, whether prescription or over-the-counter (OTC), or other vitamins and supplements in combination with Yaz can alter the effectiveness of the pills or cause unintended side effects.
According to the drug's label, some medications and herbal products may decrease the effectiveness of Yaz and other combination oral contraceptives. These include phenytoin, carbamazepine, bosentan, felbamate, griseofulvin, oxcarbazepine, rifampin, topiramate, barbiturates and products containing St. John's wort.
Drugs and vitamins that may increase the amount of Yaz in the bloodstream include atorvastatin, vitamin C, acetaminophen, azole antifungals (ketoconazole, itraconazole, voriconazole, fluconazole), verapamil, macrolides (clarithromycin, erythromycin) and diltiazem. Grapefruit juice may also have this effect.
Antibiotics may decrease the effectiveness of birth control pills, as some women who took antibiotics got pregnant while taking hormonal contraceptives, but there have been no definitive studies on this effect.
Yaz itself may increase or decrease the effectiveness of other drugs, such as lamotrigine, midazolam, theophylline, tizanidine, omeprazole, voriconazole and thyroid replacement therapies.
Yaz may increase the amount of potassium in the blood, so potassium levels should be monitored in women who take angiotensin receptor blockers (losartan, valsartan) or other drugs that increase potassium levels.
Yaz should not be used in combination with certain hepatitis C drug combinations containing ombitasvir/paritaprevir/ritonavir due to the potential of increased liver enzymes.
Recalls
In 2009, Bayer recalled about 32,856 boxes of Yaz that had been distributed nationwide, CBS News reported. The recall involved the specifications for the dosage of drospirenone in the pill. Bayer had manipulated lab results to get the amount of drospirenone per pill to be "within specification."
The FDA published the Yaz recall on November 25, 2009, in the "Enforcement Reports" section of its website, as opposed to the "Recalls, Market Withdrawals, & Safety Alerts" section. The agency had inspected a Bayer manufacturing facility for this same issue in March 2009 and warned the company about its averaging practice in August 2009. The report is no longer searchable on the FDA website because the oldest date available is June 18, 2012.
More recently, Jubilant Cadista Pharmaceuticals voluntarily recalled one lot of generic Yaz, stating that the "product efficacy may be decreased due to incomplete absorption of the active ingredients." The lot was distributed within the United States and has an expiration date of November 2020.
As of the announcement on July 23, 2019, there had been no adverse events reported to the distributor. Jubilant Cadicsta is alerting customers through email and encouraging customers with questions to contact them directly and speak with their doctor about concerns related to the drug.
Please seek the advice of a medical professional before making health care decisions.
Share This Page:
How can we improve this page?
Thank You for Your Feedback
We appreciate your feedback. One of our content team members will be in touch with you soon.
We appreciate your feedback. One of our content team members will be in touch with you soon.
Who Am I Calling?
Calling this number connects you with a Drugwatch representative. We will direct you to one of our trusted legal partners for a free case review.
Drugwatch's trusted legal partners support the organization's mission to keep people safe from dangerous drugs and medical devices. For more information, visit our partners page.