Yaz is an oral contraceptive that was approved in 2006 for use by women to prevent pregnancy. One to two women out of 100 women may get pregnant during the first year they use Yaz, making it no more effective than older and usually less expensive pills. But for some women, Yaz doesn't cause bloating or weight gain, two side effects that can be common with birth control pills.
Yaz is also indicated for the treatment of symptoms of premenstrual dysphoric disorder (PMDD) in women who choose to use an oral contraceptive as their method of contraception. PMDD is characterized by markedly depressed mood, anxiety or tension, affective lability and persistent anger and irritability, among other symptoms. While Yaz is approved for the treatment of PMDD symptoms, it has not been evaluated for the treatment of premenstrual syndrome (PMS) nor has the effectiveness of Yaz for PMDD been evaluated for use for more than three menstrual cycles.
The U.S. Food and Drug Administration (FDA) in 2007 expanded Yaz uses to include treatment of moderate acne vulgaris in women at least 14 years of age who have no known contradictions for oral contraceptive therapy and have had a least one menstruation. According to the FDA, Yaz should be used for the treatment of moderate acne only if the patient desires an oral contraceptive for birth control.
A Fourth Generation Birth Control Pill
Yaz is different from most birth control pills because it contains a new generation of synthetic progesterone called drospirenone, which is closely related to spironolactone, a diuretic. Drospirenone is one of several different progestins that are used in birth control pills. Drospirenone also has anti-androgenic properties, which means it works against testosterone and other hormones.
Most birth control pills combine a synthetic version of the female hormone progesterone (known as progestin) with a synthetic version of the female hormone estrogen. The progestin in Yaz is considered fourth generation because it's the fourth reformulation of synthetic progesterone since the birth control pill was introduced in the 1960s. In addition to drospirenone, Yaz contains synthetic estrogen in the form of ethinyl estradiol.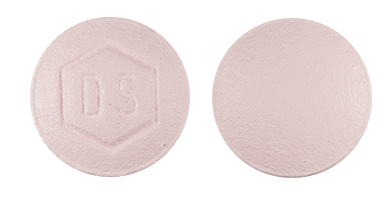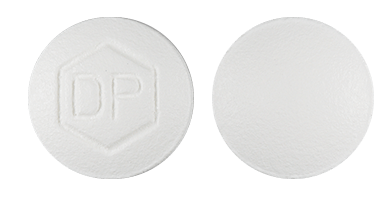 Active (pink) and inactive (white) Yaz pills
Yaz is available in blister packs. It is the only combination oral contraceptive with 24 active pills that include hormones and four inactive pills. This gives the patient an increased dose of hormones during the month. Most birth control pills include seven inactive pills. Each of the 24 active pills is light pink and contains 3 mg drospirenone and 0.02 mg ethinyl estradiol as betadex clathrate. The four inactive tablets are white.
How to Take Yaz
The medication's label instructs Yaz users to take one tablet daily by mouth at the same time every day. Tablets must be taken in the order directed on the blister pack.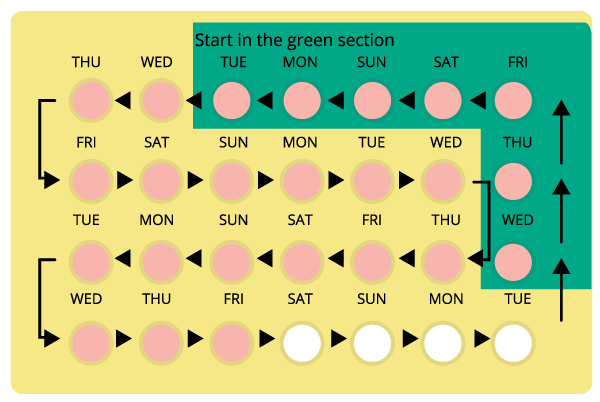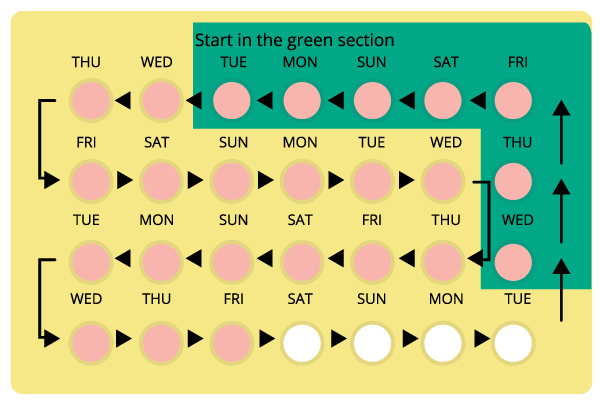 Yaz comes in a blister pack – intended to simplify use
The drug's failure rate may increase when users miss pills or take the pills incorrectly. Single missed pills should be taken as soon as remembered, according to the label. Severe vomiting or diarrhea may affect absorption, and additional contraceptive measures should be taken in cases of gastrointestinal disturbances. If vomiting occurs within three to four hours after taking Yaz, this should  be considered a missed dose, according to the instructions.
Instructions on how to start taking Yaz vary depending on when you plan to start the pack and whether you are switching from a different form of birth control. Women taking Yaz for the first time should take their first light pink pill on the first day of their period (Day1) or on the first Sunday after the onset of their period. Yaz should not be considered effective as a contraceptive until after you a have taken it for seven consecutive days.
Day 1
If you start Yaz on the first day of your period, take one light pink Yaz daily for 24 consecutive days, followed by one inactive white tablet daily on days 25 through 28. You can take Yaz with or without food but it's preferable to take it after an evening meal or at bedtime with some liquid.
Sunday Start
If you start Yaz on the first Sunday after the start of your period, take one light pink Yaz daily for 24 consecutive days, followed by one inactive white tablet daily on days 25 through 28.
Switching from a Different Pill
If switching from another birth control pill, you should take Yaz on the same day that a new pack of the previous oral contraceptive would have been started.
Switching from a Different Method
If switching from a transdermal patch, vaginal ring or injection, you should start Yaz when the next application or next dose would have been due. If switching from an intrauterine contraceptive or an implant, you should start Yaz on the day of removal.
After Pregnancy
Postpartum women who do not breastfeed should start Yaz no earlier than four weeks after delivering a baby because of an increased risk of thromboembolism. Check for possible pregnancy before staring Yaz and use an additional method of contraception until you have taken Yaz for seven consecutive days. Do not take Yaz if you are pregnant.
Start the next pack — and all subsequent packs — the day after you finish the pack of you're on and follow the same schedule. Take the light pink tablets the day after you take the last white tablet, regardless of whether or not a period has occurred or is still in progress. If you don't start a new pack on the day after taking the last white tablet, you should use another method of contraception until you have taken a light pink Yaz tablet daily for seven consecutive days.
Interactions
Patients with preexisting kidney, liver or adrenal disease should not take Yaz because this could cause serious heart and health problems. Serum potassium levels should be checked in women starting Yaz because of the possibility of high potassium levels, called hyperkalemia. Because drospirenone is chemically similar to spironolactone, Yaz should not be used in patients with preexisting kidney problems.
Ingesting certain drugs and foods in combination with Yaz can alter the effects of the pills.
Always check with a doctor before taking:
ACE inhibitors
Antibiotics
Heparin
Morphine
Diuretics
Salicylic acid
St. John's wort
Vitamin C
Women who take long-term non-steroidal anti-inflammatory drugs (NSAIDs), such as ibuprofen and naproxen, should not take Yaz. Neither should women who had adrenal insufficiency, are at high risk of arterial or venous thrombotic diseases, or have ever had a stroke, heart attack or blood clots in the legs, lungs or eyes.
The drug is also contradicted in women who have undiagnosed abnormal uterine bleeding. Do not take Yaz if you have or had breast cancer or other estrogen- or progestin-sensitive cancer, or if you are pregnant. The use of contraceptive steroids may also influence the results of certain laboratory tests, such as coagulation factors, lipids, glucose tolerance and binding proteins.
Side Effects Linked to Yaz
The most common side effects of birth control pills are spotting or bleeding between menstrual periods, nausea, breast tenderness and headache. These side effects are usually mild and tend to disappear with time. Less common side effects include acne, less sexual desire, bloating or fluid retention, blotchy darkening of the skin (especially on the face), high blood sugar, high fat levels in the blood, depression, problems tolerating contacts and weight changes.
In clinical trials, 24.9 percent of women being treated for PMDD symptoms reported irregular bleeding, 15.8 percent reported nausea, 13 percent reported headaches and 10.5 percent reported breast tenderness. Fatigue, irritability, decreased libido, increased weight and affect lability were each reported by less than 5 percent of women in the clinical trials. In contraception and acne trials, 6.7 percent of patients reported headache/migraine, 4.3 percent reported nausea/vomiting, 4 percent reported breast pain and tenderness, and 2.2 percent reported mood changes.
FDA Yaz Warnings
Yaz' drug label also warns of serious complications, including heart attack, stroke, deep vein thrombosis (blood clots in the legs), pulmonary embolism (blockages in the lungs), gallbladder disease, high blood pressure, elevated potassium levels, and liver tumors or disease.

In December 2008, an FDA panel voted in favor of strengthening warnings on Yaz birth control pill labels. The FDA's most serious label, the black-box warning, appears on all Yaz packaging. It cautions women over 35 years old who smoke not to use Yaz. Smoking increases the risk of serious cardiovascular events, which can be life-threatening. This risk increases with age and number of cigarettes smoked.
In 2009, the FDA sent a warning letter to Bayer, the maker of Yaz, regarding the quality of ingredients found during a routine inspection of the manufacturing plant in Germany. The problems at the plant included dirty equipment and failure to adequately test the final products. At least eight batches of the low-quality birth control pills were sent to the U.S.
Then, following a safety review, the FDA in 2012 updated Yaz labels to include information about studies regarding the risk of blood clots in women taking drospirenone-containing birth control pills, including Yaz. The revised drug labels state that some studies reported as high as a three-fold increase in the risk of blood clots for drospirenone-containing products when compared to products containing other progestins; other studies found no additional risk of blood clots with these products.
Over the years, the drug has been linked to 50 deaths in women as young as 17 and hundreds of injuries.
Yaz Commercials
Yaz hit the market in 2006. By 2008, it was the best-selling birth control pill in the U.S., and its sales totaled $781 million in 2009.
Women worldwide were enticed by the splashy advertising that portrayed Yaz as a new generation of birth control that could not only prevent pregnancy but also help women lose weight, cure acne at any level of severity and help with premenstrual moodiness. Some of the commercials used balloons; others depicted euphoric women singing, "We're Not Gonna Take It," as they kicked and punched words such as "irritability," "moodiness" and "bloating."
Between 2007 and 2010, Bayer spent more than $270 million on advertising for the drug — the likes of which had never been seen in the U.S.
The drug was touted as not just a contraceptive but also a cure-all for premenstrual dysphoric disorder, bloating and acne at any level of severity. In addition to preventing pregnancy, Yaz was also marketed by Bayer as a treatment for PMS, an off-label, or unapproved use.
By 2009, the FDA reined in the advertising and forced Bayer to spend $20 million on new ads to correct the off-label Yaz marketing and exaggerated claims.
The agency said the advertising was misleading, over-promised benefits, downplayed risks and encouraged unapproved uses of Yaz.
According to the FDA, prescription drug promotion cannot be false or misleading. It must have a fair balance, be consistent with approved product labeling or the packaging insert, and must only include claims substantiated by adequate and well-controlled clinical studies.
FDA Warns of Misleading Yaz Advertising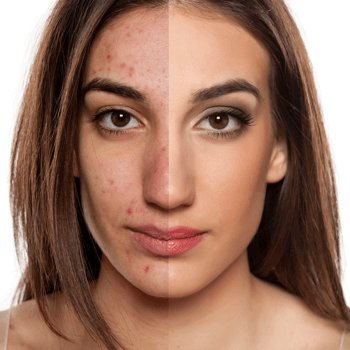 Bayer wrongfully overstated the effectiveness of Yaz in treating severe acne
According to the FDA, the Yaz commercials wrongly suggested that the drug was approved to treat PMS and acne at any level of severity when in actuality, the drug is only approved to treat PMDD and moderate acne. The FDA also complained that Bayer overstated the effectiveness of the contraceptive to treat both conditions.
The agency told Bayer that it had minimized the drug's risks. The commercials' audio and visual effects distracted viewers from the most important part of the commercial. Quick-changing scenes combined with background music took attention away from the part that disclosed the drug's risks, according to the FDA.
Bayer denied wrongdoing but agreed to pull the commercials. The company also ran a series of corrective TV ads at the request of the FDA and changed its commercials. Still, problems with how Bayer disclosed information about Yaz continued. Three years after the FDA's warning about the commercials, an FDA document acknowledged that studies raised questions about the safety of Yaz and its related contraceptives. Scientists have recommended more testing and better labeling to warn about possible risks. Some critics have even recommended recalling the drug altogether.
Yaz Recall
About 32,856 boxes of Yaz (at three packs per box) that had been distributed nationwide were recalled in 2009. The issue cited was with the specifications for the dosage of drospirenone in the pill. Bayer had taken an analytical value that was "out of specification" and averaged it together with another analytical value to get the number needed to be "within specification."
The FDA published the recall on November 25, 2009, in the "Enforcement Report" section of its website as opposed to the "Recalls, Market Withdrawls, & Safety Alerts" section. The agency had inspected Bayer on this same issue in March 2009 and warned the company about its averaging practice in August 2009.
Aside from this limited recall, Yaz has remained on the market.
Studies Prompt Some to Call for Complete Yaz Recall
Within months of Yaz hitting the market, stories about Yaz-induced medical problems started cropping up. Even though industry-funded studies found no links between Yaz and the assortment of medical problems early on, independent researchers started delving in.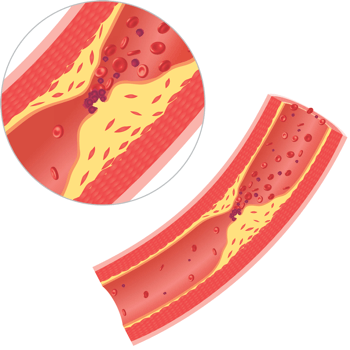 Yaz contains drospireone – which is known to cause an increased risk of blood clots
Soon, the FDA's own study found a 74 percent increased risk of blood clots among those taking drospirenone containing pills, prompting some to call for a Yaz recall. Bayer shot back, contending that there were no risks with this drug above the already documented risks with birth control pills overall and therefore no reason to recall the drug.
Instead of making a final decision about whether or not to recall Yaz, the FDA asked an advisory committee to look into the pill. The FDA often uses independent advisory committees, made up of medical specialists in particular fields, to come up with recommendations. The committee did not recommend that Yaz be recalled.
Allegations of Bayer-FDA Connection
Members of the nonprofit Project on Government Oversight (POGO) have called the advisory committee's actions into question. The group pointed out that four committee members, including the committee chair, had financial ties to Bayer. None of the committee members had disclosed any conflicts of interest when making decisions about Yaz.
"Because of the industry ties of these members, the joint committee's conclusion—which amounted to an endorsement of the safety of these oral contraceptives—should be disregarded," POGO executive director Danielle Brian wrote to FDA Commissioner Margaret Hamburg.
Consumer watchdogs continue to express concerns about the drug's safety when compared to other birth control pills and are calling for a stringent review of federal regulators, the drug and the drug maker. Thousands of women who say they were harmed by Yaz have turned to the legal system for help with Yaz-related damages. More than 11,000 patients have filed Yaz lawsuits against Bayer. Bayer has paid at least $750 million to settle thousands of those lawsuits.