Many individuals exhibit certain habits that may become bothersome that they'd like to "kick." But patients taking Abilify, an antipsychotic drug used to treat symptoms of schizophrenia, autism spectrum disorder, Tourette's and bipolar disorder, have reported developing habits and rituals so severe that they have become compulsions.
These uncontrollable urges, including primarily gambling, sex and shopping, have resulted in disruption to patients' daily lives, including finances, relationships and their overall wellbeing.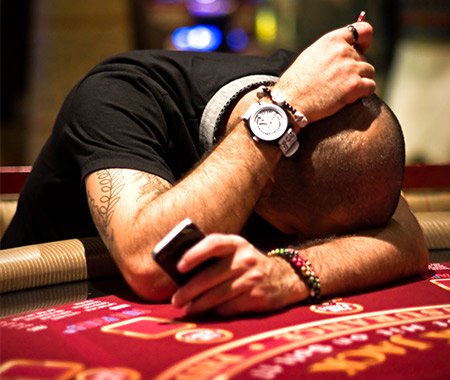 Abilify has been linked to compulsive gambling
Abilify has also been linked to several drug-emergent reactions that can lead to serious injury or death. These conditions may be difficult to diagnose and can become permanent (irreversible) or deadly, even after discontinuing the drug, if not treated early on.
Complications associated with the use of the antipsychotic drug include problems with patients' metabolism, leading to weight gain and dangerously high blood sugar levels, abnormally low blood pressure, seizures and difficulty swallowing.
These side effects and complications are in addition to two black box warnings; one indicating life-threatening risks to elderly patients with dementia taking Abilify, and the other advising patients that drugs like Abilify can lead to thoughts of suicide, and if prematurely stopped, even suicide itself.
Abilify and Neuroleptic Malignant Syndrome (NMS)
Neuroleptic malignant syndrome (NMS) is a life-threatening reaction to antipsychotic drugs, such as Abilify, according to a review written by The Neurohospitalist and published by the National Institutes of Health (NIH).
The condition is characterized by fever, altered mental status, muscle rigidity, and autonomic dysfunction. Autonomic functioning is related to the autonomic nervous system of the body that controls involuntary or unconscious functions, such as heart rate, digestion, respiratory rate, urination, sexual arousal, fight-or-flight response and pupillary response (such as dilating and narrowing of the pupil in response to changes in light).
Approximately 10 percent of patients who develop a reaction to Abilify called neuroleptic malignant syndrome (NMS) will die from the serious side effect.
The first reported case of NMS surfaced in 1956, not long after the introduction of the antipsychotic drug chlorpromazine (thorazine). More reports quickly followed, and in a 1960 study conducted by French clinicians, NMS was given its current name. Initial reports estimated the death rate of patients acquiring NMS to be over 30 percent, but more recent reports have seen that estimate drop closer to about 10 percent.
What to Watch Out For
NMS has been associated with virtually all neuroleptics, including the newer antipsychotic drugs like Abilify. While NMS is a serious disorder that can be caused by an adverse reaction to certain medications that work by blocking dopamine receptors in the brain (responsible for controlling the brain's reward and pleasure centers as well as regulating movement and emotional responses), it can also result from the sudden withdrawal of antipsychotic drugs as well.
It is important for patients and treating physicians to be aware of the condition of NMS because early treatment is necessary to avoid adverse outcomes, including death.
Patients can develop NMS within days or even hours of exposure to the causative drug. Most patients will exhibit symptoms within two weeks, with nearly all patients affected by the condition displaying symptoms within 30 days.
Additional signs and symptoms of the disorder can be synonymous with signs of autonomic nervous system instability frequently associated with NMS, including:
Unstable blood pressure (frequently changing)
Abnormally rapid breathing
Abnormally fast heart rate
Excessive production of saliva
Unusual sweating
Flushing
Pale color of the skin
Incontinence (loss of bladder control)
Other symptoms of the condition outside of the those directly associated to the autonomic nervous system may include:
Difficulty swallowing
Shortness of breath or difficulty breathing
Abnormal reflexes
Mutism (lacking the ability to speak)
Motor impairments and abnormalities, such as muscle rigidity, tremor, and other abnormal and involuntary movements
Seizures
Elevated creatinine phosphokinase (CPK), indicative of muscle damage, may also be present in some patients with NMS due to a condition in which damaged skeletal muscle breaks down rapidly (rhabdomyolysis) or when a patient's white blood cells in the blood are elevated (leukocytosis). While these situations may occur in some patients, they are not specific to the syndrome nor are they present in all cases.
Treatment of NMS
NMS is considered a neurologic emergency, according to the NIH, as a delay in treatment or the withholding of therapeutic measures with the use of Abilify can potentially lead to serious complications or death. Since primary treatment of NMS requires the immediate stopping of the causative drug, hospitalization of patients is typically necessary after diagnosis.
Contrarily, if NMS is the result of withdrawal from Abilify, then the medication is re-administered as quickly as possible. The next step in treatment would be supportive measures, including hydration, cooling blankets or ice packs, the use of other medications, or any other medical therapy required to correct any metabolic abnormalities that may be present.
When treated early and aggressively, NMS is typically not fatal and most patients recover completely within two to 14 days. But if diagnosis and treatment are delayed, recovery can take several weeks or months, and surviving patients may be left with complications relative to the kidneys and the heart.