Patients who took Accutane (isotretinoin) and suffered one or more severe side effects claim the manufacturer did not adequately warn consumers and doctors of the serious risks they faced. These patients filed lawsuits against Hoffman-LaRoche (Roche) for compensation for medical expenses, lost wages and pain and suffering. Side effects claimed in Accutane lawsuits include birth defects, depression and suicide, ulcerative colitis and Crohn's disease.
Accutane treats severe acne when other treatments have failed. Initially developed as a chemotherapy drug, researchers noted the ability of the medication to treat acne. While successful in its dermatological applications, Accutane comes with high risks of complications, including birth defects and serious gastrointestinal side effects.
After the name-brand drug was discontinued, the FDA required strict monitoring of patients who took generic versions of the medication. In addition, there are restrictions on generic drug prescriptions. More than 16 million people worldwide used Accutane since it hit the market in 1982.
Status of Accutane Litigation
At one time, more than 7,000 plaintiffs filed Accutane lawsuits. Judges consolidated many of the cases in multidistrict litigation (MDL) No. 1626 in the Middle District of Florida before Judge James S. Moody. Judges consolidated another group of cases in multicounty litigation (MCL) No. 271 in New Jersey under Judge Nelson C. Johnson.
So far, juries ordered Roche to pay millions to plaintiffs, but the company later appealed many of these verdicts and they were overturned. Judge Moody in Florida ruled that a post-2000 warning label on Accutane was adequate, dismissing relevant cases in the MDL.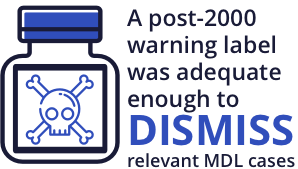 In 2014, the New Jersey MCL judge dismissed more than 600 suits for plaintiff's failure to respond to discovery requests. Then, in 2015, hundreds more cases filed by plaintiffs who ingested Accutane after April 10, 2002, were dismissed. According to the judge's order, the side effects warning label after that date was sufficient.
Another 2,500 to 3,000 lawsuits were cut from the MCL in 2015 because the judge rejected the testimony of plaintiff's experts linking Accutane to Crohn's disease. As of March 2017, about 3,347 cases remain in the New Jersey MCL.
In 2017, plaintiff's attorneys urged a New Jersey appellate panel to revive the New Jersey Accutane litigation.
Legal Claims in Accutane Lawsuits
According to court documents, plaintiffs in Accutane lawsuits claim: "The pharmaceutical drug Accutane (also known as Roaccutane and generically as isotretinoin) is defective, dangerous to human health, unfit and unsuitable to be marketed and sold in commerce, and lacked proper warnings as to the dangers associated with its use."
The majority of plaintiffs in Accutane litigation claimed Accutane caused inflammatory bowel disease (IBD) — a condition that involves chronic inflammation of the gastrointestinal tract. IBD typically manifests in one of two diseases: ulcerative colitis or Crohn's disease. IBD is a permanent condition.
Hoffman-LaRoche had knowledge of a link between gastrointestinal symptoms and Accutane, according to lawsuits. Before the FDA approved Accutane in 1982, it raised concerns about these issues. Despite this, Roche did not include any warnings about the risk of IBD.
Suicide and Depression Claims
Other plaintiffs allege that Accutane can cause psychosis, depression and suicide. These lawsuits allege that Roche manufactured an unsafe product.
In 2002, Julia Bishop filed suit against Roche after her 15-year-old son Charles Bishop crashed a Cessna into the 28th floor of the Bank of America Building in Tampa, Florida. Bishop claimed Accutane caused her son to commit suicide and demanded $70 million from Roche, USA Today reported.
"Our suit alleges that Hoffman-La Roche has known that this drug causes spontaneous suicide and depression but they have refused to accept responsibility," Bishop's attorney Michael Ryan told USA Today.
Also in 2002, Carla Gray of Ada, Oklahoma, took her Accutane depression case to trial. She asked for $3 million because Riche failed to warn about depression. A jury denied her claim.
In 2007, Bishop dropped her case against Roche. Her attorney said she was physically and emotionally unable to continue in the difficult litigation.
Accutane Verdicts and Appeals
Juries ordered Roche to pay more than $53 million to Accutane patients so far. This total comes from several large judgments. But the company appealed the verdicts, and appellate trial court judges ruled in favor of Roche in the majority of the retrials.
McCarrell v. Hoffman-LaRoche, Inc. – In 2007, Roche lost its first Accutane trial. A New Jersey jury awarded 36-year-old Alabama plaintiff Andrew McCarrell $2.5 million. McCarrell's lawsuit claimed he suffered bowel disease after taking Accutane. As a result, he had five surgeries and had his colon removed.

After the new trial in 2011, the second jury awarded McCarrell more than $25 million — the largest Accutane award to date. The Honorable Carol E. Higbee, the judge who ruled in the case, said that McCarrell's "testimony and that of his wife and doctors presented a picture of probably the worst case of pain, suffering and loss of quality of life I ever heard described in my eighteen years on the bench."

Roche appealed the case. The appellate court ruled McCarrell waited too long to file suit and threw his case out in 2015.

Kendall v. Hoffman-LaRoche, Inc. – In 2008, a jury awarded 24-year-old Kamie Kendall $10.5 million in compensatory damages and $78,500 for medical expenses. She began taking Accutane at age 12 and was diagnosed with ulcerative colitis at age 14, but the judge said there was not enough evidence for punitive damages.

Roche appealed and the case went up for retrial. In 2014, a second jury found Roche failed to adequately warn the drug could cause ulcerative colitis. It awarded Kendall $1,587,928 for past medical expenses and pain and suffering.

Kathleen Rossitto and Riley Wilkinson – In June 2012, a New Jersey court ordered Roche to pay $18 million in compensatory damages to Kathleen Rossitto and Riley Wilkinson. Both women claimed Accutane caused them to develop inflammatory bowel disease. They were to receive $9 million each.

Roche appealed the cases and a judge overturned the original verdict. The Appellate Division ruled that the trial court judge "seriously erred" in allowing some revelations in court while restricting others, Fierce Pharma reported in 2016.
Roche's Defense in Accutane Cases
Roche mounted a vigorous defense in its Accutane cases. When juries ruled in favor of plaintiffs, the drug giant immediately appealed. This is standard practice in most plaintiff verdicts. Typically, drug makers argue that either the drug is not dangerous or the plaintiffs' injuries were caused by something other than the drug.
In Accutane trials, Roche used the following claims in their defense:
Causes of plaintiffs' injuries were unknown.
Accutane did not cause plaintiff's injuries.
No scientific studies prove Accutane can cause IBD or suicide.
Roche provided ample warning about side effects.