Actemra side effects listed in the drug's label include headache, cramps, and runny or stuffy nose. These are the more common, minor side effects of Actemra. The drug's label also warns of more serious risks such as infections.
But the drug's label does not warn of all potential side effects reported with Actemra use. This includes life-threatening events like heart failure, heart attack and stroke.
Actemra and Heart Failure, Heart Attack & Stroke
A STAT investigation found "clear evidence" that the risks of patients having a heart attack, stroke or heart failure when taking Actemra was as high or higher than for patients taking other arthritis medications. Actemra does not warn about these risks on its drug label.
Experts reviewed the data and concluded that the FDA should "immediately consider warnings for heart failure." But as of July 2018, the federal agency has not yet required Genentech to update Actemra's label.
Senior medical director for rheumatology products at Roche and Genetech, Dr. Jeffrey Siegel, referred to a recent study when negating the idea that Actemra increases a person's risk of cardiovascular events.
The study instead found that Actemra may be causing these conditions at similar rates – not increased rates – to other drugs that already carry a warning.
STAT's investigation showed that Actemra causes heart attacks, strokes and heart failure at similar rates as Humira and at greater rates than Remicade. Both of these arthritis drugs list heart attack and heart failure as risks on their labels, while Humira also lists stroke.
Stroke and Heart Failure
In a direct comparison of Enbrel and Actemra, rates of stroke and heart failure were about 1.5 times higher in patients taking Actemra.
Professor of medicine at The Dartmouth Institute and expert on risk communication Dr. Stephen Woloshin said the results were "concerning" because Enbrel's label includes a strong warning for cardiovascular events and heart failure in particular.
As of August 2012, more than 40 of 118 deaths associated with Actemra were linked to cardiac arrest or heart attack.
Actemra lawsuits accuse Genentech and Roche of failing to warn of the risks.
"I can foresee the possibility that in five years there's another hearing like he one on Vioxx, where the cardiologists… say to us, what were you guys thinking when you approved this drug?"
When Can Heart Failure, Heart Attack & Stroke Occur with Actemra?
Nearly 62 percent of health failures and 29.41 percent of heart attacks with Actemra occurred in patients taking the drug less than one month.
Strokes are most likely to happen in patients treated with Actemra for six months to one year, according to FDA reports.
Symptoms of Heart Failure
Shortness of breath
Chronic coughing or wheezing
Build-up of fluid (edema)
Fatigue
Feeling lightheaded
Nausea
Lack of appetite
Confusion or impaired thinking
High heart rate
Symptoms of Heart Attack
Feeling weak, lightheaded or faint
Chest pain or discomfort
Shoulder or arm pain or discomfort
Shortness of breath
Pain or discomfort in the jaw, neck or back
Symptoms of Stroke
Sudden confusion, trouble speaking or understanding others
Sudden trouble seeing in one or both eyes
Sudden trouble walking, dizziness, loss of balance or coordination
Sudden severe headaches without a known cause
Sudden numbness or weakness of face, arm or leg, especially on one side of the body
Actemra and Pancreatitis
STAT identified 132 Actemra users with pancreatitis. Twenty-six of them died.
Boston University rheumatologist Dr. David Felson explained that pancreatitis is triggered by high cholesterol levels. And Actemra, he said, is known to increase the lipids that can cause the disease.
"Pancreatitis is very, very rare… So if I see a signal for pancreatitis among [Actemra] users, I would be worried."
In its own review, the FDA found 258 cases of pancreatitis among Actemra users as reported in data from clinical trials, the FAERS system and epidemiological data. The FDA included this information in a 2012 report.
From July 2017 to September 2017, the agency also noted an increase in the number of reports submitted by patients who took Actemra and then developed pancreatitis or liver damage.
The federal regulatory department pointed to the need for additional action in its quarterly report. But as of July 2018, no actions had been taken and no changes had been made to the drug's label.
When Can Pancreatitis Occur with Actemra?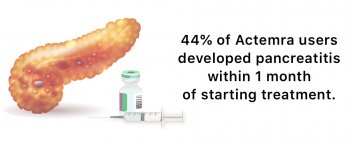 More than 44 percent of Actemra users who developed pancreatitis did so within less than one month of starting treatment with the drug, according to FDA reports.
Just over 22 percent of patients who suffered from pancreatitis after taking Actemra developed the condition between one and six months.
After that time, a person's risk declines. But then it begins to climb again between two to five years of use.
Far more women (78.05 percent) than men (21.95 percent) suffered from pancreatitis when taking Actemra. The majority of these individuals were aged 60 or older.
Pancreatitis symptoms include:
Abdominal pain
Chronic weight loss, even with normal eating habits
Diarrhea, nausea and vomiting
Foul-smelling fatty or oily stools
Discolored stools – pale or orange-colored
Actemra and Interstitial Lung Disease
The FDA side-effect database identified 270 cases of interstitial lung disease associated with Actemra. It deemed 268 cases serious. More than 40 cases resulted in death.
Interstitial lung disease can cause permanent scarring to the lungs. Actemra's drug label does not warn of this possible side effect. Related drugs Humira and Remicade both carry warnings for interstitial lung disease.
When Can Lung Disease Occur with Actemra?
Just over 37 percent of Actemra users who developed interstitial lung disease were diagnosed within less than one month of starting treatment, according to FDA reports.
Nearly 21 percent suffered from the lung disease within one to six months of starting Actemra. More than 18 percent were diagnosed after taking Actemra for one to two years.
Over double the number of women (68.81 percent) suffered from the disease compared to men (31.19 percent). Lung disease primarily affected patients taking Actemra that were aged 60 or older.
Symptoms of interstitial lung disease include:
Fatigue and weakness
Loss of appetite
Loss of weight
Dry cough – no phlegm
Chest discomfort
Labored breathing
Hemorrhage in the lungs
Shortness of breath, especially with exercise or activity
Gastrointestinal Perforation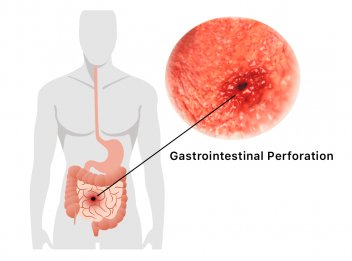 Patients who took Actemra in clinical trials reported gastrointestinal perforation. Gastrointestinal perforation is a hole in the wall of the stomach or intestines.
Many patients who reported gastrointestinal perforation had diverticulitis. Diverticulitis is inflammation or infection of pouches in the colon.
Actemra's label warns that individuals at an increased risk for gastrointestinal perforation should be cautious when taking Actemra. People taking Actemra should report any new abdominal symptoms to their doctor.
Symptoms of gastrointestinal perforation include:
Severe abdominal pain
Chills and fever
Nausea and vomiting
Severe infection called peritonitis
Bloated feeling or abdominal distention
Passing little or no stools or gas
Excessive fatigue
Passing little urine
Racing heartbeat
Shortness of breath
Painful, tender belly, which may become worse when touched or when you move
When Does Gastrointestinal Perforation Occur with Actemra?
More than 32 percent of gastrointestinal perforation events occurred within one to six months of patients starting treatment with Actemra, according to FDA reports.
Another 26.47 percent of patients suffered from the condition within two to five years of starting treatment.
Patients who took Actemra for less than one month or between one to two years experienced gastrointestinal perforation at equal rates of 20.59 percent.
Women were over five times more likely to have gastrointestinal perforation as a side effect of Actemra compared to men. More than 65 percent of people affected by the condition were aged 60 and older.
Diverticulitis was also present in just over 17 percent of those who had gastrointestinal perforation.
Actemra and Death
The FDA received reports on 1,128 people who died after taking Actemra, according to STAT.
Deaths associated with Actemra can occur from stroke, heart attack, heart failure, pancreatitis, infection, bowel perforation, severe allergic reactions and other serious side effects.
Actemra may not be more dangerous than other arthritis drugs on the market. But it is being misrepresented as a safer alternative to drugs like Humira, Enbrel and Remicade.
These other drugs contain warnings on their labels for various fatal side effects. Patients taking Actemra have reported experiencing many of the same serious side effects. But Actemra's drug label does not warn consumers or doctors of these risks.
Death Reports
STAT identified 1,128 cases reported to the FDA in which people died after taking Actemra.
Actemra and Cancer
People taking Actemra may be at an increased risk of certain cancers. Researchers observed these cancers in clinical trials.
Actemra is an immunosuppressive drug. Immunosuppressive drugs "make the immune system less able to detect and destroy cancer cells or fight off infections that cause cancer," according to the National Cancer Institute.
Infections with Actemra
Actemra can increase a person's likelihood of getting an infection or it can make current infections worse. Some people taking Actemra have been hospitalized or died from infections. Actemra's label contains a black box warning for the risk of serious infections.
These infections include tuberculosis, and bacterial and viral infections. Reports also identify fungal infections like candidiasis, aspergillosis and pneumocystis.
Symptoms of infections with Actemra include:
Sweating or chills
Shortness of breath
Feeling very tired; fatigue
Muscle aches
Blood in phlegm
Diarrhea or stomach pain
Cough
Weight loss
Burning when you urinate
Urinating more often
Warm, red or painful skin or sores on your body
Allergic Reactions to Actemra
Roche added fatal anaphylaxis to Actemra's drug label in 2011. Roche made the decision to add the warning after two people died while taking Actemra.
Anaphylaxis is severe, life-threatening allergic reaction. Not all allergic reactions to Actemra are deadly. But some patients in clinical trials had to stop taking the drug because of allergic reactions.
These reactions included erythema (redness of the skin) and urticaria (skin rash with red itchy bumps or hives).
An allergic reaction to Actemra can happen even when patients have not previously reacted to the arthritis drug.
Symptoms of an allergic reaction to Actemra include:
Shortness of breath or trouble breathing
Swelling of lips, tongue or face
Chest pain
Feeling dizzy or faint
Moderate or severe abdominal pain
Vomiting
Actemra Common Side Effects
Common side effects of Actemra are usually not serious. But you should speak with your doctor if these side effects persist or become bothersome.
Common side effects of Actemra include:
Runny or stuffy nose, sinus pain or sore throat
Headache or dizziness
Increased/high blood pressure
Abnormal liver function tests
Mild stomach cramps
Pain, swelling, burning, itching or irritation where the injection was given
Please seek the advice of a medical professional before making health care decisions.
How helpful was this page?
How can we improve this page?
How can we improve this page?