Maryland Woman Grows Tumor after Norplant Birth Control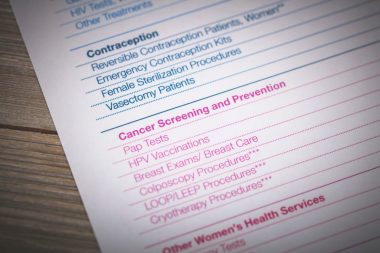 One Maryland woman lost her health, her home and her career after using a type of drug about 62 percent of all American women use: birth control.
The former federal employee was a healthy mother of two before she received Norplant, a long-term, birth-control implant manufactured by Wyeth Pharmaceuticals (bought by Pfizer in 2009).
The U.S. Food and Drug Administration first approved Norplant in 1991, and Wyeth pulled it off the market in 2002 after slow sales and thousands of lawsuits. The device consisted of six matchstick-size capsules with small amounts of a contraceptive hormone called levonorgestrel — the same active ingredient in the Mirena IUD.
Norplant was not an IUD. Instead, doctors inserted the capsules under the skin of the upper arms.
Like the popular Mirena, Norplant was effective for up to five years. At its peak, Norplant was used by about 1 million American women.
"I first heard about the Norplant in the early 90s. I knew I didn't want any more children after I had my two daughters, so I was looking into types of birth control," said the woman, who is only being identified as SW. "I ended up choosing the Norplant for convenience. I didn't want to miss a pill and end up with any more children."
However, it wasn't long before she began experiencing side effects she never anticipated.
"I suffered from dizziness, headaches, mental issues and weight gain," she said. "I was 5-10, and I was always small. But after I had the Norplant implanted, I just started ballooning and had all kinds of issues."
When the side effects became too much for her to handle, she had the implant removed and opted for a tubal ligation instead. She went back to work and forgot about the device.
SW didn't know that tens of thousands of women had filed lawsuits against Norplant's manufacturer for side effects including weight gain, headaches, persistent bleeding, depression, anemia, hair loss and ovarian cysts.
She applied for an overseas assignment with the National Security Agency and ended up in England with her two young daughters.
Then, her health took a turn for the worst.
'You Have a Tumor'
In England, SW started suffering from severe migraines and dizzy spells. The doctor sent her for MRIs and tests. That was when she heard what she never thought she would hear.
"The doctor called me into his office and said, 'You have a tumor' or 'a mass.' And I said, 'Excuse me?' He said you have a mass on your carotid artery and we need to find out if it's benign or malignant."
The tumor — which was benign — was the size of a new potato and growing fast. SW had surgery to remove the tumor.
"The tumor had damaged my left facial muscles and my sinus cavity. The problems progressed after the surgery, and that was when I had to cut my tour in England short and go back to the U.S."
Doctors told SW she suffered from a rare nerve condition called Horner's syndrome, an incurable disease caused by a stroke, spinal cord injury or tumor.
"It's just been a roller coaster," SW said. "The vision in my left eye is damaged. Some people would think I was on drugs because of the irregular pupil in my left eye or would comment on the drooping eyelid. I have headaches, irritability, hearing problems, vertigo, phantom pains and memory issues."
Because of her health problems, SW left her career with the NSA. Then, medical issues, stress and financial hardship caused her to lose her home.
She still didn't know Norplant could be linked to her health problems. Slowly, SW started working her way back to some sense of normalcy after having that rare tumor.
Then, in August 2017 a lawyer's ad for Mirena lawsuits caught her attention.
Norplant Lawsuits and Settlements
After SW saw the Mirena ad, it reminded her about Norplant.
"I saw the Norplant uses the same ingredient (hormone) as Mirena and had some of the same side effects. A friend of mine recommended that I look into a lawsuit because the symptoms and problems I had from the Norplant were similar to what I saw on the commercial."
She went online and did some research. It was then that she found out that about 50,000 women filed lawsuits against Wyeth claiming the company did not warn them about the side effects in the mid-90s.
The company eventually paid out $50 million to settle about 36,000 claims.
"I don't think it's a coincidence that I had the Norplant in my left arm, and the tumor was on the carotid artery on the left side of my face. It coincided with the time I had the Norplant, and a specialist said the tumor was rare and not hereditary."
SW started calling law firms. Many of the firms corroborated her theory that Norplant was to blame for her issues.
"They all showed tremendous empathy, but they told me it was too late to file a lawsuit because the statute of limitations had passed."
Living With Side Effects
The experience taught her to be a more informed consumer, and she cautions others to research drugs or devices they may be using. In addition, if side effects crop up, she says not to wait on looking into legal options.
"Someone asked me if I ever considered suicide because of all the health issues. I said no, because there was no one but me who could raise my daughters. They needed me to be around. But the stress of trying to take care of my house and raise my daughters was taking a toll on me. After I lost the house, I decided to downsize my life and start over."
Despite suffering from permanent paralysis on the left side of her face, SW remains thankful that she still has her life and was able to watch her daughters grow. Her youngest is an Ohio State alumni and record-holding athlete, and her oldest went to Julliard.
"I was telling my daughter, 'Could you imagine losing your mother in England?' I think they were 4 and 7 at the time. I was around to see their accomplishments. It's why I'm not bitter that I missed the settlement."
She knows there are still women living with injuries from birth control or other drugs or medical devices.
"I would tell these women suffering from side effects to fight. Find something in your life that motivates you. Find something that you want to live for and fight for and you use that to charge forward. Sometimes it's about living to tell the story and warn others and living to enjoy your children, your family and your friends."
Disclaimer: Thoughts and opinions expressed in this patient story are strictly anecdotal and should not be taken as medical information or advice. Views of the interviewee do not necessarily reflect those of the author, editor or Drugwatch.
Share This Page:
How can we improve this page?
Thank You for Your Feedback
We appreciate your feedback. One of our content team members will be in touch with you soon.
We appreciate your feedback. One of our content team members will be in touch with you soon.
Who Am I Calling?
Calling this number connects you with a Drugwatch representative. We will direct you to one of our trusted legal partners for a free case review.
Drugwatch's trusted legal partners support the organization's mission to keep people safe from dangerous drugs and medical devices. For more information, visit our partners page.