Cipro, Levaquin & Avelox Side Effects
Fluoroquinolones have been the focus of increasing scrutiny for their potential to cause rare, but serious, life-altering side effects. Authorities warn that doctors should curtail prescribing these very popular antibiotics to avoid so-called "collateral damage." In addition to causing common reactions such as abdominal pain and diarrhea, the drugs can lead to mental health problems and permanent damage to tendons and nerves.
Fluoroquinolones make up the third most commonly prescribed class of antibiotics for outpatients, according to the Centers for Disease Control and Prevention. These drugs — in use for more than 30 years — include the most popular, Cipro (ciprofloxacin), as well as Avelox (moxifloxacin) and the discontinued Levaquin (levofloxacin).
Because this class of antibiotics brings the potential for major side effects, the FDA urges doctors not to over-use them. In fact, the agency has restricted the recommended uses for these drugs and has required several updates to the drugs' labels to warn of life-altering risks.
Researchers have taken to use the phrase "collateral damage" in describing the serious side effects these drugs can cause. In particular, this term often refers to the potential for the development of antibiotic-resistant bacteria, a serious public health issue which researchers say is increasing with fluoroquinolone use.
Other rare, serious side effects associated with these drugs include tendon problems, heart issues and mental health conditions. A 2022 study by Dr. Flory Tsobo Muanda and colleagues found that using fluoroquinolone antibiotics at higher doses in older patients with kidney disease led to increased risk of psychiatric disorders, hypoglycemia or collagen problems.
According to the National Center for Health Research, drug companies often fight efforts by the FDA to require strong warnings about dangerous side effects because these warnings often reduce the number of prescriptions.
In 2012, Johnson & Johnson settled more than 800 lawsuits over its failure to provide sufficient warning — before the FDA required the company do so — about the risk of tendon ruptures linked to Levaquin.
Common Side Effects, Allergic Reaction and C. diff Infection
Common side effects of fluoroquinolones include nausea, diarrhea, vomiting, abdominal pain or discomfort, and trouble sleeping. Some patients also develop sensitivity to sunlight and ultraviolet light, such as the lights used in tanning salons.
The package insert for Cipro says there have been rare reports of patients developing allergic reactions to this class of drugs, even after a single dose. Patients who develop hives, trouble breathing or other signs of a serious allergic reaction should seek emergency treatment immediately.
Researchers say the fluoroquinolones are responsible for more than 20,000 emergency room visits each year. According to CDC researchers, the drugs are associated with a high risk for later development of Clostridium difficile infection, a potentially life threatening, antibiotic-resistant condition that causes watery diarrhea.
FDA Warns of Increased Risk of Aortic Ruptures or Tears
In December 2018, the FDA warned about an increased risk of aortic ruptures or tears with fluoroquinolones and said it was requiring manufactures to add a new warning about this risk to the prescribing information and patient Medication Guide for all drugs in the class. The agency reached its decision after it had searched the FDA Adverse Event Reporting System (FAERS) database and reviewed four epidemiological studies published between 2015 and 2018.
An aortic aneurysm is a bulge in the aorta, which is the artery responsible for carrying blood from the heart through the chest and torso. The lining of the aorta is made up of collagen. Scientists suspect that fluoroquinolones break down collagen in the body. Two 2015 studies published in the medical journals JAMA and BMJ revealed a connection between the antibiotics and collagen damage that may lead to aortic aneurysms.
Interested in Buying Multi Collagen Protein Powder?
CB Supplements offers the highest quality multi collagen powder that's naturally formulated to keep your joints, skin, hair, nails and gut healthy.
CB Supplements:
First and only multi collagen NSF Certified for Sport ™
5 types of collagen per scoop
Gluten, dairy and grain-free
Non-GMO and paleo-friendly
Buy Now
Advertisement
Aortic aneurysms can act in two ways:
Tears can form in the aorta, allowing blood to leak in between the layers of tissue in the vessel wall, separating them. This is called aortic dissection.
The aneurysm can also rupture, which is when it bursts completely, causing bleeding inside the body.
According to the JAMA study, fluoroquinolones were associated with a two-fold increase in risk of dissection and aneurysm within 60 days of using the drug.
"Clinicians should continue to be vigilant for the appearance of aortic aneurysm and dissection in high-risk patients treated with fluoroquinolones," the authors wrote.
The BMJ study found nearly a three-fold increase in the risk of aneurysm. Authors of this study followed about 1.7 million patients and found one third of them received a prescription for a fluoroquinolone. More than 1 percent of the patients experienced aortic aneurysms.
"Reducing unnecessary fluoroquinolone treatments or prolonged treatment courses might have possibly prevented more than 200 aortic aneurysms in this population," the authors wrote.
More recently, a study published in BMJ in January 2018 found an increased risk of aortic aneurysm or dissection with fluoroquinolones compared to amoxicillin.
Researchers used nationwide data from Swedish registries from July 2006 to December 2013 to look at the rate of aortic aneurysm or dissection within 60 days from start of treatment. They concluded that there was a 66 percent increased rate among patients who took fluoroquinolones compared to those who received amoxicillin.
FDA Updates Mental Health and Low Blood Sugar Warnings
In July 2018, the U.S. Food and Drug Administration required safety labeling changes for fluoroquinolones to strengthen the warnings about mental health side effects and serious blood sugar problems.
The agency said the changes were required following a comprehensive review of its adverse event reports as well as case reports in medical literature.
All fluoroquinolone labels must list the following mental health side effects:
Disturbances in attention
Disorientation
Agitation
Nervousness
Memory impairment
Delirium
These are in addition to the central nervous system side effects already linked to the drugs, including anxiety, depression, hallucinations, suicidal thoughts and confusion.
"The new class-wide labeling changes will require that the mental health side effects be listed separately from other central nervous system side effects and be consistent across the labeling of the fluoroquinolone class," the FDA said.
The agency's review also found instances of patients who went into hypoglycemic coma where users of the drugs experienced hypoglycemia. Consequently, the antibiotics must carry an explicit warning about the potential risk of coma with hypoglycemia.
The July 2018 safety announcement advised patients to tell their doctors if they take a diabetes medicine when the health care professional is considering an antibiotic. These patients may be asked to check their blood sugar more frequently when taking one of these drugs.
The FDA said patients using these drugs should keep an eye out for early signs of low blood sugar such as confusion, dizziness, feeling shaky and headaches. Other symptoms include unusual hunger, irritability, pounding heart or very fast pulse, pale skin, sweating, trembling, weakness and unusual anxiety.
These symptoms can get worse and become life-threatening. The FDA advises patients experiencing serious symptoms, including confusion, seizures or loss of consciousness, to seek help immediately by calling 911 or going to an emergency room.
'Disabling and Potentially Irreversible Adverse Reactions'
The European Medicines Agency held a hearing about side effects of the drugs in the summer of 2018. According to its summary of the hearing, patients who appeared "described life-changing symptoms following treatment … including pain and disability lasting several years, with some patients only experiencing limited improvement over time."
"Furthermore, some patients can no longer work or engage in exercise and active pursuits or even carry out daily tasks such as tying a shoe lace or buttoning a shirt," the summary said. "Some are in constant pain, with symptoms affecting a wide range of muscles and tendons."
Life-Changing Symptoms
Some patients experienced pain and disability for years, unable to work, exercise or even dress themselves.
The agency said it heard repeatedly that doctors lacked knowledge of the possible side effects and that patients were not informed of the risks.
In 2016, the FDA announced that a review found 178 patients over an 18-year period who reported developing "disabling and potentially irreversible adverse reactions that appeared as a constellation of symptoms."
The FDA said 97 percent of the affected patients reported pain associated with musculoskeletal adverse reactions.
"The ongoing neuropsychiatric adverse reactions were reported to be distressing, affecting employment and quality of life," the agency said.
The review considered only patients who reported adverse reactions lasting longer than a month and involving two or more body systems. The majority of the complications affected primarily the musculoskeletal system, peripheral nervous system and central nervous system.
"Many patients described how seriously the disability impacted their lives, including job loss and the resulting lack of health insurance, large medical bills, financial problems and family tension or dissolution," according to the FDA.
The reactions lasted an average of 14 months, with the longest duration being 9 years. It's possible, the FDA said, that some of these reactions may be permanent.
Patients were advised to contact their health care professional immediately if they developed any serious side effects while taking these drugs.
The FDA said some signs and symptoms include:
Tendon, joint and muscle pain
A "pins and needles" tingling or pricking sensation
Confusion
Hallucinations
Tendon Problems
Fluoroquinolones are associated with an increased risk of tendinitis and tendon rupture.
The first published report of a tendon injury associated with the use of the drugs was published in New Zealand in 1983, according to a 2010 article by Dr. Grace Kim in The Journal of Clinical and Aesthetic Dermatology. Many anecdotal case reports and case-controlled studies reporting similar findings came out after the 1983 publication, mostly from researchers in France.
A 2003 World Health Organization (WHO) survey in Australia found that ciprofloxacin was the cause of 90 percent of fluoroquinolone-induced tendon injuries, Kim said. But other reports have also indicated norfloxacin, pefloxacin, ofloxacin and levofloxacin in such injuries.
"Pain, swelling, inflammation, and tears of tendons including the Achilles, shoulder, hand, or other tendons can happen in patients taking fluoroquinolone antibiotics."
and tendon rupture. The consumer group even went as far as suing the FDA to compel the agency to act on the petition.
In 2008, the FDA issued a decision on the petition, requiring manufacturers to add a boxed warning to their drugs' labels about the increased risk of developing tendinitis and tendon rupture. The agency and the consumer group reached an agreement to dismiss the lawsuit.
"Pain, swelling, inflammation, and tears of tendons including the Achilles, shoulder, hand, or other tendons can happen in patients taking fluoroquinolone antibiotics," the agency said in a 2008 FDA alert.
The agency added that the risk of tendinitis and tendon rupture is increased for people older than 60, patients taking corticosteroid drugs, and recipients of kidney, heart and lung transplants.
Peripheral Neuropathy
In 2013, the FDA announced it was strengthening warnings in the labels for fluoroquinolones to better describe the disabling side effect of peripheral neuropathy. Previous warnings about this serious nerve damage were not strong enough or clear enough, the FDA said.
Specifically, the federal agency said older labels failed to explain fully that neuropathy damage can happen immediately after taking the drugs and can be permanent. The FDA told doctors and consumers to discontinue the medication immediately if symptoms of nerve damage surface.
FDA data shows a continued association between the drugs and the crippling nerve disorder, which occurs in the arms and legs. In fact, the onset of peripheral neuropathy after starting the antibiotics was rapid, often within a few days.
In some patients, the symptoms had lasted for more than a year, even after users had stopped taking the drugs. Several patients were continued on the antibiotics despite their showing signs of the disorder.
The FDA ultimately concluded peripheral neuropathy can occur at any time during treatment with fluoroquinolones and can last for months to years after the drug is stopped or can be permanent.
A study published in 2014 by the peer-reviewed journal Neurology further supported the FDA's findings. The study showed long-time users of the antibiotics had twice the risk of developing peripheral neuropathy, while new users had a slightly greater risk than those not taking the drugs.
"Clinicians should weigh the benefits against the risk of adverse events when prescribing these drugs to their patients," the authors wrote.
Researchers studied more than 30,000 men in the U.S. from 2001 to 2011.
Worsening of Myasthenia Gravis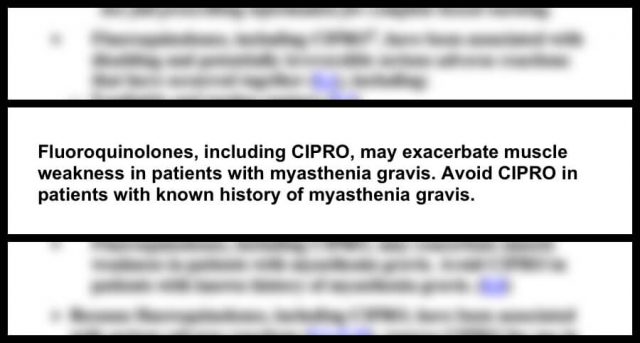 Myasthenia gravis is a neuromuscular disorder and an autoimmune disease that causes weakness in voluntary or skeletal muscles, such as those responsible for facilitating breathing, eye movement, facial expressions, swallowing and moving parts of the body, including the arms and legs.
The authors of the study concluded that health care professionals should be aware of this serious link between the drugs and the disease and carefully weigh the benefits against the risks associated with fluoroquinolones when treating infections in patients with myasthenia gravis.
The study — designed to evaluate post-marketing adverse event reports submitted to the FDA and case reports published in scientific literature — identified a total of 37 cases that reported myasthenia gravis exacerbation following the use of the antibiotics.
In February 2011, the FDA required a black box warning, advising consumers that taking the fluoroquinolone ciprofloxacin may worsen muscle weakness in people with myasthenia gravis, causing severe difficulty breathing or even death.
Please seek the advice of a medical professional before making health care decisions.
Share This Page:
How can we improve this page?
Thank You for Your Feedback
We appreciate your feedback. One of our content team members will be in touch with you soon.
We appreciate your feedback. One of our content team members will be in touch with you soon.
Who Am I Calling?
Calling this number connects you with a Drugwatch representative. We will direct you to one of our trusted legal partners for a free case review.
Drugwatch's trusted legal partners support the organization's mission to keep people safe from dangerous drugs and medical devices. For more information, visit our partners page.