You may be familiar with defibrillators from the "crash carts" in medical dramas or as the life-saving paddles EMTs and paramedics carry. In recent years, they've become ever more common fixtures in airports, offices and other public spaces. Advances in technology have allowed for implantable versions small enough to fit in the palm of your hand. These implantable cardioverter defibrillators (ICDs) can prevent sudden death in patients with certain heart conditions.
ICDs are battery-powered and surgically placed under the skin near the collarbone. Once implanted, the ICD monitors a person's heart rhythm through one or more wires, called leads, connecting the heart to the device. A minicomputer in the ICD allows it to detect an abnormal heartbeat and send an electric shock to the heart to restore a normal rhythm.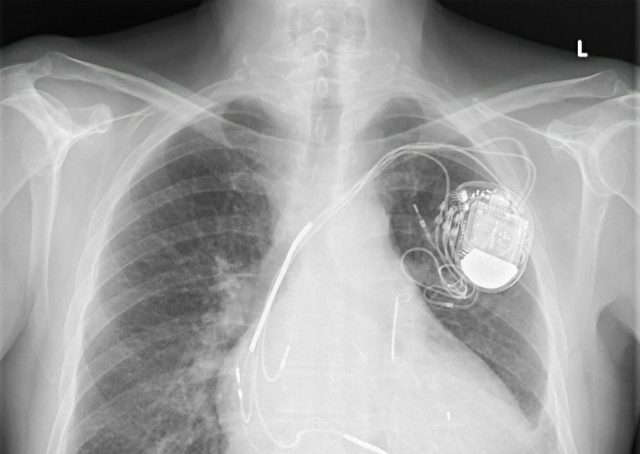 Some ICDs may also function as a pacemaker, delivering electrical signals to the heart when it beats too slowly. These may be referred to as cardiac resynchronization therapy defibrillators (CRT-D).
Minnesota-based St. Jude Medical (which is not affiliated with St. Jude Children's Research Hospital) produces both types of devices. A problem with the lithium batteries used in some of their ICDs and CRT-Ds led the company to recall close to 400,000 of the devices in 2016 after two patients died.
Timeline of St. Jude Medical Defibrillators:
January 2010

First potentially defective ICD & CRT-D units manufactured

2014

First patient death due to premature battery failure confirmed

December 2014

Duke University physicians publish documented cases of premature battery failure in St. Jude Medical defibrillators

May 2015

St. Jude Medical corrects problem, but continues shipping potentially defective devices

2016

Second patient dies after premature battery failure

February 2016

University of Illinois doctors document cases of premature battery failure

October 2016

St. Jude Medical recalls 398,740 defibrillators worldwide

January 2017

Abbott Laboratories acquire St. Jude Medical for $25 billion

April 2017

FDA finds 10 affected devices were shipped and seven implanted in patients after the recall was announced
Conditions St. Jude Medical's Implantable Defibrillators Treat
ICDs are used to treat heart conditions people have been born with or which develop over a lifetime. ICDs may be recommended for people who are at risk of a life-threatening ventricular arrhythmia — abnormal, rapid heart rhythms (arrhythmias) in the heart's two lower chambers (the ventricles) — because of various heart conditions.
These conditions are:
Heart attack
Ventricular arrhythmia
Sudden cardiac arrest
Previous heart surgery
Heart failure
Long QT syndrome – a congenital defect that can cause fast, irregular heart rhythms
Other congenital heart diseases
St. Jude Medical defibrillators are designed to treat irregular heartbeats called arrhythmias in which the heart rhythm can be either too fast or too slow, can flutter, skip a beat or add beats. These include:
| Condition | Definition | Potential Complications |
| --- | --- | --- |
| Bradycardia | Slow heartbeat – fewer than 60 beats per minute | Fatigue, lightheadedness, dizziness, fainting, cardiac arrest |
| Tachycardia | Fast heartbeat – more than 100 beats per minute | Shortness of breath, chest pain, lightheadedness, loss of consciousness, heart attack, death |
| Premature ventricular contractions | Extra heartbeats that occur in the lower chambers (ventricles) of the heart | Generally harmless, but can trigger more serious arrhythmias in patients with a history of ventricular tachycardia |
St. Jude Medical Defibrillators Experience 'Premature Battery Depletion'
St. Jude Medical's ICDs and CRT-Ds are powered by lithium batteries expected to last five to 10 years. The devices are designed to send out an Elective Replacement Indicator (ERI) alert in the form of a vibration about three months before their batteries run out.
But by 2016, St. Jude Medical became aware that a significant number of batteries were failing within just 24 hours to a few days or weeks of an ERI alert — far short of the three-month lead time. Without a charged battery, an ICD or CRT-D would be unable to deliver a life-saving shock or pacing signal to the heart when needed.
St. Jude Medical termed the problem "premature battery depletion" in a medical advisory. The problem was traced to deposits of lithium forming in the batteries. These "lithium clusters" created abnormal electrical connections which rapidly drained the batteries of power.
St. Jude Medical Recalls Implantable Defibrillators
In October 2016, St. Jude Medical issued a recall of 251,346 ICD and CRT-D devices in the U.S. due to premature battery depletion.
A total of 841 of the 398,740 defibrillators St. Jude Medical had sold worldwide experienced premature battery depletion. This included 46 that had visible electrical shorting due to the lithium clusters.
The U.S. Food and Drug Administration (FDA) categorized St. Jude Medical's recall as a Class I — the agency's most serious type of recall, in which use of the devices may cause serious injury or death.
Fact
There were two deaths, 10 cases of people fainting, and 37 cases of dizziness as a result of the devices being unable to deliver defibrillator shocks or heart pacing when needed.
In an FDA Safety Communication from October 2016, the agency reported rapid battery depletion had caused two deaths, 10 cases of people fainting and 37 cases of dizziness all directly related to the devices' inability to deliver defibrillator shocks or heart pacing when needed.
St. Jude Medical Defibrillator Recall by the Numbers
398,740 Devices recalled worldwide
251,346 Recalled in the U.S.
841 Devices experienced premature battery depletion
46 Showed visible electrical short circuits
37 People experienced dizziness due to battery issues
10 Reported fainting
2 People died due to premature battery depletion
What Devices Are Affected Under the St. Jude Medical Defibrillator Recall?
Defibrillators St. Jude Medical recalled include 39 models of their Fortify, Unify, and Quadra product lines. The ICD and CRT-D devices were manufactured between January 2010 and May 2015, and distributed between February 2010 and October 2016.
Recalled St. Jude Medical ICDs and CRT-Ds:
| Device Name | Model Numbers |
| --- | --- |
| Fortify VR | CD1231-40, CD1231-40Q |
| Fortify ST VR | CD1241-40, CD1241-40Q |
| Fortify Assura VR | CD1257-40, CD1257-40Q, CD1357-40C, CD1357-40Q |
| Fortify Assura ST VR | CD1263-40, CD1263-40Q, CD1363-40C, CD1363-40Q |
| Fortify DR | CD2231-40, CD2231-40Q |
| Fortify ST DR | CD2241-40, CD-2241-40Q, CD2263-40, CD2263-40Q |
| Fortify Assura DR | CD2257-40, CD2257-40Q, CD2357-40C, CD2357-40Q |
| Fortify Assura ST DR | CD2363-40C, CD2363-40Q |
| Unify | CD3231-40, CD3231-40Q |
| Unify Quadra | CD3249-40, CD3249-40Q |
| Unify Assura | CD3257-40, CD3257-40Q, CD3357-40C, CD3357-40Q |
| Quadra Assura | CD3265-40, CD3265-40Q, CD3365-40C, CD3365-40Q |
| Quadra Assura M | CD3269-40, CD3269-40Q, CD3369-40C |
Patients implanted with a St. Jude Medical ICD or CRT-D are given a device ID card after surgery that will show the model name and number of their device.
St. Jude Medical Knew of Problems Months before Its Recall
In April 2017, the FDA said St. Jude Medical had downplayed the battery failures for years and even failed to notify its own management and medical advisory board of a patient death due to the failures. The agency laid out its findings in a warning letter to Abbott, which had acquired St. Jude Medical earlier that year.
Doctors at Duke University had reported two cases of premature battery depletion in St. Jude Medical devices in 2014 and doctors at the University of Illinois documented four more cases in 2016. Both teams, in published articles, warned physicians to be aware of the issue.
Fact
St. Jude Medical continued to ship out its stockpile of devices before the premature battery depletion issue was corrected.
The Minneapolis Star Tribune reported that St. Jude Medical was aware of the lithium cluster issue by 2014 and corrected it in 2015, but continued to ship out its stockpile of devices manufactured before the flaw was corrected for another 17 months.
The FDA found St. Jude Medical shipped 10 affected devices after issuing the recall. The agency also discovered that after the recall was issued, seven ICDs subject to the recall, "and in the control of St. Jude US Field Representatives" at the time, were implanted into patients.
In April 2017, two members of Congress, U.S. Rep. Jan Schakowsky (D-Ill.) and U.S. Rep. Rosa DeLauro (D-Conn.), wrote the FDA seeking more information on issues the agency found in its investigation.
"The fact that St. Jude continued to allow those devices to be surgically implanted even after they knew they were defective and potentially fatal is absolutely inexcusable," Rep. Schakowsky said in a statement. "The FDA must take swift and immediate action to deter this type of behavior in the future."
Rep. Schakowsky said a member of her staff had been implanted with one of the recalled St. Jude Medical devices.
Insurance Provider Seeks Class Action Lawsuit Over St. Jude Defibrillators
In September 2017, a union-benefits fund in Alaska sued Abbott in federal court claiming the company knew that 250,000 defibrillators it sold could quit working without warning.
The Alaska State Employees Association/AFSCME Local 52 Health Benefits Trust asked the Northern District of Illinois to grant the lawsuit class action status to represent insurance and self-insured companies in the case.
The lawsuit claims insurance funds paid millions of dollars for defective devices. It also seeks punitive damages against Abbott.
What to Do if Your Implantable Defibrillator Is on the Recall List
St. Jude Medical does not recommend replacing an ICD if it is not experiencing battery depletion. However, you should be alert to possible problems and take steps to monitor your device if it is affected by the recall.
Steps to take if your device is affected by the recall:
Contact Your Doctor Immediately if You Feel a Vibratory Alert

Devices affected by this recall may lose power in as little as one day to a few weeks. An alert may mean you need to have the battery replaced.

Seek Immediate Medical Attention for Tell-Tale Symptoms

Symptoms of dizziness, lightheadedness, loss of consciousness, shortness of breath, or chest pain could be a sign of battery depletion. Seek medical help immediately if you experience any of these symptoms.

Register for Home Monitoring

Though the FDA has been investigating cybersecurity concerns with the system, the agency still recommends registering for St. Jude Medical's Merlin@Home monitoring system. It can alert your doctor when the battery is losing power. It may also be helpful for people who have trouble feeling the vibratory alerts.
FDA: Home Monitoring Outweighs Potential Cyber Security Risks
In January 2017, the FDA and the Department of Homeland Security concluded a joint investigation into allegations of cybersecurity issues with St. Jude Medical's Merlin@Home monitoring system.
The devices use a radio frequency (RF) component that transmits and receives signals between a home monitor. The monitor reads data on the ICD or CRT-D, and transmits it to the patient's doctor.
The FDA said it had confirmed that vulnerabilities in the system could allow someone other than the patient's doctor to access the system and alter commands to the implanted device. This could cause rapid battery depletion, or failure to administer proper shocks or pacing to the heart.
St. Jude Medical released a patch to fix the vulnerability on January 9, 2017.
In its October 11, 2016 Safety Communication, while the investigation was still underway, the FDA said ICD and CRT-D devices affected by the recall "provide life-saving therapy." The agency said at the time it "strongly recommends" patients use the system to monitor battery levels. The FDA repeated that assessment in its January 9, 2017 Safety Communication, saying the "health benefits to patients from continued use of the device outweigh the cyber security risks."
Report a Problem with Your St. Jude Medical Implantable Defibrillator
The FDA's MedWatch program allows medical facilities and patients to report serious problems with medical products that can seriously harm patients. Reporting adverse events with any drug or medical device to the FDA helps the agency identify problems with medical products.
Health care facilities are not required to report adverse events associated with medical devices that could malfunction and cause a serious injury or death. But the FDA encourages them to do so voluntarily.
The FDA also encourages patients who experience problems with medical devices to file a report.
"Your report may be the critical action that prompts a modification in use or design of the product, improves its safety profile and leads to increased patient safety," the FDA says on its website.
Reporting problems you experience with your St. Jude Medical ICD or CRT-D to the FDA can help the agency better understand the risks associated with the devices in general. You can file a report through the FDA's MedWatch website.
Please seek the advice of a medical professional before making health care decisions.
How helpful was this page?
How can we improve this page?
How can we improve this page?