How to Quit Vaping
Vaping may be as hard to quit as tobacco cigarettes because they both contain highly addictive nicotine. Quitting JUUL or other e-cigarettes requires wanting to quit, making a plan to quit, reaching out for help and even working with an expert to set a quit date.
Quitting vaping can be challenging, but it is doable if you have the desire to quit and a plan to get you through kicking the habit.
Vaping is a relatively new phenomenon, so there isn't much research on how many people try to quit or how successful they are. The National Institute on Drug Abuse reports about half of all smokers try to quit smoking every year, but only about six percent of smokers successfully quit in any given year.
Tobacco cigarettes have a burn rate that limits how much nicotine you can inhale in a puff, and how many puffs you can take over time. But JUUL and other e-cigarettes can deliver higher doses of nicotine because their electronic design gets around this limitation.
Understanding how this addiction affects you and what to expect as you break its control can help you successfully quit.
What We Know About the Dangers of Vaping
Vaping has been associated with several severe health problems including seizures or other neurological problems and EVALI, a severe and sometimes fatal type of lung injury.
"Given the addictive nature of nicotine, it can cause people to continue inhaling smoke or vapor into their lungs," Dr. Joshua Mansour, a Los Angeles area hematologist and oncologist told Drugwatch. "Over time, that can spiral into a whole other series of health events."
As of Feb. 18, 2020, an EVALI outbreak that began the previous summer had led to 2,807 hospitalizations and 68 deaths in 29 states and the District of Columbia, according to the U.S. Centers for Disease Control and Prevention. CDC hasn't released any more current numbers as of September 2022.
Other potential long-term JUUL and e-cigarette side effects include heart attack or stroke, respiratory problems, reproductive issues, and low birth weight for babies born to women who smoked while pregnant.
Hundreds of lawsuits have also blamed JUUL or other e-cigarette makers for causing EVALI or other serious injuries. As of December 15, 2022, there were 4,908 JUUL lawsuits pending in a federal multidistrict alone.
Why People Vape
People may start vaping for a variety of reasons. Smokers may see it as a replacement for tobacco products or non-smoking teens may take it up out of curiosity or through peer pressure. People continue vaping because of nicotine addiction.
When you breathe in nicotine, it triggers a surge of endorphins that trigger the reward circuits in your brain. The effect is a "mini-high," a brief feeling of euphoria, not as long lasting as with other drugs, but as with other drugs, it ups the levels of dopamine in your reward circuits.
This process reinforces the behavior that leads to the reward. So people keep vaping to get the same feeling over and over.
Long-term use can cause withdrawal symptoms when you haven't vaped in a while. It can cause cravings to vape. And it can make it difficult — but not impossible — to quit.
Tips to Quit Vaping
There are several steps you can take that will improve your chances of quitting vaping. Don't jump in without a plan, but prepare for a challenge that may take weeks or months. That may seem daunting when you start, but with a toolbox of go-to strategies, you will be prepared for the hurdles ahead.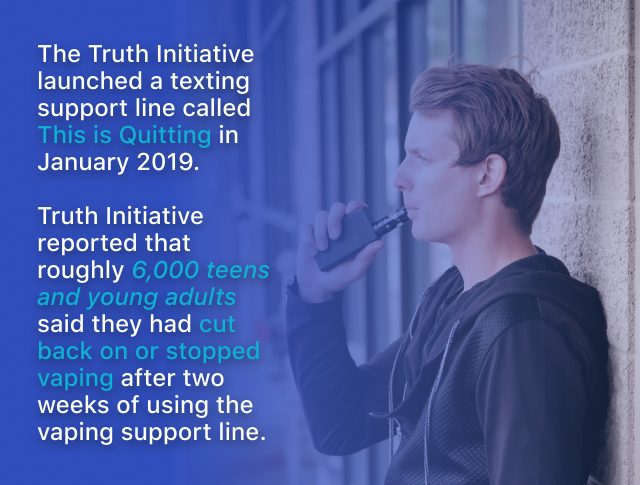 Understand Why You Are Quitting
Ask yourself why you want to quit vaping. Is it because vaping is controlling or interfering with your life and relationships? Is it costing you too much money? Are you worried about your health?
Make a list of every reason you have to quit and refer to it as you set out to quit. Refer to it whenever you question whether you can actually quit. It can help you stay focused on your goal.
Quit All Tobacco Products at the Same Time
If you smoke or use other tobacco products as well as vape, it is a good idea to quit tobacco altogether, all at once.
Resources to Help You Quit Vaping
You can get free help from smoking cessation experts to quit vaping by calling toll free at 1-800-QUIT-NOW (1-800-784-8669) or 1-877-44U-QUIT (1-877-448-7848). You can also chat with an expert online at the National Cancer Institute's
LiveHelp
website by downloading the
quitSTART
app or texting QUIT to 47848.
Deciding to kick all tobacco habits at once can save you the time and trouble of quitting other tobacco products later on.
Set a Quit Date and Prepare to Get There
Choose a quit date no more than a week or two away. Setting a date too far off will give you more time to give up or lose interest in quitting.
But be realistic and give yourself time to get ready for the challenge ahead.
You'll need to know what triggers your need to vape. It may be certain people or situations. Knowing what they are will help you plan on alternatives to vaping you can turn to when those triggers crop up.
Set yourself up to avoid temptations by avoiding people and places where you might be tempted to vape. Have a go-to line to say when someone asks if you want to vape or be prepared to take a break from friends who vape.
Is It Hard to Quit Vaping?
Quitting vaping can be difficult because of nicotine addiction, and one of the biggest hurdles is managing nicotine withdrawal.
The first day may be the most difficult. If you can set a routine and follow it for the rest of your effort to quit, you may see a greater chance of success. The most important step is to not take a single puff all day. Focus on just getting through the day without vaping once. Then repeat it each day, just one day at a time.
You have to retrain your brain to go without nicotine. This can cause cravings for nicotine and trigger withdrawal symptoms.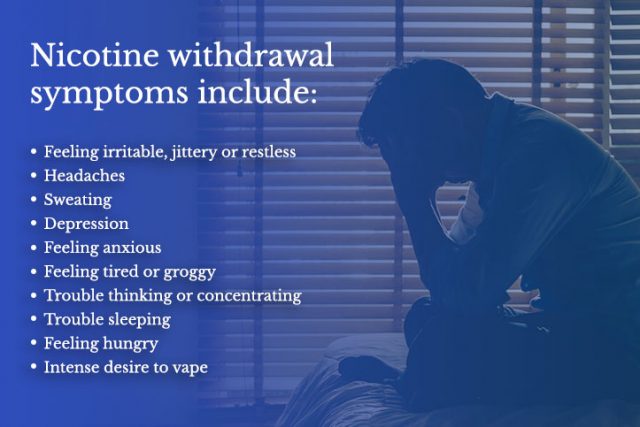 Withdrawal symptoms will fade over time. There is no set time for them to disappear completely; it varies from person to person. But you can manage withdrawal better if you understand what to expect before trying to quit and following a strategy to get through it.
Checklist for managing withdrawal symptoms
Talk to your doctor or other health care professional about how to manage your quit vaping plan and how they can help you
Drink plenty of water throughout the day to stay hydrated. Water can ease withdrawal symptoms and reduce cravings
Stick with a healthy sleep schedule at night to ward off feelings of tiredness during the day. That includes turning off all screens an hour before turning in for the night
Exercise can be a healthy substitute for nicotine when you feel cravings coming on and it can help you sleep
Have plenty of healthy snacks for when hunger symptoms strike. They can satisfy your feelings of hunger while preventing unhealthy weight gain
Have a plan in place for how you will deal with the first craving to vape. This will help you deal with cravings throughout your mission to quit
If you also smoke or use other tobacco products, make it a point to quit them at the same time
Source: Smokefree.gov
Withdrawal can cause mood swings, depression, anxiety and other mental health issues. Don't ignore these feelings and don't keep them to yourself. Talk to friends and family and don't be afraid to talk to your doctor or other health care provider about them. They may be able to help you.
Take Control of Your Vape Cravings
Cravings may be the hardest obstacle to overcome when you try to quit vaping. But if you have a plan in place before you decide to quit, you stand a better chance of being successful.
4 tips to beat your vape cravings
When a craving hits, stop what you are doing and try something different. A change in routine can shake off a nicotine craving
Focus on your breathing by inhaling slowly through your nose and out your mouth. Just 10 deep, focused breaths will help you relax and beat a craving
Get physical, take a walk outside or up and down a few flights of stairs to boost energy and defeat a craving
Whip out your phone to play a game or to call or text a friend. Focusing on another activity or conversation with someone can distract you from a craving
Can Vaping Help You Quit Smoking?
No vaping device has ever been approved by the U.S. Food and Drug Administration for smoking cessation. And research is mixed on whether vaping can help people quit smoking.
A 2019 study from the United Kingdom, published in the journal Addiction, estimated that vaping helped between 50,000 to 70,000 smokers in the UK stop smoking in 2017.
But public health advocates warn that results may not be the same in the United States due to cultural differences between the UK and the U.S. when it comes to vaping. For one thing, the UK more tightly regulates e-cigarettes and keeps the nicotine content well below the three percent nicotine levels of JUUL pods and other vape fluids in the U.S., according to Chris Bostic, the deputy director for policy at Action on Smoking and Health.
"This whole debate about whether e-cigs are safer is a red-herring," Bostic told Drugwatch. "There is nothing as dangerous as tobacco cigarettes; they are the most dangerous consumer product in the history of the world."
He also pointed out that the UK does not have the same teen vaping epidemic as the U.S., calling youth e-cig use "minuscule."
"If they were addicted to cigarettes and wanted to find an alternative, well, there are other options," Dr. Mansour said. "They can speak to an addiction specialist, there's nicotine gum, nicotine patches, things that have less harmful side effects than vaping."
There are only a few FDA-approved stop smoking aids. These include over-the counter nicotine skin patches, nicotine gum and lozenges. The agency has also approved two smoking cessation prescription drugs — Chantix (varenicline tartrate) and Zyban (buproprion hydrochloride). Both are available as tablets.
"I do know people who have stopped cold turkey, so that can be done, too," Mansour pointed out.
Please seek the advice of a medical professional before making health care decisions.
Share This Page:
How can we improve this page?
Thank You for Your Feedback
We appreciate your feedback. One of our content team members will be in touch with you soon.
We appreciate your feedback. One of our content team members will be in touch with you soon.
Who Am I Calling?
Calling this number connects you with a Drugwatch representative. We will direct you to one of our trusted legal partners for a free case review.
Drugwatch's trusted legal partners support the organization's mission to keep people safe from dangerous drugs and medical devices. For more information, visit our partners page.