Nicotine
Nicotine is an addictive chemical compound found naturally in tobacco plants. Nicotine use can cause serious health problems including increased blood pressure and hardening of arterial walls, causing heart attacks. Tobacco in cigarettes, cigars, most e-cigarettes and hookahs contains nicotine.
What Is Nicotine?
Nicotine is a chemical that is used in e-cigarettes, cigarettes, chewing tobacco and other tobacco products. It can be ingested, inhaled or absorbed through the skin. Nicotine is a toxic chemical the tobacco plant itself uses as a natural pest defense. If taken at high enough concentrations, it can lead to poisoning and death in humans.
At the dosages that can be ingested through commercially available products, however, the most common problem with the substance is its addictiveness. Nicotine changes how the brain works, altering its reward pathways, causing people to crave products containing it.
To comply with guidelines that the Federal Food, Drug & Cosmetic Act outlines, all tobacco products, including e-cigarettes, must display warnings on packaging and in advertisements that state it is an addictive chemical. These warnings can be found on the box or packaging of any of these products.
Nicotine and Smoking
All tobacco products contain some nicotine. This includes chewing tobacco and nicotine replacement therapies such as patches, gums and lozenges. The amount of nicotine in each product varies. Some have much more of the drug than others.
A recent study cited evidence suggesting cigarettes with lower nicotine levels decreased the addictive potential of smoking. It is important to remember, however, that any amount of nicotine is addictive and can lead to habitual use of products that can severely compromise your health and wellbeing.
How Much Nicotine Is in a Cigarette or Juul Pod?
Cigarettes and vape products contain vastly different amounts of nicotine. While cigarettes have an average of 1.1 to 1.8 mg of nicotine, or 22 to 36 milligrams per pack, a Juul pod, for example, which contains 0.7 milliliters of liquid, has approximately 40 milligrams of nicotine.
A 2020 study in Tobacco Regulatory Science found rats exposed to Juul pods had blood nicotine concentrations five to eight times higher than rats exposed to other tobacco products. Some evidence suggests people are more likely to develop a nicotine addiction when they are regularly exposed to higher amounts of the drug.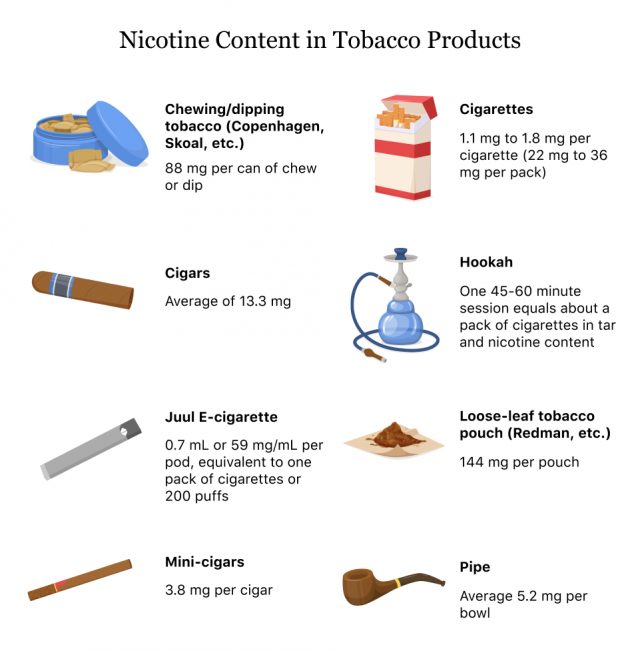 In June 2022, the FDA announced plans to update regulatory standards about the amount of permissible nicotine in cigarettes and other combustible tobacco products. The new nicotine rule, which has yet to be outlined, would have the goal of curbing the use of tobacco products in young people.
The FDA has not released further details, but this aligns with the U.S. surgeon general's office, which reports that 87% of adult smokers and two-thirds of adult daily smokers picked up the habit before the age of 18. In a paper published in The New England Journal of Medicine, the FDA projected the American smoking rate of 12.5% would fall to 1.4% by the year 2100 with added restrictions.
Addiction and Nicotine's Effect on the Brain
How does nicotine affect the brain? As a neurotransmitter, nicotine increases the brain's levels of dopamine, stimulating its reward centers and making the person ingesting it feel good. It takes just 10 seconds for nicotine to reach the brain after it is inhaled or ingested.
Most people build up a resistance to nicotine. The more you are exposed to the drug, the more of it you will need to produce the same pleasurable effect. This reaction is what drives nicotine addiction. Repeated exposure to nicotine changes the parts of your brain that help you handle stress, learn effectively and exhibit self-control.
There is conflicting evidence about e-cigarettes as a gateway to future cigarette use. A 2021 study published in BMJ Journals found e-cigarette and tobacco use have common risk factors. It saw a "positive relation between e-cigarette use and tobacco smoking in both directions for adolescents."
Another 2021 study, published in Nicotine & Tobacco Research, found that teens who used e-cigarettes were no more likely to become smokers than teens who don't vape when other important risk factors, such as marijuana use and the use of other tobacco products, were considered.
Findings from one 2022 clinical research trial found that E-cigs with alkaline pH e-liquid can deliver nicotine rapidly to the brain, albeit less efficiently than conventional cigarettes, partly due to more significant airway retention of nicotine.
Nicotine in Teens and Young Adults
Nicotine use is riskier for teens and young adults because their brains have not yet fully developed. The brain only reaches full maturity after age 25. This means significant nicotine exposure before that age can interfere with the normal brain development process, making this age group more susceptible to nicotine addiction. 
"Any e-cigarette use among young people is unsafe, even if they do not progress to future cigarette smoking. "
Many young people don't realize that the products they use contain nicotine. A recent study in the journal Pediatrics found many teens don't know how much nicotine they are inhaling. About 40% of teens surveyed erroneously thought they were using nicotine-free products.
Nicotine Withdrawal
If you suddenly stop ingesting nicotine while you are addicted to it, you may experience nicotine withdrawal.
Nicotine withdrawal symptoms include:
Difficulty sleeping
Increased appetite
Irritability
Powerful tobacco cravings
Problems concentrating or paying attention
Nicotine withdrawal isn't the only medical problem that can cause these symptoms. Contact your doctor if you experience any of these issues. They can rule out other problems and provide you with advice or prescriptions to help with nicotine addiction.
What Does Nicotine Do to Your Body?
When it enters the blood, nicotine stimulates adrenal glands to release adrenaline, also called epinephrine. This hormone stimulates the central nervous system, leading to increased blood pressure, heart rate and breathing.
Nicotine's half-life is two hours, meaning it takes about two hours for half a dose of nicotine to leave your body. Because people process nicotine differently, a person's nicotine half-life can be as little as one hour or as long as four hours. It takes about two weeks for heavy tobacco users to bring their body's nicotine levels down to normal levels.
Nicotine can be present in blood, urine, saliva and breast milk. Breastfeeding mothers can pass nicotine to their infants. Expectant mothers who have nicotine in their system sometimes deliver babies with a dependence on the drug. These newborns may exhibit withdrawal symptoms after birth.
It's best to avoid nicotine. At worst, reduce your intake as much as you can.
Nicotine Poisoning and Overdose
Nicotine poisoning, also called nicotine overdose, occurs when you have elevated levels of nicotine in your blood. As little as 1 to 2 milligrams can be enough to cause nicotine poisoning in young children. Just 50 to 60 milligrams of nicotine are enough to cause a fatal nicotine overdose in a 150-pound adult. This is only slightly more than the nicotine content of a typical Juul pod, for example.
Symptoms of nicotine poisoning include:
Confusion
Rapid or irregular heart rate
High blood pressure
Respiratory failure
Seizures
Tremors
Nausea
Vomiting
Nicotine is not the ingredient in cigarettes that causes cancer. However, as Los Angeles-based oncologist Dr. Joshua Mansour told Drugwatch, "Nicotine itself still has its own series of harmful effects, including headaches, seizures, jitteriness and elevated heart rate, just to name a few."
The chemicals and substances that accompany nicotine in tobacco and vape products can cause cancer, however. They can also raise your risk of a variety of serious health conditions such as stroke, heart disease and Type-2 diabetes.
Nicotine Deaths
The Centers for Disease Control and Prevention report that since early 2020 there have been nearly 3,000 incidents of nicotine poisoning related to e-cigarettes, and at least 68 deaths. 
Young children's small bodies make them much more vulnerable to the drug. Four children have died of e-cigarette liquid nicotine exposure globally since 2013. Many more have become extremely ill.
In 2021, a study published in BMJ Open examined 5,277 reports of nicotine exposure the California Poison Control System received from September 2012 to December 2018.
The study found that of those 5,277 reports:
3,033 involved cigarettes
1,489 involved e-cigarettes
818 involved other products such as nicotine lozenges or hookahs
49.4% had minor outcomes
47.9% had moderate outcomes
2.8% had major outcomes
76.1% were children less than 5 years old
4.5% were in children ages 5 to 18
70.8% of e-cigarette exposures were in children under 5
The same study also found that the FDA's attempt to shield children from nicotine with the Child Nicotine Poisoning Prevention Act has had mixed results. After the CNPPA went into effect in July 2016, the average number of monthly e-cigarette exposures increased while the average number of monthly cigarette exposures fell.
The American Association of Poison Control Centers documented nearly 5,500 cases of e-cigarette and liquid nicotine exposure in 2021. Most were young children, and many required life-saving emergency treatment to recover from their exposure to the chemical.
Please seek the advice of a medical professional before making health care decisions.
Share This Page:
How can we improve this page?
Thank You for Your Feedback
We appreciate your feedback. One of our content team members will be in touch with you soon.
We appreciate your feedback. One of our content team members will be in touch with you soon.
Who Am I Calling?
Calling this number connects you with a Drugwatch representative. We will direct you to one of our trusted legal partners for a free case review.
Drugwatch's trusted legal partners support the organization's mission to keep people safe from dangerous drugs and medical devices. For more information, visit our partners page.