Nicotine
Nicotine is an addictive chemical compound found in tobacco plants. Nicotine use can cause serious health problems including increased blood pressure and hardening of arterial walls, causing heart attacks. Products with tobacco such as cigarettes, cigars, most e-cigarettes and hookah tobacco contain nicotine.
Nicotine is an oily colorless to pale yellow liquid. It also comes in powder form. When warm, it has a fishy odor. It can be absorbed into the human body by ingesting it, inhaling it or through skin contact.
In high levels, nicotine can lead to poisoning and death, but the most common problem with the chemical is its addictiveness. It changes how the brain works and makes people crave tobacco products.
Since 2018, all newly regulated tobacco products, including e-cigarettes, are required to display a warning statement on product packages and advertisements. The label reads: "WARNING: This product contains nicotine. Nicotine is an addictive chemical."
A manufacturer can submit a statement to the FDA certifying that its product does not contain nicotine. But it then has to carry a different warning that reads: "This product is made from tobacco."
How Much Nicotine Is in a Cigarette or Juul Pod?
Each tobacco product contains various levels of nicotine. There is some evidence that shows that the amount of nicotine a person ingests affects how addicted they become.
For example, one 2018 study by Stephen T. Higgins and colleagues published in Preventative Medicine found evidence suggesting cigarettes with lower nicotine levels decreased the addictive potential of smoking.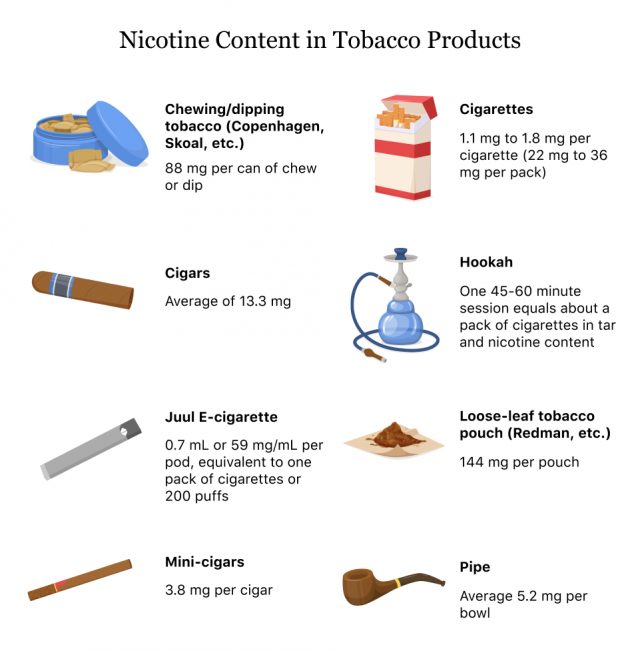 How Nicotine Affects the Brain and Body
When a person consumes nicotine, they get a slight, brief high from a surge of endorphins. Nicotine also increases the levels of dopamine in the reward circuits of the brain. This makes people want to keep taking products containing nicotine.
Repeated exposure to nicotine changes the parts of the brain that deal with stress, learning and self-control. These changes make a person more susceptible to addiction.
The pleasurable sensations from nicotine don't last very long. This causes a person to want to keep inhaling or ingesting nicotine to get the next rush.
Nicotine and Nursing Mothers
Mothers can pass nicotine in breast milk to their babies.
When it enters the blood, nicotine stimulates the adrenal glands to release adrenaline, also called epinephrine. This hormone stimulates the central nervous system, leading to increased blood pressure, heart rate and breathing.
Nicotine's half-life is two hours. This means it takes about two hours for half of a dose of nicotine to leave the body. But this time frame can vary between one and four hours depending on the individual.
Nicotine is present in saliva, blood, urine, and breast milk. Breastfeeding mothers can pass nicotine to their baby.
It takes about two weeks for heavy tobacco users to bring nicotine levels in urine and saliva close to levels of non-smokers, according to Mayo Clinic Laboratories.
Lawsuit Information
Multiple lawsuits claim high nicotine levels in Juul & other e-cigarettes led to serious health dangers. Learn more about pending litigation.
Addiction
While nicotine itself is potentially harmful to a user's health, nicotine addiction is the most immediate risk.
It takes just 10 seconds for nicotine to reach the brain after you inhale it. Nicotine causes the brain to release chemicals that make you feel pleasure. But over time, you may need more and more nicotine to get the same effect. This can eventually lead to nicotine addiction.
E-cig users may switch to tobacco cigarettes to relieve their cravings. A 2017 study in JAMA Pediatrics found that 43 percent of high school students who had used e-cigs with high nicotine content became frequent smokers within six months.
Once a person is addicted, it is difficult to quit ingesting nicotine. This causes them to continue smoking cigarettes or using other tobacco products. Just like any addictive drug, stopping nicotine can cause withdrawal symptoms.
Nicotine withdrawal symptoms include:
Difficulty sleeping
Increased appetite
Irritability
Powerful tobacco cravings
Problems concentrating or paying attention
How It Affects Health
Most people link nicotine to cancer, but it doesn't cause cancer. Other ingredients in tobacco products are carcinogenic, however. While nicotine's primary side effect is addiction, the chemical has its own potential side effects.
"Nicotine itself still has its own series of harmful effects including headaches, seizures, jitteriness, and elevated heart rate just to name a few," Dr. Joshua Mansour, a Los Angeles-based oncologist, told Drugwatch.
At low concentrations, short-term nicotine exposure (less than 8 hours) may affect the heart and respiratory system, according to the National Institute for Occupational Safety and Health (NIOSH). Higher concentrations can cause paralysis and lead to death.
Symptoms of nicotine poisoning include:
Confusion
Death
High blood pressure
Irregular heart rate
Nausea
Rapid heart rate
Respiratory failure
Seizures
Tremor
Vomiting
Nicotine Deaths
Because nicotine is available in higher concentrations in e-cigarette liquids, the risk of nicotine poisoning has gone up. Children are especially vulnerable to nicotine poisoning and overdose.
The New York Times reported that it would take just a teaspoon of certain e-liquids to result in the death of a child if consumed.
The liquid is capable of resulting in acute nicotine toxicity if it comes into direct contact with a person's skin or eyes, or if it's ingested or even inhaled, especially in children, according to a study issued by the CDC in 2015. The researchers found that children up to 5 years old accounted for 51 percent of e-cigarette exposure reports between 2010 and 2014.
A study conducted by the American Academy of Pediatrics in 2016 found:
From January 2012 to April 2015, the National Poison Data System received 29,141 calls for exposure to nicotine and tobacco products in children under 6. That equates to an average of 729 children per month.
E-cigarettes accounted for 14.2 percent of exposures.
During the study, the monthly number of e-cigarette exposures increased by 1492.9 percent.
Children under 2 years old accounted for 44.1 percent of e-cig exposures.
E-cigarette exposures in children were 5.2 times more likely to be admitted to a medical facility.
Such exposures were also 2.6 times more likely to have a more severe outcome than those exposed to traditional cigarettes.
One death occurred from liquid nicotine exposure.
In December 2014, a 1-year-old child died from exposure to liquid nicotine. His was the first e-liquid-related infant death in the United States.
But the number of reports of child exposures is rapidly increasing, according to the National Poison Data System. The CDC reported a significant increase in calls to poison control centers associated with growing e-cigarette use — up from 238 calls in 2011 to 3,692 calls in 2014.
According to the American Association of Poison Control Centers, there were 3,139 reports of e-cigarette and liquid nicotine poisoning cases reported in 2018.
It's not just children that can succumb to nicotine poisoning. The New York Times also reported that less than a tablespoon of e-liquid at higher concentration levels is capable of killing an adult, and one person was reported to have had cardiac problems following absorption of the liquid through her skin.
Nicotine in Teens and Young Adults
Nicotine carries serious risks for people under the age of 25. For many young people, nicotine exposure comes in the form of e-cigarettes.
"Any e-cigarette use among young people is unsafe, even if they do not progress to future cigarette smoking," U.S. Surgeon General Jerome Adams said in his 2018 advisory on e-cigarettes and youth.
Nicotine Exposure Risks
Nicotine exposure during adolescence can cause addiction and can harm the developing adolescent brain.
The risks are largely due to nicotine's effects on brain development. The human brain doesn't finish developing until around the time people turn 25. Nicotine can interfere with parts of that development, causing permanent brain damage.
Nicotine can disrupt the part of the brain that controls attention, learning, moods and impulse control. People under the age of 25 are also more susceptible to becoming addicted to nicotine before the brain fully develops.
Many teens may not know that they are ingesting nicotine when they use e-cigarettes. A 2019 study in the journal Pediatrics by Rachel Boykan and colleagues found that a lot of teens don't know how much nicotine they are inhaling. About 40 percent of teens surveyed reported they were using nicotine-free products. But researchers found cotinine, the metabolized form of nicotine, in their urine.
Please seek the advice of a medical professional before making health care decisions.
Share This Page:
How can we improve this page?
Thank You for Your Feedback
We appreciate your feedback. One of our content team members will be in touch with you soon.
We appreciate your feedback. One of our content team members will be in touch with you soon.
Who Am I Calling?
Calling this number connects you with a Drugwatch representative. We will direct you to one of our trusted legal partners for a free case review.
Drugwatch's trusted legal partners support the organization's mission to keep people safe from dangerous drugs and medical devices. For more information, visit our partners page.