Zantac
Zantac is an anti-acid drug available over the counter (OTC) and with a prescription. In its OTC form, it treats heartburn and acid indigestion. In prescription strength, it treats ulcers, GERD and erosive esophagitis. Potential side effects include headache, constipation, diarrhea, drowsiness, decreased sex drive, impotence and insomnia.
The antacid Zantac — known as ranitidine in generic form — is available over the counter or as a prescription. People can take the drug orally in pill and liquid form or intravenously as an injection.
GlaxoSmithKline first received FDA approval for Zantac in 1983, and by 1988 it was the world's best-selling drug, bringing in $1 billion in annual sales.
Currently, Sanofi markets brand-name Zantac in the United States. In 2018, the company reported it made 113 million euros, the equivalent of roughly $124 million in the United States.
According to Bloomberg Intelligence, nearly 25 million prescriptions for ranitidine were written in 2018.
Fact
In September 2019, online pharmacy Valisure discovered N-Nitrosodimethylamine (NDMA) — a chemical impurity that could cause cancer — in Zantac and its generic forms. The discovery sparked a series of
ranitidine recalls
from major U.S. retailers Walgreens, Walmart, CVS and Rite Aid.
How Does Ranitidine Work?
Ranitidine, the active ingredient in Zantac, belongs to a class of antacid drugs called H2 blockers, or histamine-2 receptor agonists.
H2 receptor agonists work by blocking histamine from parietal cells that line the stomach. This prevents the stimulation of the proton pump, an enzyme that transports hydrochloric acid secreted by the parietal cell. Inhibiting the proton pump reduces the amount of acid in the stomach, which, in turn, reduces symptoms of gastric disorders such as heartburn, GERD and gastric ulcers.
Zantac starts to work in as little as 30 minutes. It can control acid production for up to 12 hours and reduce the frequency and severity of heartburn.
How to Take the Drug
Over-the-counter and prescription Zantac have different instructions for use. Depending on the reason for the health provider prescribing Zantac, the dosages will vary.
Hospitals use the Zantac injection for patients with pathological hypersecretory conditions or intractable duodenal ulcers or as an alternative to the oral medication.
OTC Directions
OTC Zantac treats heartburn with acid indigestion and sour stomach caused by eating or drinking certain foods or beverages. Children under 12 should not use Zantac without first getting approval from a health care provider.
Directions for adults and children 12 years and over:
Swallow one tablet with a glass of water for symptom relief.
To prevent heartburn, swallow one tablet with a glass of water 30 to 60 minutes before eating or drinking.
Do not take more than two tablets in 24 hours.
Do not chew tablet.
Prescription Directions and Recommended Dosages
Prescription Zantac treats several acid-related conditions, from GERD to erosive esophagitis.
Children as young as one month old may take the drug, but researchers have not studied it in children younger than one month and cannot make dosing recommendations.
Providers should adjust the dosage for people with impaired kidney function.
Dosing Instructions
| Indication | Dose/Instructions |
| --- | --- |
| Active Duodenal Ulcer | 150 mg twice daily or 300 mg once daily after the evening meal or at bedtime |
| Maintenance of Healing of Duodenal Ulcers | 150 mg at bedtime |
| Pathological Hypersecretory Conditions (such as Zollinger-Ellison syndrome) | 150 mg twice a day. Some patients may need to administer ranitidine 150 mg doses more frequently. Providers may increase the dosage up to 6 g a day. |
| Benign Gastric Ulcer | 150 mg twice a day |
| Maintenance of Healing of Gastric Ulcers | 150 mg at bedtime |
| GERD | 150 mg twice a day |
| Erosive Esophagitis | 150 mg four times a day |
| Maintenance of Healing of Erosive Esophagitis | 150 mg twice a day |
| Pediatric Treatment of Duodenal and Gastric Ulcers | 2 to 4 mg/kg twice daily to a maximum of 300 mg/day |
| Pediatric Maintenance of Healing of Duodenal and Gastric Ulcers | 2 to 4 mg/kg once daily to a maximum of 150 mg/day |
| Pediatric Treatment of GERD and Erosive Esophagitis | 5 to 10 mg/kg per day, usually given as two divided doses |
Headaches, Stomach Pain and Other Side Effects
Side effects information for Zantac comes from clinical trials and postmarketing reports from real-world clinical practice. A search for generic ranitidine and brand name Zantac at different dosages in the FDA Adverse Event Reporting System (FAERS) from 1982 to June, 20 2019 revealed 54,608 adverse event reports.
Overall, reports of adverse event appear to be limited. In 2017, there were over 15 million prescriptions for ranitidine, according to U.S. government reports, but only 1,958 adverse events reported in FAERS.
The most commonly reported side effects in FAERS are headache, diarrhea, nausea, indigestion, vomiting, dizziness, abdominal pain, pruritus (itchy skin) and trouble breathing.
Common Side Effects
Constipation
Diarrhea
Nausea
Vomiting
Stomach pain
Headache
Insomnia
Decreased sex drive or difficulty having an orgasm
Swollen or tender breasts
According to the drug's insert, serious Zantac side effects are rare. Of the total 54,608 adverse-event reports, serious events accounted for 22,995. These include 2,175 deaths.
If you suffer any of the following side effects, talk to your health care provider.
Serious Side Effects
Clay-colored stools
Coughing up mucus
Dark urine
Easy bruising or bleeding
Irregular heartbeat
Loss of appetite
Severe blistering, peeling, and red skin rash with headache
Vision problems
Weakness
Yellowing of the eyes or skin
Zantac and Pregnancy
The FDA categorized Zantac as Pregnancy Category B. This means it is unlikely to affect an unborn baby. But mothers-to-be should talk to their health care providers about breastfeeding.
Zantac Drug Interactions
Tell your health care provider about all medications, herbal supplements and vitamins you take before taking Zantac. Avoid drinking alcohol with the drug because it may increase the risk of stomach damage.
Because ranitidine affects stomach acid, it may increase or decrease the effectiveness of drugs that rely on stomach acid to be effective.
There are no interactions listed for Zantac OTC, but the prescription drug label includes several.
Drugs That May Interact with Zantac
Atazanavir: Drug absorption may be impaired; use with caution.
Delavirdine: Drug absorption may be impaired; use with caution.
Gefitinib: Gefitinib exposure was reduced when used with ranitidine; use with caution.
Glipizide: Glipizide exposure increased after a single 150-milligram dose of oral ranitidine in diabetic patients.
Ketoconazole: Oral ketoconazole exposure was reduced by up to 95 percent when used with ranitidine.
Midazolam: Oral midazolam exposure increased when used with ranitidine and may cause excessive and prolonged sedation when used with ranitidine.
Procainamide: Higher doses of ranitidine may increase plasma levels of this drug and in rare cases may cause toxicity.
Triazolam: Triazolam exposure increased when used with oral ranitidine and may cause excessive or prolonged sedation.
Warfarin: Ranitidine may affect warfarin's effectiveness.
Zantac vs. Prilosec
Zantac works differently from Prilosec, which belongs to the proton pump inhibitor class. Deciding which type of drug to use depends on the severity and frequency of the symptoms.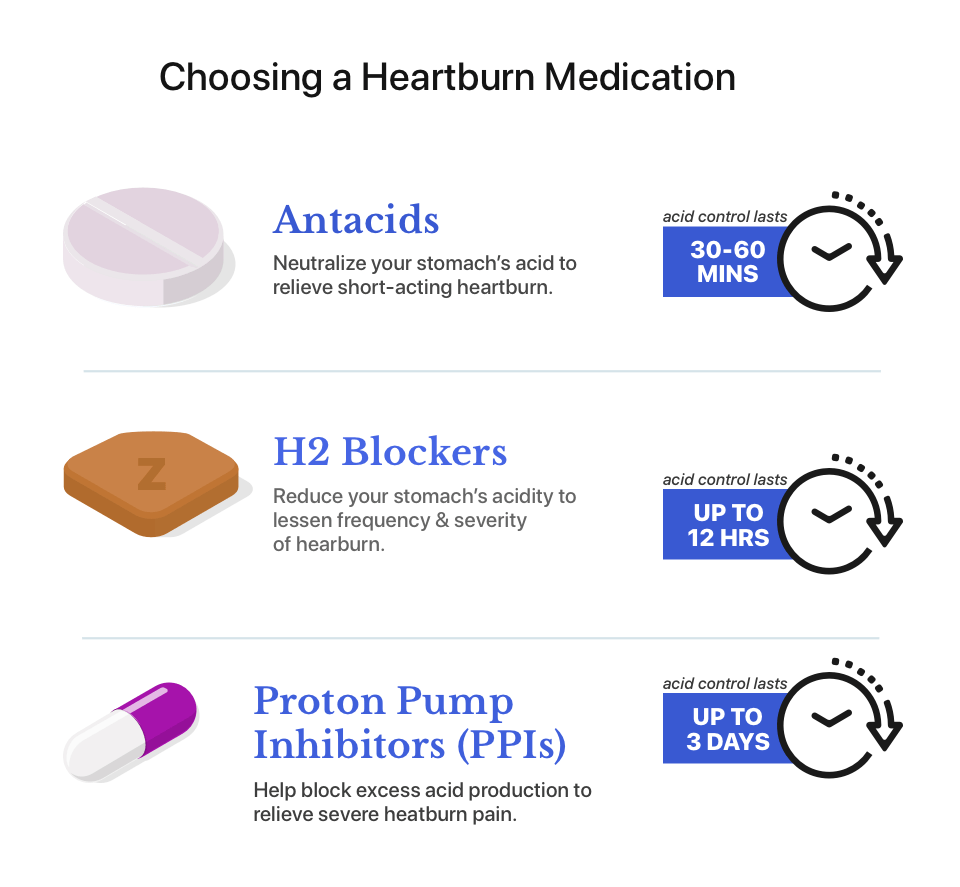 Differences between Zantac and Prilosec
Drug
How It Works
How Long it Takes to Work
How Long It Lasts
Zantac (H2 Blockers)

Reduces stomach acid production
Provides immediate relief

30 minutes to an hour
Up to 12 hours
Prilosec (Proton Pump Inhibitor PPI)

Blocks acid production
Treats frequent heartburn
Not intended for immediate relief

May take 1 to 4 days to work
Up to 24 hours when used daily
Recalls of Contaminated Pills
Starting on Sept. 24, 2019, some manufacturers of ranitidine began voluntary recalls of certain lots of the drug because of contamination with N-nitrosodimethylamine (NDMA) — a chemical that may cause cancer.
The FDA had previously announced recalls of valsartan and blood pressure drugs losartan and irbesartan that had been contaminated with NDMA.
At first, the agency didn't agree that NDMA levels present in ranitidine were too high. But after preliminary testing of some drug samples, on Oct. 2 it announced that contamination levels were "unacceptable."
Generic Zantac makers Sandoz and Apotex recalled certain lots of their drugs in September 2019.
Sanofi, the maker of Zantac in the United States, initially did not recall the drug.
But on Oct. 18, 2019, the company announced a voluntary recall, issuing a press release that stated, "This recall is being taken due to possible contamination with a nitrosamine impurity called N-nitrosodimethylamine (NDMA). The company is working with health authorities to determine the level and extent of the recall."
Walmart, CVS, Walgreens and Rite Aid have pulled all brand-name and generic Zantac from store shelves. The agency doesn't have enough information to recommend not using ranitidine. But it recommended that concerned people use alternatives and talk to their doctors.
Dr. Reddy's Laboratories Ltd. issued a recall on Oct. 1, 2019, for its ranitidine products marketed under several store brands, including Sam's Club, Walgreens, Walmart, Kroger, CVS, CDMA, Dr. Reddy's, HCA, Target, Thirty Madison and GeriCare.
Perrigo Company plc conducted tests of its ranitidine-based products that contained ranitidine active ingredients, called APIs, from external sources. On October 8, it halted shipments, and then on Oct. 23, 2019, it issued a recall.
The FDA recommends:
Continue taking ranitidine that has not been recalled. Not all lots of the drug have been recalled in the United States.
Patients taking prescription ranitidine can talk to their health care providers about alternatives to Zantac and its generics.
People taking OTC ranitidine can take other OTC heartburn drugs.
After the recalls were announced, people who had been diagnosed with cancer after taking Zantac filed lawsuits against Sanofi.
Please seek the advice of a medical professional before making health care decisions.
How helpful was this page?
How can we improve this page?
How can we improve this page?