Hernias occur when the intestines or other internal organs break through weakened or damaged muscle tissue which normally holds them in place.
Hernias are one of the most common anatomical conditions people may suffer. The overall chance of a person developing a hernia at some point in their lifetime is about 10 percent. The likelihood is higher for men — 27 percent — than for women — 3 percent.
Surgery is the only way to permanently correct a hernia. More than 5 million hernia surgeries are performed every year in the U.S.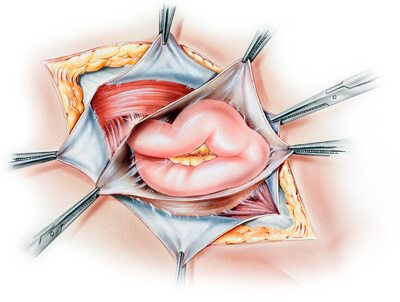 Illustration showing Hernia Mersh Surgery
Two types of hernias — inguinal (inner groin) and umbilical (around the navel) — account for most hernia surgeries in the U.S. About 75 percent of hernias are inguinal — occurring between the abdomen and the thigh. Umbilical hernias are most common in infants and usually heal themselves by the time the child is 4 years old. Only about 10 percent of abdominal hernias in adults are umbilical hernias.
Other types of hernias include femoral (outer groin), hiatal (upper stomach) and incisional (resulting from an incision).
According to the U.S. Food and Drug Administration (FDA), the use of surgical mesh may improve a patient's outcome by decreasing the time the surgery takes and minimizing the recovery time. However, recovery time can vary depending on the type of hernia, the patient's condition both before and after surgery, and the surgical approach.
Reasons for Hernia Surgery
Hernias can be extremely painful and limit mobility or physical activity. Pressure on the damaged tissue can cause the hernia to worsen, expanding the tear. Surgery is usually recommended as soon as possible to prevent the condition from worsening.
Doctors may perform hernia repair surgery with or without surgical mesh. Hernia repair surgery with mesh is called hernioplasty; without mesh it is called herniorrhaphy.
Done without mesh, the torn tissue is sutured back together, but this has a much higher likelihood of rupturing again in the future.
Surgical mesh acts as flexible scaffolding to repair muscle walls and prevent organs from coming through. After placing the mesh over the hernia defect, doctors use sutures, tacks or surgical glue to hold the mesh in place. Over time, the patient's tissue should grow into the small pores in the mesh and strengthen the muscle wall. Most mesh repairs are permanent, meaning the implant remains in the body for the rest of the patient's life.
Timeline of Advances in Hernia Mesh Surgery
Advances in materials and surgical techniques have allowed rapid growth of hernia mesh in repair surgeries.
1940s

Hernia mesh first used to combat high rate of hernia recurrence

1958

First polypropylene mesh is introduced

1980s

Rapid increase in number of mesh-based hernia repairs

1987

"Lichtenstein" repair, minimally invasive laparoscopic surgery, introduced

1989

First polypropylene mesh combined with laparoscopic hernia surgery

1998

Ethicon introduces Vypro, the first lightweight hernia mesh

2000

Non-mesh repairs represent less than 10 percent of groin hernia repairs

2002

European study finds mesh repair superior to all other hernia repair techniques

2017

Mesh-based techniques are the standard procedure for the more than 1 million hernia repairs performed in the U.S. each year
Types of Hernia Mesh Surgery
There are two types of surgery to repair hernias: laparoscopic repair and open repair.
This is a minimally invasive form of surgery. The surgeon makes several small incisions and inserts surgical tools through the openings to repair the hernia. This procedure typically involves a shorter healing time and less blood loss, but it is more challenging to perform and costs more. Surgeons use laparoscopic repair to fix a hernia recurrence because it avoids old scar tissue. Recovery time is one to two weeks, and strenuous exercise is generally allowed after about four weeks.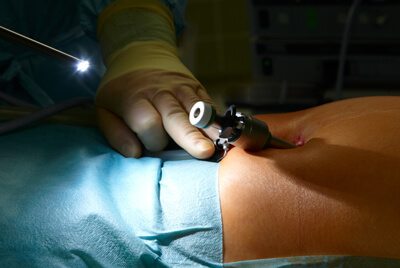 Laparoscopic hernia repair surgery
The surgeon makes an incision near the hernia to repair the weak muscle area. This procedure can be done with or without surgical mesh. Recovery time is about three weeks, and strenuous exercise is generally allowed after six weeks. Open repair that uses sutures without mesh is referred to as primary closure and is used to repair inguinal (of the groin) hernias in infants, small hernias, or strangulated or infected hernias.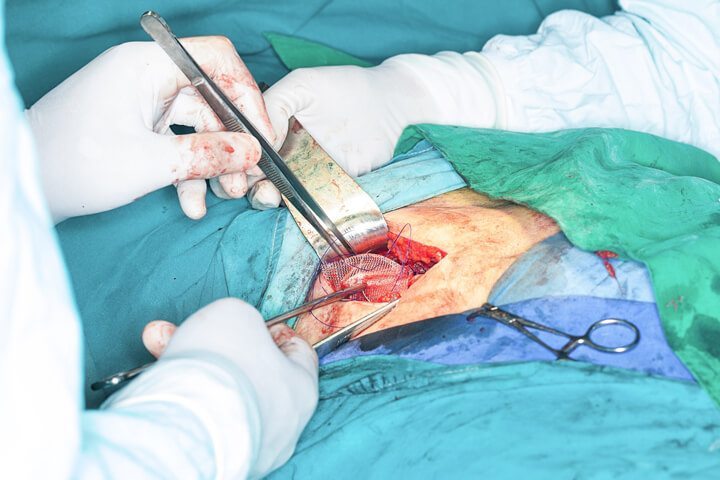 Open hernia repair surgery
Hernia Repair Techniques
Surgeons may use three main techniques to repair hernias with mesh: transabdominal preperitoneal (TAPP) repair, totally extraperitoneal (TEP) repair and intraperitoneal onlay mesh technique (IPOM). Most surgeons use the TAPP or TEP techniques.
TAPP

– This technique requires the surgeon to enter the peritoneum, the thin membrane covering the abdominal organs, and place the mesh through a small incision.

TEP

– For this technique, surgeons do not enter the peritoneal cavity, the part of the abdomen that contains the stomach, liver and intestines. TEP is considered more difficult to perform but may have fewer complications.

IPOM

– This technique is faster and easier to perform than TAPP or TEP and grew in popularity in the 90s. Surgeons enter the peritoneal cavity and place mesh on the inside of the peritoneum in direct contact with intestines and other organs.
The FDA cautions that the use of surgical mesh for hernia repair may not be the best treatment option for every patient.
"Despite reduced rates of recurrence; there are situations where the use of surgical mesh for hernia repair may not be recommended. Patients should talk to their surgeons about their specific circumstances and their best options and alternatives for hernia repair," according to the agency.
Weighing the Pros and Cons of Hernia Surgery with Mesh and Without
The FDA recommends patients requiring hernia surgery discuss the pros and cons of surgical mesh with their doctors.
Questions the FDA suggests asking a doctor prior to hernia surgery include:
Can the hernia repair be performed without using mesh?
What has been the experience of the doctor and his or her other patients with the type of hernia surgical mesh used in the procedure?
What happens if the mesh fails to correct the problem?
What experience does the doctor have dealing with complications from the mesh?
What will happen if there are complications?
What are the consequences of any complications?
The FDA also recommends patients request a copy of any patient information included with the hernia mesh used in the procedure.
There have been only a few, early studies that have compared the outcomes of open mesh, laparoscopic mesh and non-mesh hernia repair surgeries. A 2016 Danish study of 3,400 patients published in JAMA (Journal of the American Medical Association) found mixed results. Researchers found that while the rate of long-term complications was higher for surgeries using mesh, mesh prevailed at preventing recurrences of hernias — one of the most common problems hernia patients faced prior to the introduction of surgical mesh.
A comparison of the pros and cons of hernia surgery using surgical mesh to non-mesh hernia repair shows benefits and shortcomings for both options.
Pros and Cons of Hernia Repair Options
| Condition | Hernia Mesh Repair | Non-Mesh Repair |
| --- | --- | --- |
| Surgery time | 1 – 2 hours | 45 minutes |
| Hospital stay | Less than one day | Less than one day |
| Early complications | About the same rate for both | About the same rate for both |
| Later complications (including organ damage and infections) | 3% - 6% | 1% or less |
| Revision surgery rate | 10% - 12% | 17% |
| Hernia recurrence rate | Less than 3% | 1% to 8% |
| Time to resume light activities | 1 – 2 Weeks | 5 – 6 Weeks |
| Time to resume full activities | 4 – 6 Weeks | 15 – 16 Weeks |
There are also differences between open hernia repair surgery and laparoscopic surgeries. Researchers in the Danish study found recurrence rates and complication rates were lower for laparoscopic hernia repairs.
What to Expect Before Hernia Surgery
Hernia surgery is usually an outpatient procedure, meaning it does not require an overnight stay in the hospital. The typical surgery lasts about two hours and is performed by either a general surgeon or an urologist.
Patients undergoing hernia surgery should arrange for someone to take them to and from the hospital on the day of the surgery, and to stay with them for at least a few days after the surgery.
Laparoscopic hernia repair, a minimally invasive form of hernia surgery, is always done under general anesthesia while more invasive hernia repairs may be done under general, spinal or local anesthesia accompanied by sedation.
Patients may be told to stop aspirin or blood thinners a week before surgery since these can slow clotting and cause excess bleeding during surgery and may slow the healing process.
How much do Hernia Surgeries Cost?
A 2017 survey of insurance claims databases estimates the cost of all types of hernia surgery is between $5,800 and $7,800. The survey estimated that only about $850 of that is for the procedure itself, while the rest is for other hospital charges, such as operating and recovery rooms and anesthesia.
Hernia Risks
The incidence of a person acquiring a hernia rises from 10 percent to 50 percent by the time a person is 75. Most of these patients will be covered in part by Medicare.
Medicare Part B covers 80 percent of outpatient procedures including hernia surgeries. Based on the estimates above, a Medicare deductible patient would be responsible for about $1,160 to $1,560 of the cost of an inguinal hernia type surgery.
The average cost of umbilical hernia surgery ranges from $4,000 to $11,000. Medicare patients would have out-of-pocket expenses ranging from $800 to $2,200.
What to Expect After Hernia Mesh Surgery
It can take several days to recover from laparoscopic surgery and even longer from open hernia surgery. The doctor will prescribe pain medication, and it is important the patient not exceed the recommended dosage.
Patients should take frequent, short walks to improve circulation and prevent dangerous blood clots from forming in the legs. An ice pack placed on the incision for no more than 20 minutes three to five times a day can help decrease swelling.
A healthy diet and plenty of water are necessary to promote proper recovery.
It may be a week or more before the patient should lift heavy objects. The doctor will advise when it is safe to lift or carry things.
Patients should also seek their doctor's advice on when it is safe for them to return to work. The doctor will likely recommend the patient not shower for at least a day after the procedure.
The doctor will likely schedule follow-up appointments one or two weeks after the surgery to make sure the patient's recovery is progressing without complications.
Warning Signs of Complications Involving Hernia Mesh
Patients experiencing certain symptoms following hernia repair surgery should contact their doctor immediately.
Serious complications after hernia mesh surgery include:
Sudden increased pain at the surgical wound
Increased redness at the incision
Bleeding or drainage at the surgical site
Nausea or vomiting
High fever (in excess of 101 degrees)
Trouble urinating
Excessive swelling or bruising at the incision
People who smoke and/or who are obese may require extra considerations. A University of Michigan report notes that smoking may lead to an infection of the mesh. This may require treatment by intravenous antibiotics, drainage and additional surgery to remove the mesh. The report also cautions against undergoing weight-loss surgery and hernia repair at the same time as it greatly increases the risks for infection of the mesh.
Serious Complications Can Result in Hernia Mesh Revision Surgery
Some of the most serious complications following hernia repair surgery with mesh can require a revision surgery to remove, replace and again repair the hernia.
The FDA has received reports of adverse events involving hernia mesh that can include:
Severe pain
Serious infections around the mesh
Severe reactions to mesh
Mesh adhering to internal organs
Bowel obstruction
Hernia recurrence
In the worst of these situations, a surgeon may have to remove portions of healthy tissue to repair damage or remove part of the intestines if it adheres to the mesh.
Revision surgery has a similar recovery time as the initial surgery and may involve the same techniques. It can be more complex due to scar tissue from the first surgery and the particular complication requiring a revision in the first place.
Author
Terry Turner is an Emmy-winning, former television journalist. He is an associate member of the American Bar Association, the ABA's Health Law group and a member of the Alliance of Professional Health Advocates. He holds six certificates in Health Literacy for Healthcare Professionals from the Centers for Disease Control and Prevention. As a Washington-based investigative reporter, he routinely reported on health and medical policy issues before Congress, the FDA and other federal agencies. Terry received his B.A. in Media Arts from Lyon College.
---