Kugel Patch
Bard Davol designed its Kugel Patch for minimally-invasive hernia mesh surgery. It had a defective ring that could break and puncture organs. The problems led to several recalls and thousands of lawsuits. By 2018, Bard had stopped marketing the Kugel Hernia Patch in the U.S.
The Kugel Patch was a line of hernia mesh products Bard Davol manufactured starting in the 1990s. Bard received reports that the Kugel Patch was failing as early as 2002. The failure rate appeared higher than normal. But the company waited almost three years before recalling its mesh.
Bard finally recalled more than 137,000 of the devices between 2005 and 2007. A defective part in some of the meshes could break and puncture internal organs or other tissue.
More than 3,000 people sued over Kugel Patch injuries. Bard paid more than $180 million to settle the Kugel Patch lawsuits in 2011.
A 2018 search showed that Bard no longer lists the Kugel Hernia Patch in its products catalog.
What Is the Kugel Hernia Patch?
Kugel Patches were double-layer polypropylene hernia meshes. Polypropylene is a type of plastic. Many manufacturers make mesh from this plastic.
Recurrence was the most common complication before the hernia mesh's invention. Research is mixed on how long a mesh hernia repair will last. A 2022 study followed 100 patients for ten years after a ventral abdominal hernia repair.
No recurrence was recorded after three years, while about 10% had a recurrence after roughly eight years. Two patients had a central breakdown of the mesh at about seven years. Mesh had stretched across the defect by an average of 21%. Mechanical testing showed that the mesh lost its elasticity at low forces.
Bard Davol designed the plastic mesh for minimally-invasive laparoscopic hernia repairs.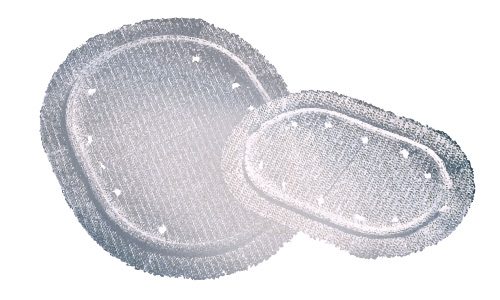 A surgeon folded the Kugel Patch to insert it through small incisions. A "memory recoil ring" built into the mesh caused the patch to spring open to its full shape and size.
The U.S. Food and Drug Administration approved the Kugel Hernia Patch in 1996. Bard named the devices after their developer, Dr. Robert D. Kugel.
Patch Migration and Other Complications
In some patients, the device's ring broke or bent. This caused the patch to move from where surgeons implanted it. The migrations resulted in bowel obstructions and punctures.
Bard saw a flurry of complaints starting in June 2005. Over a three month period, the company received 10 reports that the rings broke. Six of the reports came from Germany. Half of those came from the same doctor.
Bard blamed surgeons for not inserting the patch correctly. The company temporarily stopped producing its large Kugel Patch version in mid-2005. Bard reworked its implanting instructions. And the company held training sessions for surgeons.
In December 2005, Bard ran tests on the rings. The results pinned the problem on the ring's design. That same month, Bard recalled three Kugel Patch versions.
Lawsuit Information
Thousands of people have filed lawsuits over Kugel Patch injuries that have resulted in multi-million-dollar settlements. Learn more.
Recalls in 2005 and 2007
Bard issued the first in its series of Kugel Patch recalls in December 2005. The recall notice warned that the ring defect could cause bowel perforations and fistulas. The first recall affected more than 37,000 units. The FDA declared it a Class I recall – the agency's most serious type.
Class I Recall
A Class I recall meant the Kugel Patch's defect could cause serious health consequences – including death.
Bard expanded the recall to two other products five days later. The three products recalled in 2005 had accounted for $11 million in sales for Bard that year.
The company issued more recall notices for different versions of the Kugel Patch in 2007. Bard recalled more than 137,000 units in all.
| Recall Date | Number of Kugel Patches Recalled |
| --- | --- |
| Dec. 22, 2005 | 37,761 |
| Dec. 27, 2005 (3 versions recalled) | 50,506 |
| Jan. 10, 2007 (2 versions recalled) | 49,184 |
FDA Inspection Finds Plant Problems
FDA inspectors visited Bard Davol's Kugel Patch manufacturing plant in early 2006. The inspectors found several problems with how Bard investigated complaints.
Device makers must report complaints about their products to the FDA. The agency claimed Bard understated how severe device-related complications actually were. Inspectors pointed to three reports involving patient injuries and one possible device-related death.
Kugel Patch Lawsuits
More than 3,000 people filed lawsuits over Kugel Patch injuries. A federal panel combined them into a multidistrict litigation (MDL). MDLs allow several similar cases to move more efficiently through the legal process.
Bard won the first trial in the MDL. But the jury in the second trial found that the Kugel Patch was defective. It awarded a $1.5 million verdict to plaintiff Christopher Thorpe in 2010.
The following year, Bard settled more than 2,600 lawsuits for $184 million.
Bard Davol Kugel Patch Lawsuit Timeline
June 2007

A federal panel combined 150 lawsuits into an MDL in Rhode Island federal court.

April 2010

Bard won the first bellwether trial in the MDL.

August 2010

Plaintiffs won a $1.5 million verdict in the second bellwether trial.

June 2011

Bard offered $184 million to settle 2,600 Kugel Patch lawsuits. This averaged $70,000 for each plaintiff.

September 2017

A federal panel closed the Kugel Hernia Mesh Patch MDL after 10 years.
Bard Davol also faced a Canadian Kugel Patch class action lawsuit. The company settled that suit for nearly $1.4 million in 2014.
Please seek the advice of a medical professional before making health care decisions.
Share This Page:
How can we improve this page?
Thank You for Your Feedback
We appreciate your feedback. One of our content team members will be in touch with you soon.
We appreciate your feedback. One of our content team members will be in touch with you soon.
Who Am I Calling?
Calling this number connects you with a Drugwatch representative. We will direct you to one of our trusted legal partners for a free case review.
Drugwatch's trusted legal partners support the organization's mission to keep people safe from dangerous drugs and medical devices. For more information, visit our partners page.