Mirena IUD Litigation Revives Memories of Dalkon Shield Injuries
Fact-Checked
Editors carefully fact-check all Drugwatch content for accuracy and quality.
Drugwatch has a stringent fact-checking process. It starts with our strict sourcing guidelines.
We only gather information from credible sources. This includes peer-reviewed medical journals, reputable media outlets, government reports, court records and interviews with qualified experts.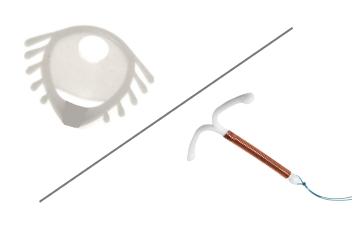 In 1971, a new contraceptive intrauterine device (IUD) hit the market with much fanfare. The makers of the Dalkon Shield probably expected to make history by advancing birth control. Instead, they became defendants in one of the largest mass torts in U.S. history.
Today, another IUD is being linked to widespread injury. Many wonder if the makers of Mirena have revived Dalkon Shield's painful legacy.
The Dalkon Shield promised to offer women "a superior modern contraceptive." The device manufacturer, A.H. Robins, sold about 2.8 million units in the United States between 1971 and 1974. But by the mid-1980s, the company had crumpled under allegations it marketed the device as safe and effective despite knowing the risks for life-threatening pelvic infections.
According to The New York Times, A.H. Robbins and its insurer paid $530 million to dispose of Dalkon Shield litigation. New cases were being filed at a rate of 400 per day before the trust was established.
By the time the Dalkon Shield saga ended, more than 400,000 claims were resolved. A trust was established to continue compensating victims following A.H. Robbins' bankruptcy. That trust closed in 2000 after paying out more than $3 billion in claims.
A.H. Robins eventually filed for bankruptcy in the wake of claims by hundreds of thousands of women who were injured by its device. And stigma drove IUDs into disfavor and virtually off the U.S. market.
Mirena Use Estimated at 2 Million
Four decades later, research suggests that a new generation of childbearing women is embracing IUDs. In 2001, Bayer Pharmaceuticals  introduced Mirena, one of the few IUDs available on the U.S. market. Estimates are that more than 2 million women use the device.
Bayer promises these women users that Mirena is a highly effective contraceptive. The company focuses much of Mirena's marketing on being "over 99 percent effective."
How does Mirena remind of the Dalkon Shield? Because Mirena is linked to perforation of the uterus, a painful condition that can lead to many other complications, including infertility and dangerous infections.
According to news reports, thousands of women have been injured by Mirena. Lawsuit are already being filed. Additionally, the U.S. Food and Drug Administration (FDA) has tens of thousands of complaints about Mirena injuries.
Bayer stands by Mirena's safety and effectiveness.
Number of Mirena Lawsuits Growing
Dozens of Mirena lawsuits are on file in federal court, prompting a judicial panel to centralize cases in the U.S. District Court for the Southern District of New York. Several claims have also been filed in New Jersey and other state courts.
For those who remember the mass tort against A.H. Robins during the 1980s, the specter of Dalkon Shield lingers amid news of Mirena's alleged risks and Bayer's legal woes. But serious accusations against Bayer are also a cause for concern among those who may not remember the pain and suffering caused by the early IUD. That's because, like A.H. Robins, Bayer stands accused of concealing the full extent of Mirena's risks. As a result, the steadily growing Mirena litigation is likely to garner significant attention.
Mirena MDL Has Unusual Strategies, Forceful Judge
The litigation is stirring some drama. Earlier this year, Mirena plaintiffs asked the New Jersey Supreme Court to centralize the lawsuits to help with case management. The court initially denied their request. But in May, the court reversed its stance and centralized Mirena cases in Bergen County Superior Court under the management of Judge Brian Martinotti.
The change followed filings by attorneys for both plaintiffs and Bayer urging reconsideration. Notably, Bayer's willingness to centralize cases in New Jersey is the opposite of its strategy in federal litigation.
In March, Bayer opposed centralization of the federal cases. At the time, Bayer argued that creating multidistrict litigation would give plaintiffs the opportunity to make additional discovery requests and delay a case pending in South Carolina. That case was scheduled to go to trial this summer.
In another notable turn, Judge Cathy Seibel, the judge who oversees federal Mirena litigation, urged attorneys to include a female lawyer on their leadership committee, according to attorneys involved in the litigation. During a case management conference for the multidistrict litigation in May, a group of male lawyers sought appointment to the committee that will help oversee management of the potentially thousands of Mirena cases expected to be filed over the next several months.
Prior to the conference, some plaintiffs' lawyers expressed concerns that an all-male committee couldn't adequately relate to the female plaintiffs' concerns.
The next status conference is in July. By then, some female attorneys are expected to be on the committee.
Mirena litigation is just taking off, so it's too early to predict whether it will reach Dalkon Shield levels.
Share This Page:
How can we improve this page?
Thank You for Your Feedback
We appreciate your feedback. One of our content team members will be in touch with you soon.
We appreciate your feedback. One of our content team members will be in touch with you soon.