E-Cig Lawsuits Mount Over Exploding Devices
Fact-Checked
Editors carefully fact-check all Drugwatch content for accuracy and quality.
Drugwatch has a stringent fact-checking process. It starts with our strict sourcing guidelines.
We only gather information from credible sources. This includes peer-reviewed medical journals, reputable media outlets, government reports, court records and interviews with qualified experts.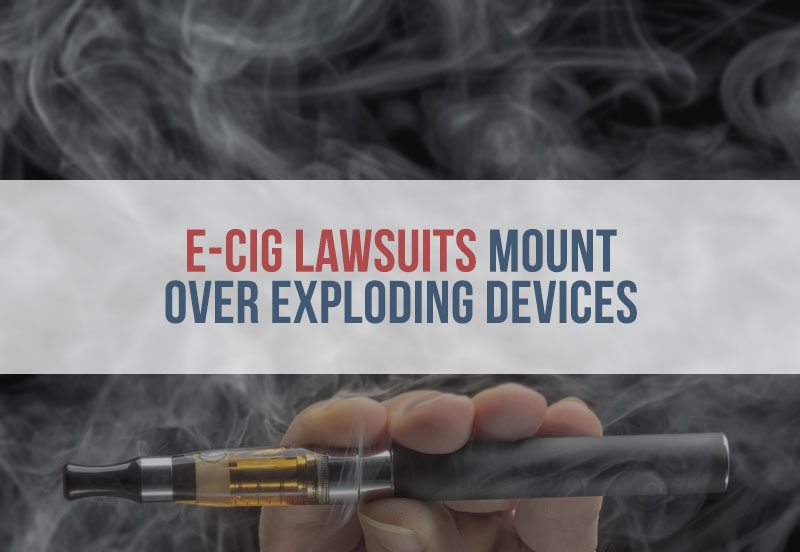 Lawsuits for exploding e-cigarettes are trickling in from across the country, The Wall Street Journal reports. Meanwhile, whether or not the devices are safer than cigarettes remains controversial.
Across the country, dozens of plaintiffs filed lawsuits in New York, Florida, California and other states. The lawsuits name all device makers involved in the sale and manufacture of the devices. California attorney Gregory Bentley represents about 70 people pursuing claims. The claims allege device makers sold defective products.
"It's an issue of the batteries being unregulated and manufactured haphazardly with poor warnings that never get down to the consumer," Marc Freund, a New York attorney representing one of the claimants, told The Wall Street Journal.
Freund represents a teenager who suffered partial blindness from an exploding e-cig and a woman who suffered third-degree burns when a device exploded in her pocket.
So far, a California jury awarded $1.9 million to a woman who said her e-cig exploded in her car, leaving her with severe burns.
Critics say the devices contain cheaply made batteries that may explode without warning. The lithium-ion batteries mentioned in lawsuits come from Chinese companies Sigelei, iPV Technology Co. Ltd. and Kangertech. The companies declined to answer questions from WSJ and said they were unaware of the explosions.
Lawsuit Information
People are also filing e-cigarette lawsuits after experiencing serious vaping side effects, including seizures, strokes and lung injuries. Learn more.
Vaping Industry Blames Users for Explosions
The e-cigarette industry quickly ballooned to $3.5 billion since the devices first hit the market in 2007. Manufacturers billed them as a safer alternative to smoking cigarettes. But, the industry remained largely unregulated until 2016 when the U.S. Food and Drug Administration announced it would regulate the devices and require manufacturers to disclose ingredients.
The agency found 134 reports of fires, explosions and overheating of the devices in the period between 2009 and January 2016.
President of the American Vaping Association, Gregory Conley, blamed users for the explosions.
"When used and charged properly, vapor products pose no more of a fire risk than any other product that is powered by lithium-ion batteries, like cell phones or laptops," Conley told WSJ.
Opinions on E-Cig Safety Divided
Meanwhile, health experts have not decided whether or not e-cigarettes are safer than traditional tobacco products. Some studies show the devices may help reduce the number of cigarettes consumed by smokers, which could reduce lung cancer rates. But, other studies show negative impacts on health as well.
For example, a study published in PLOS One in May suggested aerosols found in e-cigs may increase the risk of oral cancer. Diana Messadi and colleagues at the University of California conducted research on cells exposed to aerosols in a lab.
Other studies show menthol-flavored e-cigarettes impair immune systems in mice and reduce cell proliferation and viability in lab cultures.
"This study shows they can be harmful to the oral cavity and should not be considered a safe alternative to tobacco smoking," Messadi told Medscape Medical News.
Share This Page:
How can we improve this page?
Thank You for Your Feedback
We appreciate your feedback. One of our content team members will be in touch with you soon.
We appreciate your feedback. One of our content team members will be in touch with you soon.