Kentucky Files Mesh Lawsuit Against Johnson & Johnson
Fact-Checked
Editors carefully fact-check all Drugwatch content for accuracy and quality.
Drugwatch has a stringent fact-checking process. It starts with our strict sourcing guidelines.
We only gather information from credible sources. This includes peer-reviewed medical journals, reputable media outlets, government reports, court records and interviews with qualified experts.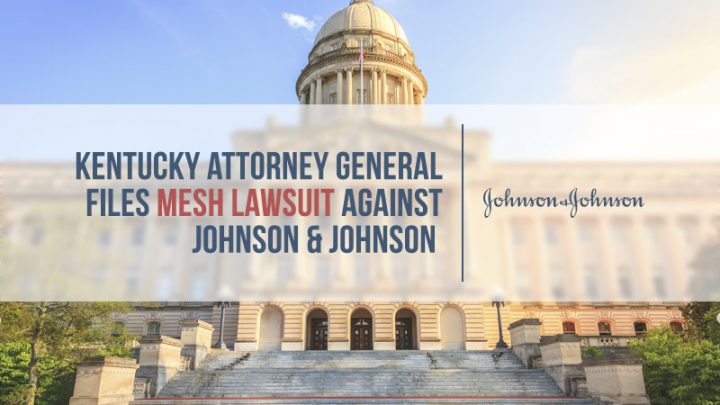 Kentucky's attorney general filed a civil lawsuit against Big Pharma giant Johnson & Johnson and its Ethicon division over its surgical mesh products.
Attorney General Andy Beshear announced that his office filed the lawsuit for deceptive marketing of the company's transvaginal mesh products. The suit seeks "millions of dollars in civil penalties under Kentucky's Consumer Protection Act that prohibits companies from false, misleading, deceptive or unfair acts or practice in trade or commerce," according to a press release.
"The way this company clearly chose profits over people is outrageous," Beshear said in a statement. "My office has talked to victims whose lives have been devastated by this company's deceitful practices. We may not be able to give them back the lives they once had, but my office will do everything we can to hold this company accountable."
Transvaginal mesh is a net-like implant made of plastic. Doctors use it to treat incontinence and pelvic organ prolapse — a condition that causes organs to sag into the vagina. In Kentucky, more than 15,000 women received these implants, according to Beshear's press release.
But Kentucky isn't the only state facing large numbers of mesh victims. Lawsuits filed by women across the country say these implants caused them to suffer from a number of serious complications. These include debilitating pelvic pain, painful sexual intercourse, nerve damage, organ damage, autoimmune disorders and a host of other problems.
Nearly 33,000 federal lawsuits are pending against J&J's Ethicon division in West Virginia. C.R. Bard, American Medical Systems, Boston Scientific, Coloplast and Cook Medical also face lawsuits. Altogether, about 75,000 lawsuits claim companies failed to warn doctors and women about the risks tied to the implants.
Companies paid millions in settlements, and juries hit them with millions in verdicts.
Lawsuit: J&J 'Concealed and Misrepresented' Risks
Injured by complications related to Transvaginal Mesh?
Beshear's complaint lists a number of health issues faced by women who say the implants took a toll on their lives. The lawsuit states J&J "concealed and misrepresented to doctor and patients many of the risks of adverse events associated with these devices." Mesh crippled some women who had to undergo multiple surgeries to remove the implant.
According to the lawsuit, J&J "denied women the ability to make informed choices regarding their health and caused them to unknowingly take risks with their well-being."
Several of these women met with Beshear in July. One Kentucky woman — who had to remain anonymous — told Drugwatch she and six other mesh-injured women personally spoke to the attorney general. Mesh ruined this former nurse's life, and she underwent several surgeries and must have several more.
"We met with [Beshear] for a few hours to get this lawsuit filed," she said. "I'm hoping to help remove mesh from the market and to stop J&J from harming more women. Big Pharma and doctors kept this quiet for a long time and put profit over lives. It's ridiculous."
J&J markets itself as a family company, and before mesh she trusted the medical field. This entire experience opened her eyes, she said.
"It is all about greed," she told Drugwatch. She hopes this lawsuit spreads awareness.
Women Plan to Rally at J&J Headquarters
For these women, it has always been about spreading awareness. To that end, they organized a rally and plan to take it directly to J&J's doorstep at its headquarters in New Brunswick, New Jersey.
This is not the first time the group banded together to show support for women with mesh. It is very active on social media through Twitter and Facebook. The Mesh Awareness Movement (MAM) rally is set for Friday, Sept. 30 at 8 a.m.
"Even after the lawsuit is over, I'm not stopping the fight," the Kentucky woman said. "I have a daughter, and I want to make sure mesh never hurts anyone again."
Any women interested in learning more about the Kentucky lawsuit may contact Beshear's office.
Share This Page:
How can we improve this page?
Thank You for Your Feedback
We appreciate your feedback. One of our content team members will be in touch with you soon.
We appreciate your feedback. One of our content team members will be in touch with you soon.