FDA Approves J&J's Invokamet XR Amid Invokana Litigation
Fact-Checked
Editors carefully fact-check all Drugwatch content for accuracy and quality.
Drugwatch has a stringent fact-checking process. It starts with our strict sourcing guidelines.
We only gather information from credible sources. This includes peer-reviewed medical journals, reputable media outlets, government reports, court records and interviews with qualified experts.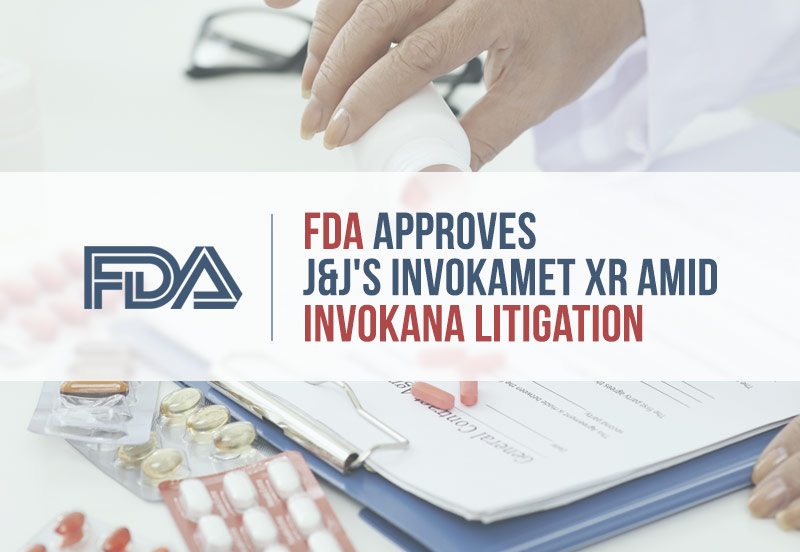 Johnson & Johnson's Janssen Pharmaceuticals division announced the U.S. Food and Drug Administration approved its latest Type 2 diabetes drug, Invokamet XR (canagliflozin and metformin extended release). Meanwhile, Invokana lawsuit numbers continue to climb.
Invokamet XR joins Janssen's other sodium-glucose contransporter-2 (SGLT2) inhibitors, Invokana (canagliflozin) and Invokamet (canagliflozin and metformin). SGLT2 inhibitors are a newer class of medications designed to treat Type 2 diabetes along with diet and exercise. The drugs work by stopping kidneys from reabsorbing sugar and releasing it into the blood.  The excess glucose then leaves the body through urine.
"Invokamet XR offers the convenience of once-daily dosing and provides physicians needed flexibility for tailoring treatment to the needs of type 2 diabetes patients, especially those with higher A1C levels," said Dr. John Anderson of The Frist Clinic, in Nashville, Tenn., who has worked as a consultant for Janssen Pharmaceuticals. "As with Invokamet, physicians can prescribe the XR formulation to adults when they are first diagnosed with type 2 diabetes or as additional therapy for people whose A1C levels are not well controlled with either agent alone."
Janssen's Invokana was the first SGLT2 to arrive on the market in 2013, and it is the most prescribed with about 9 million prescriptions since the FDA approved it.
In Phase 3 studies, Invokamet XR showed it reduced A1C more than metformin alone, glimperide plus metformin and sitagliptin plus metformin. It may also help people lose weight and reduce blood pressure, according to Janssen's news release.
Benefits Not Without Possible Side Effects
Despite the effectiveness of Invokana, it also has a notable list of side effects — some of which led plaintiffs to file lawsuits.
According to Janssen's news release, "Invokana is generally well tolerated, and the most common adverse events include genital yeast infection, urinary tract infections and changes in urination. The most common adverse reactions due to initiation of metformin, as noted in the prescribing information for that medication, are diarrhea, nausea, vomiting, flatulence, asthenia, indigestion, abdominal discomfort, and headache."
But, the FDA released several safety communications warning the public about a number of serious adverse event reports.
The first came in May 2015, just two years after the drug's approval. The FDA warned Invokana and other SGLT2 inhibitors could increase the risk of diabetic ketoacidosis (DKA) — a condition where too many toxins called ketones develop in the blood. DKA is a serious condition that requires hospitalization and may lead to coma or death.
Later that year, the agency released two more warnings linked to Invokana for increased bone-fracture risk and serious urinary tract infections. These infections could lead to blood and kidney infections, the FDA warned. Then, in 2016, the agency strengthened the kidney damage warning for Invokana and another SGLT2 drug, Farxiga.
Attorneys Predict More Invokana Lawsuits
Because Invokana already has a number of warnings and has only been on the market since 2013, some plaintiffs' attorneys compare the growing Invokana litigation to lawsuits against Merck's infamous painkiller, Vioxx. More than 38,000 died from heart attacks they say Vioxx caused, and about 50,000 lawsuits piled up. Merck ended up settling for $4.85 billion.
Janssen Pharmaceuticals remains committed to Invokana's safety and effectiveness, and it is just as confident in Invokamet XR.
"The approval of Invokamet XR is further evidence of our ongoing commitment to provide new treatment options for people with type 2 diabetes," Dr. Paul Burton, vice president of Medical Affairs for Janssen, said in a news release. "Our Invokana portfolio now offers physicians even more choices for helping patients improve control of A1C levels and other important health measures, with numerous dosing options for monotherapy and for combination therapy with both metformin and metformin XR."
Share This Page:
How can we improve this page?
Thank You for Your Feedback
We appreciate your feedback. One of our content team members will be in touch with you soon.
We appreciate your feedback. One of our content team members will be in touch with you soon.