Avandia (rosiglitazone) improves the way the body uses insulin by decreasing the amount of glucose released by the liver. It has been extensively studied, but drug maker GlaxoSmithKline (GSK) attempted to hide early research results that showed it might put patients at greater risk of heart problems than an alternative medication. At one time the U.S. Food and Drug Administration restricted Avandia's use, but later, more extensive research failed to find those risks and the FDA removed the restrictions.
Avandia is a member of the class of medications called thiazolidinediones (TZD) or glitazones, which also includes Rezulin (troglitazone) and Actos (pioglitazone). Glitazones are known as "insulin sensitizers" because they make type 2 diabetes patients more sensitive to insulin, helping them to better maintain safe glucose levels.
Type 2 diabetes, which used to be known as adult-onset diabetes, is a condition in which the body either does not produce enough insulin or cannot effectively use what it does produce. Insulin is a hormone made in the pancreas that enables the cells of the body to use sugar (glucose). Without insulin, blood glucose levels can rise to abnormal levels – a condition called hyperglycemia which, in addition to causing increased thirst and a need to urinate frequently, can lead to medical emergencies such as diabetic ketoacidosis (DKA) and  hyperglycemic hyperosmolar nonketotic syndrome (HHNS, also referred to as hyperglycemic hyperosmolar state).
Avandia is also sold in combination with other medications as Avandamet (rosiglitazone/metformin) and Avandaryl (rosiglitazone/glimepiride). Typical starting dosage is 4 mg/day, which may be taken in two 2 mg doses, and maximum dosage is 8 mg/day, as prescribed by a doctor who monitors the patient's response to the medication, including liver enzyme levels. The U.S. Food and Drug Administration (FDA) approved Avandia in 1999 for the treatment of Type 2 diabetes. No generic version of Avandia is available for sale in the U.S.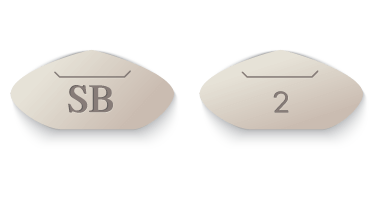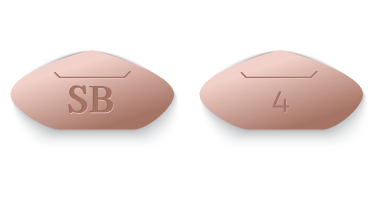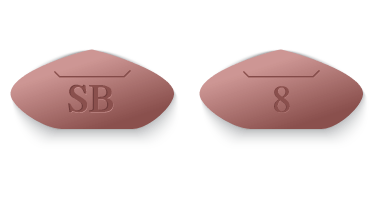 Avandia comes in three sizes: 2mg, 4mg and 8mg
Avandia Warnings, Interactions and Side Effects
Avandia maker GlaxoSmithKline (GSK) provides warning labels to remind doctors and tell patients that Avandia "can cause fluid retention, which may exacerbate or lead to heart failure." The fluid retention issues also mean "Avandia should be used with caution in patients with edema," and fluid retention may be a cause of weight gain among patients taking Avandia. The makers also warn of "an increased incidence of bone fracture in patients, particularly female patients."
In addition to the risk of heart failure, Avandia has several possible serious side effects that warrant immediate medical intervention:
Fast or pounding heartbeat
Changes in menstrual cycles
Bone fracture
Dark urine
Yellowing of the eyes or skin
Persistent nausea or vomiting
Abdominal pain
Vision problems, including color or night vision problems
Avandia may interact with medications that affect patients' blood sugar levels, including insulin. In addition, beta blocker medications may keep diabetic patients from feeling the fast, pounding heartbeat they might feel when blood sugar levels get too low.
There are people who should  not take Avandia, including:
People with type 1 diabetes
Those with heart problems or heart failure
Diabetics with macular edema
Diabetics with liver problems
Pregnant diabetics
Premenopausal female diabetics
Breastfeeding mothers
The FDA put Avandia in Category C, drugs to avoid during pregnancy, because not enough research has been done to determine whether they're safe. There's no research on Avandia use by nursing mothers, but since clinical research found Avandia in the milk of lactating rats, nursing mothers should also avoid it.
Problems with Insulin Sensitizers
All three drugs in the thiazolidinedione family have had problems. Actos has been linked to an increased risk of heart failure and bladder cancer, but has not been recalled. The FDA approved Rezulin in 1997 but banned the drug in 2000 after it was shown to cause liver damage. Avandia use was severely restricted by the FDA in 2010 after it was linked to tens of thousands of heart attacks, strokes and heart failure. The FDA removed the restrictions in 2013, saying in a statement, "Although some scientific uncertainty about the cardiovascular safety of rosiglitazone medicines still remains, in light of the new re-evaluation of the Rosiglitazone Evaluated for Cardiovascular Outcomes and Regulation of Glycemia in Diabetes (RECORD) trial, our concern is substantially reduced."
Bone Fracture Risks and Liver Toxicity
In addition to cardiac problems, a Swiss analysis of the records of British diabetic patients with fractures found "those on Avandia or Actos – known generically as rosiglitazone and pioglitazone – had double or triple the odds of non-spine fractures.The odds for fracture were increased among patients who took the drugs for approximately 12 to 18 months and the risk was highest for those with two or more years of therapy. Fractures of the hip and wrist were most notable."
Avandia has also been implicated in liver failure. A 2009 study found 11 cases of liver failure associated with rosiglitazone and with pioglitazone among all cases of liver failure reported between 1997 and 2006.
Avandia's History
The FDA approved SmithKline Beecham's new medication Avandia in May 1999 for patients with type 2 diabetes.  A year and a half later, SmithKline Beecham merged with Glaxo Wellcome to become GlaxoSmithKline (GSK).
Meanwhile, in late 1999, SmithKline Beecham conducted a study to compare the risks of Avandia and Actos for heart patients.
"Not only was Avandia no better than Actos, but the study also provided clear signs that it was riskier to the heart,"

-the New York Times
Rather than publish the results, the company tried to bury them.
However, a legal settlement between GSK and the state of New York in 2004 required the drug maker to post details about all of its clinical trials. Cardiologist Steven Nissen completed a study using the company's data that showed that Avandia increased heart attack risk by 43 percent. His peer-reviewed article appears in the June 2007 issue of the New England Journal of Medicine (NEJM). Later, it was revealed that Nissen was working for Takeda Pharmaceuticals — which manufactured Actos — when he authored his report.
The very next month, NEJM published GSK's interim results of a study the FDA requested it conduct beginning in 2001. The RECORD (Rosiglitazone Evaluated for Cardiovascular Outcomes and Regulation of Glycemia in Diabetes) study compared cardiovascular outcomes of Avandia to other commonly used diabetes drugs. The interim findings showed "no evidence of any increased mortality" from Avandia use, but "a significant increase in the risk of heart failure."
But the Nissen study had raised doubts in the public's mind, and the lawsuits began. The first was filed on May 31, 2007 – a prospective class action lawsuit that, Law360 reported, was "brought by Celenio Cruz-Santana on behalf of himself and all similarly situated patients who took Avandia or related drugs Avandamet and Avandaryl, which are used to treat type 2 diabetes. The complaint alleged that GSK actively concealed information regarding the risks associated with the use of the drugs and misrepresented its products as safe for their intended use."
The floodgates were open – thousands of patients followed Cruz-Santana's example. In October 2007 the U.S. District Court consolidated the suits in a multidistrict litigation (MDL) in the Eastern District of Pennsylvania. Courts may use MDLs when lawsuits share similar characteristics. The court and the parties involved then choose one or more representative cases, called bellwether cases, and the results of those trials help the remaining plaintiffs and defendants decide how to proceed.
The cases came to the attention of the U.S. Senate Finance Committee in 2008. After two years of hearings it released a report accusing GSK of intimidating physicians, suppressing critics and hiding negative data while marketing Avandia.
More Avandia Studies
In light of the Nissen research, the FDA in November 2007 began requiring GSK to print a black box warning with Avandia's packaging stressing its link to congestive heart failure.

Meanwhile, researchers continued to study the drug's effects. A non-randomized analysis of mortality data among elderly patients published in the Archives of Internal Medicine in November 2008 found results "compatible with an increased risk of all-cause mortality and congestive heart failure in patients initiating therapy with rosiglitazone [Avandia] compared with similar patients initiating therapy with pioglitazone [Actos]."
An analysis published in June 2010 in the Journal of the American Medical Association was similar to the November 2008 study and found similar results: "Compared with prescription of pioglitazone [Actos], prescription of rosiglitazone [Avandia] was associated with an increased risk of stroke, heart failure, and all-cause mortality and an increased risk of the composite of AMI, stroke, heart failure, or all-cause mortality in patients 65 years or older."
Given those results, the FDA in September 2010 restricted Avandia sales to those already taking it and to new patients who enroll in the Avandia-Rosiglitazone Medicines Access Program. The European Medicines Agency went even further – it withdrew Avandia from the European market. But the FDA removed its restrictions in 2013 in light of more recent research.
Avandia Alternatives
Patients who wish to err on the side of caution have alternative medications they can ask their doctors about.
Actos (Pioglitazone)
Actos is a member of the thiazolidinedione family, making it the most similar drug to Avandia, and its pros and cons are similar too.
Glucophage (Metformin)
Avandia and Actos act as insulin sensitizers. Glucophage does too, but its main effect is to suppress glucose production in the liver. Metformin has been tested in humans since the 1950s and is relatively inexpensive.
Metformin is also available in combination with sulfonylureas, which increase insulin release in the pancreas, and with insulin itself.
DPP-4 Inhibitors
Dipeptidyl peptidase 4 (DPP-4) inhibitors have been around for about a decade. They help the body produce insulin when needed, and prevent the liver from releasing stored glucose into the blood. However, the FDA in 2015 warned that they "may cause joint pain that can be severe and disabling."
While Avandia is an effective medication for many type 2 diabetes patients, it has caused problems for others, most seriously in the areas of cardiovascular death, severe liver toxicity and increased risk of bone fractures. Anyone considering Avandia should be aware of warnings about possible side effects, and consider its benefits against those of possible alternatives.