Australia Bans 'Risky' Transvaginal Mesh Implants
Fact-Checked
Editors carefully fact-check all Drugwatch content for accuracy and quality.
Drugwatch has a stringent fact-checking process. It starts with our strict sourcing guidelines.
We only gather information from credible sources. This includes peer-reviewed medical journals, reputable media outlets, government reports, court records and interviews with qualified experts.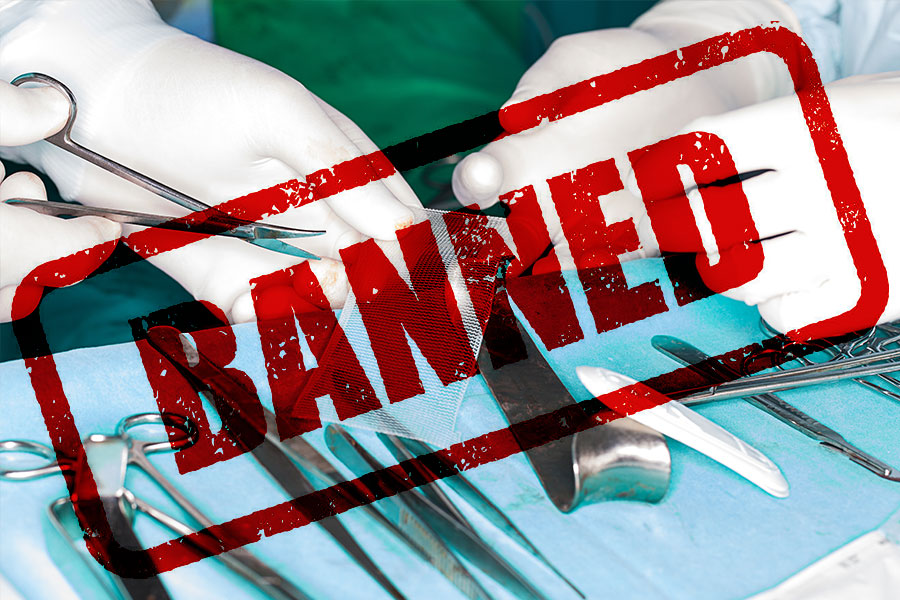 Australia has become the first country to ban use of transvaginal mesh implants, finding the benefits of using the surgical implants to treat pelvic organ prolapse and urinary incontinence do not outweigh the risks for patients. Doctors and patient advocates in the U.S. praise Australian regulators for their decision and are urging the U.S. Food and Drug Administration to do the same.
The Therapeutic Goods Administration — the Australian equivalent to the U.S. Food and Drug Administration — announced this week its decision "to remove transvaginal mesh products whose sole use is the treatment of pelvic organ prolapse via transvaginal implantation from the Australian Register of Therapeutic Goods." Transvaginal mesh implants remain available in the U.S., despite pleas from local doctors and patient advocates to have the products banned.
"The [Australian regulatory agency] is of the belief that the benefits of using transvaginal mesh products in the treatment of pelvic organ prolapse do not outweigh the risks these products pose to patients," the agency said in its Nov. 28, 2017 alert.
Injured by complications related to transvaginal mesh?
The ban includes single incision mini-slings, small mesh strips used to treat urinary incontinence. It also includes mesh products from Boston Scientific and Coloplast, two companies involved in transvaginal mesh lawsuits in the U.S.
However, not all pelvic mesh implants are covered by the ban. According the Australian agency, devices not used to treat pelvic organ prolapse via transvaginal approach — implanting the device through the vagina — will remain available for use.
"I'm not sure the ban goes far enough yet, but it is a good first step," Amada Dykeman, an American medical device safety advocate told Drugwatch. "The materials used in mesh are highly controversial and long term data proving its safety simply does not exist to my knowledge. Australia has made a very wise decision to ban it."
Australian regulators began monitoring mesh in 2008. The Therapeutic Goods Administration launched a formal review in 2013 after receiving reports of serious complications linked to the device. Mesh complications include infection, bleeding, severe pelvic pain, painful sex, organ perforation and recurring incontinence and prolapse.
Since the review, the agency has removed 45 devices from urogynecological use and cancelled 43 from the Australian Register of Therapeutic Goods, according to the agency. The ban will take effect Jan. 4, 2018.
For some women, the ban is not extensive enough, nor did it come soon enough.
"The mesh ban doesn't include the one that poisoned me," said Justine Watson, an Australian resident who had to travel to the U.S. to have her mesh removed. "I was sold a defective product and implanted by a poorly trained surgeon. It ruined seven years of my life and cost me my career."
Experts in the U.S. are skeptical the FDA will take a similar stance.
Transvaginal Mesh Controversy Continues in the U.S.
In the U.S., more than 40,000 federal transvaginal mesh injury lawsuits are pending in West Virginia, and about 8,500 more are pending in New Jersey.
At one time, federal cases numbered over 100,000.
Elizabeth Hrymoc's trial against Johnson & Johnson's Ethicon subsidiary is currently underway in New Jersey. Hyrmoc had two mesh devices implanted for incontinence and had multiple surgeries to remove the device after complications.
American juries have already handed plaintiffs in pelvic mesh lawsuits millions in verdicts, and mesh manufacturers have settled more than 50,000 lawsuits.
Patient advocates and mesh-injured American women continue to hold rallies and protest on social media, hoping to get the device banned.
Yet, despite the legal uproar, the FDA has not banned any mesh products in the U.S.
The FDA allowed the majority of mesh products on the market through the controversial 510(k) clearance program. Manufacturers were allowed to sell their devices without clinical trials or testing if they were "substantially equivalent" to devices already on the market.
After adverse event reports continued to rise, the agency reclassified vaginal mesh for prolapse as a Class III, high-risk device in 2016. Unlike devices cleared through the 510(k), high-risk devices are subject to premarket approval, which requires more data on safety.
Despite this action, experts say the reclassification hasn't improved device safety and allows manufacturers to hide complication reports.
"Two years ago, I would've said that the FDA would deem transvaginal mesh risks to outweigh benefits," Device Events CEO and founder Madris Tomes told Drugwatch. "But, since the FDA reclassified mesh as high risk, they have still continued to allow manufacturers to use reporting that is summarized and redacted."
U.S. Experts: FDA Unlikely to Follow Australian Lead
U.S. advocates and doctors support the Australian ban, and urge the FDA to follow suit. But, not all are confident the agency will do so.
Cardiothoracic surgeon and outspoken women's health advocate Dr. Hooman Noorchashm told Drugwatch the FDA won't ban the product because it is acting more like a marketing agency for device companies than a public health agency.
"Kudos to the Aussies. They are clearly taking a leadership role in protecting citizens and women, and I think the FDA and the U.S. should learn from them," Noorchashm said. "The reason why the FDA is unable to do what TGA is doing is that there is a lot of pressure from industry for FDA not to give in. And FDA is buying this concept that industry is an equal stakeholder to patients, and that's not right."
Patient advocates like Dykeman feel the FDA's system is flawed, especially when it comes to protecting patients after a drug or medical device hits the market.
"The FDA has consistently reiterated the importance of keeping up with the rest of the world when it comes to medical device innovation and technology by fast tracking the approval process of life-saving drugs and medical devices, but they lack resources and fall short when it comes to post-market surveillance," she said.
U.K.'s NICE to Ban Mesh
Although it seems to be business as usual in the U.S., the U.K.'s National Center for Health Care and Excellence has recommended a ban.
NICE's Interventional Procedure Committee is due to publish its guidance on Dec. 20, the BMJ reported, adding that the draft says mesh should not be used to treat prolapse because of "serious but well recognized safety concerns."
Patient advocate and journalist Kath Sansom of Sling the Mesh and other mesh-injured women in the U.K. have staged rallies and Twitter campaigns to get the government's attention.
"The [Therapeutic Goods Administration] announcement is proof of the growing realization of the global scandal of surgical mesh implants," she said in a statement. "NICE has given what I deem is a back door ban on transvaginal prolapse mesh. I hope we follow suit and suspend all transvaginal and transabdominal pelvic mesh as the risks are grave and life altering."
There will be more to come from NICE on transabdominal and incontinence meshes in 2019, Sansom said.
Share This Page:
How can we improve this page?
Thank You for Your Feedback
We appreciate your feedback. One of our content team members will be in touch with you soon.
We appreciate your feedback. One of our content team members will be in touch with you soon.