This episode's guest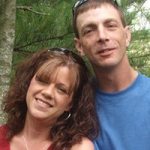 Teresa & David Sawyer
Transvaginal Mesh Advocates
On previous episodes of Drugwatch Radio, I had the opportunity to talk to some inspiring people whose lives were turned upside down by the complications of transvaginal mesh. When I talked to Teresa and David Sawyer and Christy Hammond, they shared their courageous stories with me.
Raw and sometimes shocking, their experiences paint an intimate picture of how mesh can affect lives. But their stories also let others know that there is life after mesh.
On this week's episode, we catch up with Teresa, David and Christy. They share the next chapter in their stories, which began with betrayal but end with hope and inspiration – a testament to the strength of the human spirit.
Teresa and David Sawyer Join Corporate Action Network (CAN)
Teresa Sawyer went into surgery to remove a cyst and came out with a sling that was supposed to prevent stress urinary incontinence (SUI). She was told that her Johnson & Johnson Ethicon TVT sling was the "gold standard." Instead, it became her worst nightmare. Teresa said the mesh forced her to accept a "new normal" that was filled with pain and wondering what new complications she would suffer.
She has since had several surgeries to remove the mesh, but permanent damage was already done to the sensitive pelvic muscles and tissues. Her husband, David, remained by her side, helping her fight for her life. Now, the couple crusades against manufacturers of mesh, and through TVT-NO!, their mesh survivor foundation, they help others to find their new normal and begin the path of healing.
Recently, Teresa had the opportunity to join the Corporate Action Network (CAN) on a trip to New Jersey to take the fight to Johnson & Johnson's doorstep. At the J&J shareholders' meeting, Teresa stood with her fellow mesh survivors and their families to speak to the hundreds of shareholders.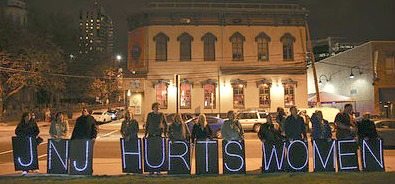 She even got the chance to shake J&J CEO Alex Gorsky's hand.
The Sawyers say that joining forces with CAN will not only send a message to mesh manufacturers, but it will also get them to settle tens of thousands of lawsuits pending in state and federal courts. They hope the money will help women get the medical help they desperately need.
"As hard as it may be, you have to forgive the people that did this to you," Teresa said, addressing other women affected by mesh. "As long as you don't forgive them, the anger, hatred and hurt is going to make you sicker. I was never able to move forward until I was able to forgive Alex Gorsky and J&J."
Christy Hammond Launches Blog
Last time, Christy Hammond told Drugwatch that she didn't even know what mesh was – even after it was implanted inside her during a hysterectomy. The doctor said it would give her "bladder a lift."
When the pain came, she had no idea it was the net-like piece of synthetic plastic made by C.R. Bard inside her causing her permanent damage.
Christy said that what finally clued her in to the mesh was an attorney's ad on TV. The symptoms listed on the commercial matched what she was suffering. Finally, she was able to try and get some help.
"They (Bard) admitted that it was never supposed to be used inside the human body," Christy said. "But they did it anyway."
Christy recently took her own foundation, SurvivingMESH, to the next level by beginning fundraising and starting a blog. She says that the blog is her way of healing as well as sharing her most private struggles with mesh. In her own words, she also chronicled her journey on Drugwatch.
She says to other women, "Never give up hope …. never succumb. Keep at it, keep learning and keep warning others of the harmful side effects of surgical mesh."
---