Nexium
Nexium (esomeprazole) is a prescription drug used to treat GERD, ulcers and other stomach acid-related conditions. It belongs to a class of drugs called proton pump inhibitors. Common Nexium side effects include headache and nausea. Serious side effects of Nexium include kidney damage and bone fractures.
Nexium, marketed as "The Purple Pill," is one of the most widely prescribed drugs in the United States.
Esomeprazole, Nexium's generic name, is almost chemically identical to omeprazole, the active ingredient in Prilosec. AstraZeneca manufactures prescription versions of both Nexium and Prilosec. Prevacid and Protonix are two other related drugs.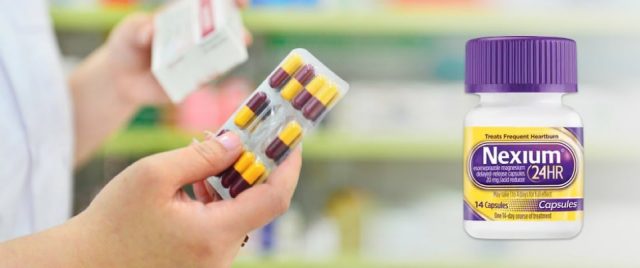 Prescription, Generic and OTC Nexium
Nexium comes in several versions. It premiered as a prescription drug. Over-the-counter (OTC), generic and store brands followed.
Prescription Nexium

The FDA approved the prescription version of Nexium on Feb. 20, 2001. AstraZeneca manufactures it.

Generic Nexium

Teva Pharmaceuticals won FDA approval for the first generic Nexium in 2015. Its generic esomeprazole is a prescription drug. At least eight companies manufactured generic Nexium by 2018.

OTC Nexium 24HR

The FDA approved the first over-the-counter Nexium in 2015. The agency approved Nexium 24HR to treat frequent heartburn. Nexium 24HR is chemically identical to prescription Nexium. Pfizer manufactures Nexium 24HR.

Store Brand Nexium 24HR

Perrigo Company PLC won FDA approval for the first store brand version of Nexium 24HR in 2017. The over-the-counter esomeprazole features packaging for the retail outlets that sell it. It is a cheaper alternative to brand-name Nexium 24HR.

What Is Nexium Used For?
People use prescription Nexium to treat serious stomach acid-related conditions. OTC Nexium treats frequent heartburn.
Nexium Is FDA Approved to Treat:
Erosive esophagitis
Zollinger-Ellison syndrome
Stomach ulcers
Frequent heartburn (OTC versions only)
Precautions Before Taking Nexium
People should not take Nexium if they are allergic to esomeprazole magnesium or any of the drug's other ingredients.
People who have an allergy to any other PPI should not take Nexium. These precautions and any questions about Nexium and other PPIs should be discussed with a medical professional.
Lawsuit Information
Proton pump inhibitors like Nexium have been involved in over 12,000 lawsuits. Learn more.
View Lawsuits
Side Effects of Nexium
Common side effects of Nexium occurred in 1% or more of patients in clinical trials. The safety and efficacy of Nexium was tested in more than 15,000 people, according to the drug's Prescribing Information. Generally, most people tolerate the drug well.
In clinical trials, less than 1% of adults reported dyspepsia, or indigestion. Pediatric side effects can include fast, shallow breathing and vomiting.
The most common side effects of Nexium may include:
Abdominal pain
Constipation
Diarrhea
Dry mouth
Flatulence
Headache
Nausea
Somnolence (drowsiness or sleepiness)
While most people tolerate Nexium well, it can cause serious side effects in some people. These include bone fractures, autoimmune issues and kidney problems. Make sure to talk to your doctor right away if you experience any of the following side effects.
Potential serious side effects of Nexium may include:
Blisters or peeling skin
Blood in the urine
Bloody or watery stool
Difficulty breathing or swallowing
Dizziness
Elevated liver enzymes
Excessive tiredness
Fever
Hives
Hoarseness
Hypersensitivity reactions (swelling, rashes, difficulty breathing)
Increased or decreased urination
Increased risk of bone fracture
Increased risk of cutaneous lupus erythematosus (CLE) and systemic lupus erythematosus (SLE) or worsening of existing disease
Irregular blood cell count
Irregular heartbeat
Itching
Jitteriness
Joint pain
Lightheadedness
Muscle cramps or weakness
Nausea or loss of appetite
Rash
Seizures
Severe abdominal pain
Severe diarrhea with watery stools, stomach pain, or fever that does not go away
Stomach polyps
Uncontrollable shaking
Vitamin B-12 deficiency
Long-Term Use of Nexium
Using Nexium for a long period of time may increase the risk of inflammation of the stomach lining, according to the FDA. At least one study showed long term use of Nexium and other PPIs could also increase the risk of death.
The FDA warns that patients should never take Nexium 24HR for more than 14 days at a time. And they should never take more than three 14-day courses in a year.
Nexium Drug Interactions
People should not take Nexium if they take certain other medicines. They should also avoid Nexium if they take certain dietary supplements.
Nexium interactions can affect how one or both substances perform. People should tell their doctor what drugs and supplements they are taking before using Nexium.
Nexium Can Interact With the Following Products
Any product that contains iron
Cellcept (mycophenolate mofetil)
Coumadin, Jantoven (warfarin)
Fortovase (saquinavir)
Lanoxin (digoxin)
Methotrexate
Nizoral (ketoconazole)
Plavix (clopidogrel)
Pletal (cilostazol)
Prograf (tacrolimus)
Reyataz (atazanavir)
Rimactane, Rifater, Rifamate (Rifampin)
St. John's Wort (hypericum perforatum)
Tarceva (erlotinib)
Valium (diazepam)
Vfend (voriconazole)
Viracept (nelfinavir)
When to Stop Taking Nexium
Patients should always speak with their doctor before stopping Nexium. Doctors may prescribe Nexium for long periods of time. Stopping suddenly can trigger a "rebound" effect. This can cause the patient's condition to return. It can sometimes be worse than the original problem.
A 2018 review in Current Gastroenterology Reports recommended ways to stop Nexium use. A doctor can work out a step-down plan. Patients can take reduced doses over a two-week to month-long schedule. Or a doctor may recommend the patient take Nexium on alternate days.
Dangers from Long-Term Nexium Use
Studies have linked Nexium and other PPIs to several long-term health dangers. Not all these possible Nexium side effects show up in the medicine's label.
Chronic Kidney Disease & Damage
A 2017 study looked at 125,000 PPI users over five years. Half who developed chronic kidney damage never had kidney problems before taking PPIs. A 2016 study found long-term PPI use nearly doubled a patient's chance of kidney failure.
Stroke Risk
In 2016, researchers linked PPI use to a 21 percent increased stroke risk. They presented their findings at the American Heart Association's Scientific Sessions 2016.
Heart Attack Risk
A 2015 study found that PPI use increased heart attack rates from 16 to 21 percent. Researchers published their findings in the journal PLOS One.
Gastric Cancer
A 2017 study found that PPIs may double the risk of gastric cancer in some patients. Researchers found the increased risk among people with previous Helicobacter pylori infections. They published their results in the BMJ journal Gut.
Esophageal Cancer Risk
A 2018 study found that PPIs taken to prevent esophageal cancer may actually cause it. Researchers in Sweden found PPIs may be responsible for five percent of all cases there. They published their results in Cancer Epidemiology.
FDA Warnings About Nexium
The FDA has added at least seven warnings to Nexium labels since 2010. The FDA adds warnings and precautions when evidence shows a drug may cause serious health dangers.
Timeline of FDA Warnings
2016 – LUPUS ERYTHEMATOSUS EVENTS

Nexium users should call their doctor if they have joint pain, or if they develop a rash on their cheeks or arms that gets worse in the sun.

2014 – PREGNANCY INFORMATION

Based on animal data, Nexium may cause fetal harm. This happens with very high doses. Doctors and patients should weigh Nexium risks during pregnancy.

2014 – ACUTE INTERSTITIAL NEPHRITIS

AIN can lead to kidney failure. Kidney problems may happen at any time while taking Nexium. Symptoms to be aware of include a change in urination or sightings of blood in urine.

2014 – VITAMIN B12 DEFICIENCY

A vitamin B12 deficiency can lead to cognitive difficulties. It may also cause memory loss.

2012 – CLOSTRIDIUM DIFFICILE-ASSOCIATED DIARRHEA

Nexium may

increase the risk of developing severe diarrhea

. Hospitalized patients face a higher risk. Patients should call a doctor right away if they experience certain symptoms. These include persistent watery stool, stomach pain and fever.

2011 – LOW MAGNESIUM LEVELS

Low magnesium levels in the blood can happen in some people who take Nexium for at least three months. Nexium users should tell their doctor about certain symptoms. These include seizures, dizziness, jitteriness, tremors, or abnormal or fast heartbeat.

2010/2011 – HIP, WRIST AND SPINE FRACTURES

People taking multiple, daily Nexium doses for a year or longer may be more prone to bone fractures. The FDA cited studies reporting an

increased risk of fractures

of the hip, wrist and spine with PPI use.
Nexium Lawsuits
Nexium lawsuits, part of a multidistrict litigation (MDL) in federal court, claim that the medication caused kidney injuries or damage. As of July 2019, the MDL included 12,775 pending lawsuits over Nexium and other PPIs.
Kidney Injuries in Nexium Lawsuits
Kidney disease
Kidney injury
Kidney failure
Acute interstitial nephritis (AIN)
Please seek the advice of a medical professional before making health care decisions.
Share This Page:
Thank you for your feedback. Do you have any thoughts you'd like to share about Drugwatch.com?
How can we improve this page?
How can we improve this page?
Thank You for Your Feedback
We appreciate your feedback. One of our content team members will be in touch with you soon.
We appreciate your feedback. One of our content team members will be in touch with you soon.
Who Am I Calling?
Calling this number connects you with a Drugwatch representative. We will direct you to one of our trusted legal partners for a free case review.
Drugwatch's trusted legal partners support the organization's mission to keep people safe from dangerous drugs and medical devices. For more information, visit our partners page.
(866) 587-0279