Prilosec
Prilosec (omeprazole) is a proton pump inhibitor that treats severe stomach acid-related conditions like GERD. Common Prilosec side effects include headache, stomach pain and nausea. Long-term Prilosec use has been linked to kidney damage, bone fractures and other dangerous side effects. Unlike prescription Prilosec, Prilosec OTC is safe to treat frequent heartburn.
Prilosec (omeprazole) is the oldest proton pump inhibitor approved in the U.S. The U.S. Food and Drug Administration approved Prilosec in 1989.
Prilosec is a powerful heartburn medicine. It suppresses the body's ability to produce stomach acid.
Studies link Prilosec to serious side effects. Serious Prilosec side effects include increased risk of kidney failure and cancer.
What Is Prilosec?
Prilosec is a medicine designed to reduce stomach acid. If a person has too much stomach acid, it can flow into the esophagus. This can cause severe forms of heartburn and other medical problems.
Prilosec is part of the class of drugs called proton pump inhibitors. It has an almost identical chemistry to Nexium (esomeprazole), another AstraZeneca PPI.
What Does Prilosec Do?
Prilosec helps treat conditions caused by too much acid in the stomach. Prilosec shuts down tiny pumps in the stomach that produce acid. This reduces the amount of acid in the stomach.
Omeprazole relieves heartburn and other symptoms of gastroesophageal reflux disease (GERD). People take Prilosec to help heal acid damage to the esophagus and stomach. Another Prilosec use is to help prevent ulcers and cancer of the esophagus.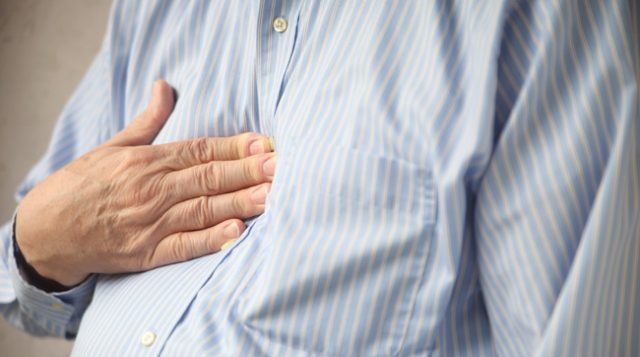 Prescription Prilosec Uses
The FDA approved prescription Prilosec in 1989. People use Prilosec to treat serious medical conditions related to stomach acid. Prescription Prilosec is not approved to treat simple heartburn. The best time of day to take Prilosec is before a meal.
The FDA Approved Prescription Prilosec to Treat:
Gastroesophageal reflux disease (GERD)
Erosive esophagitis (EE)
Hypersecretory conditions
Helicobacter pylori
Active duodenal ulcer
Stomach ulcers
Prilosec OTC Uses
The FDA approved Prilosec OTC in 2003 to treat frequent heartburn safely and effectively. This is heartburn that happens two or more days a week. People should not use Prilosec OTC to treat less frequent heartburn.
Prilosec OTC is the over-the-counter version of Prilosec. It is probably the most familiar version of the medicine. Comedian Larry the Cable Guy popularized Prilosec OTC in direct-to-consumer ads.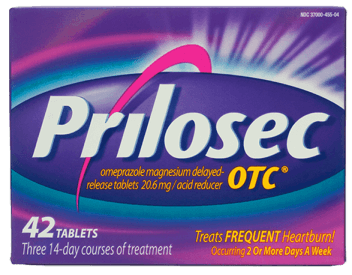 Some people prescribed proton pump inhibitors take Prilosec OTC to save money. Prilosec OTC has the same active ingredient as the prescription version, but it is cheaper. People should let their doctors know if they are taking Prilosec OTC.
The FDA warns about overusing Prilosec OTC. It says people should not take over-the-counter PPIs for more than 14 days. The FDA also warns against taking more than three 14 day courses in a year.
Overuse may lead to serious Prilosec side effects.
Side Effects of Prilosec (Omeprazole)
Risks for both prescription and OTC versions of Prilosec are the same. Studies link the most serious Prilosec side effects to long-term use.
In 2022, the FDA added warnings about Prilosec dangers to the drug's label. These range from bone fractures to kidney dangers.
Less serious side effects may be more common than serious side effects in people taking Prilosec.
Common side effects of Prilosec (omeprazole) may include:
Headache
Nausea
Vomiting
Dizziness
Stomach pain
Constipation
Diarrhea
Gas
Rash
Cough
Sore throat
Fever (in children)
Respiratory system symptoms (in children)
Serious Prilosec side effects are rare, but they can be life-threatening.
Serious side effects of Prilosec (omeprazole) may include:
Kidney injury, damage or failure
Acute Interstitial Nephritis (AIN)
Bone fracture of the hip, wrist or spine
Vitamin B-12 deficiency
Clostridium difficile-associated diarrhea (caused by intestinal infection)
Lupus Erythematosus
Low magnesium levels
Prilosec Overdose Information
Prilosec overdose is possible. Early signs of a Prilosec overdose include passing out or trouble breathing.
Prilosec Overdose Symptoms
Trouble breathing
Blurred vision
Confusion
Dry mouth
Flushing
Headache
Increased sweating
Passing out
People should seek immediate medical attention if they suspect an overdose. In the U.S., people should call 911 if they think someone is experiencing a Prilosec overdose. They can also call their local poison control center at 1-800-222-1222.
Prilosec and Kidney Dangers
Several studies examine the safety of long-term PPI use. They link Prilosec and Prilosec OTC to serious kidney problems. Prilosec dangers include an increased risk of kidney disease and long-term kidney damage.
Prilosec and Kidneys Timeline
2017

A study looked at 125,000 PPI users over five years. Researchers found

kidney problems developed silently

. Half who developed chronic kidney damage never had kidney problems before taking PPIs.

2016

Researchers found long-term PPI use almost doubled the chance of kidney failure.

2015
Prilosec Lawsuits Claim Kidney Problems
Hundreds of lawsuits claim Prilosec can cause kidney damage. Prilosec lawsuits blame Prilosec and Prilosec OTC for several serious kidney problems.
In 2017, a federal panel combined PPI lawsuits into a multidistrict litigation (MDL). MDLs allow several similar lawsuits to move more quickly through the courts.
As of July 2019, there were 12.775 lawsuits pending in the MDL.
Prilosec (Omeprazole) and Prilosec OTC Lawsuit Injuries
Acute interstitial nephritis
Chronic kidney disease
Kidney failure (end stage renal disease)
Kidney Injury
Other Prilosec Dangers
Researchers continue to find new Prilosec dangers almost 30 years after the drug won approval. Recent studies have linked PPIs to risks ranging from heart attacks to cancer. Prilosec can also cause problems for children. Women should consider risks before taking Prilosec during pregnancy.
Prilosec and Cancer Risks
Recent studies have found links between PPIs like Prilosec and cancer.
Esophageal Cancer

A 2018 study looked at medical records of 796,000 patients. They included every adult in Sweden given PPI therapy over seven years. Researchers concluded PPIs caused five percent of all esophageal cancer cases.
Heart Attack and Stroke Risks with Prilosec
A 2016 study found Prilosec can increase a person's risk of stroke. A 2015 study linked PPIs like Prilosec to increased heart attack risk.
Stroke

A 2016 study in Circulation found PPIs increased stroke risk by 21 percent on average. But risk varied by the type of PPI and the dose. Researchers found Prilosec in 40 mg or higher doses increased the risk by 40 percent.
Prilosec and Liver Problems
People with existing liver problems should ask their doctor before taking Prilosec. The medicines can change how a person's liver works. Their doctor may choose a lower dose. Or the doctor may want to consider Prilosec alternatives.
Prilosec and Asthma in Children
A 2018 study reinforced a link between PPI use during pregnancy and asthma in children. It reviewed eight population-based reviews. Women who took PPIs during pregnancy had children with a greater risk of asthma.
A 2017 study found similar results. Researchers reviewed medical records from 1.6 million patients. They found children born to mothers who took Prilosec or other PPIs were at greater asthma risk. The risk increased by a third for these children.
Prilosec and Childhood Bone Fractures
A 2017 study found higher bone fracture risks in children given Prilosec or other PPIs. Researchers reviewed 874,000 children's medical records. They zeroed in on those children given PPIs before their first birthday. The researchers found those children had a 22 percent greater risk for fractures.
Prilosec Interactions
Prilosec may cause drug interactions with more than 160 different medicines. At least 29 of those drugs may result in serious reactions.
The FDA advises people to avoid Prilosec OTC with certain prescription medicines. The agency issued a public health advisory on Prilosec OTC in 2009. Drug interactions with Prilosec OTC can lead to medical problems.
Do Not Take Prilosec OTC With:
Plavix (clopidogrel)
Pletal (cilostazol)
Methotrexate
Prilosec can also weaken the benefits from certain chemotherapy and HIV antiviral drugs. People should talk with their doctor about the drugs they are taking. They should also look at the full list of drug interactions on Prilosec's label before taking it.
Prilosec Alternatives
People may want to ask their doctor about Prilosec alternatives. These may include other classes of drugs. People may be able to treat heartburn with antacids or H2 blockers.
8 Possible Prilosec Alternatives
Pepcid
Axid
Tagamet
Maalox
Alka-Seltzer
Pepto-Bismol
Tums
Diet and exercise changes may also work for other people. But PPIs may be the only option for some conditions.
People should never stop taking Prilosec without a doctor's supervision. Stopping suddenly can cause other medical problems. People should work out a plan with their doctor to step-down slowly over several weeks.
Please seek the advice of a medical professional before making health care decisions.
Share This Page:
How can we improve this page?
Thank You for Your Feedback
We appreciate your feedback. One of our content team members will be in touch with you soon.
We appreciate your feedback. One of our content team members will be in touch with you soon.
Who Am I Calling?
Calling this number connects you with a Drugwatch representative. We will direct you to one of our trusted legal partners for a free case review.
Drugwatch's trusted legal partners support the organization's mission to keep people safe from dangerous drugs and medical devices. For more information, visit our partners page.