Protonix
Protonix (pantoprazole sodium) is a drug in a class of powerful acid-suppressing medications called proton pump inhibitors (PPIs). These medicines can cause rare but life-threatening side effects. Protonix is one of several PPIs named in lawsuits over serious kidney conditions.
Protonix (pantoprazole sodium) is a proton pump inhibitor (PPI). PPIs are powerful medications that block the production of acid in the stomach. They treat acid-reflux and related conditions. Other PPIs include, among others, Nexium (esomeprazole) and Prilosec (omeprazole).
Protonix acts on proton pumps in the stomach. These tiny pumps secrete gastric acid. Protonix causes these pumps to produce less acid.
Protonix is a prescription-only medication. Doctors may prescribe it to adults or to children 5 years and older.
Pfizer manufactures Protonix. Several companies also manufacture generic versions of pantoprazole.
Protonix Uses
Protonix is for short-term treatment of acid-related esophagus damage. It may also treat other acid-related conditions. Protonix is not for immediate heartburn relief.
Approved Protonix Uses
Gastroesophageal reflux disease (GERD)
Hypersecretory conditions including Zollinger-Ellison syndrome
Short-term treatment of erosive esophagitis (EE)
Maintenance and healing of EE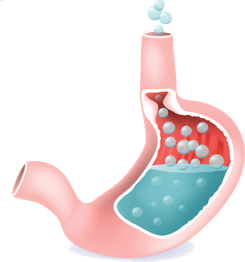 Doctors may prescribe Protonix to treat erosive esophagitis in both adults and children. Short-term treatment lasts up to eight weeks. There is no safety information on longer use in children. But doctors may prescribe a second eight-week course in some adults with EE.
Doctors may also prescribe Protonix for long-term use to treat excess stomach acid. Long-term treatment is anything lasting more than eight weeks. There is no research on the effects of taking Protonix for more than 12 months.
Protonix Side Effects
Protonix side effects include rare but serious conditions. Serious PPI side effects most often result from long-term use.
Several 2022 studies have found links between PPIs and more than a dozen major side effects. Lawsuits also blame Protonix and other PPIs for life-altering problems.
Possible Serious Protonix Side Effects
Acute interstitial nephritis
Bacterial infections
Bone fractures of the hip, wrist and spine
Chronic kidney damage
Heart attack
Heart defects in children
Increased asthma and allergy risks in children
Kidney failure
Kidney injury
Stomach cancer
Symptoms of Serious Protonix Side Effects
People should let their doctor know immediately if they experience Protonix side effects. These symptoms may indicate a serious problem.
When to Call Your Doctor About Protonix Side Effects
Coughing or choking
Fainting
Fast or uneven heartbeat
Feeling jittery
Hallucinations
Headache
Jerking in muscles
Loss of appetite
Memory problems, confusion or trouble concentrating
Muscle cramps, weakness or other unusual muscle conditions
Seizures
Trouble breathing
Watery or bloody diarrhea
Always talk to your doctor before stopping Protonix. Stopping suddenly can cause other medical problems.
Some people may be able to manage their symptoms with alternatives to PPIs. These may include other medications or lifestyle changes.
Common Protonix Side Effects
Less serious Protonix side effects are more likely to occur than serious ones. The most common side effects of Protonix are the same for adults and children, but upper respiratory infection is only common in children who take Protonix.
Less Serious Side Effects of Protonix
Headache
Diarrhea
Nausea
Stomach pain
Vomiting
Gas
Dizziness
Joint pain
Protonix Warnings
The U.S. Food and Drug Administration has ordered PPI makers to add specific warnings to their products. But the list does not include all potential Protonix side effects.
Protonix Side Effect Label Warnings
Gastric malignancy
Acute interstitial nephritis (AIN)
Clostridium difficile (C. diff) associated diarrhea
Bone fractures in hip, wrist and spine
Cutaneous and systemic lupus erythematosus
Vitamin B-12 deficiency
Magnesium deficiency
Studies Linking Protonix and Kidney Disease
Studies dating back to the 1990s have linked PPIs like Protonix to kidney problems. Protonix kidney side effects may include kidney damage or injury.
2015 – Acute Kidney Injury:

Researchers reviewed medical records of 290,000 people. They found that PPI users were more likely to suffer

acute kidney injury

.

2016 – CKD Progressing to Kidney Failure:

Researchers found that long-term PPI use increased kidney failure risks

by 95 percent

. They also found that long-term PPI users were 28 percent more likely to suffer CKD.

2017 – Chronic Kidney Damage (CKD):

Researchers looked at 125,000 PPI users over five years. Half who developed chronic kidney damage (CKD) never had kidney problems before PPIs. They also found PPI users had a

20 percent higher risk of CKD

.
Protonix Lawsuits Over Kidney Damage
Lawsuits claim Protonix caused life-threatening kidney problems. The Protonix lawsuits are part of a multidistrict litigation (MDL). A judicial panel combined them in a New Jersey federal court. MDLs allow several similar lawsuits to move more quickly through the court process.
The New Jersey MDL includes lawsuits over several different PPI brands. As of July 2019, there were 12,775 PPI lawsuits in the MDL.
Injuries Claimed in Protonix Lawsuits
Kidney disease
Kidney injury
Kidney failure
Acute interstitial nephritis
Protonix lawyers are still taking new cases. They expect to file thousands more PPI lawsuits before the first case goes to trial.
There have been no verdicts or settlements in the MDL. But Pfizer once paid a $55 million settlement to the U.S. Justice Department in a Protonix lawsuit. The government had claimed Pfizer promoted Protonix for unapproved uses.
Protonix Dosage and Interactions
The recommended adult Protonix dose is 40 mg once daily. Protonix is also available in 20 mg doses for children five to 16 years of age.
Doctors may also deliver Protonix as an IV drip or injection into a vein. Hospitals may prescribe Protonix to prevent stress ulcers during patients' stay. Studies have suggested Protonix and other PPIs may be over-used in hospitals.
Protonix interactions can happen if people take other drugs while using Protonix. People should tell their doctors about medicines they are on before taking Protonix.
Protonix Drug Interactions Can Occur With:
Coumadin, Jantoven (warfarin)
Lanoxin, Digox, Digitek (digoxin)
Hetacin (hetacillin) and other ampicillin esters
Iron salts
Nizoral, Xolegel, Extina (ketoconazole)
Methotrexate
Plavix (clopidogrel)
Reyataz (atazanavir) or Viracept (nelfinavir) HIV antiretroviral drugs
Protonix can also cause false positives in drug tests for marijuana use.
People can suffer a Protonix overdose. In the U.S., people should call the Poison Help Line for Protonix overdose help. That number is 1-800-222-1212. It connects people to their local poison center.
Protonix Overdose Symptoms
Hunched sitting
Tremor
Sluggishness
Splayed limbs
Loss of control of body movements
OTC Protonix and Generic Protonix
There is no Protonix over-the-counter (OTC) version available. Other OTC drugs may be similar to Protonix. Prilosec OTC, Nexium 24HR and Prevacid 24HR are available over the counter.
The generic name for Protonix is pantoprazole. Pfizer's patent on pantoprazole ran out in 2010. The FDA approved the first generic versions of pantoprazole that same year.
The agency has approved several generic pantoprazole applications since then. All generic versions require a prescription.
Please seek the advice of a medical professional before making health care decisions.
Share This Page:
How can we improve this page?
Thank You for Your Feedback
We appreciate your feedback. One of our content team members will be in touch with you soon.
We appreciate your feedback. One of our content team members will be in touch with you soon.
Who Am I Calling?
Calling this number connects you with a Drugwatch representative. We will direct you to one of our trusted legal partners for a free case review.
Drugwatch's trusted legal partners support the organization's mission to keep people safe from dangerous drugs and medical devices. For more information, visit our partners page.