PPIs treat heartburn and other gastric acid-related conditions by blocking, or inhibiting, the production of acid in the stomach. The class of drugs is the most powerful acid secretion inhibitors on the market. Prescription PPIs usually reduce stomach acid over four to six weeks.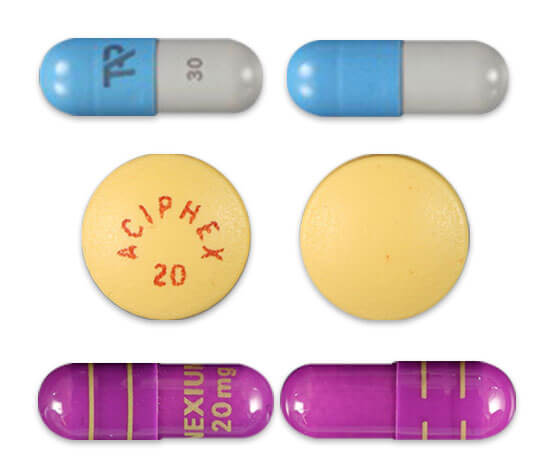 PPIs approved for use in the U.S. include:
AcipHex (rabeprazole)
Dexilant (dexlansoprazole)
Protonix (pantoprazole)
Vimovo (esomeprazole/naproxen)
Zegerid (omeprazole)
Vimovo is unique in that it is not primarily a heartburn drug. According to its label, it is intended for the "symptoms of osteoarthritis, rheumatoid arthritis, and ankylosing spondylitis and to decrease the risk of developing gastric ulcers in patients at risk of developing NSAID associated gastric ulcers." It combines the generic versions of Aleve and Nexium in a single pill. Nexium, Prilosec and Prevacid are among the most well-known PPIs.
Prescription PPIs are indicated for treating gastric acid-related conditions, including:
Gastroesophageal reflux disease (GERD)
Inflammation and erosion of the esophagus, also called erosive esophagitis (EE)
Heartburn
Ulcers in the stomach and duodenum caused by Helicobacter pylori bacteria or by nonsteroidal anti-inflammatory drugs (NSAIDs)
Zollinger-Ellison syndrome, a condition in which tumors cause the stomach to produce excess stomach acid
Over the counter (OTC) versions of proton pump inhibitors are used to treat frequent heartburn, but are only approved for use for two weeks at a time, no more than three times a year.
PPIs have been linked to serious, sometimes potentially life-threatening side effects. Studies have shown that higher dosages and long-term use increase the risk for many of those potential complications.
Studies Reveal Serious Proton Pump Inhibitor Side Effects
Though PPIs offer value and relief to many people, they are not universally beneficial. In fact, a study by the San Francisco Department of Public Health estimated that only 30 to 40 percent of PPI users actually needed the medications. The remaining 60 to 70 percent of patients should instead try lifestyle changes and antacids.
In addition, researchers have conducted a number of studies on potential side effects and complications of PPI use. Scientists in Denmark found that PPI users were 50 percent more likely to acquire pneumonia while in a hospital. Researchers also recently released a study that suggests PPIs may have a link to damaged arteries.
The most serious PPI side effects and risks revealed in studies include:
Bacterial Infections
A 2017 study published in JAMA Internal Medicine found taking PPIs, or other heartburn medications called histamine 2 (H2) blockers, was associated with a 50% increased risk of experiencing recurrences of Clostridium difficile infections (CDI). CDI can cause severe diarrhea and life-threatening inflammation of the large intestine.
"Clostridium difficile causes almost half a million infections annually among hospitalized and community-dwelling patients in the United States, and approximately 1 in 5 patients will develop a recurrent C difficile infection," Dr. Scott Bauer and Dr. Patrick O'Malley wrote in an editor's note about the research. "[T]hese findings support a strategy of withholding gastric acid suppression therapy in the setting of active or recent C difficile infection."
An earlier 2016 study found PPIs may reduce stomach acid that protects against infection. Researchers compared stool samples from 1,800 twins in the UK. They found that a twin taking a PPI had far more Streptococcaceae, a family of bacteria that can cause infections, than the corresponding twin who did not take the drug.
"By reducing the natural barrier of stomach acid, PPIs appear to let more bacteria from the skin, nose and mouth into the gut – and this can be detected in the stool samples," senior study author Dr. Claire Steves of Kings College London told Reuters.
Bone Fractures
Long-term PPI use has been linked to decreased bone density and a higher risk of osteoporosis. Each condition can increase the likelihood of bone fractures.
Since 2006, multiple studies have found that long-term PPI use is associated with increased bone break events. The University of Maryland reported that certain PPIs (Prevacid, Nexium, and Prilosec and their generics) can increase the risk of bone breaks in people who use the medications for more than one year. Specifically, the bones that are prone to breaking due to PPI use are those within the wrists, hips, vertebrae and forearms.
A 2012 study published in the BMJ found PPI users faced a 35% higher risk of breaking their hips. A University of Maryland Study found patients taking PPIs for a year were at greater risk of breaking their wrists, hips, spine and forearms.
Research suggests that PPIs interfere with the body's ability to absorb calcium. Calcium is vital for bone strength and is absorbed through a chemical process involving acid in the digestive tract.
"Individuals at risk for osteoporosis should have their bone status managed according to current clinical practice, and should take adequate vitamin D and calcium supplementation," the FDA said in a 2010 safety communication.
Dementia
There have conflicting studies on the relationship between PPI use and dementia or other cognitive function.
In 2011, a group of German physicians and researchers concluded a seven-year study involving 73,679 elderly persons, all of whom were free of dementia at the start of the study. Approximately 3,000 of the subjects were regular users of PPIs. The researchers found that the PPI users had a significantly increased risk of dementia.
The Pharmaceutical Journal reported in 2016 that avoidance of PPIs may help prevent dementia, though the researchers said more clinical trials were needed to determine a clear association. Researchers found that patients who regularly used PPIs were 44 percent more likely to develop this devastating disease.
However, more recent studies failed to find a dementia link.
A 2017 study of more than 10,000 American patients published in the Journal of the American Geriatrics Society found PPI users were at a lower risk of cognitive decline. They also reported that those who used PPIs also tended to use anticholinergic medicines – indicated for gastrointestinal disorders, motion sickness, asthma and other conditions – which have previously been linked to cognitive problems.
Researchers in another 2017 study published in Gastroenterology responded directly to the 2011 German study and failed to reach the same conclusion as the earlier research.
"We observed a modest association between duration of PPI use and scores for psychomotor speed and attention," the researchers wrote. "We did not observe a convincing association between PPI use and cognitive function."
Another 2017 study found no dementia link. Researchers followed more than 10,000 volunteers age 50 and older. The volunteers were tested during annual visits for six years.
"Proton pump inhibitors were not associated with greater risk of dementia or Alzheimer's disease," the researchers wrote.
The National Institute on Aging funded the research. The researchers published their results in the Journal of the American Geriatrics Society.
A 2018 study also found no link between PPIs and declining mental skills. In that study, researchers looked at 7,800 middle-aged twins. It compared changes in mental skills between twins over several years. Researchers found no significant changes. The Danish researchers said their findings were in line with the earlier U.S. study.
They published their results in Clinical Gastroenterology and Hepatology.
Heart Attack and Heart Failure
A 2017 study in PLOS One found an association between PPI use and increased rates of cardiovascular events among people with coronary artery disease (CAD). Researchers also found an association on the dosage patients took and the level of risk.
"The present work shows that PPI use is an independent predictor of HF [heart failure] or death," the researchers wrote. "This effect was dose-dependent and partially reversible."
In 2015, Stanford School of Medicine researchers reviewing medical records of three million Americans found a 20 percent increase risk of heart attack among all adult PPI users.
"These drugs may not be as safe as we think," Dr. Nicholas Leeper, the study's senior author and an assistant professor of vascular surgery and of cardiovascular medicine, said.
Kidney Disease and Injuries
A 2017 study of 125,000 PPI users over five years found more than half who developed chronic kidney damage had never experienced kidney problems before taking PPIs. The study published in the journal Kidney International also found the risk of kidney damage was 20 percent higher for PPI users than people taking H2 blockers such as Zantac or Pepcid for heartburn.
"Our results indicate kidney problems can develop silently and gradually over time, eroding kidney function and leading to long-term kidney damage or even renal failure. Patients should be cautioned to tell their doctors if they're taking PPIs and only use the drugs when necessary," Dr. Ziyad Al-Aly, and author of the study and an assistant professor of medicine at Washington University School of Medicine said.
A 2016 study in the Journal of the American Society of Nephrology found people using PPIs long-term were 95 percent more likely to experience kidney failure, also called end stage renal disease (ESRD). Long-term PPI users were also 28 percent more likely to suffer from chronic kidney disease.
"Our results suggest that PPI exposure associates with increased risk of incident CKD, CKD progression, and ESRD," the researchers wrote.
In a 2015 study published in CMAJ Open, the journal of the Canadian Medical Association, Canadian researchers reviewed nine years of medical records of 290,592 people, and discovered that PPI users were more likely suffer from acute kidney injury than non-PPI users.
"Clinicians should appreciate the risk of acute interstitial nephritis during treatment with PPIs, monitor patients appropriately and discourage the indiscriminate use of these drugs," the researchers wrote.
Premature Death
A 2017 study that found people taking prescription PPIs for a year or more had a 50 percent increased risk of dying over the next five years when compared to patients taking H2 blockers for heartburn. That study, published in the journal BMJ Open, compared nearly 276,000 PPI users to 73,000 people prescribed an H2 blocker between 2006 and 2008 and noting how many died of any cause over the following five years.
"No matter how we sliced and diced the data from this large data set, we saw the same thing: There's an increased risk of death among PPI users," Dr. Ziyad Al-Aly, one of the authors and Washington University School of Medicine assistant professor said.
Stroke
Preliminary research presented at an American Heart Association conference in New Orleans in 2016 showed PPIs may increase the risk of ischemic stroke, the most common type of stroke.
Scientists in Denmark studied 250,000 PPI users and found an overall 21 percent increased risk of stroke. The risk of stroke increased minimally or not at all at the lowest doses. However, when taken at the highest dose Prilosec and Prevacid patients had a 33 percent increased risk of stroke, Nexium patients had a 50 percent increased risk and Protonix patients had a 79 percent increased risk.
"PPIs have been associated with unhealthy vascular function, including heart attacks, kidney disease and dementia," Dr. Thomas Sehested, the study's lead author and a researcher at the Danish Heart Foundation, told CNN. "We wanted to see if PPIs also posed a risk for ischemic stroke, especially given their increasing use in the general population."
Stomach Cancer
A 2017 study found that taking PPIs could double the risk of getting stomach cancer. The risk increased the longer people took the drugs. It went up five-fold for people taking PPIs for a year. The risk went up more than eight times after taking the drugs for three years.
Researchers published their findings in the journal Gut. They tracked 63,000 people over seven years. The risk of stomach cancer doubled for people who took the pill once a week. The overall risk was still very low. Researchers estimated that for every 10,000 people who take PPIs, only eight will develop stomach cancer. But they warned against long-term use.
"Physicians should use caution when prescribing long-term PPIs," the researchers wrote.
Risks from PPI Use by Children and Pregnant Women
A 2017 study of more than 22,000 infants in New Zealand found off-label prescribing was common and frequently unnecessary. The study looked seven years of medical records of children prescribed PPIs before their first birthday. Only seven percent of infants in the study had a hospital diagnosis of GERD.
"The appropriateness of PPI treatment should be questioned, as the majority of infants who received these drugs were not diagnosed with severe GERD," the researchers wrote in the Journal of Pediatric Gastroenterology and Nutrition.
The study followed a 2011 study in the Journal of Pediatrics that found prescribing PPIs to infants in the U.S. had become widespread in the previous decade.
"We are medicalizing normality," Dr. Eric Hassall, a gastroenterologist and advisor to the FDA said at the time. "In most infants, these symptoms are 'life,' not a disease, and do not warrant treatment with drugs, which can have significant adverse effects."
PPIs: Pediatric Dosage Available
PPIs: Not Approved for Pediatric Use
Research presented at the May 2017 Pediatric Academic Societies Meeting found that children given PPIs or other heartburn drugs before their first birthday had more bone fractures during childhood. Researchers examined medical records of more than 874,000 children in the Military Healthcare system from 2001 to 2013. They found children who were prescribed PPIs had a 22 percent increased likelihood of bone fractures. The risk increased to 31 percent for infants given both PPIs and H2 blockers.
Fact
Children born to mothers who took PPIs during pregnancy had a significantly higher risk of broken bones in childhood.
"With many antacids easily available over-the-counter for adults, these medications may seem benign," Air Force Capt., Dr. Laura Malchodi, lead author and resident at Walter Reed National Military Medical Center said. "However, our study adds to a growing body of evidence suggesting antacid medications are not safe for children, especially very young children, and should only be prescribed to treat confirmed serious cases of more severe symptomatic gastroesophageal reflux disease (GERD), and for the shortest length of time needed."
A 2017 study in The Journal of Allergy and Clinical Immunology found that taking PPIs during pregnancy was associated with a 30 percent increase in the risk of the child developing asthma. The study looked at 1.6 million patients with follow-ups between five and 14 years. Taking H2 blockers as an alternative was associated with a 46 percent increase in asthma risk. There was also an increase in the risk of the child developing allergies.
While researchers were not certain as to what caused the PPI-asthma-allergy connection, they pointed to previous studies that suggest the drugs disrupt the mother's digestion, passing on allergens in her food to the fetus.
"Gastric reflux is common in pregnancy," lead author Dr. Aziz Sheikh, a professor of primary care at the University of Edinburgh, told the New York Times. "And in the majority of women, it can be managed with lifestyle or diet changes."
Yet another 2017 study reviewed previous research into PPIs and childhood asthma. Researchers looked at 556 medical articles and eight studies. Their work appeared in the journal Pediatrics.
They concluded that taking PPIs during pregnancy increased the risk of childhood asthma.
"This information may help clinicians and parents to use caution when deciding whether to take acid-suppressing drugs during pregnancy because of the risk of asthma in offspring," the researchers wrote.
A 2010 study from the University of Pennsylvania School of Medicine examined medical records from a global database and found nearly 209,000 pregnancies that linked the use of PPIs and heart defects. The scientists performed a second analysis and found that babies of mothers who took PPIs within the first trimester of pregnancy were more than twice as likely to have cardiac defects as those who did not.
"We feel that our data can have a large public health impact given the fact that GERD is so common during pregnancy," Dr. Andrew Rhim, one of the authors, said.
FDA: Complications of Proton Pump Inhibitor Use
Since 2010, the FDA has weighed published scientific literature along with its own database of adverse events in issuing safety warnings about long-term use of PPIs. The agency's warnings have included the potential of serious side effects, including low magnesium levels, clostridium difficile-associated diarrhea and fractures of the hip, wrist and spine.
The FDA has strengthened warnings in the drugs' labels to reflect these risks as well as the potential of acute interstitial nephritis (kidney injury). The FDA stated on multiple occasions that longer durations of PPI use increase the risk of these conditions and advised careful use of PPIs.
2016 Lupus Erythematosus Events

In 2016, the FDA approved a labeling change that added information pertaining to the serious cutaneous and systemic lupus erythematosus events associated with the use of PPIs. Lupus erythematosus is an autoimmune disorder, meaning the body's immune cells attack other cells or organs in the body.

The drugs' labels warn that some people who take PPIs may develop certain types of lupus erythematosus or have worsening of the lupus they already have and can occur "within weeks to years after continuous drug therapy in patients ranging from infants to the elderly."

2014 Acute Interstitial Nephritis

In December 2014, the FDA strengthened warnings in PPI labels to include acute interstitial nephritis (AIN), a kidney injury that causes the spaces between kidney tubules to swell. AIN may be triggered by an allergic reaction to these drugs. AIN may occur at any point during PPI therapy, according to the drugs' labels. The most common symptom is a decrease in the amount a person urinates. Other symptoms include blood in urine and fever. AIN can progress to permanent kidney damage and failure.

2014 Vitamin B12 Deficiency

Patients who have taken PPIs for more than three years are at risk of vitamin B12 deficiency because acid is needed to absorb vitamin B12, according to the FDA. Cognitive difficulties or memory loss are among the symptoms of vitamin B12 deficiency. The agency updated PPI labels in December 2014 to include this potential vitamin deficiency risk.

2012 Clostridium Difficile-Associated Diarrhea

Gastric acid is responsible for killing some harmful bacteria in the stomach. When gastric acid is reduced and unable to continue eliminating as much bacteria, PPI users become susceptible to a host of infections, such as Clostridium difficile (C. difficile). C. difficile is a bacterium that can cause diarrhea that does not improve.

In February 2012, the FDA released a safety communication informing the public that the use of PPIs may be associated with an increased risk of Clostridium difficile-associated diarrhea (CDAD). Symptoms of CDAD include watery stool, abdominal pain and fever. According to the FDA, patients may go on to develop more serious intestinal conditions. Treatment for CDAD involves replacing fluids and electrolytes and using special antibiotics.

"Patients should immediately contact their healthcare professional and seek care if they take PPIs and develop diarrhea that does not improve," the FDA said in its safety communication.

2011 Low Magnesium Levels (Hypomagnesemia)

In March 2011, the FDA released a safety communication informing the public that prescription PPIs "may cause low serum magnesium levels (hypomagnesemia) if taken for prolonged periods of time (in most cases, longer than one year)."

Low magnesium levels can cause muscle spasms, irregular heartbeat (arrhythmias) and seizures. Patients may not always have symptoms. Treatment generally involves magnesium supplements. The FDA recommends that doctors consider testing patients' magnesium levels before prescribing PPI treatment.

"Hypomagnesemia has been reported in adult patients taking PPIs for at least three months, but most cases occurred after a year of treatment," the FDA said in its safety communication. "Approximately one-quarter of these cases required discontinuation of PPI treatment in addition to magnesium supplementation."

2010 Fractures of the Hip, Wrist and Spine

In 2010, the FDA revised the prescription labels for PPIs to include safety information about a possible increased risk of fractures of the hip, wrist and spine with the use of these medications. The FDA reviewed several epidemiological studies and found an increased risk of fractures of the hip, wrist, and spine with PPI use.

"Some studies found that those at greatest risk for these fractures received high doses of proton pump inhibitors or used them for one year or more," the FDA safety communication said. Most of the studies evaluated people 50 years of age or older. The higher risk of fracture primarily was seen in this age group.
Asking a Doctor about Proton Pump Inhibitor Side Effects
The National Institutes of Health recommends patients ask their doctors about the side effects of any long-term use of proton pump inhibitors. It also recommends women who are breastfeeding or pregnant talk with their doctors before taking PPIs.
Certified health practitioner Rebecca Montrone discusses side effects of PPIs
It is also important that patients talk with their doctors about interactions that could occur when taking PPIs.
Please seek the advice of a medical professional before making health care decisions.
Author
Terry Turner is an Emmy-winning, former television journalist. He is an associate member of the American Bar Association, the ABA's Health Law group and a member of the Alliance of Professional Health Advocates. He holds six certificates in Health Literacy for Healthcare Professionals from the Centers for Disease Control and Prevention. As a Washington-based investigative reporter, he routinely reported on health and medical policy issues before Congress, the FDA and other federal agencies. Terry received his B.A. in Media Arts from Lyon College.
---