SGLT2 inhibitors can cause diabetic ketoacidosis and acute kidney injury. SGLT2 inhibitor side effects also include kidney and blood infections. These side effects can be fatal.
Some side effects are specific to a particular drug or active ingredient.
Invokana, Invokamet and Invokamet XR can lead to amputations. Studies link Farxiga to bladder cancer. Invokamet and Xigduo XR can cause lactic acidosis.
Invokana and Amputation
People who take Invokana, Invokamet or Invokamet XR are twice as likely to need amputations as people who take other diabetes medications.
In 2017, the U.S. Food and Drug Administration ordered Johnson & Johnson to add a black box warning to the drugs' labels to warn people of the increased risk of amputations. The label change came four years after Johnson & Johnson first started selling Invokana to Americans.
A black box warning is the FDA's strongest warning. The agency based its decision on results from two clinical trials: CANVAS and CANVAS-R.
The studies found leg and foot amputations roughly doubled among people taking canagliflozin.
The warnings apply only to Invokana, Invokamet and Invokamet XR. The medications contain the active ingredient canagliflozin.
"The FDA has concluded that the Type 2 diabetes medicine canagliflozin (Invokana, Invokamet, and Invokamet XR) causes an increased risk of leg and foot amputations."
Farxiga and Bladder Cancer
Patients taking Farxiga are more likely to develop bladder cancer than those treated with another diabetes medication, according to clinical studies.
The FDA did not approve Farxiga at first because of a possible link to cancer and questions related to the drug's effectiveness.
When the agency later approved Farxiga in 2014, it required the drug's manufacturers to continue studying Farxiga to better understand its risks.
The results of these studies had not been released as of May 2018.
Diabetic Ketoacidosis
In May 2015, the FDA warned SGLT2 inhibitors may lead to diabetic ketoacidosis (DKA). DKA happens when the body produces too much acidic chemicals called ketones.
In high levels, ketones are poisonous and can cause organs to malfunction.
In December 2015, the FDA required additional warnings about DKA be added to labels of SGLT2 inhibitors.
In 2017, researchers at Brigham and Women's Hospital in Boston examined records of 40,000 Type 2 diabetes patients.
They compared the risk of developing DKA in patients taking SGLT2 inhibitors to the risk in those taking other diabetes medications, like Januvia and Onglyza.
The researchers determined that the risk of DKA doubled with SGLT2 inhibitor use. But even with the recent research findings, DKA remains relatively rare.
"Shortly after initiation, SGLT2 inhibitors were associated with approximately twice the risk of diabetic ketoacidosis as were DPP4 inhibitors."
Patients who notice symptoms of DKA should contact a doctor or emergency room immediately.
Symptoms of Diabetic Ketoacidosis
Aching muscles or muscle stiffness
Confusion
Difficulty breathing
Flushed face
Frequent urination or thirst that lasts for a day or more
Fruity-smelling breath
Stomach pain
Unusual fatigue or sleepiness
Vomiting and nausea
Acute Kidney Injury
In June 2016, the FDA strengthened the acute kidney injury (AKI) warning for Invokana and Farxiga. This warning also applies to Invokamet, Invokamet XR, Farxiga and Xigduo XR.
Acute kidney injury is sudden kidney failure or kidney damage.
From March 2013 to October 2015, the FDA received reports of more than 100 confirmed cases of acute kidney injury with Invokana or Farxiga use. Some of these instances required hospitalization and dialysis.
When Can Kidney Problems Occur?
Acute kidney injury happened within one month of starting the drug in about half the cases reported to the FDA.
The FDA said it was likely more cases existed, but the agency just didn't know about them.
Decreased blood volume and chronic kidney problems may make kidney failure more likely in some patients. Certain medications may also increase the risk.
Not all people suffering acute kidney injury experience symptoms. A doctor may have to run tests to diagnose it.
Symptoms of Acute Kidney Injury
Chest pain or pressure
Confusion
Fatigue or tiredness
Nausea
Seizures or coma in severe cases
Shortness of breath
Too little urine leaving the body
Swelling in legs and ankles and around the eyes
Kidney and Blood Infections
SGLT2 inhibitor drugs work by helping the body release excess glucose through urine. Urinary tract infections (UTIs) may be common when taking these drugs.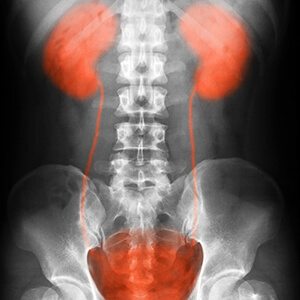 Antibiotics treat most UTIs. But sometimes UTIs can lead to more serious infections.
In December 2015, the FDA warned that taking SGLT2 inhibitors can increase the risk of serious infections that started as UTIs.
The agency warned of blood infections (urosepsis) and kidney infections (pyelonephritis). Both can be life-threatening.
The FDA identified 19 cases of these infections between March 2013 and October 2014. The infections started as urinary tract infections in patients taking SGLT2 inhibitors.
All 19 patients were hospitalized. A few were admitted to the intensive care unit. Some needed dialysis to treat kidney failure.
The FDA recommends patients taking SGLT2 inhibitors contact their doctor right away if they suffer UTI symptoms.
Symptoms of UTIs
A burning feeling when urinating
A need to urinate often
The need to urinate right away
Blood in the urine
Pain in the lower part of your stomach area (pelvis)
Symptoms of Blood Infection
Fever
Chills
Rapid breathing
Paleness
Heart palpitations or increased heart rate
Invokamet, Xigduo XR and Lactic Acidosis
Invokamet and Xigduo XR contain the ingredient metformin. Metformin can cause lactic acidosis.
Lactic acidosis can be fatal. It happens when too much lactic acid builds up in the blood. The body produces lactic acid when there is not enough oxygen in the body for metabolism.
The FDA requires manufacturers of Invokamet and Xigduo XR to include a black box warning for lactic acidosis in the drugs' labels.
People taking metformin should watch out for early symptoms of lactic acidosis.
Symptoms of Lactic Acidosis
Abdominal or stomach discomfort
Decreased appetite
Diarrhea
Fast, shallow breathing
General feeling of discomfort
Muscle pain or cramping
Unusual sleepiness, tiredness or weakness
Please seek the advice of a medical professional before making health care decisions.
How helpful was this page?
How can we improve this page?
How can we improve this page?