Victoza
Victoza is Novo Nordisk's blockbuster, once-daily injectable Type 2 diabetes drug that stimulates insulin production in the body. In addition to decreasing blood sugar, studies have shown that Victoza can increase weight loss and decrease risk of cardiovascular events, such as heart attack, stroke, and related death. However, studies have linked Victoza to serious side effects, including thyroid cancer and pancreatitis.
With 2018 sales at $2.7 billion, Victoza (liraglutide) generated revenue for Novo Nordisk equivalent to almost half of the drugmaker's $5.7 billion net profit worldwide. The Danish pharma company managed to fend off efforts by Teva Pharmaceuticals Industries Ltd. to sell a generic equivalent, entering into a legal settlement in March 2019 that bars the competitor from selling the copy until 2023.
Victoza was first approved by the U.S. Food and Drug Administration in 2010 and accounted for $418 million in sales that year. By the end of 2012, worldwide sales rose to $1.7 billion. The average retail price for Victoza is more than $1,100 a month, according to GoodRx.com. By comparison, the average monthly retail price for injectable diabetes drug Byetta (exenatide), a similar drug manufactured by competitor AstraZeneca PLC, is about $905. Both drugs work to lower blood sugar by mimicking a hormone called glucagon-like peptide-1 (GLP-1).
Victoza is part of a class of drugs known as GLP-1 agonists. According to Novo Nordisk's 2018 annual report, the company leads in sales in this class with 46 percent of the value market share. The company's newer Type 2 diabetes drug in the class is Ozempic, which accounted for 7 percent of the market share by the end of 2018.
In June 2019, the company received FDA approval to expand Victoza's label to allow for its use in children and adolescents aged 10-17 with Type 2 diabetes. Novo Nordisk completed a drug trial for this indication in August 2018 and submitted the results to European regulators as well.
As of 2022, researchers have also been studying the potential use of Victoza for Type 1 diabetes and have met with some encouraging early results.
Lawsuit Information
Lawsuits are being filed by people who developed severe gastroparesis after using Ozempic.
How Victoza Reduces Blood Sugar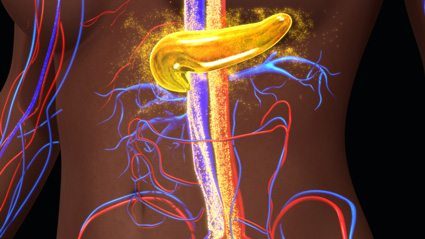 Victoza is not an insulin product. It is 97 percent similar to a substance in the body called GLP-1, a hormone that affects the liver, pancreas and gut and helps control glucose, insulin and gastric emptying.
Typically, when a person eats, the small intestine releases GLP-1, which helps the pancreas release the appropriate amount of insulin to regulate blood sugar. More specifically, GLP-1 activates pancreatic cells called beta cells that make insulin.
Because it is similar to GLP-1, Victoza works to decrease blood sugar by 3 pathways. The first is by stimulating natural insulin production in the pancreas when it's needed. The second is by slowing the speed at which food leaves the stomach, which helps to prevent a rapid rise in blood sugar levels. And lastly, it works to keep the liver from making excess sugar. Along with a healthy diet and exercise routine, the drug effectively reduces blood sugar.
How to Take Victoza
Victoza is available as an injectable pen. Patients administer Victoza once a day by injecting the prescription pen into their thigh, upper arm or stomach. Victoza can be taken any time of day and does not have to be taken with food. The manufacturer recommends establishing a routine to help patients remember to inject the drug at the same time each day. Providers should instruct patients on how to use the Victoza pen. The prefilled 6 mg/mL pens can last up to 30 days, depending on the daily dosage (0.6 mg, 1.2 mg or 1.8 mg); however, unused medication should not be taken after 30 days of first use of the pen.
If patients are taking Victoza with insulin, they should inject each drug separately and never mix the two solutions.
Victoza's Effects on Blood Sugar Levels
Controlling blood glucose can help prevent complications of diabetes such as cardiovascular disease. Patients taking Victoza had favorable results regarding A1C, a measure of glucose concentration over a period of two to three months. Victoza helped lower blood sugar in as short as two weeks. A two-year study found the levels remained down.
Victoza also helped lower fasting blood sugar, which is the blood sugar level when a patient has not eaten food, in people with Type 2 diabetes. A normal fasting blood sugar level is less than 100 mg/dL after not eating anything for at least 8 hours. In people with Type 2 diabetes, these levels are much higher.
Another 52-week trial found that patients experienced about a 20 percent reduction in fasting blood sugar levels when taking 1.8 mg of Victoza daily, while blood- glucose levels in patients taking 1.2 mg dropped about 16 percent. The fasting blood sugar levels began to decline within two weeks.
Fact
Victoza reduced the risk of heart attack, stroke and death from cardiovascular issues in patients with Type 2 diabetes when compared to a placebo.
Victoza's Effects on Weight
While weight loss is not a primary goal for people taking Victoza, patients taking the drug had greater weight loss than with another diabetes drug, Januvia. When taking Victoza with metformin, patients in one study lost an average of 6.2 pounds with a dose of 1.2 mg after 26 weeks. Patients in this study using the higher dose of 1.8 mg lost an average of 7.4 pounds.
Several other studies have also shown weight loss when Victoza is taken with metformin for 26 weeks.
Victoza's Effects on Risk of Cardiovascular Events
In a 2016 study published in the New England Journal of Medicine by Steven P. Marso and colleagues, researchers found that Victoza reduced the risk of heart attack, stroke and death from cardiovascular issues in patients with Type 2 diabetes by 13%. Approximately, 13 percent of patients taking liraglutide experienced serious cardiovascular issues compared to 14.9 percent of patients taking a placebo. The research was supported by Victoza manufacturer, Novo Nordisk, and by grants from the National Institutes of Health.
Subsequently, the FDA approved the use of Victoza to reduce the risk for major cardiovascular problems, including heart attack, stroke and cardiovascular disease, in adults with Type 2 diabetes and established cardiovascular disease.
Common Side Effects
In clinical trials for Victoza-related side effects, Novo Nordisk gathered data from 1,673 adult patients over five clinical trials. The average age of trial participants was 58 years, and the majority of participants were white males. Trial participants took Victoza for about 37 weeks. The most common side effects occurred in 5 percent or more of study participants. The occurrence of side effects increased with the highest dose of the drug.
Common side effects include:
Nausea
Diarrhea
Headache
Nasopharyngitis (common cold)
Vomiting
Decreased appetite
Dyspepsia (indigestion)
Upper respiratory tract infection
Constipation
Back pain
Gastrointestinal problems, injection site reactions, and hypoglycemia also occurred in fewer than 5 percent of patients.
Serious Side Effects
Though it is effective in controlling blood sugar, Victoza may be linked to dangerous side effects, including pancreatitis and thyroid cancer.
The Victoza label also warns of potential for serious hypoglycemia (low blood sugar), renal impairment and acute gallbladder disease.
When the drug was first approved, the Institute for Safe Medication Practices (ISMP) reported that the FDA's clinical safety reviewer recommended against approving the drug because of its link to thyroid tumors in animal studies and an increased risk of pancreatitis. Also, at the time there was a lack of sufficient studies to rule out an increased risk of heart attack and stroke, which the FDA now requires manufacturers to complete after a diabetes drug is approved. In 2011, the FDA published a warning that doctors weren't fully aware of thyroid risks associated with Victoza. That notice also mentioned that clinical trials suggested an increased risk of pancreatitis in Victoza patients.
Black Box Warning for Thyroid Cancer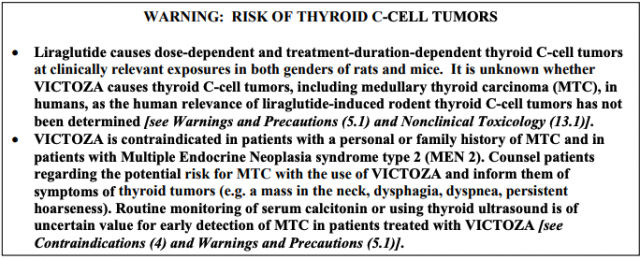 Novo Nordisk found that Victoza causes tumors of the thyroid gland in rats and mice. Since the drug is fairly new and thyroid cancer is rare in humans, the FDA has stated that it is difficult to say whether the drug can cause thyroid cancer in humans. Several cases of thyroid cancer have been reported in Victoza users, but it is unclear if these cases were caused by Victoza.
However, Victoza does come with a black box warning for a risk of thyroid C-cell tumors, including medullary thyroid carcinoma.
Is Victoza Safe for Everyone?
Victoza has several contraindications, and patients with these contraindications should not use the drug.
The drug's label and the FDA warn that people with a personal or family history of thyroid cancer or multiple endocrine neoplasia syndrome type 2 should not take Victoza.
The label also cautions its use in patients with certain conditions and warns about additional, more serious side effects.
Victoza should be used with caution in patients if they:
Use insulin or an insulin secretagogue such as a sulfonylurea, as there is a risk for low blood sugar. Medication doses may need to be decreased when starting Victoza.
Have a kidney impairment, since there is a risk for worsening of kidney function.
Caution should be used when Victoza is started or the dose is increased.
Additional warnings when using Victoza include a risk for:
Acute gallbladder disease, requiring hospitalization and removal of the gallbladder
Hypersensitivity reactions, including anaphylaxis
Pancreatitis
You should tell your doctor about other medicines you take as well as certain medical conditions you may have before taking Victoza.
Conditions to tell your doctor about include:
Current or previous problems with your pancreas, kidneys or liver
Severe stomach problems such as digestive problems or slowed emptying of your stomach
Are pregnant or plan to become pregnant while on Victoza
Are breastfeeding or plan to breastfeed
Please seek the advice of a medical professional before making health care decisions.
Share This Page:
How can we improve this page?
Thank You for Your Feedback
We appreciate your feedback. One of our content team members will be in touch with you soon.
We appreciate your feedback. One of our content team members will be in touch with you soon.
Who Am I Calling?
Calling this number connects you with a Drugwatch representative. We will direct you to one of our trusted legal partners for a free case review.
Drugwatch's trusted legal partners support the organization's mission to keep people safe from dangerous drugs and medical devices. For more information, visit our partners page.