Even with the emergence of new-generation blood thinners on the market, warfarin (brand names Coumadin and Jantoven) is still the most widely used anticoagulant in the United States and the United Kingdom.
While the drug can be a lifesaver in patients suffering from atrial fibrillation (AFib) (an irregular, often rapid heart rate that can increase a patient's risk of stroke, heart failure and other heart-related complications), it also has its drawbacks.
Complications include bleeding in the brain, known as a hemorrhagic stroke. Warfarin patients are required to undergo regular blood tests to monitor the drug's effectiveness. But not doing so can result in incorrect dosages and an increased risk for excessive, potentially life-threatening bleeding in all areas of the body, including dangerous gastrointestinal (stomach) bleeding.
Warfarin, specifically in its brand-name form Coumadin, is also associated with tissue death, or gangrene, and a rare but highly deadly condition called calciphylaxis, which involves the calcification of a patient's blood vessels, resulting in severe pain, ulcers, organ failure and full body infections (sepsis) that do not respond well to treatment.
Other serious side effects can include acute injury to the kidneys and cholesterol embolisms (or clots) that travel through the bloodstream and become lodged in various blood vessels.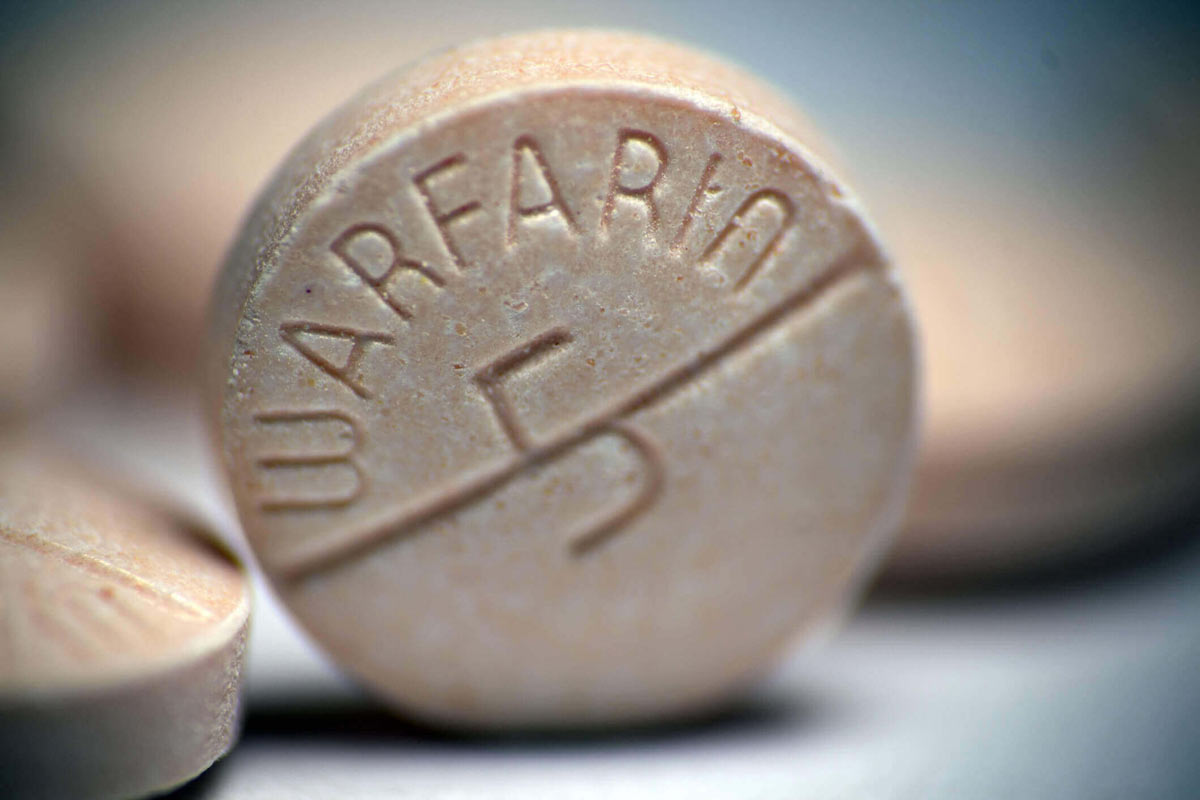 Warfarin 5 milligram tablet up close
Warfarin and Hemorrhage (Serious or Fatal Bleeding)
Major bleeding (hemorrhage) that can possibly result in death is more likely to occur within the first month of a patient using Coumadin (warfarin), according to the drug's label. Patients are at a greater risk of experiencing this side effect if they have an elevated INR (International Normalized Ratio, a measure of how long it takes a person's blood to clot). An INR over 4.0 can be a sign of "high-intensity anticoagulation," putting a patient at an increased risk for major bleeding.
OTHER RISK FACTORS FOR BLEEDING
IN PATIENTS TAKING COUMADIN (WARFARIN) INCLUDE:
Being 65 or older
Having a history of a highly variable INR measure
History of gastrointestinal bleeding
High blood pressure
Cerebrovascular disease (any disorder in which an area of the brain is temporarily or permanently affected by bleeding or lack of blood flow)

Kidney impairment
Certain genetic factors
Long duration of warfarin treatment
Anemia (a condition in which the number of healthy red blood cells in a patient's body is too low)
Normally, when a person bleeds, clots form to stop the flow. However, bleeding can last much longer than usual in individuals taking blood thinners, sometimes requiring emergency medical attention. Wounds and bruises may also take longer than usual to heal.
Internal bleeding can include gastrointestinal bleeding as well as bleeding in the brain. Both conditions can be fatal.
Side Effects of Internal Bleeding
Initially, internal bleeding may cause no symptoms. However, if the bleeding is chronic and/or severe, there are several signs and symptoms that can point to the problem.
Other symptoms of persistent, severe abdominal bleeding may include:
Weakness
Lightheadedness
Shortness of breath
Cold, clammy skin
Decreased blood pressure
Shock
Symptoms of bleeding are often associated with the specific location of the bleed. For example, bleeding in the white part of the eye called conjunctival hemorrhage, which can occur after coughing or sneezing in individuals taking blood thinners, can cause eye pain, vision changes and a red spot that can get larger over time, or may go away on its own.
On the other hand, gastrointestinal bleeding often causes little pain, but can result in sudden severe bleeding, black stool or bloody diarrhea, or vomit that is bright red or looks like coffee grounds.
Intracranial bleeding, or bleeding in the brain, can include symptoms of a stroke, such as headache, weakness, slurred speech, numbness, dizziness, and changes in or loss of vision.
Treatment of Internal Bleeding
The treatment of bleeding depends on where the bleeding is located, the individual circumstance of the patient, such as whether the bleeding is medicine-related, the severity of the bleeding and the stability of the patient. In patients taking blood thinners, such as warfarin, it may be necessary to administer an antidote, often in conjunction with vitamin K, to reverse the medication's effects.
Mild cases of bleeding typically just require rest and treatment of symptoms. Rest can allow the body time to reabsorb the blood when it is a slow bleed and the cause has been identified and resolved.
In more severe cases of internal bleeding, which is often the case involving bleeding associated with blood thinners, additional treatments such as surgery may be needed. After the bleeding is stopped, treatment is directed towards stabilizing the patient's condition and repairing any damage caused by the bleeding.
When the bleeding is significant or treatment is not readily given, the condition can cause organ failure, shock, coma and death. Serious bleeding can result in permanent damage to the body. For example, bleeding in the brain can cause stroke and long-term brain damage.