Essure Side Effects
Essure side effects can occur during or after implantation. Side effects such as headaches, mild pelvic pain or bleeding may last only a few days. Others, such as chronic pelvic pain, organ perforation and device migration, may require surgery. The U.S. Food and Drug Administration has received thousands of reports of side effects from Essure birth control. Bayer stopped selling the device in the United States on Dec. 31, 2018.
Essure was the only nonsurgical permanent birth control option approved for women ages 21 to 45 until Bayer stopped selling it in 2020. The device may lead to serious side effects.
The U.S. Food and Drug Administration has received thousands of Essure side effect reports since the device hit the market in 2002. Reported side effects range from mild pelvic pain to death. In March 2022, FDA reported it had received 67,643 medical device reports from November 4, 2002, Essure's approval date, through December 31, 2021.
The FDA placed a black box warning on Essure in November 2016. It warns that some side effects are serious and may require surgery.
Severe side effects led some women to file Essure lawsuits against the device's maker, Bayer.
In April 2018, the FDA limited the sale of Essure to health care providers who use a checklist to warn patients of risks. In July 2018, Bayer announced the product would no longer be sold in the U.S. by Dec. 31, 2018. Then, on Aug. 20, 2020, the company said it would pay $1.6 billion to end virtually all of the Essure litigation in the United States.
Essure Side Effects Symptoms
Some Essure side effects are mild. They may go away in a few days.
But some symptoms may mean there's a more serious Essure complication. They require immediate attention.
Some examples of serious symptoms include chronic pelvic pain, heavy bleeding in between periods and bowel problems.
Women should see their doctor about any serious symptoms that persist.
Short Term Essure Side Effects
Women may experience Essure problems during Essure insertion. They may also experience side effects immediately after the procedure.
Did You Know?
About 9.3 percent of women in clinical trials reported pain during Essure insertion.
Essure Side Effects During the Procedure
The Essure procedure is nonsurgical. Doctors insert metal coils into the fallopian tubes through the vagina.
During the procedure, women may experience short-term side effects or complications. Some are mild and go away on their own. Others may need surgery to treat.
Essure procedure complications include:
Device breakage during insertion — the doctor may need to remove broken pieces.
Perforation of the fallopian tube or uterus — this can cause bleeding or damage to the bladder or bowel. Doctors may perform surgery.
Some women may require local anesthesia. Local anesthesia may cause side effects. These include allergic reactions, headache, dizziness or muscle twitching.
Temporary mild to moderate pain may occur.
Essure Side Effects After the Procedure
The Essure procedure is an outpatient procedure. Most women can leave the office in less than an hour. Some may experience short-term side effects.
The most common side effects after the Essure procedure include pain, cramping and vaginal bleeding. Headaches, nausea, dizziness and vomiting may also occur. Some women experience pelvic or back discomfort.
These Essure side effects usually only last a few days, according to Bayer. Bayer recommends that women have someone drive them home after the procedure.
Immediately after Essure implantation, women may experience:
Back pain
Device expulsion
Dizziness
Fainting
Headaches
Pelvic cramping
Pelvic pain
Vaginal bleeding
Essure Confirmation Test Side Effects
It takes about three months for Essure to work. Women must get the Essure Confirmation Test to make sure they cannot get pregnant.
The confirmation test uses a transvaginal ultrasound (TVU) or a vaginal X-ray exam called a modified HSG.
Women who had chemotherapy or corticosteroid treatment should not undergo TVU. The HSG may expose women to low levels of radiation.
Side effects of the Essure Confirmation Test include:
Cramping
Dizziness
Fainting
Infection
Nausea
Spotting
Vomiting
Essure Long Term Side Effects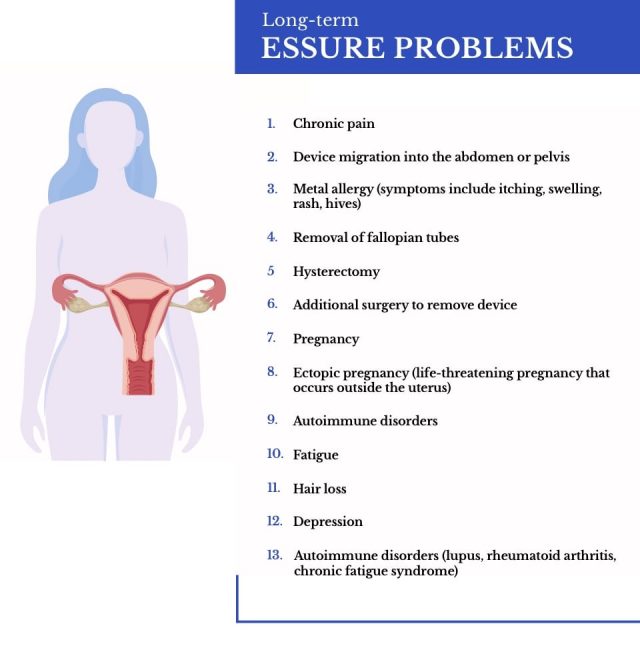 Essure Birth Control Side Effects and FDA Reports
From November 2002 to December 2017, the FDA received 26,773 Essure side effect reports. The FDA calls these reports adverse events.
Each report contained multiple side effect complaints. Pain or pelvic pain was the most commonly reported Essure side effect.
Reported Essure Side Effects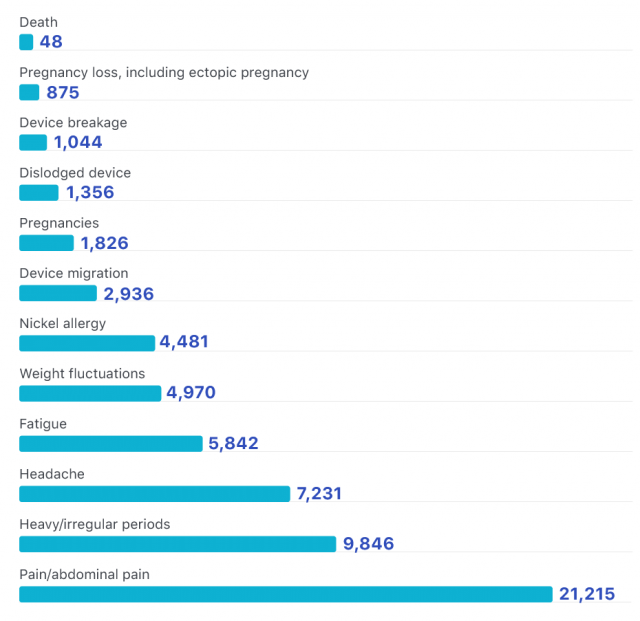 Some experts challenge the FDA's Essure data. For example, former FDA analyst Madris Tomes uncovered data the FDA had not reported.
FDA reporting is voluntary. So, there could be more unreported side effects of Essure.
Essure Black Box Warning and FDA Regulation
In 2016, the FDA required a black box warning for Essure. This is the agency's strongest warning.
The black box warning includes serious side effects such as organ perforation, allergic reactions and device migration. It says additional surgery may be required to treat these Essure complications.
In 2018, the FDA restricted Essure sales. Bayer only sells Essure in the U.S.
Only health care facilities and providers who use an FDA-approved checklist can buy and implant Essure. The checklist is the Patient-Doctor Discussion Checklist – Acceptance of Risk and Informed Decision Acknowledgement. It is a part of the patient information booklet.
"The sale and distribution of this device are restricted to users and/or user facilities that provide information to patients about the risks and benefits of this device in the form and manner specified in the approved labeling provided by Bayer."
Bayer Essure Safety Studies
The FDA began a post-market safety investigation in 2016. It required Bayer to conduct more Essure side effect and effectiveness studies. Bayer is supposed to complete the study in 2023.
The study will enroll about 2,800 women. It will gather data on pregnancy, abdominal pain, uterine bleeding, allergic reactions and autoimmune disorders.
The study will also compare Essure to tubal ligation.
In October 2017, three congresswomen wrote to FDA Commissioner Scott Gottlieb. They said Bayer was moving too slowly in the study.
"The FDA cannot continue to allow Bayer to drag its feet on this post-market study while women are continuing to suffer."
Questions About Essure Side Effects
Can Essure be removed?
Yes, Essure can be removed. Some women may choose to have their Essure removed if they wish to have a child naturally. Others may opt for Essure removal if they experience serious complications from this birth control device.
Was Essure recalled?
Bayer discontinued Essure in 2018, citing a decline in sales. The company did not recall the device, despite facing thousands of lawsuits from women who claimed they had experienced serious side effects from the birth control device.
What are the injuries being named in Essure lawsuits?
Women filing Essure lawsuits against Bayer claim the device's manufacturer failed to warn about the risk of serious side effects such as pain, organ perforation and autoimmune disorders. Bayer has reached Essure settlements to resolve nearly 39,000 claims.
Please seek the advice of a medical professional before making health care decisions.
Share This Page:
How can we improve this page?
Thank You for Your Feedback
We appreciate your feedback. One of our content team members will be in touch with you soon.
We appreciate your feedback. One of our content team members will be in touch with you soon.
Who Am I Calling?
Calling this number connects you with a Drugwatch representative. We will direct you to one of our trusted legal partners for a free case review.
Drugwatch's trusted legal partners support the organization's mission to keep people safe from dangerous drugs and medical devices. For more information, visit our partners page.