From 2009 to 2013, the Stryker Corporation issued permanent recalls for two of the company's hip replacement systems and multiple recalls for one of its hip stems.
It recalled the Rejuvenate and ABG II hip implants in 2012, halting all global sales and production of the components. The recall came three months after Stryker issued an urgent field safety notice to surgeons and hospital risk managers describing the potential health hazards associated with the two products.
Complications included corrosion and fretting, which allow shards of metallic components to leach into a patient's tissues, bones and bloodstream. The side effects can cause a condition known as metallosis, a type of metal poisoning.
Another hip stem, the Accolade TMZF, has also been associated with adverse health events. The company recalled the product in 2009, 2011, 2012 and 2013 because of packaging and manufacturing errors. About 1,700 units were affected by the recalls, according to the U.S. Food and Drug Administration.
The Accolade TMZF is made of the same proprietary titanium alloy that the Rejuvenate and ABG II are made from, so it may corrode and fret when used with cobalt chromium femoral heads. However, Stryker sells it with ceramic heads today.
Stryker also recalled hip implants in 2008 because of manufacturing issues. After receiving an FDA warning letter, the company stated that its Trident PSL and Hemispherical Acetabular Cups were safe and reliable, but it voluntarily recalled the products because they did not meet company standards in residual tests.
Why Stryker Recalled the Rejuvenate and ABG II
In a safety notice issued before the recall, Stryker warned health providers that post-market data revealed that the Rejuvenate and ABG II had a high rate of adverse local tissue reaction. ALTR refers to complications caused by inflammation in the tissue near the implant.
---
"Following this action, we will work with the medical community to better understand this matter as we continue to evaluate the data."

- Stuart Simpson, Stryker's vice president and general manager of hip reconstruction
---
Stryker's official recall announcement, dated July 6, 2012, stated that the company decided to recall the hip replacements when it received the disturbing data.
The neck components of the Rejuvenate and ABG II are made of chromium and cobalt, and the stems are coated with titanium. When the parts rub against each other where the neck meets the stem, they can shed metallic debris into the body.
The field safety notice described several complications caused by the products:
Fretting and corrosion in and around the modular neck junction can release excessive metal debris into the surrounding tissue.
Metal ions in surrounding tissues can result in inflammation leading to an immunological response including metallosis (metal poisoning), necrosis (tissue and bone death) and pain requiring revision surgery.
Patients with metal sensitivity may have a severe allergic reaction that requires revision surgery.
Excessive metal debris in the joint space can lead to osteolysis, also known as bone loss, and may require revision surgery.
The U.S. Food and Drug Administration received hundreds of adverse event reports involving the implants in 2012. At the time, experts urged anyone who had received the implants to consider having their blood tested for cobalt and chromium levels, even if they hadn't experienced side effects.
Recall Processing With Broadspire Care Management
Stryker hired Broadspire Care Management to gather information and process claims related to the Rejuvenate and ABG II recall. On Stryker's website, the company said it would reimburse patients for out-of-pocket medical costs associated with the implants, including revision surgeries performed to remove the implant.
Broadspire is a third-party risk-management company that specializes in handling workers' compensation, liability and medical case management for large companies. Its role in a previous hip implant recall raised potential red flags about how implant manufacturers appeared to be dealing with injured patients.
A year before the Stryker recall, DePuy, another hip implant manufacturer in the midst of a recall, also turned to Broadspire. The company coordinated patient claims for out-of-pocket medical expenses for people who'd received defective DePuy hip implants.
Fact
Broadspire's role in the processing of faulty hip implant claims has raised ethical concerns over the years.
Normally, the implant manufacturer pays the patients claims and relies on the patient's own doctor to determine if an implant should be replaced. But under the Broadspire arrangement, the insurance company's physicians made the determination of whether an implant should be replaced or not.
Broadspire and DePuy sent paperwork to individual doctors, along with promises of $50 payments for each completed packet, to provide the companies with medical release forms for hip implant patients.
Critics claimed Broadspire could use its role to gather medical records and other information on patients, which could then be used against them in court if they filed lawsuits over their faulty implants.
The privacy concerns were raised again when Stryker turned to Broadspire to handle the Rejuvenate and ABG II Modular-Neck Stem recalls. There were again concerns that patients might inadvertently surrender federally protected legal rights.
In the end, thousands of people who experienced complications associated with the ABG II and Rejuvenate hip implants filed lawsuits against Stryker, and the company agreed to settle most of them in 2014.
Health Canada Recalls Stryker LFIT COCR V40 Femoral Heads
Health Canada, a Canadian regulatory agency, issued a recall on two separate occasions for the LFIT V4 COCR Femoral Head. The first recall was issued on September 10, 2015 because surgeons were unable to connect the femoral head with the V40 stem during surgery.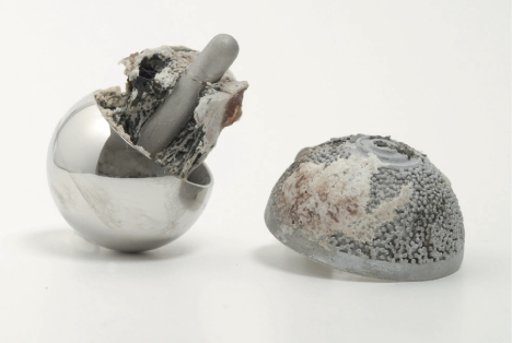 The agency issued a second recall on August 24, 2016 because Stryker received large numbers of complaints of taper lock failure in components manufactured before 2011. The taper lock connects the femoral head to the neck, and a failure can lead to inflammation, dislocation and other complications.
In the United States, the FDA issued a Class II recall of the LFIT Anatomic COCR V40 Femoral Heads on August 29, 2016. The cause of the malfunction was still under investigation when the public notice was posted on November 9, 2016, according to the FDA.
Author

Chris Elkins is a writer and researcher for Drugwatch.com. He's worked for various newspapers and has writing experience in sports, health communication and public relations fields. He graduated from the University of West Florida with a master's degree in Strategic Communication and Leadership, a graduate-level certificate in Health Communication Leadership and a bachelor's degree in Journalism.
---