Wright Medical is headquartered in Arlington, Tenn. The company has been designing, manufacturing and marketing joint implants since 1950. While it is also known for its foot and ankle devices, the core of the Wright Medical's product lineup used to be hip and knee replacements.
The company's total hip replacements included its ceramic hip system, hard-bearing surfaces and proprietary neck modularity. Wright used alumina oxide ceramic to manufacture its Lineage liners and femoral heads to create an industry-leading ceramic-on-ceramic hip system.
Wright's Conserve line of metal-on-metal hip replacement systems and its Profemur Z Stem were implanted in more than 10,000 people. But some recipients of Wright's Profemur hip replacement system alleged that their devices failed prematurely and created the need for more surgery.
Other consumers have alleged that the defective design of metal-on-metal devices from Wright's Conserve, Dynasty and Lineage product lines led to early device failure and the release of metal debris into the body.
The Tennessee-based device maker currently faces hundreds of personal injury lawsuits from people across the country who allege their implants caused injuries such as metal toxicity, infection, and bone and tissue damage.
Many of them required revision surgeries to remove the device and treat their injuries. Wright agreed to settle nearly 1,300 claims in November 2016, but hundreds of cases were not covered by the settlement agreement.
Wright sold its OrthoRecon business, which included hip implants such as Dynasty, Conserve and Profemur, to MicroPort Scientific Corporation for $290 million in 2013. Wright remained responsible for pending litigation involving its metal-on-metal hip implants.
Conserve & Profemur Hip Replacements
Wright Medical's Conserve hip replacement line was created to respond to the demand for durable implants for younger, more active people. One of the greatest concerns that doctors face when younger patients develop hip problems is finding an implant that can withstand an active lifestyle.
According to Wright, its Conserve implants provided excellent range of motion with low particle wear and long-term dependability. Wright also claimed its Conserve hip replacement designs reduced the chance of soft tissue impingement, which can lead to dislocation.
The Conserve Total Hip acetabular cup and ball were designed to be used with a number of stems, including the Profemur Z. The Profemur Z had a modular neck and stem system that was made of titanium alloy.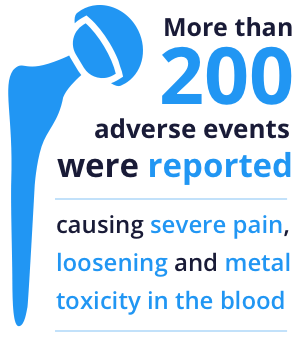 The Profemur Z system included the stem and a choice of six interchangeable neck pieces available in two lengths. Modular necks and stems allow surgeons to customize length for each patient to provide a better fit.
Unfortunately, Conserve hip implants began demonstrating higher than normal failure rates. The U.S. Food and Drug Administration received reports of more than 200 adverse events that caused severe pain in the hip and groin, loosening and metal toxicity in the blood.
The Profemur Z stem was also a source of concern for many hip replacement recipients and their doctors. Patients with the stem experienced complications such as corrosion, femoral neck fracture and fretting. Fretting occurs when two opposing surfaces rub together and cause wear damage.
Thousands of people who received Conserve or Profemur Z hip replacements filed lawsuits against Wright, alleging negligence and faulty design.
Wright Lawsuits Consolidated in Georgia MDL
In February 2012, a national judicial panel centralized all federal lawsuits involving Conserve hip implants to the U.S. District Court for the Northern District of Georgia. Judge William S. Duffey Jr. has presided over the multidistrict litigation (MDL) for more than five years.
Cases are consolidated in multidistrict litigation to improve communication, reduce costs and increase court efficiency.
Shortly after the cases were centralized into MDL No. 2329, the parties agreed that the MDL would be limited to cases concerning issues with the metal-on-metal design of the following hip models:
Conserve Total Hip Implant System
Conserve Total A-Class Advanced Metal Hip Implant System
Conserve Resurfacing System.
Cases involving Wright's Profemur System could also be transferred to MDL No. 2329. However, the court ordered that those cases only be transferred if the injuries related to problems with the metal-on-metal design and involved a Profemur System that was connected to a Conserve Total Hip or a Conserve Total A-Class Advanced Metal.
Although they aren't included in MDL 2329, plaintiffs alleging neck failure in Profemur devices can still file claims in federal or state court.
People Who Filed Lawsuits Involving Profemur or Conserve Hip Replacements
Injured plaintiffs allege that Wright knew about the risks before they received their implants. If Wright had provided them and their doctors with accurate information, they could have chosen other treatment options. In many cases, they are now left with more debilitating injuries than the conditions that led them to undergo hip replacement in the first place.
John Wallace
John Wallace of Arizona sued Wright in 2012. He received a Conserve implant in his left hip in 2005. In December 2011, his doctor found elevated chromium and cobalt levels in his blood. According to his complaint, Wallace had revision surgery and suffered complications from the revision surgery, including a "spontaneous dislocation" of the hip. Wallace alleged that Wright "concealed or suppressed" information about the device's safety, including its knowledge of "unreasonably high risk of failure and serious side effects."
Linda Bohnenstiehl
Linda Bohnenstiehl of Illinois received Conserve and Profemur hip devices in a Missouri hospital in 2008. She alleged that the Profemur device fractured at the femoral neck in 2010, causing her physical injuries, debilitation and pain and suffering. The injuries forced her to have a revision surgery. Bohnenstiehl filed a lawsuit against Wright claiming the company was negligent, failed to adequately test the device and provided inadequate warnings.
Leon Thomas
Leon Thomas of Arkansas received a Conserve Total Hip System in 2006. He began experiencing severe pain in his left hip and groin in 2011 and was forced to have revision surgery. His doctor suspected a loose hip socket, and he found elevated chromium and cobalt levels in his blood. Thomas is permanently impaired and suffers ongoing discomfort from nerve damage, drop foot and other injuries. He filed suit against Wright in 2012.
First Verdicts & Settlements
Few cases against Wright made it to a courtroom before the company agreed to settle the majority of the cases filed against it. Wright lost the first cases that went to trial.
First Case Settled Out Of Court
One of the first hip lawsuits scheduled to go to trial was settled out of court. Timothy Courson alleged that Wright was responsible for causing him permanent injuries, including severe injuries to his respiratory system, ongoing pain and mental anguish. He received a Profemur hip system in 2009. Two years later, the implant broke while he was walking at work.
Courson had a revision surgery to replace the defective implant. He filed a lawsuit against Wright in the U.S. District Court for the Middle District of Georgia in 2012. Courson sought more than $3 million in damages, including the costs of incurred and future medical expenses and lost wages. The case settled for an undisclosed amount in 2013.
Wright Lost First Profemur Verdict
Wright experienced a $4.5 million loss in the first Profemur lawsuit to go to trial. A California jury awarded Alan Warner $2 million for pain and suffering and $2 million for future pain and suffering. Warner's wife was awarded $500,000 for loss of consortium.
The femur of Warner's hip implant failed after three years while he was walking in his home. He required revision surgery and sued Wright for marketing a faulty device. A Los Angeles Superior Court Judge reduced the Warner's award to $1 million on appeal. The judge ruled that the verdict amount was excessive.
Wright Loses First Conserve Trial
Former ski instructor Robyn Christiansen won an $11 million verdict against Wright after alleging that Wright misrepresented the safety of her Conserve implant. Christiansen received the implant in 2006 and began experiencing severe hip pain six years later. Her doctor found metal debris and tissue damage in her hip. The jury awarded her $1 million in compensation and $10 million in punitive damages. An appeals judge later reduced the punitive damages to $1.1 million.
Wright Settles Conserve Lawsuits for $240 Million
In November 2016, Wright agreed to settle 1,292 claims involving its Conserve, Dynasty and Lineage implants for $240 million. The company said claims in the federal MDL and a California state court called Judicial Council Coordination Proceeding (JCCP) No. 4710 were eligible to participate.
Eligibility requirements include:
The case is pending in the Georgia MDL or California JCCP.
Claimant had undergone a revision surgery within eight years of implantation
The claim has not exceeded relevant statute of limitations.
Claimants who received two qualified hip replacements that required revision surgeries were eligible for two settlement claims. Wright had the option to opt out of the settlement if less than 95 percent of eligible participants chose not to participate.
They are not eligible because:
The implant lasted more than eight years.
The statute of limitations expired.
They do not reside in the MDL or JCCP.
The company estimated that 600 pending claims involving plaintiffs who required revision surgery were not eligible for the settlement agreement.
Wright Settles All Remaining Lawsuits for $90 Million
In October 2017, Wright Medical agreed to settle the remaining 600 or so hip lawsuits against the company for nearly $90 million.
The remaining cases included lawsuits in the Georgia MDL and those filed in California state courts. The agreement covers people who were not included in the 2016 settlement, including people who filed lawsuits after it was completed and people who had missed the legal deadline to file a lawsuit.
Wright Medical expected the last payments to be delivered in September 2019, ending what would be a decade long legal battle over its hip implants.
Author

Chris Elkins is a writer and researcher for Drugwatch.com. He's worked for various newspapers and has writing experience in sports, health communication and public relations fields. He graduated from the University of West Florida with a master's degree in Strategic Communication and Leadership, a graduate-level certificate in Health Communication Leadership and a bachelor's degree in Journalism.
---