Wright Medical: Conserve, Dynasty, Profemur & Other Hip Implants
Wright Medical used to sell a variety of hip replacement products including metal-on-metal implants such as Conserve, Dynasty and Profemur implants. But several all-metal models caused complications. People harmed by the implants filed lawsuits against Wright, and the company settled hundreds of them out of court.
Once an industry leader in hip and knee replacements, Wright Medical sold off that part of its business in 2013. It now focuses on implants for what the medical device industry refers to as extremities — arms, hands, feet and ankle.
MicroPort Medical purchased Wright's OrthoRecon hip and knee manufacturing division for $290 million in 2013. The sale came as Wright faced increasing reports of problems with its metal-on-metal hip implants such as its Conserve, Dynasty and Profemur product lines.
A 2022 study reported that, following a hip replacement, 46.7% of participants experienced a clinically significant improvement, while 15.5% experienced worsened outcomes.
People harmed by the faulty hip implants filed lawsuits against Wright, and the company settled hundreds of them out of court. While Wright Medical no longer makes hip replacements, it was legally responsible for faulty hips made while it owned OrthoRecon and for some models MicroPort continued to make for a time after the sale.
Wright Medical Metal-on-Metal Hip Blamed for Complications
The company's total hip replacements included its ceramic hip system, hard-bearing surfaces and proprietary neck modularity. Wright used alumina oxide ceramic to manufacture its Lineage liners and femoral heads to create an industry-leading ceramic-on-ceramic hip system. But the company's metal-on-metal hips proved to be the most prone to complications and failure.
Hip replacements mimic the hip's natural ball-and-socket arrangement. Metal-on-metal hip implants use alloys made from chromium, cobalt, or other metals to make both the ball and the socket portions. A metal ball is attached atop the thighbone and a metal socket, or cup, is mounted in the hip bone.
Metal-on-metal hip implants have proven to be particularly problematic since they first became popular in the early part of this century. Friction between the metal ball and metal socket can release microscopic amounts of metal. This can lead to a condition called metallosis – a serious form of metal poisoning.
The buildup of metal ions in tissue surrounding the implant can lead to muscle, bone and other tissue death. This can also lead to the joint dislocating or failing in some other way.
Other consumers have alleged that the defective design of metal-on-metal devices from Wright's Conserve, Dynasty and Lineage product lines led to early device failure and the release of metal debris into the body.
Complaints about Wright Medical Hip Replacements
Early device failure
Metallosis – metal poisoning or metal toxicity
Infection
Bone and tissue damage
Study: Wright Conserve Hips High Failure Rate
A 2016 study found high, sooner-than-expected failure rates among 108 Wright Conserve metal-on-metal hips. The hips were implanted in 98 patients – some patients having both hips replaced. Usually, only 1 in 10 hip implants will fail within 15 years of being implanted. But the Conserve hips in the study failed in larger numbers and sooner.
Researchers found roughly 2 in 10 Conserve hips failed over the scope of their analysis – November 2005 and December 2010. On average, patients receiving Conserve hips required revision surgery after only four years and three months following the original surgery to implant them.
Lawsuit Information
Wright Medical agreed to two settlements totaling over $300 million in 2016 and 2017. Learn more about these lawsuits.
Problems with Wright Conserve Hip Replacements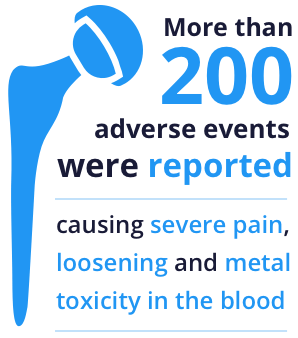 Wright Medical's Conserve hip replacement line was created to respond to the demand for durable implants for younger, more active people. One of the greatest concerns that doctors face when younger patients develop hip problems is finding an implant that can withstand an active lifestyle.
According to Wright, its Conserve implants provided excellent range of motion with low particle wear and long-term dependability. Wright also claimed its Conserve hip replacement designs reduced the chance of soft tissue impingement, which can lead to dislocation.
Conserve hip implants began demonstrating higher than normal failure rates. The U.S. Food and Drug Administration received reports of more than 200 adverse events that caused severe pain in the hip and groin, loosening and metal toxicity in the blood.
Problems with Wright Profemur Z Hips Implants
The Conserve Total Hip acetabular cup and ball were designed to be used with a number of stems, including the Profemur Z. The Profemur Z had a modular neck and stem system that was made of titanium alloy. Modular necks and stems allow surgeons to customize length for each patient to provide a better fit.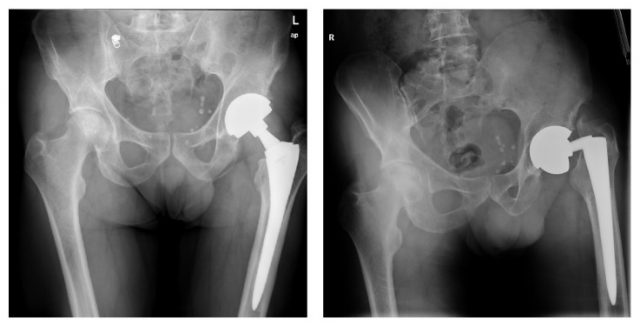 Shortly after Wright sold its hip and knee manufacturing unit to MicroPort, the new manufacturer started receiving reports of failures with the Profemur modular neck.
Complications reported with the wright Profemur Z:
Corrosion
Fretting – wear damage from two surfaces rubbing together
Femoral neck fracture
Fractures
In 2015, MicroPort voluntarily recalled the Wright Medical-designed Profemur Neck Varus/Valgus CoCr 8 Degree modular neck due to the risk of fractures.
The FDA classified MicroPort's action as a Class I recall: "a situation in which there is a reasonable probability that the use of or exposure to a violative product will cause serious adverse health consequences or death."
Though made on MicroPort's watch, Wright Medical assumed legal liability for the devices.
"An acute fracture will require revision surgery to remove and replace the neck and stem components. Acute fracture and emergency revision surgery is a serious adverse health consequence and could lead to neurovascular damage, hematoma, hemorrhage, and even death."
Wright Medical Lineage and Dynasty Hip Replacements
Wright Medical also manufactured two more model lines of hip replacements, the Lineage and the Dynasty. These hip implants came in a variety of sizes and were made of different material combinations.
Materials used in Wright Lineage & Dynasty Models:
Ceramic-on-ceramic
Metal-on-polyethylene (plastic)
Ceramic-on-metal
Metal-on-metal
Wright Hips: Metallosis Symptoms and Complications
Wright hip replacements were one of several lines of metal-on-metal hips associated with metallosis in patients. Metallosis can affect the skin, nervous system and internal organs. People who develop it may not experience any symptoms, but doctors can detect it through blood tests. Tests can reveal if there is an elevated level of metal ions in a patient's blood.
Signs and Symptoms of Metallosis:
Clicking or other sounds coming from implant
Infection
Implant loosening
Skin rashes
Treating metallosis typically requires removing and replacing the implant. If left untreated, metallosis can result in several serious complications.
Metallosis Complications Include:
Auditory impairment that can result in deafness
Cognitive impairment or memory issues
Depression, anxiety or other mental health issues
Heart problems, including heart failure
Nerve problems
Thyroid problems
Visual impairment that may result in blindness
Wright Settles Lawsuits Over Faulty Hip Replacements
Wright faced roughly 2,000 lawsuits over its various hip replacements and agreed to two settlements to resolve all of them.
In 2017, the Tennessee-based device maker offered to settle hundreds of personal injury lawsuits from people across the country who alleged that their Wright implants caused medical complications. Many of them required revision surgeries to remove the device and treat their injuries.
Wright Medical Hip Models Named in Lawsuits:
Conserve
Dynasty
Lineage
Profemur
Wright paid $240 million to settle 1,292 claims against its Dynasty and Lineage implants in November 2016, but hundreds of cases were not covered by the agreement.
The company announced in October 2017 it would settle the remaining 600 or so lawsuits still active for an additional $90 million.
Following the settlement, the court closed the Wright MDL in June 2018.
Wright expected to deliver the final settlement payments in September 2019.
Please seek the advice of a medical professional before making health care decisions.
Share This Page:
How can we improve this page?
Thank You for Your Feedback
We appreciate your feedback. One of our content team members will be in touch with you soon.
We appreciate your feedback. One of our content team members will be in touch with you soon.
Who Am I Calling?
Calling this number connects you with a Drugwatch representative. We will direct you to one of our trusted legal partners for a free case review.
Drugwatch's trusted legal partners support the organization's mission to keep people safe from dangerous drugs and medical devices. For more information, visit our partners page.