Testosterone Treatment May Not Help Men's Sexual Performance
Fact-Checked
Editors carefully fact-check all Drugwatch content for accuracy and quality.
Drugwatch has a stringent fact-checking process. It starts with our strict sourcing guidelines.
We only gather information from credible sources. This includes peer-reviewed medical journals, reputable media outlets, government reports, court records and interviews with qualified experts.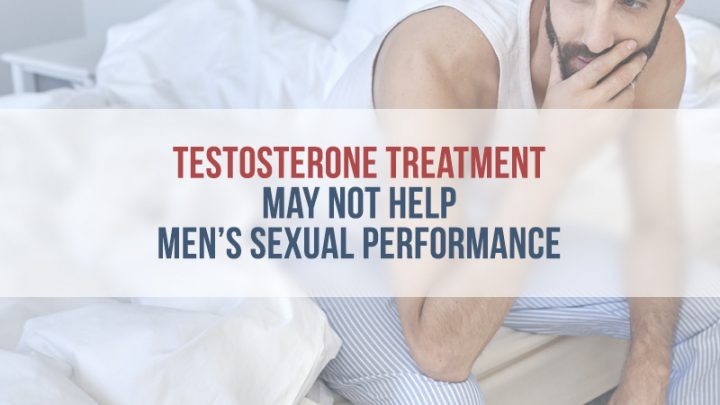 Men looking for help with sexual deficiencies may have to continue searching for a cure. A recent study found testosterone treatment had no effect on men with ejaculatory dysfunction (EjD).
The study published in the Journal of Clinical Endocrinology & Metabolism examined 66 men with low testosterone levels and EjD symptoms. The researchers found no difference in ejaculate volume, orgasmic function, sexual activity log score or bother/satisfaction score between a test group and a placebo group.
"This is the first clinical trial examining the treatment of a very common but poorly understood condition that affects men's physical health as well as their interpersonal relationships," lead author Dr. Darius Paduch said in a press release.  "Although the participants in this study did not experience any significant improvement in ejaculatory function, we hope our work will spur the development of additional clinical trials to find treatments for this condition."
Testosterone therapy – which includes injections, gels, patches, capsules and boosters – is the most used treatment for hypogonadism (Low T), a condition where the pituitary gland or testicles fail to produce enough hormones. Despite a lack of proven benefits, men also use it to enhance physical performance, improve sex drive, treat erectile dysfunction and decrease several other symptoms of aging.
Testosterone use has made several headlines recently after the Food and Drug Administration (FDA) ordered drug manufacturers to add warnings about heart attack and stroke risks to medication labels and warned doctors against over-prescribing the therapy to men who have Low T solely because of aging. Recent studies also found contradicting results about which forms of testosterone therapy are more dangerous.
The FDA approved testosterone products for use only when low testosterone levels are associated with a medical condition. The agency reiterated there were no established benefits or safety for testosterone use to relieve symptoms of low testosterone solely because of aging. Thousands of men have filed lawsuits against drug manufacturers claiming testosterone drugs caused them injury.
Testosterone Fails to Help Men with EjD
The Journal of Endocrinology & Metabolism study was a double-blind, randomized trial conducted at medical centers in the U.S., Canada and Mexico. The participants kept a log to record all sexual activities during the trial and rated orgasmic pleasure, perceived ejaculate volume, force of ejaculation and delay of ejaculation.
Earlier studies had theorized that low testosterone levels might contribute to EjD.
"Our findings suggest physicians who are treating men with ejaculatory dysfunction need to look at other reasons for delayed ejaculation than hypogonadism," one of the study's authors, Dr. Shehzad Basaria, said in a press release. "More research is needed to determine whether a longer course of testosterone therapy or other treatment options can benefit men with ejaculatory dysfunction."
Studies Find Contradicting Results on Testosterone Risks
A July study in the Journal of the American Medical Association (JAMA) Internal Medicine found testosterone injections may put users at a higher risk for cardiovascular events, including heart attacks and strokes, than gels.
However, a June study in the American Journal of Physiology – Endocrinology and Metabolism claimed testosterone injections were safer than gels.
Testosterone Injections More Dangerous than Gels
The JAMA study compared different forms of testosterone therapy. The researchers examined 544,115 testosterone users above the age of 18 by exploring claims from commercially insured and Medicare populations in the U.S. and general practitioner records in the U.K.
"With continuing concern about the safety and effectiveness of testosterone treatment in men with primary and age-related hypogonadism and the trend of treatment in men with normal testosterone levels or without recent baseline testing, it is important to understand the potential hazards of testosterone treatment," the study's authors wrote.
The study included only users who began testosterone therapy after 180 days of no testosterone use between January 1, 2000 and December 31, 2012. Of the users studied, 37.4 percent used injections, 6.9 percent used patches and 55.8 percent used gels.
The results indicated testosterone injections were more likely to result in cardiovascular events, including heart attacks, strokes and unstable angina – a condition involving a lack of blood flow to the heart which sometimes leads to a heart attack. Injections were also more likely to result in hospitalization and death. The authors noted gels and patches had similar risk profiles.
June Study Found Contradicting Results
A study in the Journal of Physiology – Endocrinology and Metabolism found injections of testosterone might be safer than gels. The authors argued their findings indicated testosterone injections provided significantly greater benefits than patches.
The researchers conducted a meta-analysis, a research method used to compare the results of multiple studies, of 35 random control trials that connected testosterone therapy to cardiovascular health.
Experts have debated the effectiveness and risks of testosterone therapy. Multiple studies linked testosterone therapy to an increase in risk for several dangerous side effects including heart attacks, strokes, mini-strokes and prostate cancer.
Testosterone Trials to Begin October 2016
Drug manufacturers Abbott, AbbVie, Auxillium Pharmaceuticals, Pfizer and others are currently facing lawsuits in the U.S. District Court for the Northern District of Illinois, a multidistrict litigation (MDL). Plaintiffs in the MDL argue testosterone replacement therapies caused injuries including heart attack, stroke, deep vein thrombosis and pulmonary embolism to themselves or loved ones.
AbbVie and Abbott's testosterone drug AndroGel faced most of the scrutiny. More than 1,000 lawsuits claim the manufacturer misrepresented AndroGel as safe and effective, used marketing and advertising tactics that ignored potential risks and prioritized sales over warnings.
Bellwether lawsuits, which are used assess the outcomes of future trials, are scheduled to begin in October 2016. Since AbbVie is the defendant in the vast majority of trials, its bellwether track will be separate from all other defendants and begin first.
Share This Page:
How can we improve this page?
Thank You for Your Feedback
We appreciate your feedback. One of our content team members will be in touch with you soon.
We appreciate your feedback. One of our content team members will be in touch with you soon.