FDA Approves Bayer's Essure Study after Adverse Events, Deaths
Fact-Checked
Editors carefully fact-check all Drugwatch content for accuracy and quality.
Drugwatch has a stringent fact-checking process. It starts with our strict sourcing guidelines.
We only gather information from credible sources. This includes peer-reviewed medical journals, reputable media outlets, government reports, court records and interviews with qualified experts.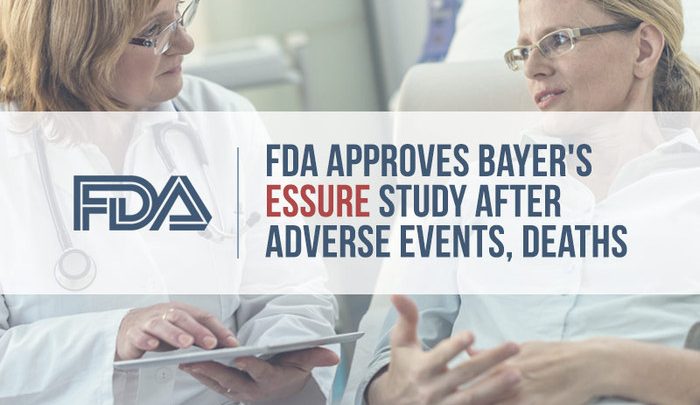 The U.S. Food and Drug Administration has approved Bayer's postmarket surveillance study plan for Essure — a permanent birth-control device linked to serious adverse events and deaths.
The FDA orders such studies for devices that pose significant adverse health consequences or are permanent implants. These studies take place after a device is already on the market. In the case of Essure, the agency ordered Bayer to submit the postmarket surveillance study proposal in September 2015 after it received 10,000 reports of problems linked to the device.
The FDA's decision came after it reviewed current data on Essure, as well as concerns and experiences of women who say the device caused them permanent harm.  Bayer originally submitted its proposal to the FDA in March 2016 and the agency approved it on Sept. 2, 2016.
The pharmaceutical giant's final report is due to the FDA on Sept 1, 2023.  Data gathered from this study will allow the FDA to evaluate the risks and benefits of Essure.
Bayer's study — labelled PS160001/PSS001 — is a non-randomized observational study of two groups of women, 1,400 who used Essure and 1,400 who chose laparoscopic tubal ligation, according to the FDA's website.
The study will collect data on several safety endpoints, including:
Lower abdominal and pelvic pain
Allergic reactions and hypersensitivity
Autoimmune reactions
Invasive surgery including essure removal
Abnormal uterine bleeding
It will also collect data on other adverse events and the effectiveness of the device in preventing pregnancy. Bayer will also include follow-up measure such as medical history, bloodwork and analysis of removed devices.
The Essure Permanent Birth Control System consists of two metal coils that doctors place in the fallopian tubes. After 90 days, the coils cause scar tissue to block the tubes and prevent pregnancy.
Bayer maintains that the device is safe and nearly 100 percent effective at preventing pregnancy.
Victims and Lawmakers Want Device off the Market
Women affected by Essure want it removed from the market, and lawmakers criticized the FDA's slow process. U.S. Rep. Mike Fitzpatrick, who introduced the E-Free Act in November 2015, questioned the need for more studies.
"Frankly, I'd contend that the 25,000 women harmed by Essure are the postmarket study that FDA is ordering. It's been done. The evidence is all there: Tens of thousands of injured women and hundreds of fetal deaths," Fitzpatrick of Pennsylvania said in an earlier statement. "If the FDA is going to order another study, then at minimum they should take Essure off the market during that time."
In addition to the postmarket-surveillance study, the FDA intends to require a boxed warning about risks and recommended changes to patient and physician labeling. The recommendations also include a patient decision checklist intended to more adequately inform women about the procedure.
Essure Problems Group Heading to D.C.
Meanwhile, Essure Problems — an advocacy and support group for women affected by the Class III device — is heading back to D.C. in September 2016. The advocates want support for Ariel Grace's Law, a bill presented by Congressman Fitzpatrick. Lawmakers named the bill after Ariel Grace Burnell, whose stillborn birth resulted from an unspecified Class III medical device.
Currently, preemption laws protect Essure from lawsuits and many injured women have had trouble attempting legal action. The bill would allow those injured by defective medical devices access to courts.
On Sept. 13 and 14, Essure Problems advocates plan to lobby in support of the bill which will affect over 400 medical devices.
Share This Page:
How can we improve this page?
Thank You for Your Feedback
We appreciate your feedback. One of our content team members will be in touch with you soon.
We appreciate your feedback. One of our content team members will be in touch with you soon.