Pradaxa is a type of anticoagulant (blood thinner) known as a direct thrombin inhibitor. It works by attaching itself to thrombin, the blood's central clotting agent. This reduces the ability of the thrombin to form a clot.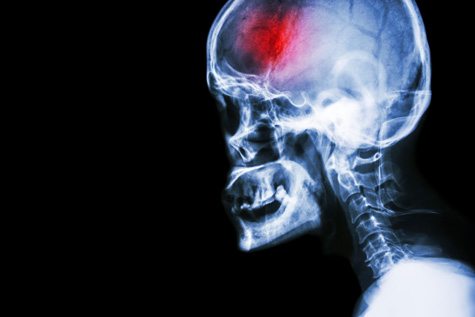 Pradaxa reduces the risk of stroke by lowering the chance of a blood clot forming
For people with atrial fibrillation (irregular heartbeat) not caused by a heart valve problem, Pradaxa is designed to reduce the risk of stroke by lowering the chance of a blood clot forming in the heart and traveling to the brain. With atrial fibrillation, part of the heart does not beat the way it should, which can lead to blood clots forming. When a clot in the heart breaks away and travels to the brain, it can block an artery, reduce blood flow to the brain and cause a stroke.
Pradaxa is also approved to treat deep vein thrombosis (DTV) and pulmonary embolism (PE) in patients who have been treated with injectable blood thinner for five to 10 days. DTV is a serious condition that occurs when a blood clot forms in the deep veins in the body, usually in the legs and thighs. PE occurs when a blood clot becomes lodged in a blood vessel in the lung. This can damage the lung and sometimes be fatal. Pradaxa is also indicated to reduce the risk of DVT and PE recurring in patients who have been previously treated and to prevent DVT and PE in patients who have undergone hip replacement surgery.
The drug comes in 75 mg, 110 mg and 150 mg capsules. Most people take 150 mg capsules twice a day. People with kidney problems may take lower doses of Pradaxa because the drug is eliminated through the kidneys. The FDA advises doctors to check a patient's kidney function before prescribing Pradaxa and to reassess kidney function throughout treatment with the drug.
Did you know
Pradaxa's label features a black box warning, which is the FDA's strongest drug warning.
The FDA requires a black box warning — the agency's strongest warning — in Pradaxa's label. In it, the FDA warns that premature discontinuation of
Pradaxa increases the risk of blood clots. It also warns of the risk of epidural or spinal hematomas in patients treated with Pradaxa who are receiving neuraxial anesthesia or undergoing spinal puncture. These hematomas may result in long-term or permanent paralysis.
Pradaxa can cause serious and fatal bleeding, and the risk of bleeding increases with age, according to the drug's label. The FDA cautions that patients taking Pradaxa may bruise more easily, and it may take longer for any bleeding to stop while using the medication.
Warnings Against Pradaxa Use
Pradaxa is not approved for use in people with artificial — or prosthetic — heart valves. The FDA also warns against use of Pradaxa in patients with active pathological bleeding and a history of a serious allergic reaction to Pradaxa.
It's unknown whether Pradaxa is safe or effective in pediatric patients or whether the drug is excreted in human milk.
"Because many drugs are excreted in human milk and because of the potential for serious adverse reactions in nursing infants from Pradaxa, a decision should be made whether to discontinue nursing or to discontinue the drug, taking into account the importance of the drug to the mother," the drug's label states.
No adequate or well-controlled studies in humans address Pradaxa use in pregnant women. When used in pregnant rats, Pradaxa increased the number of dead offspring and caused excess vaginal/uterine bleeding close to birth. It also delayed bone tissue formation of the fetal skull bones and vertebrae in the rat.
The effects of Pradaxa use during labor and delivery have not been studied in clinical trials either. Some pregnant rats treated with Pradaxa and their offspring died during labor because of uterine bleeding.
Pradaxa Over the Years
For many years, warfarin — and its brand-name versions Coumadin and Jantoven — was the standard anticoagulant treatment for patients at risk for strokes and other conditions caused by blood clots. But more than half a century after warfarin was first sold in the U.S., a major challenger arrived: Pradaxa.
Approved in October 2010, Pradaxa was considered an upgrade from warfarin because Pradaxa appears better at preventing strokes, requires less maintenance and is designed to have fewer side effects than warfarin.
Both Pradaxa and warfarin treat patients with atrial fibrillation who do not have heart disease but are at risk for stroke and blood clots. However, unlike Pradaxa, which targets thrombin, warfarin thins blood by decreasing the activity of vitamin K, which is essential to the chemical reaction that forms blood clots. In clinical trials, Pradaxa outperformed warfarin, appearing to reduce the risk of stroke more effectively than warfarin.
Pradaxa is also easier to administer, as it does not have the strict requirements that come with warfarin. Warfarin treatment can be difficult, as it requires regular doctor visits, blood tests and diet restrictions. In addition, side effects of warfarin can be debilitating, causing brain hemorrhages and other types of internal bleeding. A Duke University cardiologist noted that warfarin was one of the leading causes of emergency room fatalities in the U.S.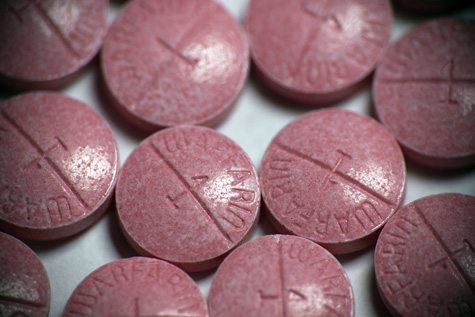 Warfarin was one of the leading causes of emergency room fatalities in the U.S. according to a Duke University cardiologist
After a year on the market, 16 percent of patients with atrial fibrillation were taking Pradaxa, compared with 44 percent who were taking warfarin. The remaining patients did not take medication. In late 2011, Xarelto (rivaroxaban) joined the anticoagulant market. Bristol-Myers Squibb Company introduced its blood thinner Eliquis (apixaban) in 2012. (Heparin is another anticoagulant with a longer history, available since 1936, but it is not popular as it must be taken intravenously.)
Pradaxa sells at a higher price than warfarin while still causing some of the same side effects. Warfarin costs about $200 a year, while Pradaxa runs about $3,000 a year. In 2011, Boehringer Ingelheim, the German manufacturer of Pradaxa, spent $464 million to promote the drug, and it paid off. In the first quarter of 2012, worldwide sales reached $209 million. At that time, the anticoagulant therapy market was estimated to bring in $10 billion a year in the U.S. alone. By December 2013, U.S pharmacies had dispensed more than 6.2 million Pradaxa prescriptions to 934,000 patients.
Recall, Deaths and FDA Reviews
Just one year after Pradaxa's arrival, the FDA announced it was evaluating post-marketing reports of serious bleeding among Pradaxa users.
"Pradaxa was identified as the primary suspect in 542 patient deaths reported to the FDA in 2011, and was linked to more reports of injury or death than any of the more than 800 drugs regularly monitored by the Institute for Safe Medication Practices, a nonprofit based in Pennsylvania that monitors medicine safety," according to a New York Times report.
The FDA said it was working to determine whether the reports of bleeding in patients taking Pradaxa were occurring more commonly than would be expected.
At one point, the FDA attributed the spike in bleeding incidents to "stimulated reporting," meaning new drugs get more attention and therefore generate more bleeding reports.
In a New England Journal of Medicine article, the FDA said that "newly marketed products, by virtue of their novelty alone, may elicit adverse-event reports at high rates; reporting rates tend to decrease over time."
The agency added that warfarin, which has been marketed for nearly 60 years and is known to cause bleeding, "would be far less likely to elicit adverse-event reports than would a newer drug with a similar risk."
In November 2012, the FDA said it received "a large number" of Pradaxa bleeding reports. As a result, it investigated the rates of gastrointestinal bleeding and intracranial hemorrhage (a type of bleeding in the brain) for new users of Pradaxa compared to new users of warfarin. The FDA concluded that bleeding rates associated with new use of Pradaxa did not appear to be higher than bleeding rates associated with new use of warfarin.
The Pradaxa drug label already contained a warning about significant and sometimes fatal bleeds. The FDA did not change its recommendations regarding Pradaxa.
---
"Bleeding that may lead to serious or even fatal outcomes is a well-recognized complication of all anticoagulant therapies."
-According to the FDA
---
Also in November 2012, Boehringer Ingelheim announced a nationwide voluntary recall of a single manufacturing lot of Pradaxa 75 mg capsules. The company cited a potential packaging defect. It warned that a damaged bottle could allow moisture to get into the bottle, which could harm the quality of the drug. If this were to occur, a patient might not receive a fully effective dose of the medicine, which would increase his or her risk of experiencing a stroke. Boehringer Ingelheim instructed patients to return potentially affected bottles to their pharmacists.
The month following the recall, the FDA warned that Pradaxa should not be used to prevent stroke or blood clots in patients with mechanical heart valves, also known as mechanical prosthetic heart valves. The safety announcement came after a clinical trial in Europe was halted because Pradaxa users with mechanical heart valves were more likely to suffer strokes, heart attacks and blood clots than those using warfarin. There was also more bleeding after valve surgery in the Pradaxa users than in the warfarin users, according to the FDA. As a result, the FDA required a contraindication — or a warning against use — of Pradaxa in patients with mechanical heart valves.
Boehringer Ingelheim announced in May 2014 that it would pay $650 million to settle more than 4,000 Pradaxa lawsuits.
By the end of 2012, Pradaxa had been blamed for more than 500 deaths. Patients and their families reported instances of hemorrhaging and uncontrollable bleeding. Some took action against Boehringer Ingelheim by filing personal-injury and product-liability lawsuits. In May 2014, the manufacturer settled more than 4,000 lawsuits for $650 million.
Around the same time as the settlement, the FDA announced the results of a new Pradaxa study that included information from more than 134,000 Medicare patients older than 64 years of age. The study found an increased risk of major gastrointestinal bleeding with use of Pradaxa as compared to warfarin. Still, the FDA made no changes to the drug label or recommendations for use.
In October 2015, the FDA granted accelerated approval to Praxbind (idarucizumab), which allows doctors to reverse Pradaxa's blood-thinning effects in emergency situations when bleeding can't be controlled. Of the newer blood-thinner medications, Pradaxa is the only one that has an available antidote to stop patients from bleeding.
More recently, in February 2017, the Australian Broadcasting Corporation (ABC) published a report detailing the findings of an investigation into pharmaceutical companies' spending on marketing blood-thinners, including Pradaxa. It found Boehringer Ingelheim spent $906,628 on doctors over six months in 2015, and $86,000 went toward sending six hematologists business class to an international thrombosis medical conference in Canada.
Barbara Mintzes, a research scientist who specializes in the study of pharmaceutical policy, told ABC that research shows a doctor is more likely to prescribe a drug if they attend an event or received meals and travel sponsored by the drug's manufacturer.
"That can be a problem because that's not necessarily the best drug for that specific person," she said.
Please seek the advice of a medical professional before making health care decisions.
Author
Emily Miller is an award-winning writer who has held editorial positions with reputable print and online publications around the U.S. As the editor of Drugwatch.com, Emily draws on her background as both a patient and a journalist to ensure her team of writers provides consumers with the latest and most accurate information on drugs, medical devices, procedures and related lawsuits. Emily holds five Health Literacy certificates from the Centers for Disease Control and Prevention as well as a Bachelor of Science in Journalism from the University of Florida. She is a member of The Alliance of Professional Health Advocates, the American Association for the Advancement of Science, the Society of Professional Journalists and the Society for Technical Communication.
---