Uloric
Uloric was a first-line treatment for gout in adults for almost 10 years. But in 2019, the U.S. Food and Drug Administration concluded the drug presents a higher risk of death than a competing medicine and should not be used as the first choice for gout treatment.
Uloric (febuxostat) lowers the amount of uric acid in the body and is one of only a handful of medicines available to treat gout.
The U.S. Food and Drug Administration approved the medication in 2009, and the drug quickly became a popular first choice for treating gout. It was responsible for $1.9 billion in sales for manufacturer Takeda Pharmaceuticals America Inc. between 2012 and 2017.
In 2018, a clinical trial funded by Takeda found an increased risk of heart-related death, as well as death from all causes, in people who took Uloric compared to people who took allopurinol, which is sold under the brand name Zyloprim.
The FDA added a black box warning, the agency's most serious warning, to Uloric's label in February 2019. But it left the drug on the market for people who could not be treated with allopurinol.
As of 2022, people who took the medication and suffered cardiovascular events and survivors of people who died have begun filing Uloric lawsuits.
How Uloric Works
Uloric treats gout by reducing the amount of uric acid in the blood. Roughly two-thirds of the uric acid in your body occurs naturally. The remaining third comes from purines in the food or drinks you consume. Uloric interferes with the body's ability to turn purines into uric acid.
Uric acid is flushed out through the kidneys. If the kidneys cannot flush out the acid, it builds up as needle-shaped crystals in the bloodstream that settle into the body's joints. These crystals cause the sudden and severe pain behind gout attacks.
Gout is a form of arthritis that usually affects the big toe at the joint where it joins the foot. Other common joints it affects include the ankles, knees, elbows, wrist and fingers. It can last a few days to a few weeks, and after gout goes away, it sometimes returns.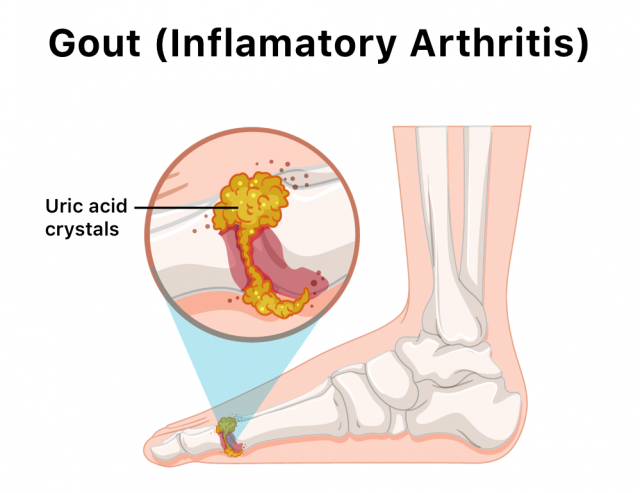 The chronic disease affects more than 8.3 million Americans. Treatment is difficult and there are limited prescription drug options to treat it.
Uloric comes in a once-a-day tablet. Most people start the prescription drug at a 40 mg dose. A doctor may increase that to a maximum dose of 80 mg a day. It may take a few weeks for the medication to take effect.
Common Side Effects
The most common side effect of Uloric is liver function abnormalities, according to the drug's label.
The manufacturer based its side effects information on the results of three clinical trials that lasted six months to a year. Participants took a placebo, allopurinol, or 40 mg or 80 mg of Uloric.
A total of 6.6 percent of the 757 patients who took 40 mg of Uloric daily and 4.6 percent of the 1,279 patients who took an 80 mg dose each day experienced liver function abnormalities. A total of 4.2 percent of the 1,277 patients who took allopurinol and 0.7 percent of patients that took placebo experienced liver function abnormalities.
Other side effects experienced by more than 1 percent of patients who took the drug included nausea, joint pain and dizziness.
The label also warns that gout flares may increase when people first start taking Uloric, though this is also common with other drugs used to treat excess uric acid. The label says changes in uric acid levels can cause urate to move from tissue deposits, which can cause a flare.
It recommends patients take a non-steroidal anti-inflammatory drug (NSAID) or colchicine during their first six months of treatment to prevent a flare. Common NSAIDs include aspirin and ibuprofen products, such as Motrin, Advil and Aleve.
Serious Side Effects
The most serious side effect of Uloric is an increased risk of heart-related death. Patients should tell their doctor about any history of cardiovascular problems before they take the drug.
Liver failure is another serious side effect listed in the drug's label. After Takeda started selling the drug, the manufacturer received reports that people who had taken it died from liver conditions. The label warns that patients should stop taking the drug immediately if a doctor detects liver injury.
There have also been reports of serious skin reactions among people who take the drug. These include Stevens-Johnson syndrome, which starts with flu-like symptoms before it spreads as a purple rash with blisters. Toxic epidermal necrolysis, or TEN, has also been reported. This skin disorder tends to be more severe than Stevens-Johnson syndrome. The two are related, rare, life-threatening conditions that attack both skin and mucous membranes.
Drug reaction with eosinophilia and systemic symptoms, also called DRESS, is another skin condition that may be associated with Uloric. The drug reaction appears two weeks to eight weeks after a patient starts taking the medication. It may result in a rash, fever and an increased count in certain white blood cells.
Black Box Warning: Increased Risk of Death
On Feb. 21, 2019, the FDA updated the prescribing information for Uloric to include a black box warning about an increased risk of death with Uloric compared to allopurinol.
According to the safety announcement, the FDA had required Takeda to conduct a safety clinical trial when the agency first approved Uloric. The study found the risk of death among people with both gout and cardiovascular disease was higher for patients who took Uloric than for similar patients who took allopurinol.
As result of the findings, Uloric is now approved only in cases when allopurinol doesn't work or causes severe side effects.
Get medical help immediately if you take Uloric and experience chest pain, shortness of breath, irregular heartbeat, numbness on one side of your body, dizziness, trouble talking, or sudden, severe headache. But do not stop taking the drug without first talking with your doctor because doing so can cause gout to worsen.
Please seek the advice of a medical professional before making health care decisions.
Share This Page:
How can we improve this page?
Thank You for Your Feedback
We appreciate your feedback. One of our content team members will be in touch with you soon.
We appreciate your feedback. One of our content team members will be in touch with you soon.
Who Am I Calling?
Calling this number connects you with a Drugwatch representative. We will direct you to one of our trusted legal partners for a free case review.
Drugwatch's trusted legal partners support the organization's mission to keep people safe from dangerous drugs and medical devices. For more information, visit our partners page.