MMR Vaccine
The measles, mumps and rubella (MMR) vaccine is part of the routine childhood vaccination schedule and is required for public school kindergarten in 49 states plus Washington, D.C. (Iowa requires a measles and a rubella vaccine but not a mumps vaccine). For most people, the MMR vaccine guards against all three diseases with little to no side effects. However, the U.S. government warns that the MMR vaccination may not protect everyone and can lead to serious and even life-threatening or life-altering reactions.
Measles, mumps and rubella are serious diseases that can spread from person to person through the air. People can easily catch these diseases by being around others who are infected. Measles can lead to ear infection, pneumonia, seizures, brain damage and death while mumps can lead to deafness, meningitis (infection of the brain and spinal cord covering), painful swelling of the testicles or ovaries, and in rare cases, sterility. If a woman contracts rubella while pregnant, she could miscarry or give birth to a baby with serious defects. Other complications of rubella virus are rash, arthritis and mild fever. Before vaccines, these diseases were very common, especially among children.
For these reasons, the Centers for Disease Control and Prevention (CDC) recommends children get two doses of the MMR vaccine: the first dose at 12 to 15 months of age and a second dose at 4 to 6 years of age. Some infants younger than 1 year old should get a dose of MMR if they are traveling abroad, and unvaccinated adults born after 1956 should get at least one dose of MMR vaccine, unless they can prove they've had all three diseases, according to the CDC. Children between 1 and 12 years of age can get an MMRV vaccine, which contains both MMR and varicella (chickenpox) vaccines in one shot.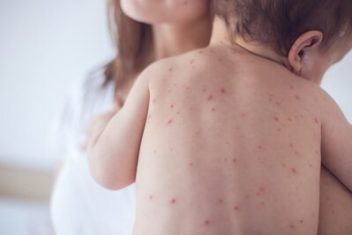 In 2018, the CDC endorsed a third dose of MMR vaccine during an outbreak for people who previously received one or two doses. But, the agency said health care providers should wait for instructions from public health officials before administering a third dose.
Currently, there is one MMR vaccine and one MMRV vaccine available for use in the U.S. The CDC, U.S. Food and Drug Administration (FDA) and U.S. Department of Health and Human Services acknowledge that these vaccines are capable of causing serious harm or death, though the risk is considered extremely small.
MMR Vaccine Risks and Injury Compensation
About one out of 3,000 doses of the MMR vaccine results in seizure caused by fever. Up to one out of four people (usually teenage girls or women) who get an MMR vaccine suffers temporary pain and stiffness in the joints; and about one out of 30,000 doses results in temporary low platelet count, which can cause a bleeding disorder. Several other severe problems have been reported after a child gets an MMR vaccine, including deafness, permanent brain damage and long-term seizures, coma or lowered consciousness. In very rare cases, people report serious allergic reaction following MMR vaccination.
In these instances, the National Vaccine Injury Compensation Program (VICP) may provide financial compensation to people who file a vaccine injury or death petition and are found to have been injured by vaccines containing measles, mumps and rubella virus or any of its components. The U.S. government established this program in the 1980s in response to a barrage of lawsuits filed against vaccine companies and health care providers. The government feared these lawsuits would cause manufacturers to stop making vaccines and discourage people from getting vaccinated, leading to an outbreak of vaccine-preventable diseases. So, it created an alternative to the traditional legal system that does not fault manufacturers but still allows injured people to seek compensation.
Today, the U.S. Department of Health and Human Services Health Resources and Services Administration manages VICP. It provides a vaccine injury table that lists vaccines covered by the program and the injuries and/or conditions linked to them. For vaccines containing measles, mumps and rubella virus or any of the components, VICP covers the following illnesses, disabilities, injuries and conditions as long as they occur within the applicable time period after vaccination.
| Illness, disability, injury or condition covered | Definition | Applicable time period after vaccine administration |
| --- | --- | --- |
| Anaphylaxis | Acute, severe and potentially lethal allergic reaction that involves two or more organ systems and occurs | Within 4 hours |
| Encephalopathy | Significantly decreased level of consciousness that lasts at least 24 hours | Between 5 and 15 days |
| Encephalitis | Evidence of neurologic dysfunction plus evidence of an inflammatory process in the brain | Between 5 and 15 days |
| Shoulder injury related to vaccine administration (SIRVA) | Shoulder pain and limited range of motion occurring after the administration of a vaccine intended for intramuscular (injected directly into the muscle) administration in the upper arm | Within 48 hours |
| Vasovagal syncope | Fainting caused by a transient decrease in blood flow to the brain | Within 1 hour |
| Chronic arthritis | Persistent joint swelling with at least two additional manifestations of warmth, tenderness, pain with movement, or limited range of motion, lasting for at least 6 months | Between 7 and 42 days |
| Thrombocytopenic purpura | Flat, round red spots on the skin caused by bleeding (petechiae), significant bruising or spontaneous bleeding, and a serum platelet count less than 50,000/mm3 with normal red and white blood cell indices | Between 7 and 30 days |
| Vaccine-strain measles viral disease in an immunodeficient recipient | A measles illness that involves the skin and/or another organ, such as the brain or lungs | |
Spotting an Allergic Reaction
After an MMR vaccination, it is important to be aware of signs of an adverse reaction. Anything that could be concerning, such as very high fever, behavior changes or symptoms of a severe allergic reaction, is important to pay attention to.
Symptoms of a severe allergic reaction can include:
Hives
Difficulty breathing
Dizziness
Swelling of the face and throat
A fast heartbeat
Weakness
These signs would appear a few minutes to a few hours after the vaccination. Call 911 or get to the nearest hospital in the event of a severe allergic reaction or other emergency that requires immediate medical attention.
Available Measles, Mumps and Rubella Vaccines
M-M-R II and ProQuad are the two vaccines currently available in the U.S. to help guard against measles, mumps and rubella. Manufactured by Merck & Co. Inc., these vaccines work by helping the body make antibodies against the infections. Both are live virus vaccines, which means they use the weakened form of the virus. They can be given at the same time as other vaccines. Still, let the doctor know if the patient has gotten another vaccine within the past month.
M-M-R II
Measles, Mumps and Rubella Virus Vaccine, Live — or M-M-R II — is the only MMR vaccine currently approved for use in the U.S. The FDA approved this vaccine in 1971 for use in people 12 months of age and older.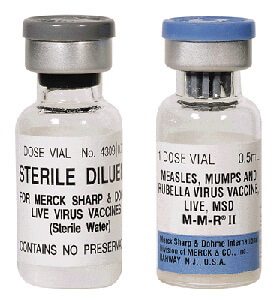 ProQuad
Measles, Mumps, Rubella and Varicella Virus Vaccine Live — or ProQuad — is the only MMRV vaccine currently licensed for use in the U.S. The FDA approved this vaccine in 2005 for use in children ages 1 through 12 years of age.
Things to Consider Before MMR/MMRV Vaccination
There are several reasons that might warrant delaying vaccination until later or not getting an MMR vaccine at all. The patient's doctor will be able to advise them.
Pregnancy
Women who are pregnant should not get an MMR vaccine. Expectant mothers who need the vaccine should wait until after giving birth to get it. Moreover, women should avoid getting pregnant for four weeks after getting an MMR vaccine.
Allergies
Anyone who has ever had a life-threatening allergic reaction to any component of MMR vaccine, including the antibiotic neomycin, should not get the vaccine. Measles and mumps vaccine viruses are grown in chick embryo fibroblast tissue culture. Nonetheless, people with a severe egg allergy can still receive measles- or mumps-containing vaccines in the normal manner because the amount of egg proteins in the vaccines is very small. People who have had a life-threatening allergic reaction to a previous dose of MMR or MMRV vaccine should not get another dose.
Medical Status
How someone is doing medically at the time of a scheduled vaccination could affect the way the body responds to a vaccine. For example, the Advisory Committee on Immunization Practices says the MMR vaccine should not be administered to people with severely compromised immune systems. Moreover, the vaccine's patient package insert instructs people not to get the MMR vaccine if they have a fever higher than 101.3 degrees Fahrenheit or if they take high doses of steroids by mouth or in a shot.
Patients may be instructed not to get the vaccine or delay vaccination until later if they:
Are sick at the time of the scheduled vaccination
Have HIV/AIDS or another disease that affects the immune system
Are being treated with drugs that affect the immune system, such as steroids
Have any kind of cancer or are being treated for cancer with radiation or drugs
Have ever had a blood disorder or have recently had a transfusion or received other blood products
Please seek the advice of a medical professional before making health care decisions.
How helpful was this page?
How can we improve this page?
How can we improve this page?