More than 90 percent of the 1-million-plus hernia surgeries performed every year in the U.S. rely on hernia mesh for repairs. Some studies have found more than one-third of people who undergo hernia surgeries experience some sort of complication, with excessive pain being the most frequent complaint.
Studies have also shown that while hernia patients implanted with surgical mesh have far fewer recurring hernias, the rate of complications for mesh-related repairs is significantly higher than repairs relying on sutures alone.
Depending on the surgical technique and type of mesh, complications and side effects following hernia repair surgery may vary. Patients generally recover quickly and do well after surgery, according to the U.S. Food and Drug Administration (FDA). But, the agency has also received hundreds of reports of adverse events following surgeries involving hernia mesh.
Madris Tomes, founder of adverse event reporting group Device Events, details the most frequently reported hernia mesh complications
What Are the Most Common Complications of Hernia Mesh?
The FDA has analyzed scientific literature and its own adverse events database in an effort to categorize the most likely complications hernia repair patients may face.
"The most common adverse events following hernia repair with mesh are pain, infection, hernia recurrence, adhesion, and bowel obstruction. Some other potential adverse events that may occur following hernia repair with mesh are mesh migration and mesh shrinkage (contraction)," the FDA says on its website.
According to the FDA, the most common complications following hernia mesh surgery include:
Adhesions (mesh sticking to intestines)
Autoimmune reactions to mesh
Bowel or intestinal blockage
Fistulas (abnormal connections between organs)
Hernia recurrence
Infection
Mesh migration and rejection
Mesh shrinkage
Nerve damage
Organ perforations
Pain & bleeding
Seroma (fluid buildup at the surgery site)
Tenderness at the implant site
What Are the Most Serious Hernia Mesh Complications?
The most serious adverse events following hernia mesh surgery can be life-threatening at worst and severely painful at the very least. They almost always require revision surgery to correct.
The most serious complications of hernia mesh are also some of the most common: adhesion, bowel obstruction or perforation, infection, rejection and migration.
Adhesion
The FDA describes adhesions as "scar-like tissue that sticks tissues together." In the case of one hernia repair procedure — intraperitoneal surgery — the mesh may be left in contact with the intestines. The intestines and the repair stick together around the mesh. The condition can lead to life-threatening bowel obstructions.
Mesh Adhesion Warning
Studies have found up to 21 percent of patients having this procedure using early mesh designs required further surgery to remove part of their bowel because the intestines adhered to the implant.
Manufacturers have tried to avoid mesh adhesion problems by developing different materials or coatings to prevent adhesion, but the problem still occurs in some surgeries.
Bowel Obstruction
A bowel obstruction can occur when the intestines are partially or fully blocked. Symptoms include nausea, vomiting and the inability to pass gas or stool. This is a potentially dangerous condition that needs immediate treatment. Left untreated, the obstruction can cut off blood flow, causing a portion of the intestine to die.
Hernia mesh can cause a bowel obstruction if it adheres to the intestines or if it migrates and entraps the loops of the intestines. Bowel obstruction caused by hernia mesh requires surgery, and sometimes removing a portion of the intestine, to correct.
In the FDA's analysis of reports to its adverse event database, the agency found that bowel obstruction and bowel perforation were the most common complications among hernia-mesh devices later recalled by their manufacturers.
Bowel Perforation
Perforation can happen when a broken ring in certain hernia surgical meshes punctures the bowel, abdominal wall or another abdominal organ.
A bowel perforation, also known as an intestinal perforation, allows fecal matter and bacteria to enter the abdominal cavity, causing inflammation (peritonitis). Symptoms of this complication include nausea, vomiting, severe abdominal pain and abdominal rigidity. Intestinal perforation is life-threatening and is considered a medical emergency. Perforation can also cause sepsis, an infection of the blood stream, which is also potentially fatal.
Hernia Mesh Rejection
Materials in hernia surgical mesh may sometimes trigger the body's rejection response. Though the materials used to manufacture hernia mesh are largely inert or biologically compatible, some patients will still react negatively to the introduction of mesh into the body.
Symptoms of a rejection response include extreme swelling around the surgical site, tenderness or pain, redness, or flu-like symptoms.
Patients should seek medical intervention if they experience these symptoms.
Chronic Infections
Superficial infections around the suture site on the skin can often be treated with antibiotics. But deep, chronic infections around the mesh inside the abdomen often require surgery to remove the mesh along with intravenous antimicrobial treatment.
Symptoms of chronic infections include inflammation, fever and other flu-like symptoms and may not occur until years after the mesh was first implanted.
Because these infections occur so long after the initial surgery, there is often enough scarring in the original hernia site to strengthen tissue enough that a replacement mesh is not needed.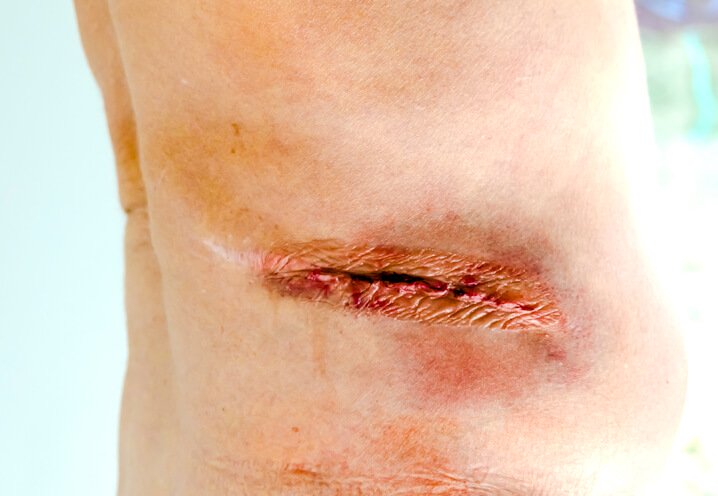 Chronic infection brought upon by Hernia Surgery
Migration
If the hernia mesh detaches after surgery, there is a risk it can migrate through the abdomen. Detachment can happen if not enough sutures are used or if the mesh is too small for the hernia opening. This is more likely to happen in laparoscopic (minimally invasive) hernia surgery techniques.
The most serious danger of migration involves the mesh coming into contact with the intestines or gallbladder. If the dislocated mesh makes contact with internal organs, it may result in "ingrowth," literally growing into the organ. This can lead to adhesions, fistulas, abscesses and bowel obstruction or perforation.
Migration may result in excess pain, or it may be symptom-free until it causes more severe damage.
Hernia Mesh Complications Detailed in FDA Adverse Event Reports
Many hernia mesh complications reported to the FDA have been associated with recalled mesh products that are no longer on the market. The most common complications associated with recalled mesh are the same as with other mesh products. But recalled mesh products were the main cause of bowel perforation and obstruction complications.
The FDA's MAUDE (Manufacturer and User Facility Device Experience) database lists hundreds of adverse event reports filed by doctors, patients and representatives of the companies that made mesh that has been associated with these complications.
One report in the database details how surgeons had to remove both a hernia mesh implant and a portion of a patient's small intestine after an Ethicon Physiomesh implant detached and migrated through the patient's body. The mesh had attached to the skin and intestines, creating a condition called an enterocutaneous fistula.
The condition allows contents from the intestine to leak through to the skin. Patients who develop an enterocutaneous fistula frequently require a team of doctors, therapists and nutritionists to develop a treatment and recovery plan.
Other adverse event reports detail a variety of complications related to Atrium's C-QUR hernia mesh product line. In one case, a patient implanted with a C-QUR TacShield 12 days earlier needed revision surgery to remove the device after it attached itself to the patient's small intestine.
Another patient required a five-day hospital stay to treat infection following a hernia repaired with C-QUR mesh. Doctors later discovered the mesh had caused a bowel obstruction requiring surgery to remove the mesh.
Hernia Mesh Complications Can Happen Years After Surgery
According to a recent study, complications can occur up to five years after surgery. The study by Dunja Kokotovic and colleagues was published in JAMA Surgery and presented at the 2016 Clinical Congress of the American College of Surgeons. It found that the rate of complications increased over the course of five years. Out of the 3,242 study participants, 1,050 required subsequent abdominal surgery.
Are You Suffering From Long-Term Complications Related to Your Hernia Mesh Implant? We Can Help.
"These data suggest that the risk-benefit ratio of mesh is not as clear as previously thought," Dr. Kamal Itani wrote in commentary published in JAMA. He said the results of the study "call into question the current practice of liberal use of mesh."
The study's authors said the extent of the risks and benefits of using surgical mesh for hernia repairs is unknown because very few clinical trial data exist on the subject. The authors partially blamed the FDA's 510(k) premarket notification clearance process for the lack of trial data on hernia mesh in the U.S. This process does not require clinical trials or detailed case studies to prove safety or effectiveness.
"Demonstration of long-term safety is required for drugs in the United States but not for some devices, such as hernia meshes, which are not subject to similarly strict documentation," the authors wrote.
Symptoms, Diagnosis and Treatment of Hernia Mesh Complications
Some hernia mesh complications share certain symptoms, while some symptoms are unique to a particular adverse effect.
Generally, hernia mesh recipients experiencing any of these symptoms should contact a doctor as soon as possible:
Difficulty urinating or passing gas and stool
Excessive pain, bruising, or swelling
High fever (101 degrees)
Increased redness or drainage from the incision
Nausea, vomiting or other flu-like symptoms
Stiffness in the abdomen
Hernia mesh complications can be hard to diagnose because they vary widely and can be related to or be caused by other conditions. If a patient experiences symptoms and has received a mesh implant, the possibility the symptoms are caused by the implant should be considered. In the case of an emergency, patients should tell emergency room doctors that they've had the implant.
Diagnosing Hernia Mesh Complications
There are several diagnostic tests doctors can use to detect complications with implants, including X-ray, CT scan and a blood test.
A blood test may be the most diverse diagnostic test because it can reveal several different problems, including:
High white blood cell count, which can indicate infection
Low hemoglobin count, which can identify blood loss
Electrolyte imbalances, which can reveal a kidney problem
Elevated enzymes, which can indicate a liver problem
If a doctor suspects bowel obstruction, they may also choose to perform a colonoscopy. During this procedure, the patient receives a sedative before a camera is inserted into the colon. Images from the camera are projected onto a TV screen where the doctor can fully visualize what is obstructing the bowel, such as a mesh implant.
Treating Hernia Mesh Complications
Just as diagnostic techniques can vary between complications, treatment also varies. Depending on the complication, the patient's surgeon may decide to perform a revision surgery to remove the mesh implant. Surgery or medication, or a combination of both, may be used to treat an adhesion and fistula.
Bowel obstructions can be treated in several different ways, depending on how severe the obstruction is. While many doctors may prefer to wait and see if a partial obstruction resolves on its own, partial obstruction caused by a foreign object may require surgery to remove. Surgery is also the typical course of treatment for a complete obstruction. Alternatively, a doctor may also try to remove the obstruction non-surgically by inserting a stent into the colon to force it open and clear the obstruction.
Patients experiencing a bowel or abdominal perforation only have one course of treatment: surgery. The procedure will repair the hole, remove the component that punctured it and clear the abdominal cavity of any spilled material such as feces, bile or food.
Author
Terry Turner is an Emmy-winning, former television journalist. He is an associate member of the American Bar Association, the ABA's Health Law group and a member of the Alliance of Professional Health Advocates. He holds six certificates in Health Literacy for Healthcare Professionals from the Centers for Disease Control and Prevention. As a Washington-based investigative reporter, he routinely reported on health and medical policy issues before Congress, the FDA and other federal agencies. Terry received his B.A. in Media Arts from Lyon College.
---