Zostavax
Zostavax is a shingles vaccine made by Merck. From 2006 to 2017, it was the only shingles vaccine available in the U.S. The Centers for Disease Control and Prevention says Zostavax is 51 percent effective at preventing shingles. But the vaccine may cause serious side effects. Some people filed lawsuits against Merck after they say Zostavax injured them.
Zostavax (zoster live vaccine) is a vaccine for a painful rash called shingles. The same virus that causes chickenpox also causes shingles. The disease often occurs in people older than 60 years of age.
The U.S. Food and Drug Administration gave Merck approval to sell the vaccine in 2006. It was the only shingles vaccine in the U.S. until 2017.
Did You Know?
About 1 in 3 people in the U.S. will get shingles.
The vaccine reduces the risk of shingles by 51 percent, according to the Centers for Disease Control and Prevention.
Zostavax may also lead to rare but serious side effects. These include shingles, eye damage, nerve pain and death.
Some people who claim the vaccine injured them filed lawsuits against Merck.
How Does Zostavax Work?
Zostavax is a live attenuated vaccine. This means it contains a weak, living form of the varicella-zoster virus. This virus causes chickenpox and shingles.
The body produces antibodies to fight the weak virus strain. This strengthens the body's immune system to fight shingles.
Zostavax Side Effects
As of March 2018, the FDA had received 102,962 reports of Zostavax side effects. These include 80 deaths, according to the Vaccine Adverse Event Reporting System (VAERS).
Redness, pain, injection site bruising and headache are the most common side effects.
Common Zostavax Side Effects
Chickenpox
Fever
Headache
Joint pain
Muscle pain
Nausea
Rash at injection site
Shingles
Swollen glands near injection site
Serious Side Effects
Some people reported rare, serious Zostavax side effects. Two of these are nerve and eye damage.
Post-herpetic neuralgia (PHN) is nerve pain or damage caused by the shingles virus. Lawsuits reported some people suffered PHN after receiving Zostavax.
Acute retinal necrosis (ARN) is a severe viral infection of the eye. It can lead to blindness. Some studies found people who received Zostavax developed ARN.
Serious Zostavax Side Effects
Acute retinal necrosis (severe eye infection)
Allergic reactions
Autoimmune disorders
Congestive heart failure
Death
Hearing loss
Post-herpetic neuralgia (nerve pain or damage)
Spinal cord inflammation
How Long After Taking Zostavax Do Side Effects Occur?
Side effects of Zostavax may happen in minutes or take months to surface. Many side effects last only a few days.
Fact
About 1 in 70 people reported headaches after Zostavax vaccination.
Allergic reactions or arm pain may occur within minutes or hours of vaccination. Serious side effects may take longer to develop.
A woman in a 2011 study suffered vision loss after six days. A man developed a rash and fever within a few days of receiving Zostavax. He lost his vision two months later.
How Zostavax Is Given
Health care providers administer Zostavax in one shot. The shot contains one .65 mL dose. The vaccine goes into the skin of the upper arm.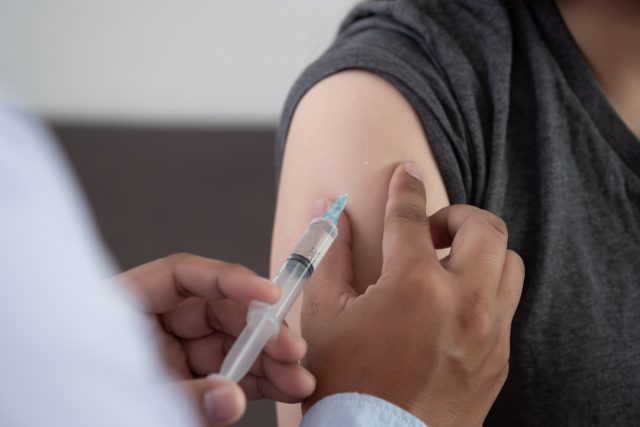 Who Should Not Get Zostavax?
Zostavax is not safe for everyone. Those who have allergies or medical problems should tell their doctor before getting the vaccine. Children and pregnant women should not receive Zostavax.
Adults Should Not Get Zostavax If They:
Are allergic to its ingredients
Have a weakened immune system
Take medicine that might weaken the immune system
Are pregnant or might become pregnant
Are allergic to neomycin or gelatin
How Do I Pay for Zostavax?
Most private health insurance plans cover the shingles vaccine for little to no cost. Medicare Part D and Tricare also cover the shingles vaccine.
Some drug companies may provide vaccines to people who cannot afford them.
Zostavax is a part of the Merck Vaccine Patient Assistance Program. People who do not have health insurance and who meet household income criteria may qualify.
Ingredients in Zostavax
Zostavax includes ingredients intended to preserve the vaccine and keep it safe. But some of these ingredients may cause allergic reactions in people.
Ingredients in the 2016 Zostavax label include:
Sucrose
Hydrolyzed porcine gelatin
Sodium chloride
Monosodium L-glutamate
Sodium phosphate dibasic
Potassium phosphate monobasic
Potassium chloride
Components of MRC-5 cells (DNA, protein)
Neomycin
Bovine calf serum
Urea (refrigerator stable only)
Zostavax vs Shingrix
A newer shingles vaccine called Shingrix came out in 2017. The CDC recommends Shingrix over Zostavax. The following table shows how Zostavax compares to Shingrix.
Zostavax Compared with Shingrix
| Category | Zostavax | Shingrix |
| --- | --- | --- |
| Manufacturer | Merck | GlaxoSmithKline |
| FDA Approval Date | 2006 | 2017 |
| Average Cost | $200 per shot | $280 per shot |
| Dose | 1 shot | 2 shots over two to six months |
| Effectiveness | 51% in adults 60 to 69, significant decrease in adults 70 and over | 97% in adults 50 to 69 years, 91% in people 70 and over |
| Adjuvant (ingredient that improves effectiveness) | No | Yes |
| Safe for People with Weak Immune System | No | Yes |
| Vaccine Type | Made with weakened live virus | Made with non-live virus DNA |
| Storage | Refrigerated | No refrigeration required |
| Recommended Starting Age | 60 | 50 |
Zostavax Lawsuits
Some people claim they suffered serious side effects from Zostavax. They filed Zostavax lawsuits against Merck.
Lawsuits say the live virus in Zostavax may lead to developing shingles. They also blame the vaccine for other injuries ranging from vision loss to death.
One man sued after he said lost his ability to walk after receiving Zostavax. Another woman said Zostavax injured her right eye.
On Aug. 2, 2018, the Judicial Panel on Multidistrict Litigation ordered several Zostavax lawsuits consolidated in Pennsylvania under multidistrict litigation (MDL) 2848. This is to help speed up the litigation process as the number of cases grows.
Please seek the advice of a medical professional before making health care decisions.
How helpful was this page?
How can we improve this page?
How can we improve this page?