Zithromax
Zithromax (azithromycin), also known as Z-Pak, is an antibiotic approved for treatment of respiratory, skin and other bacterial infections. Studies link the drug to side effects, including an increased risk of fatal heart problems. In August 2018, the U.S. Food and Drug Administration warned of an increased risk of cancer relapse and death in some patients who take the drug long-term.
What Is a Z-Pak?
Zithromax (azithromycin), also known as Z-Pak, is an antibiotic used to treat bacterial infections by inhibiting the growth of bacteria in the body. A Z-Pak is typically taken over a five-day course to treat infections such as bronchitis, pneumonia, and infections of the ears, lungs and other organs. First approved by the FDA in 1991 to treat certain respiratory and skin infections, its use has since expanded to include a wide variety of bacterial infections. These include sexually transmitted diseases, bacterial inflammation and middle-ear infections in children.
COVID-19 Alert
Medical providers are experimenting with azithromycin plus hydroxychloroquine to treat COVID-19.
Learn More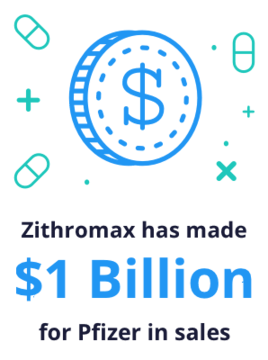 Zithromax has been highly profitable for its manufacturer, Pfizer. At the height of sales in 2002, it brought in over $1 billion for Pfizer. Although the wide availability of generics reduced the company's revenue, sales still totaled $435 million in 2012.
This antibiotic is popular because it treats infections in adults and children. But, the drug is not without side effects — including fatal heart-related risks.
Zithromax also led to some legal trouble for Pfizer. The company was forced to pay millions to several states to settle allegations that it used misleading tactics to market the drug to children.
How Zithromax Works
Zithromax belongs to a class of antibiotics called macrolides, which are bacteriostatic — meaning they treat infections by preventing bacteria from multiplying and producing the proteins that are essential for their growth. Eventually, the remaining bacteria die or are killed by the immune system, not by the drug itself. This is in contrast to bactericidal antibiotics, which kill bacteria. Bactericidal drugs include fluoroquinolones and penicillin.
Zithromax does not break down in the body as quickly as other antibiotics. Instead of floating freely in the blood, the drug molecules are picked up by white blood cells that fight bacteria. The white blood cells take the medicine to the front lines of their struggle with germs, where it becomes concentrated in the tissues surrounding the infection. That concentration helps it remain in the body longer, which means patients need fewer doses to beat their infections.
Zithromax and Z-Pak Dosage
Zithromax is most familiar to the public as the "Z-Pak," a convenient five-day pill regimen with a dose of 500 mg (2 tablets of 250 mg) the first day and 250 mg for the remaining four days. But, as of 2022, Zithromax comes in several dosages and forms, including oral tablets and liquids for oral use, injections and intravenous drips.
Dosage forms and strengths
Tablets

250 mg, 500 mg, 600 mg

Oral suspension (liquid)

100 mg/5 mL, 200 mg/5 mL, 1,000 mg/5 mL

Injection and IV

10 mL vial of 500 mg
A doctor determines the dose depending on the infection being treated. For example, for pneumonia, pharyngitis or skin infections the recommended dose is the standard 500 mg for the first day and 250 mg for the remaining 4 days.
For more a complicated disease such as acute sinusitis, doctors prescribe 500 mg a day for three days. In the case of sexually transmitted diseases, the dose is 1 gram, or 1,000 mg, in a single dose.
Who Shouldn't Take Zithromax?
According to the medication insert, certain people should not take Zithromax. Patients with allergies to azithromycin, erythromycin, or any macrolide or ketolide should not take Zithromax. People with liver problems or who had jaundice with prior use of Zithromax should not take it again.
Sexually Transmitted Infections
Antibiotics used at high doses for short periods of time may mask or delay the symptoms of incubating gonorrhea or syphilis (meaning the disease is already present and developing in the body but symptoms have not yet appeared). Therefore, Zithromax, at the recommended dose, should not be relied upon to treat gonorrhea or syphilis, two types of sexually transmitted diseases (STDs) caused by bacterial infections.
All patients who are diagnosed with or suspected of having sexually transmitted urethritis (urethral inflammation) or cervicitis (irritation or infection of the cervix) should also be tested for gonorrhea and syphilis prior to starting treatment with Zithromax. If infection is confirmed, treatment for those diseases should be initiated with a more appropriate antibacterial drug.
Pregnancy
In animal studies on mice and rats, researchers did not find evidence of birth defects at 3.2 times the human daily dose of 600 mg. But, because there are no actual studies on pregnant humans, pregnant mothers should only use Zithromax while pregnant if necessary. Since it can pass into breast milk, health care providers should use caution in administering Zithromax to breastfeeding mothers, according to the medication label.
Seniors
In clinical trials, 9 percent of patients were at least 65 years of age, and 3 percent were at least 75 years of age. Researchers did not find any differences in effectiveness or safety between young patients and seniors.
Side Effects
In most cases, patients don't experience side effects from Z-Paks. In clinical trials, adverse reactions occurred in about 12 percent of patients, and less than 10 percent of the reactions were severe.
The most common side effects were gastrointestinal and included diarrhea, stomach pain and nausea. Generally, side effects were more severe with a higher dose.
Serious side effects are rare but can be life-threatening. These include severe allergic reactions, liver injury and diarrhea associated with antibiotic-resistant bacteria.
In March 2013, the FDA warned azithromycin, including brand names Zithromax, Zmax, Azithrocin and Azin, "can cause abnormal changes in the electrical activity of the heart that may lead to a potentially fatal irregular heart rhythm."
More recently, in August 2018, the FDA warned long-term use of Zithromax can cause cancer relapse and death in people who have had blood or lymph node cancer and have received donor stem cell transplants.
Zithromax Drug Interactions
In clinical trials, Zithromax had the potential to interact with two different types of drugs. Taking Zithromax with alcohol could also intensify side effects.
Drugs that react to Zithromax include:
Nelfinavir

is a drug doctors prescribe to treat HIV infections. This drug can increase the amount of Zithromax in the blood. The medication insert does not recommend the use of these two drugs together. Health care providers should check for liver abnormalities and hearing impairment.

Warfarin

is a blood thinner. Taking Warfarin with Zithromax increased the blood thinning effect. Doctors should monitor patients taking both drugs.

Macrolides

are a class of antibiotic, and Zithromax belongs to this class. Researchers observed interactions between other macrolides and two drugs: digoxin and phenytoin. Patients who use Zithromax with digoxin and phenytoin should be carefully monitored for drug interactions.
Zithromax Effectiveness in Clinical Trials
In clinical trials, Zithromax was effective at fighting bacterial infection, including some antibiotic-resistant strains.
Studies conducted before approval of the drug measured its minimum inhibitory concentration (MIC) in relation to a host of bacteria. MIC is the lowest concentration of an antibiotic that will inhibit the growth of bacteria and thereby kill them. A lower MIC means a more effective antibiotic.
In a 1991 study in the European Journal of Clinical Microbiology and Infectious Diseases, researchers found Zithromax had a markedly low MIC against some bacteria compared with three other types of antibiotics, meaning it was highly effective — for example, resolving 92 percent of gonorrhea infections treated.
Zithromax Litigation
In 2003, Pfizer agreed to pay $6 million to settle deceptive Zithromax marketing allegations from 19 states. Oregon's attorney general at the time, Hardy Myers, led the investigation. According to court documents, Pfizer misrepresented the effectiveness of Zithromax in its ads and failed to disclose the risks of antibiotic overuse.
Pfizer Settlement
Pfizer admitted no wrongdoing and said the FDA approved its advertising and promotional materials. It claimed it was settling to avoid unnecessary costs.
The drugmaker created a mascot for Zithromax, a zebra named Max, to use in its marketing. Pfizer sent plastic zebras that hang on stethoscopes and medical journals wrapped in zebra stripes to pediatricians. It also donated a zebra named Max to the San Francisco Zoo and invited children to a naming celebration.
The 2013 FDA heart rhythm warning prompted some lawyers to investigate and file Zithromax lawsuits. According to plaintiffs, Zithromax caused abnormal heart rhythms. But there have been no settlements or trial dates set.
Please seek the advice of a medical professional before making health care decisions.
Share This Page:
How can we improve this page?
Thank You for Your Feedback
We appreciate your feedback. One of our content team members will be in touch with you soon.
We appreciate your feedback. One of our content team members will be in touch with you soon.
Who Am I Calling?
Calling this number connects you with a Drugwatch representative. We will direct you to one of our trusted legal partners for a free case review.
Drugwatch's trusted legal partners support the organization's mission to keep people safe from dangerous drugs and medical devices. For more information, visit our partners page.