Johnson & Johnson to Discontinue Metal-on-Metal Hip Implants
Fact-Checked
Editors carefully fact-check all Drugwatch content for accuracy and quality.
Drugwatch has a stringent fact-checking process. It starts with our strict sourcing guidelines.
We only gather information from credible sources. This includes peer-reviewed medical journals, reputable media outlets, government reports, court records and interviews with qualified experts.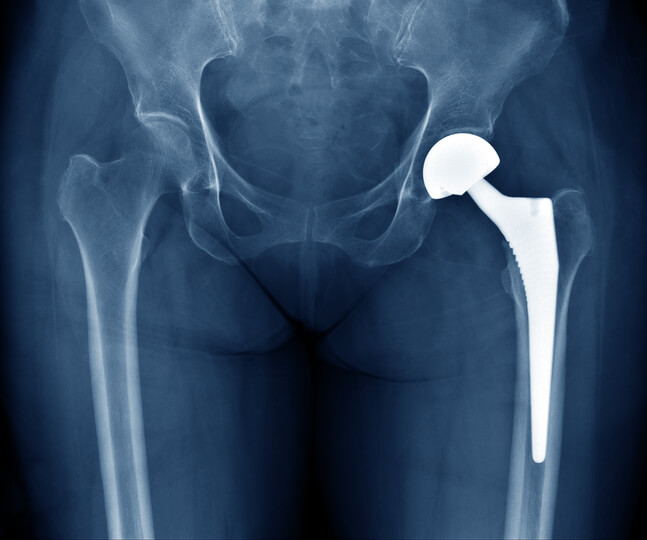 In response to a staggering decline in sales and a recent U.S. Food and Drug Administration (FDA) proposal to tighten regulations on all-metal hip implants, Johnson & Johnson has opted to halt the sale of its metal-on-metal products.
DePuy Orthopaedics, a division of Johnson & Johnson, will stop worldwide sales of its Ultamet Metal-on-Metal Articulation and Complete Ceramic-on-Metal Acetabular Hip Systems on August 31. It will also discontinue the metal lining used in these systems and in its Pinnacle Acetabular Cup System. Versions of the Pinnacle that use plastic and ceramic liners will not be affected.
In 2010, DePuy issued a voluntary recall for two metal-on-metal hip systems belonging to its Articular Surface Replacement (ASR) product line: the ASR Hip Resurfacing System and the ASR XL Acetabular system.
As early as 2005, only months after these systems were released, doctors and patients began to report painful unanticipated side effects. Some devices failed after a few years when they were intended to last 15 years or longer.
Injured by complications related to hip replacements?
In the wake of the recall, Johnson & Johnson faces more than 10,000 lawsuits related to the ASR hips. The all-metal Pinnacle remained on the market, however, and has now amassed more than 3,000 lawsuits of its own.
Not a Device Recall
According to DePuy, the decision to phase out its remaining metal-on-metal products does not represent a device recall. The company maintains that the choice was not influenced by the growing safety concerns that surround metal-on-metal devices, nor the wave of lawsuits injured patients are filing against all-metal implant manufacturers.
"DePuy made the decision to discontinue these products because of low clinician use of Ultamet and Complete, the availability of other options that meet the clinical needs of patients and proposed changes in FDA regulation of the entire class of metal-on-metal products," the company said in a May 16 press release.
It is estimated that more than 500,000 Americans have been fitted with metal-on-metal hip implants. In 2007, sales of this device class reached an all-time high, with metal-on-metal hips accounting for approximately 20 percent of all hip implants sold in the United States and Europe.
Since then, sales have dropped by 90 percent. Now representing less than 2 percent of the market, metal-on-metal hip implants are not expected to recover.
Today, surgeons prefer newer technology and next-generation materials for hip implant bearings, including ceramic and polyethylene (a medical-grade plastic). Safer alternatives to metal-on-metal hip implants include metal-on-polyethylene, ceramic-on-polyethylene and ceramic-on-ceramic hips.
Complications Prompt FDA to Tighten Regulations
Serious complications with metal-on-metal hips are well-documented. The devices are known to cause severe damage to tissue and bone, often leaving patients debilitated and in need of additional surgeries.
For some patients, the microscopic fragments seep into the bloodstream and cause additional problems. The debris can collect in soft tissues, triggering the death of nerves, tissue, muscle and bone.
When doctors perform revision surgeries to replace the faulty implants, they typically find fluid collecting around the hip joints — the body's natural response to the metal particles that erode from metal-on-metal junctures during everyday use.
In a recent move to limit the harm caused by metal-on-metal hip implants, the FDA has proposed to place stricter pre- and post-market regulations on the devices. The proposal, introduced in January, will require all companies now selling metal-on-metal hips to complete new clinical trials. The trials must demonstrate the safety and effectiveness of the devices if the manufacturer wants to continue selling them.
The majority of metal-on-metal hips never gained official approval through the FDA's premarket approval (PMA) process for high-risk devices, which requires a stringent review of their performance in an independent clinical setting. Instead, they were cleared as safe through what is known as the 510(k) pathway.
This loophole, implemented by a 1976 amendment to the Food, Drug and Cosmetic Act, allows a device to be sold if its manufacturer can demonstrate it is substantially similar to a comparable device already on the market.
In many cases, metal-on-metal hip devices cleared through 510(k) were implanted in patients without any prior evidence of their safety.
The FDA cleared the Ultamet system through the 510(k) process in 2000. But rather than comply with the proposed regulatory change, DePuy has decided to discontinue its metal-on-metal hip systems and invest in new ceramic and polyethylene technologies instead.
If approved, the FDA's proposal for new regulations will take up to a year to implement, according to Dr. William Maisel, deputy director for science and chief scientist at the FDA's Center for Devices and Radiological Health.
FDA Proposal May Jeopardize Patients' Legal Rights
While more extensive safety review under the FDA's proposed rule would undoubtedly help protect patients from avoidable harm, some are concerned the transition from 510(k) to PMA could prevent inured patients from taking legal action against device manufacturers.
On April 18, the American Association for Justice, a plaintiff lawyers industry group, wrote a letter to the FDA pointing out a worrisome implication of its January proposal.
As a result of a 2008 U.S. Supreme Court ruling, devices approved via the PMA pathway are immune from state tort lawsuits. The decision granted device manufacturing giant Medtronic immunity from legal claims related to one of its heart devices recalled in 2007, which may have been a "possible or likely contributing factor" in 13 patient deaths, according to a March 2009 statement from the company.
"We can envision a manufacturer seeking to gain retroactive immunity if a device is ultimately approved through a PMA, even though that would be chronologically absurd and terribly wrong," said Mary Alice McLarty, president of the American Association for Justice in the letter to the FDA.
With the weight of medical literature and joint registry data on the safety of all-metal hips, McLarty is doubtful that any manufacturer will successfully file a PMA. But in the event they do, she urged the FDA to include specific language in its final rule to prevent manufacturers from using premarket approval to preempt lawsuits filed before the process change is implemented.
Now that Johnson & Johnson will no longer sell metal-on-metal hip implants, only four U.S. companies continue to manufacture the devices: Biomet, Inc., Encore Medical, Wright Medical Technology, Inc. and Zimmer Holdings Inc.
It is not yet certain whether these manufacturers will submit PMAs for their metal-on-metal hips.
Share This Page:
How can we improve this page?
Thank You for Your Feedback
We appreciate your feedback. One of our content team members will be in touch with you soon.
We appreciate your feedback. One of our content team members will be in touch with you soon.