Despite National Efforts, Nursing Home Abuse Continues in U.S.
Fact-Checked
Editors carefully fact-check all Drugwatch content for accuracy and quality.
Drugwatch has a stringent fact-checking process. It starts with our strict sourcing guidelines.
We only gather information from credible sources. This includes peer-reviewed medical journals, reputable media outlets, government reports, court records and interviews with qualified experts.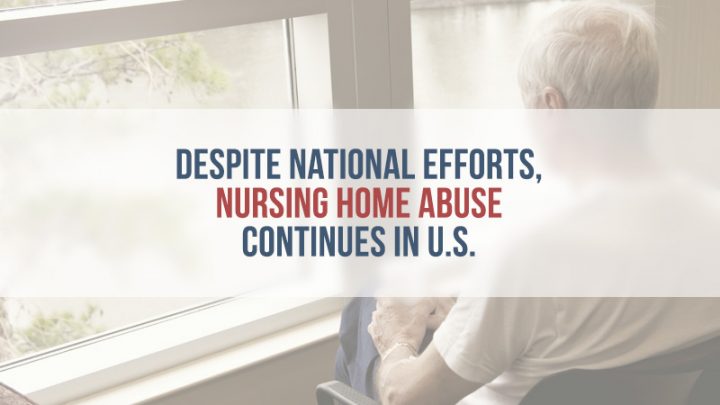 July marked the 50th anniversary of the Medicare and Medicaid programs, the primary funders of more than 15,000 nursing homes in the U.S. The White House's Department of Health and Human Services used the moment to propose a major overhaul to the requirements for nursing homes to qualify for Medicare and Medicaid payments.
It's not the first national action proposed to improve the quality of care elderly citizens receive in nursing homes. Government agencies and professional organizations have attempted to do that by proposing legislation and launching initiatives for years.
But despite all of the efforts, horror stories like the ones recently reported by ProPublica and The Washington Post continue to haunt the industry. Problems aren't rare either. Regulatory surveys frequently cite nursing homes for deficiencies.
"Today's measures set high standards for quality and safety in nursing homes and long-term care facilities," Health and Human Services Secretary Sylvia Burwell said in a statement regarding the recent proposal. "When a family makes the decision for a loved one to be placed in a nursing home or long-term care facility, they need to know that their loved one's health and safety are priorities."
The problem is the industry has a reputation for putting profits ahead of health and safety.
According to a ProPublica database that uses data from the Centers for Medicare and Medicaid Services (CMS), surveys found more than 330,000 deficiencies in nursing homes in the past six years. A deficiency is a failure to meet a federal requirement, and surveyors assign deficiency ratings based on their severity and scope depending on the potential for harm or actual harm found.
To make matters worse, a 2008 report by the U.S. Government Accountability Office found 15 percent of surveys missed deficiencies for actual harm, and 25 percent missed deficiencies for potential harm.
While some wrongdoers end up facing criminal charges, nursing homes can go unpunished by regulators. With nowhere else to turn, families end up filing lawsuits against nursing homes, claiming neglect or abuse.
It's Not a Rare Problem
More than 1.3 million people live in 15,700 nursing homes in the U.S., according to the CMS.  Oftentimes, it's not the families' preferred place for their loved ones to live.
A 2010 study found 10 percent of participants reported some kind of nursing home abuse within the last year. In another 2010 study, more than half of nursing home staff surveyed reported abusing an older resident within the last year. Abuse included neglect or verbal, physical or financial abuse.
Surveyors visit nursing homes and report back to the CMS to attempt to prevent abuse and make sure homes meet federal standards. According to the CMS, more than 90 percent of nursing homes received at least one deficiency report in 2012. The average number of deficiencies per nursing home was 5.9.
In addition to filing lawsuits, nursing home residents and their families filed complaints with watchdog groups. According to the Administration for Community Living's National Ombudsman Reporting Data, residents filed 135,620 complaints in 2013. Of those complaints, 25.4 percent were for inadequate resident care and 7.1 percent for abuse.
Trying to Solve the Problem
Problems in nursing homes are no secret, and an overhaul of the requirements for them to receive Medicare and Medicaid is long overdue. The changes proposed by the Department of Health and Human Services, which oversees the CMS, would be the first major update since 1991.
"The existing regulations don't even conceive of electronic communications the way they exist today," said Dr. Shari Ling, Medicare's deputy chief medical office, told NPR. "Also, there have been significant advances in the science and delivery of health care that just weren't imagined at the time the rules were originally written."
The revisions include changes passed in the Affordable Care Act, including compliance and ethics programs, quality assurance and performance improvement requirements and reporting of suspicion and crime requirements. Other changes include a restructuring of resident's rights, facility responsibilities, and updated food and nutrition requirements.
There's some hope for the future. Other national initiatives, such as the CMS's goal to reduce antipsychotic use and the American Health Care Association's (AHCA) three-year quality improvement initiative, had success.
Reducing Antipsychotic Use in Nursing Homes
The CMS launched an initiative to reduce the percentage of off-label, or unapproved, uses of antipsychotics in nursing homes by 15 percent in March 2012.
The initiative was in response to a report that found 14 percent of nursing home residents filed claims for antipsychotics, 83 percent of those claims were for off-label purposes and 22 percent of medications were not administered to CMS standards.
Although the goal was to meet the 15 percent reduction by December 2012, it wasn't reached until September 2014. Still, the success was noteworthy.
The CMS announced new reduction goals of 25 and 30 percent for the ends of 2015 and 2016.
AHCA Quality Initiatives
The AHCA began a three-year quality initiative in 2012, challenging its members to reach four goals by the end of 2014. The goals included reducing hospital readmissions, reducing antipsychotic mediation use, increasing staff stability and increasing customer satisfaction.
The AHCA recognized 958 nursing homes for achieving at least three of those goals.
In 2015, the organization began an expanded three-year initiative with additional goals including reducing unintended health care outcomes, functional improvements and improving rates of discharge back to the community.
Despite all Efforts, Abuse Still Occurs
Despites efforts for improvement, abuse in nursing homes is not uncommon. Abuse can include bedsores, falls, malnutrition, dehydration, medication errors, clogged breathing tubes, wandering and physical or verbal abuse.
Regulators can impose fines or suspend Medicare and Medicaid payments when nursing homes fail to follow regulations. However, regulators sometimes let homes off with a warning or fail to follow through with complaints.
Families can hold nursing homes accountable by filing criminal charges for failing to provide a standard level of care and by filing civil charges to receive compensation for injuries to their loved one, medical expenses and punitive damages. An Oklahoma jury awarded a family of an abused elderly woman $1.2 million in February.
Share This Page:
How can we improve this page?
Thank You for Your Feedback
We appreciate your feedback. One of our content team members will be in touch with you soon.
We appreciate your feedback. One of our content team members will be in touch with you soon.